Five Guys I want to see more of in the WWE during 2014!
Aaaaaaannnnnnnndddddd we're back ladies and gentlemen. Happy New Year! I hope every last one of you had a wildly fun, if not pleasant holiday season, and I would like to personally welcome you all to 2014. First things first, to those that care I'm sorry I've been away for a couple weeks. The holidays were a busy time for me both recreationally and professionally. That being said, I'm back, I'm refreshed and I'm ready to tackle 2014 (which if you ask me will be a good year).
Speaking of being refreshed, the New Year refreshes the WWE for me every year (partially because I don't watch their cartoonish Christmas edition of Raw and have a week to decompress). There are 52 weeks of 2014 WWE programming ahead and I feel reinvigorated. There were some interesting developments on Raw, The Rumble is approaching and we're inching closer to Wrestlemania (and the following night's Raw!). That being said, everything isn't sunshine and lollipops, and there are a few things I'd like to see improved in 2014, mainly mid-card character development.
I get that guys like John Cena, Randy Orton, CM Punk and Daniel Bryan are the All-WWE First Teamers, and that they demand a large portion of television time to progress their storylines and characters. Aside from them, there are only a handful of guys (Bray Wyatt, The Shield, Triple H, Paul Heyman and Lesnar when they're on) that are given any significant time to showcase and progress their characters. While I get that the rest of the roster is fundamentally less important than any of the characters I've listed, I personally believe they deserve more than to listlessly shuffle through 2014 with absolutely zero character progression. Yes they're not the stars of the show, but that doesn't mean that their stories can't add an intrinsic entertainment value to the variety show that the WWE fancies itself (the key word being "variety").
Today I'm putting together a comprehensive list of Superstars I want to see more of in 2014. I don't need them to be Main Eventers, I don't need them to gobble up screen time, I just want to see them excel in the mid-card and participate in and tell somewhat meaningful stories. So enough waiting, Let's Do This!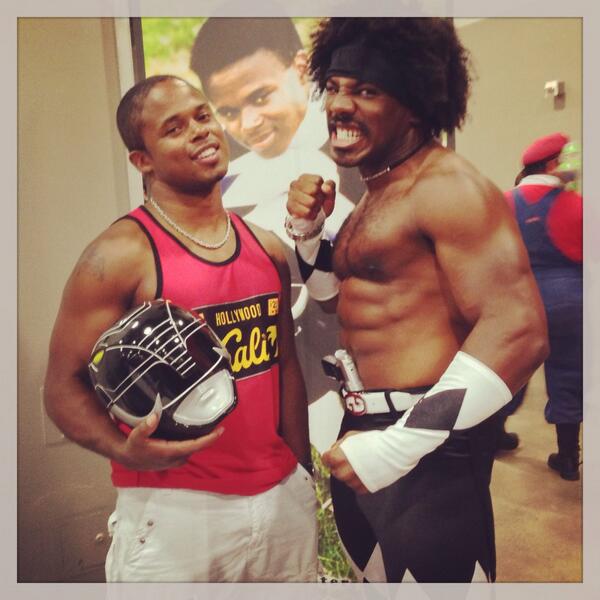 Xavier Woods
I am a big fan of Xavier Woods, and I'm personally appalled by their use of this talented young superstar on the main roster. I try to tell myself that I should just be happy that he's getting on TV, and honestly I wish that was satisfying in and of itself, but it's not. Every time he trots onto WWE TV, as they transfer pieces of Brodus Clay's awful gimmick onto him is shudder inducing. I can't for the life of me understand why they called this guy up if they didn't have a plan for him. He has no character right now and is simply directionless charisma (a common occurrence in the WWE's mid-card).
Fortunately these kinds of problems are easy to fix. The fact of the matter is that Xavier is attempting to build an identity for himself that the writing isn't helping to get across. Xavier is a 90s enthusiast and a complete dork (in the fun, I want to hang with that guy kind of way). Given that geek culture has seeped into the mainstream and the entertainment edict of the last few years has been "what's old is new again", the WWE should ride Xavier's enthusiasm for a past era in popular culture to tap into some of that audience and create a mid-card star (yes, the mid-card needs stars too). There are several ways to do it, and if it were me, I'd pitch a meta way of doing it, by making Xavier Woods the Abed Nadir of the WWE. He'd literally believe his life was a TV show (a 90s sitcom to be exact). It would be funny, it would be intriguing and it would give him more to do than just bite a horrible gimmick of the Funkasaurus. At the end of the day, Xavier is super talented, and I just want to see that more this year.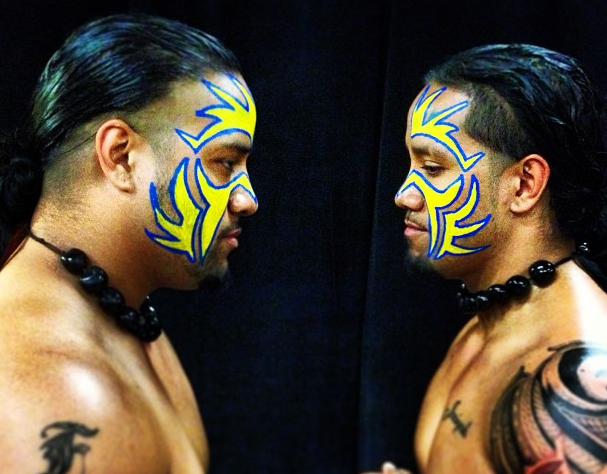 The Usos
I predicted that they'd have a breakout year in 2012, and it seems I was only one year off, because Jimmy and Jey arrived in 2013, participating in some spectacular tag matches, and never ceasing to entertain me. From their entrance to the interesting moves and exciting pace that they administer their offense at, this year The Usos proved that they were an exciting pair to watch go in the squared circle. They connect with and audience in a way that few guys really get how to do which is a huge strength of theirs and in 2014, I think it's time for the Usos to make another step.
As good as their 2013 was, it was purely because they proved that they were exciting wrestlers to watch. Now they need to develop exciting characters. I need to see them interact backstage in a segment here or there. I need them to cut promos on Tag Team's they have a grudge against. I need to see them develop out of ring personas, to make them not only great performers in the ring, but dynamic characters within the WWE's narrative. No better time than this week's Old School Raw, when their dad Rikishi is advertised to be in attendance. Paint us a picture of these two brothers' relationship with each other, with their dad, and show us that what drives the Usos is family. I definitely want to see more of the Usos in 2014!
Big E Langston
I'm so high on Big E Langston it's almost embarrassing. Like the Usos I just think he has great instincts and connects with an audience through his expressions and physical movement. His promos could use a little work I guess, but more than anything, I think he needs a story to tell, a purpose or goal to strive for. That's what he had on NXT with his "5 Count" shtick. He was hungry and he had something to prove to everyone. He didn't want to be the same as everybody, he wanted to stand out and be Extraordinary. He pinned his opponents for a 5 count to show everyone, the crowd, his peers, upper management, etc. that he strove to be better than them in every way imaginable, that he strove for excellence.
That kind of drive, the undeterred push for excellence is lacking from Big E's character currently. That and the sense of humor he prominently displays on Twitter. I hope that the WWE can give him back the purpose and drive he had on NXT, or bring his sense of humor to TV. If you ask me, the best way to do that would have been to have him continue his friendship with AJ. Their banter is great on twitter and there were flashes of it on TV, and having his driving force be trying to impress this girl who clearly has him in the friend-zone would have been an interesting dynamic to watch play out. He could still be a babyface and she could still be a heel because let's face it, that mirrors real life (you always fall for the wrong kind of person when you're young). I'm hoping the Big E character has a great year (as far as the development of a dynamic persona is concerned), but I know Big E the superstar will have a stellar 2014, and that I'll certainly see more of him.
Damien Sandow
I really like Sandow, and it was a little heartbreaking to see the Money in the Bank briefcase slowly over the course of several months destroy a character I very much liked to watch. He was a truly villainous man, with a superior intellect, who by the end of 2013 was proven to be as dumb and shortsighted as someone like The Miz or Kofi Kingston (who both proved to pretty dumb this year).
I want Sandow to be who he says he is because that is interesting. Will he always succeed, no, but he will always be smart, cunning and ruthless. There is not fun in watching a character say he's smart buy really be a doofus. There is no value in that for anybody involved. Sandow's value is as a diabolical super genius who uses superior intellect and methods of strategy to defeat his opponents, not brute strength or the sheer power of will. Bring back the Sandow that was smart and Machiavellian, make him a wily trickster who outsmarts his opponents and destroys them intellectually rather than physically. That would grab my attention and would be my greatest wish for 2014.
The Shield
I know, I know, they were all over the place in 2013, how could I possibly need to see more of these guys. Well simply put, I'm not ready to give these guys up. I thought the angle that they ran with Punk instigating some dissension within The Shield was brilliantly constructed, with everyone giving a great performance and really getting across the rift being that they all strive for greatness. That said I hated it, because it was another step in the direction of the demise of The Shield.
I know that Roman Reigns has a great look and has improved so damn much (most improved WWE Superstar by far in 2013) as a result of being paired with Rollins and Ambrose, and I am excited to see what the future holds for him as a singles competitor… but not yet. I freaking love Dean Ambrose and think that he adds a dynamic to every situation that he's in that the WWE has been missing since Rowdy Roddy Piper. He is a truly rare talent in the ring and on the mic that I'll be glued to when he breaks out on his own… but not yet. Rollins has improved his promo work a lot since being in The Shield and is a workhorse. I could see this guy working his way up to becoming what Daniel Bryan is today, a superstar whose in-ring work and enthusiasm draws fans to chant his name and elevate him to highest levels of the WWE. It's high praise but I truly believe this guy is that good and would love for him to get the chance to prove it on his own… but not yet. I know I'm being selfish but I want more Shield in 2014 because I know that it's coming to an end sooner rather than later; and while that excites me, it also makes me very sad.
----
There you have it folks, but as always I want to know what you think! Agree or disagree with who I want more of? Are there any guys that you'd like to see bit more characterization to? Are you as sad about the impending demise of The Shield as I am?
Until next time folks, I'm Matty J. Douglas saying I'm almost done watching all the best movies of 2013, and can't wait to make my Top 20 list! Have a great first weekend of 2014 everybody!