This is becoming a semi-regular thing from me now. Looking at current wrestlers on the roster who often get over-looked. I've examined Kane (a particular favourite of mine), and Miz (less so, but still produces good stuff) and now a bloke who I've always liked. A man I first saw on a kid's UK Saturday morning TV show years ago and was amazed by his size. A man who has really become a mainstay of the product. A man who has had similar issues to Kane (what is he this week, a face or a heel?) but still works his arse off. I'm talking about Paul Wight. I mean The Giant. Sorry, I mean The Big Show.
He often gets looked over for more trendy wrestlers like CM Punk or huge fan favourites like John Cena, but Big Show has always been an important, positive presence in wrestling for me. He is the natural through-line from Andre the Giant. Wrestling needs its little guys, its Daniel Bryan's overcoming the obstacles, but wrestling also needs 'the obstacles' and The Big Show is the biggest of them all. Mark Henry? He's had an exceptional couple of years but before then things never clicked properly. The Great Khali? Do I even need to go there?! The Big Show however can feud with anyone and, even if the match doesn't quite click, you still feel that with the 7ft, 441lb monster in there the match lends itself to spectacle. That's why he has often been used in the 'media marquee' match at Wrestlemania (more on that later).
Again, similar to Cena a lot of the time, many people are negative to The Big Show's work and often ignore the amount of 'huge' moments he's had in wrestling. When called upon, you can tell he gives it his all. Even at the moment, as he works on the 'Kick-Off Show panel' at PPV events, he still looks like he enjoys it. He is a man who loves being in and around the business and, similar to Kane and The Miz, will do what he can for both company and fans. In a way, with the 'smaller' wrestlers currently doing so well, Big Show is a link between the old and the new. He is a genuine wrestling legend who will definitely enter the Hall of Fame. So, to celebrate the man who I've always enjoyed watching, here are some 'Big Moments for The Big Show'.
1. The WCW Debut.
It says a hell of a lot about The Giant (as he was) that was thrown straight into a main event feud with the biggest name in wrestling at the time, Hulk Hogan. It all started at the Bash at the Beach '95 as The Giant threw his father's shirt in the face of Hogan. His storyline father? Andre the Giant. Again, a huge amount was being put on the shoulders of the debuting wrestler and the clear links between past and present were obvious to both management and viewers. From there, he joined Kevin Sullivan's 'Dungeon of Doom', a stable committed to ridding the world of 'Hulkamania'. Although the feud got a bit silly with Monster Truck battles and moustaches being shaved off, it was still a headline battle to introduce to new wrestling monster. Also, after Halloween Havoc, and the, er, 'Sumo Monster Truck' battle, The Giant did actually defeat Hogan for the title. A debut and a title victory. Almost unheard of now (although the title was later vacated due to Jimmy Hart's interference). Either way, it set up Wight as an unstoppable force in WCW which eventually lead to him becoming the fourth wrestling member of the NWO. Again, this was before that faction became too large and untenable, so he was a legitimate mainstay for WCW through his tenure there. Although, along with many wrestlers, he got sick of the politicking of Nash, Hogan, et al. Wight was a true WCW headliner and was front and centre for most of his four years with the company. He also feuded with Loch Ness (Giant Haystacks) and, as British wrestling fan, that gets a tick in my book.
2. The Undertaker/Kane connection
Big Show's WWE tenure has been closely linked with the Brothers of Destruction throughout. When Show arrived in the company it only took five months before he was front row and centre with a battle with The Undertaker. Their first match lead to this great moment:
From there, it only took a few weeks before Show was feuding with Kane. Back and forth these rivalries have gone over the years seeing the three as enemies or as partners. Although everyone considers JeriShow as his best tag-team, it's hard not to look at a double chokeslam with Kane and think, "yep, those two had it". He's had great feuds with a number of wrestlers (Kurt Angle remains a favourite) but it is always his interactions with Undertaker and Kane that makes me smile. Big Show is the largest athlete in the world so who else but those two could truly challenge him?
3. This...
4. No Way Out 2008
This is one of my favourite Big Shows moments. He'd left WWE shortly before his contract expired in 2007. It looked like he'd gone for good, certainly after wrestling Hogan at Clash of Legends under the name 'The Great Wight' (because The Big Show was his 'slave name'). It really looked like he'd turned his back on the WWE. Then, after the World Heavyweight Championship match between Edge and Rey Mysterio, which Edge won, this happened:
He'd lost over 100lbs and looked as good as he's ever done. It's nearly up there with Jericho's 'troll' return last year. The crowd pop huge for the returning giant but he gets pissed off with Mysterio still being at ringside and decides to punish him. Then Floyd Mayweather comes to his aid and lands a cheeky combo to break his nose. All of this within ten minutes. From face to heel to main event feud. It was brilliant work from The Big Show and, if we work on the assumption that Big Show is genuinely annoyed by the bloodied nose, then Shane McMahon looks terrified trying to stop the big man going after Mayweather and his entourage. It was one of those moments for me that I won't forget. Like the pipe bomb promo and, I'm happy to say it, Mark Henry's retirement speech. A moment when so much is going on, it takes a few minutes to realise that just happened. I credit Show with this entirely.
5. The Marquee Matches
Which leads me onto a couple of matches Big Show has been involved in which are all about the publicity. Obviously, the Mayweather match was, to coin a phrase, money. It worked for the mainstream media because of shots like this: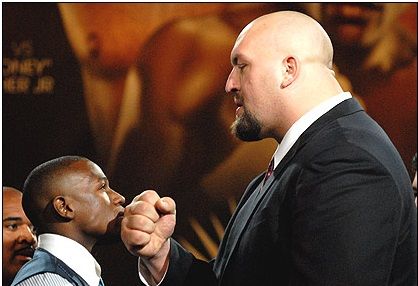 Seriously, how could that not look good in the press. A fist as big as a head. The feud itself was good. Of course, the big problem is that Mayweather is a natural heel in everything he does (the money, the women, the domestic violence charges). Pound for pound though, he was the world's best boxer and, similar to Mike Tyson ten years earlier, WWE were prepared to put the negtives aside for Wrestlemania buy rates. So, in one corner, Mayweather with his dollar bills and entourage. And he was the face! That meant it was up to Big Show to make the feud. To make himself a heel against what seemed like insurmountable odds. He did it though, because he committed to it. He bullied the little man, threw him out the ring and humiliated him. At the end of the day, Mayweather only won the match via a William Regal special (brass-knucks). The bout really wouldn't have worked though without Show upping his game and out-heeling Mayweather. I was still on Show's side though simply because, I can respect Mayweather's talents in the ring, but I will never respect him as a man.
Unfortunately, Big Show was also involved in a Wrestlemania moment he couldn't salvage. The Sumo wrestling match with Yokozuna Akebono. It was there for the media that match. A sumo legend fighting in the squared circle. It's often listed as one of the worst Wrestlemania matches. It wasn't great, but Big Show, again, just went for it. It is Big Show, though, who WWE often look to for these sort of matches because they know he'll work his arse off in the media during the Wrestlemania week. Good on the man for that!
6. Jeri-Show
During his career, Big Show has feuded with nearly everyone. He's also tagged with a hell of a lot of people too. We had The Unholy Alliance with The Undertaker, Billy Gunn, A-Train, Kane, The Miz and that other guy that, when given nearly anything, makes it work, Chris Jericho. It was a classic tag-team pairing, the little big mouth hiding behind his monster friend. It was a genuinely good pairing for two men who were thrown together because of Edge's injury. People were annoyed because we all wanted to see the heel run of Edge and Jericho. This was during Jericho's suited and booted phase though and Show followed 'suit' as it were. They simply gelled. They took on all-comers in Legacy, Cryme Tyme and Batista/Rey Mysterio. Eventually they lost out to DX and then split through Jericho's move to Smackdown. The promos, the suits, the matches. They were the best tag-team on television and Show had a massive part to play in that as the monster heel. The way the two interacted was excellent even to the inevitable break-up which broke Jericho's heart:
7. The Feud with Mark Henry
Again, this was a feud that wasn't supposed to work. Mark Henry's career transformation was a work in process but he had the World Heavyweight Championship. When Big Show became the number one contender, people sighed. The matches would be too slow. Too much standing around. Too much of a muchness. Now, of course, the matches weren't at cruiserweight speeds but those two worked hard. Why? Well, probably to prove people wrong. Just like Big Show has done his whole career. Just like Mark Henry was beginning to realise. Their work together rejuvenated Show and bolstered Henry. It also gave us some great moments including a rework of the broken ring move and because these spots are cool, here it is:
From there we had a Daniel Bryan Money in the Bank cash-in (giving Big Show the shortest title reign in history) and a triple-threat steel cage match which saw Bryan escape to victory. Again, to discuss Bryan's brilliance is par for the course these days, but you need the big men, the 'obstacles', to solidify the small men and with Bryan beating both Show and Mark Henry, it began to make him a big deal. We can thank the big men for that one.
8. The Titles
Simply put. He's won every active title out there and plenty of others. The companies he has worked for have always put their faith in him and rewarded his hard work. There was a time when some looked on him with a slightly disappointed air. Undertaker famously did a shoot interview at the Wrestlemania 18 Fan Axxess saying Show didn't work hard enough. If this was the case, then Big Show certainly has upped his game the past decade. He is the only wrestler to hold all major championships in WCW, WWE and ECW (yes, I know it was the WWE version but Heyman was still there for it). He is a Triple Crown Champion and, let us not forget, won the Nickelodeon Slime Wrestling World Championship. If there's a title. He's held it. Apart from the Cruiserweight one because, you know, that would be weird.
9. Cody Rhodes & 'comedy'
I was a big fan of this feud and WWE television gave it time to develop. It was based around Cody, the cocky young Intercontinental champion and Big Show, the established giant who, well, had had some embarrassing moments (including the marquee matches mentioned above). Not only did this lead to an emotional Wrestlemania XXVIII moment for Big Show as he took the title from Rhodes for a Grand Slam, it also reminded me that Big Show does 'funny' really well. His gimmick of impersonating other wrestlers (Showkishi, etc.) was fun and also had a cracking Hulk Hogan gimmick as The Showster. In a way, it was a good feud for Show as his face character has always been the gentle giant and it's funny to see kids go crazy for him at live events when he's a face. He's a dominant, scary heel but as a face, he's your friend who will protect you. Yes, as with Kane, maybe he's gone back and forth too much but when you've been in the business as long as him, that's inevitable. Either way, he had his Wrestlemania moment and he deserved it.
10. The WMD
I love this move. Yes, I know, it's just a punch. Could I ask you to refer back to that picture with Mayweather though. It's punch by something the size of someone's head. I love the build-up to it, I like the primal scream and, more than anything else, you know that when it hits, it's 1-2-3.
There we go. My personal favourite The Big Show 'moments'. I know some will have others. I also know that some people still don't see what he 'has'. To be honest though, without guys like Big Show, and Kane, then wrestling would be a lot more boring. These are guys who can pull off intense, serious work. They can be wrecking balls and leave trails of destruction in their wake. They can also be family favourites. Or comedy stalwarts. Either way, they work as hard as anyone. There's always another big man but the fact that someone like The Big Show has been around so long speaks volumes about what he brings to the company. He can make a victory for someone like Daniel Bryan a huge moment, David and Goliath. He can also make you genuinely feel pleased for him, like his Wrestlemania Intercontinental win. He can also create partnerships with almost anyone and make it work. Big Show is a big name in sports entertainment and he deserves to be for these ten big moments and many more.
Please follow me on twitter @HughFirth or email me on ashburnham74@yahoo.com All constructive criticism is appreciated.
Ta ta for now and hopefully see you next week.