While we love to write fart, poop, and Jannetty jokes every week, the wrestling world is still focused on the passing of the Ultimate Warrior. So much has been said over the last week, not only by us at Thursday News Update, but by the entire TJR Staff as well. Seriously, so much love has been given to Warrior and his family this week, and if you haven't read it all, it's worth going back to.
But regardless of our admiration for the man, or basic human empathy towards his family, at the end of the day, we're just fans. We're fans of a man who entertained us in our childhood. We didn't personally know Warrior, and no matter how hard we tried, none of us could say something as touching about Warrior as his wife, Dana did yesterday.
Here is Dana Warrior's letter to The Ultimate Warrior's fans:
Dearest Warriors,

It is with an absolutely broken heart I reach out to you. Since the passing of my husband, I have been fortunate enough to insulate my sweet girls and myself from the outside world. In this bubble we have grieved and continue to do so. For a week, I did not allow any television or media to seep through our cocoon. I was told, though, of the outpouring of love for my beloved husband and support for, as he always called us, his Warrior Girls. I can only say thank you.

On Sunday night, I was told WWE would pay tribute to Warrior and so I set the DVR planning to watch it when we were ready. As the hour neared, I broke resolve and turned on every TV in the house to full blast and snuggled our daughters close to me on the couch, unsure what we would see. As the scene unfolded with that amazing roster of talent gathered donning Ultimate Warrior shirts and even his face paint, we cheered and sobbed simultaneously. To everyone who stood there, thank you. My girls will remember your bowed heads for the rest of their lives. You are not just Superstars; you are super people.

I cannot put words to what that video tribute meant. We watched it multiple times and, this morning, it was how I started my day; mornings are the hardest for me. I will treasure that song and those images more than anything I own. Vindication. ULTIMATE PERFECTION.

I was told it was reported WWE was "there" for us. "There" is the understatement of a lifetime. They were a warm blanket to us three and we were quickly absorbed into their family. Words are cheap; promises are forever. This family is one I'm honored to be a member of and will gladly be the warm blanket to any of them who need me next.

My husband's speech had so many highlights for me as I sat proudly in the audience looking on at his moment ... I most loved his request for the Hall of Fame to include the, as he called them, "true Superstars," those behind-the-scenes people who make the machine run. See, I'm the person who puts up the ring in our house. I'm the background person who makes things happen seamlessly. I am surrounded by performers in my husband and children, so I felt a kinship with all the people he wanted to shine a spotlight upon who make WWE work. He loved you all, and knew that each of you made his run there possible. Thank you!

To all the ULTIMATE WARRIOR fans: THANK YOU!! He told me when he shook the ropes it was him gathering strength from each of you. Warrior respected you and loved you as do the girls and I. I will reach out to the ropes for your strength to sustain me in the sad days that the girls and I face. UNWAVERING is what you've been. GRATEFUL is what we are.

The Undertaker and I have a lot more in common than you might think. You see, I had a bit of a streak of my own going for the last 20 years. Yes, Warrior and I would have matches of our own ... He would yell, I would cry, he would submit, I would win - always. My quivering chin and "pooched" lip was always more powerful than any clothesline or gorilla press slam. He'd laugh and shake his head and say,"you win, Pooch," but really we both did.

My streak was broken April 8, 2014 when he collapsed. I fought and screamed and cried for him not to leave me, but I wasn't to win this round. Heaven won and I lost, but I had the ULTIMATE love for 20 years and my children learned to be Warriors from THE ULTIMATE DAD. I wouldn't trade a moment of the life we shared, good or bad, for anything on God's green earth. He is the love of my life and gave me the gift of our beautiful, sweet, amazing girls. He was loyal and kind and strong and brave. He taught me to live by his creed,"Live Strong, Act Bold, Be Brave. Nothing's too hard to do, ALWAYS BELIEVE," and with that creed I will carry on and make him proud.

Streaks are broken but legends live forever.

Always Believe,

Dana A. Warrior (UltimateWarrior.com)
Beautiful words, and we wish all the best for Dana and her family.
_________________________________________
Author extraordinaire Mick Foley took to Facebook to express his opinion on CM Punk's ongoing hiatus from professional wrestling. The former hardcore legend was sympathetic to Punk's current situation, stating that "if or when that day comes when CM Punk returns to WWE, I hope it's with that same passion that made so many of you care about him to begin with." Well I got some news for you Mr. Foley. The Internet is no place for well thought out and rational opinions! How dare you waste my time while I could have already sent my money to Nigeria to claim that massive inheritance I am eligible to acquire for some reason! (SEScoops)
_________________________________________
According to SEScoops, WWE Diva AJ Lee has requested time off from sports entertainment. Could wedding bells with fiancé CM Punk be in the near future? We don't know, but "at least the WWE has plenty of Divas on the roster who can easily replace her", said absolutely no one.
_________________________________________
In a recent article on SB Nation (and featured on yahoo.com), current and former WWE talent were interviewed about their "hotel horror stories." It's a worthwhile read, with highlights including Christian reminiscing about one hotel's valet service losing his rental car. Suspiciously absent was the famous "Hoboken, New Jersey haunting" incident. Of course we are referring to the time former superstar Max Moon said "bloody Mary" three times in his hotel bathroom and an image of Marty Jannetty appeared in the mirror. Moon stated that the experience was "only slightly less scary than staying in a hotel in Hoboken, New Jersey." (SB Nation)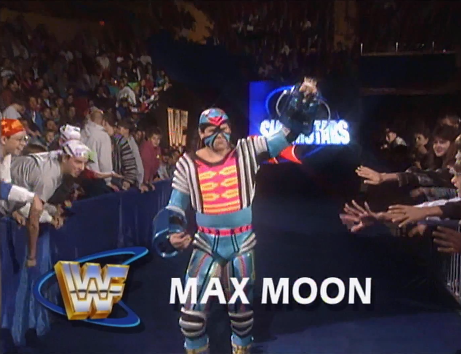 _________________________________________
Be sure to listen to a can't miss episode of The Sharpshooter Cast. This week's discussion centers on The Ultimate Warrior and:
Healthy eating.
Marty Jannetty discovers he has a long lost daughter.
The Ultimate Warrior's untimely death.
Problems with the way the media (Nancy Grace) exploited Jim Hellwig.
A review and analysis of the 4/14/14 episode of Raw.
WWE's tribute to Ultimate Warrior.
Remembering Owen Hart's tribute night.
Tom gives mad respect to Triple H.
Screwed - The Bret Hart Story.
Aaron apologizes for comments about Paige.
A Raw without Daniel Bryan?
The IC Title #1 contender tournament.
We're ready for Adam Rose and Bo Dallas.
The return of Evolution.
Should we care about the return of "monster" Kane?
Final Raw Grades.
Listener question: Who will win the WWE World Heavyweight Championship first? Bray Wyatt, Cesaro, or Roman Reigns?
Here's a STREAM of the show:
And here's the Direct Download! (Right click and "Save Link As")
If you're interested in listening to more episodes, visit our little corner in the iTunes Store. Be sure to leave us a rating! Or, you can always click "More" on the above player, and listen to our entire catalog. Pretty handy.
Finally, if you're like me and have a favorite app not made by Apple to play your podcasts (I love me some DOWNCAST for my iPhone, and iPP Podcast Player for my Android Tablet), here's the RSS Feed for your convenience: http://sharpshootercast.libsyn.com/rss
​_________________________________________
Thanks for reading everyone!