I'm John Cantonopoulos filling in for Lonestar Rodriguez with the Friday Headlines. If you're wondering where he is, call 222-2222 and speak to his lawyer Miguel Sanchez. He isn't able to write the NXT recap either. He should return next week. If not I'll give a call to his doctor, Dr. Noonian Van Falk. (Simpsons reference, people.) Let's get to the news of the day, or at least the things I felt like reading about it based on the misleading headlines by copy/paste websites.
The Wrestling Observer reported on the buyrate numbers of WrestleMania 28. These are factual numbers that WWE reports to their stockholders.
WWE's WrestleMania 28 pay-per-view did end up being the single most purchased pro wrestling pay-per-view event in history, based on new data that are likely the final numbers for the event.

These updated numbers include late recorded buys and have WrestleMania 28 doing 1,253,000 buys - 733,000 domestic (USA/Canada) and 520,000 internationally. The international number would beat the all-time record by a significant amount. There have been several events over the years that have topped the domestic number.

The 1,253,000 buys for WrestleMania 28 beats out the 1,250,000 buys for WrestleMania 23 in 2007 with Donald Trump. Technically, when it's all said and done WWE is able to round up to 1.3 million buys and claim the biggest pay-per-view of all-time. (Wrestlinginc)
I love that it took six months to finalize these numbers. Then in the end the difference is apparently 3,000 buys.
It took five years to beat the WrestleMania with Donald Trump's awful hair involved. It should be pointed out that WrestleMania X7 in 2001 did 1.04 million buys, but that was 11 years ago when the numbers were almost solely North American. Still, in terms of records WWE can accurately claim that WrestleMania 28 is the biggest in company history.
Now it's time to use this as a "did you know" fact. Every single week. Forever.
I have one final comment about WrestleMania 28: Thanks for the palm trees blocking my view. Jerks.
-------------------------
Are you a woman aged 18 to 30 that has an interest in working for WWE? Probably not if you're reading this website. We know it's a sausage factory at this site and we're okay with that. Even though we know that, we need to provide this kind of information because that's what we do.
WWE issued a casting call last week seeking women to apply to become female talent for the sports-entertainment organization as "Divas."

WWE is looking for woman between the ages of 18 and 30 "with charismatic personalities, beautiful faces and great bodies." Resumes as well as headshots and bikini body shots, are being requested.

Wrestling experience was not mentioned in the casting breakdown, with it being noted that WWE Divas "instantly gain a huge fan base", travel the world and appear on television in "600 million homes worldwide," and take part in multimedia shoots and charities. (Wrestlinginc)
So you're saying Chyna has no chance? Thank you for that.
I don't know where they got that "600 million homes worldwide" number from. I'm sure it's available in that many homes because their shows are legitimately all over the world, but let's not pretend like they have that many viewers.
They must have left out a line: "Large breasts aren't necessary, but wink wink nudge nudge yadda yadda and so on."
I know the company is PG now and the girls can't show as much of their chesticles as they used to, but there's a lot of winking going on in WWE with this stuff. And unlike when George Costanza did it in Seinfeld it was an actual wink. It's not pulp related.
--------------
The Wrestling Observer reports that Mark Henry is expected back soon after recovering from shoulder surgery. (NoDQ)
A lot of people are excited to see him back in WWE. Nobody is looking forward to it more than his family, of course.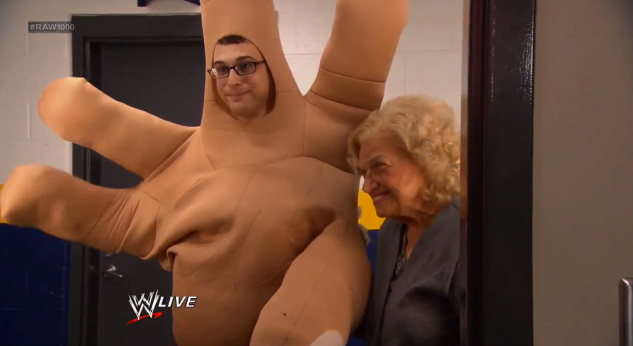 By the way, if you're wondering if googling the term "Mae Young hand son" is the lowest point of my writing career you would be correct.
---------------
There is a serious topic today. There's a Kickstarter campaign that has been started up by Highspots.com and about producing a documentary on former WWE superstar the Dynamite Kid, who was one half of the British Bulldogs. If you know anything about wrestling history (and you should), you would know that Kid is one of the most influential wrestlers in the history of the business.
A lot of wrestlers grew up watching tapes of him because of how influential he was. I watched a lot of his tapes during my late teen years when a friend and I would trade wrestling tapes with other fans. I had to see what all the hype was about. Even though he wasn't pushed as a top guy in WWE, he still had a huge impact on a lot of current stars.
I've read Dynamite Kid's book that was published in 2001 and it was one of the most brutally honest stories you will ever read about a wrestler. The best way I can summarize it is that he's a guy that lived a very rugged life in order to pursue his dream to be a wrestler and while he's confined to a wheelchair these days he's not going to make excuses for himself.
Anyway check out the Kickstarter page for clips of Dynamite Kid talking about his life and also hear from the producers interested in putting it together. You can help the project by donating as little as $29 or more than that if you're feeling generous.
Here's one of his most famous matches ever. It's against the legendary Tiger Mask and it's a match that took place in Japan. This was 30 years ago. It's amazing to see just how great these guys were. Enjoy.
So good. The true definition of a timeless classic.
--------------
Lastly, today is the birthday of WWE Champion CM Punk. He turns 34 years old. I've probably written more about that man in the last 15 months or so than anybody else in the wrestling business. Between ranking his top 10 moments to numerous columns and the recent DVD review, needless to say I'm a huge fan of the guy.
Go celebrate Punk's birthday by demanding respect from somebody. And then yell "it's clobbering time" at them just to see how they react. If that person reacts unfavorably to you, try giving them a Go To Sleep. It might make you feel like you're the best in the world. At the end of the day, isn't that what we all want?
I'll be back on Friday afternoon with the face puncher Andrew Johnson and cranky Yankee fan Christian Michael for a preview of WWE Hell in a Cell.
As for me, I'll leave you with this promo from the Berzerker. Why? Because he's going to win the 1992 Royal Rumble. That's why. Huss. Huss.
This is also the definition of a timeless classic.
Follow me on twitter @johnreport. Huss. Huss.