That is not a recent picture. The recent ones just aren't as cool as that.
Every three months (or quarter), WWE holds a conference call with their investors to discuss their business. In case you don't know, putting "this business" in quotes is in reference to Triple H always saying "this business" in his promos. He's not a part of the conference call, but I still like using it.
During these conference calls the ones talking to the investors are WWE Chairman Vince McMahon and Chief Financial Officer George Barrios. What I'll do is paste in some notes from the report written by my friend Jason Powell of ProWrestling.net and then offer my comments on them. The news will be in bold italicized with my thoughts in regular font.
Regarding the app and other social media, Vince said they are teaching the television audience how to watch television all over again. He said others in entertainment will try to do the same thing but no one does it like they do.
Why do we need to be told how to watch television all over again? I know how I watch it. I have a 50" TV to watch it on. I don't want to watch television on a hand held device. Television went from black and white on a small screen to big screens in HD. Why would we want to watch on a small screen again? I just don't get it. I understand having an App, providing content and all that. I just don't understand their thinking behind the "new way to watch television" again bullshit that they like to spew.
Vince spoke about getting into the reality show business. "We think we do it well and we think we have something under our belt to prove we do it well," he said regarding Total Divas. He indicated that they hope to do more in the reality television genre.
Oh no. Please no. Oh well I'll just make somebody else review them. Matt Seagull volunteered to review Total Divas. It's true. It's damn true.
The Fan Axxess event added $2.3 million to the live events revenue.
I wasn't there this year, but I wanted to include this because when I was there for WrestleMania 27 & 28 I thought about how easy it was for WWE to make money at this event. The superstars were already in town for WrestleMania week so there's no extra cost to WWE to fly them in. All they have do is set up the venue and the people come. It's about $40 for a general ticket that gets you in for about four hours. The VIPers spend more than double that. Four days of meeting wrestlers and WWE made over $2 million off it. Easy money for WWE. Smart.
Revenue for The Call won't be available until later in the year. They expect to see a profit of $5.9 million off of a $1 million investment.
That's what they need to do more of. Invest in a film and hope it works out. It's better than being the main producer, putting a wrestler in as the lead actor and expecting it to make money. Most of their movies do not make money.
Barrios said their market research is favorable for the WWE Network. He said that over the next 18 months, they expect to renegotiate their largest television rights fees in the U.S., UK, and India.
They didn't say much about the WWE Network, which is possibly launching next year. Who knows? If they can negotiate their largest rights fees ever then that's more money coming in. With so many different television shows in over 100 countries around the world they are doing very well in terms of their TV rights fees.
A caller asked a question about Rock's pay for WrestleMania 29, but they said they didn't want to get into who was paid what.
I can confirm that Rock was paid more than JTG. And Zack Ryder. I can't reveal any more information. Sorry.
A caller asked about the cost of the WWE Performance Center and the talent costs. Barrios said the spending happened predominantly in the first half of the year. He estimated between 50 and 100 developmental talents.
Imagine that. They could have 100 people in developmental? That's insane. The main roster already has about 80 people on it and even then maybe 40-50 get regular TV time.
Vince said he would allow a caller to put a hammerlock on him if they don't deliver in their negotiations for improved television programming fees.
What a maneuver!
There's more info out there if you want to check out the WWE Corporate page or any number of websites that post this information when they have a conference call.
IN OTHER NEWS
- The Rock spoke with the Associated Press about his career and was asked about whether he would return to wrestling.
"I'd like to leave it open. But if I'd never wrestle again, I'd be very content with that. Winning or losing never really mattered to me. The whole idea was to put on a great match. Got injured in that match. Still was able to walk out on my own, which I was more happy about. I don't know. We'll see."
In other words, if he never wrestles again he's fine with it, but he's open to having another match or two. It's a vague answer. He doesn't have to give a definitive answer because if he wrestled it would be at WrestleMania and here we are in early August.
Personally, I think he'll wrestle Brock Lesnar at WrestleMania 30. He still likes wrestling, he enjoys competing on the big stage and that's obviously a big money match. As a fan of Rock, I don't think his extra bulk has made it easier on him in the ring. He's not as quick as he was over 10 years ago when he really improved as an in-ring performer by being a bigger guy with agility and quickness. He was never the best in-ring performer on the show, but he was definitely above average from that period from about 2000 to 2003.
Let's just hope that if he does wrestle again there are no more matches with John Cena. Been there. Done that. Right Vince?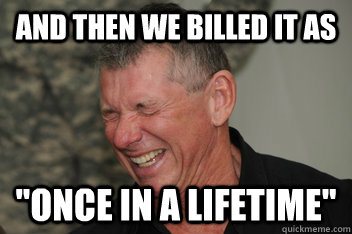 - TNA President Dixie Carter did a Q&A on ImpactWrestling.com where she answered some questions from some fans on Thursday. There wasn't anything interesting there (when has she ever said anything interesting?), but I did find this part humorous. It was in response to a fan asking her about negative comments.
I have no problem with negative comments or constructive criticism, but the outrageous posts and bad language are a totally a different thing ... especially with so many children paying attention on social media.
Think of the children? Your company is called TNA. Jeff Jarrett picked that name because they thought people would think about TITS n ASSES and it would help the company gain exposure. Think of the children!
At least Helen Lovejoy from The Simpsons agrees with her.
That's the second time I've had a Simpsons clip in Headlines this week. I like the show. Or at least I did when it was good.
I really have no interest in Tito Ortiz as the "August 1 Warning" surprise on Impact. He's just a MMA fighter past his prime that TNA thinks is still a draw when he isn't. Fozzie covers Impact for this site, so he'll write about it on the weekend. I enjoyed Aries vs. Styles a lot. That's what I care about more.
- Finally, we have some news on a former WWE diva.
Former WWE Diva Maxine announced on Twitter (@KarleeLeilani) that she's signed with Imani Films to star in a new TV series called The Cell. She will be going to El Paso next month for filming. Maxine will be playing a character named Garcia, an "ass-kicking member of the Elite Fighting Force." (NoDQ)
It looks like it's a web series for now, which could end up on television at some point. I always thought Maxine was a diva WWE really could have used, but she left because she was likely frustrated due to the fact that she was in developmental for a couple of years. I watched her on NXT regularly (before it was in its current format) and she was a standout performer to me. It would be nice if she found her way back to WWE one day since she's 27 years old. Did I mention she is hot? She is.
Those damn shirts don't like staying closed, huh? Poor thing.
-----
I think I'll call it quits there. My apologies for not doing a Q&A here in the last month. Between all the work I've been doing, plus adding 19 writers to TJRSports.com (go read them!) this past week I've had no time. I'll do a Q&A on the TJRWrestling.com Facebook page possibly next weekend.
Have a great weekend, my friends. I'll be back on Monday with the live Raw Deal.
Email mrjohncanton@gmail.com
Twitter @johnreport