I remember when I was dreading WrestleMania XXX. It was after the Royal Rumble. Batista was nearly booed out of the building. Daniel Bryan was reduced to an opening match. Mick Foley did what a lot of us wanted to, he smashed his television in disgust.
Then it got worse. CM Punk quit the WWE. Rumors floated of a Daniel Bryan mid-card match occurring at the big show. It seemed the WWE didn't want to listen to its fans for their number one show of the year. I am used to students not listening from time to time but not from my favorite multi-billion dollar company.
A funny thing happened on the way to WrestleMania, the WWE begun to put together a quality show. It seemed they were listening to what their fans wanted and produce a quality show that showcases matches we want to see with an exciting mix of newcomers and legends. I know I am more excited about April 6th in New Orleans. It is nice to see a vast majority of the Internet not so miserable for once too. Let us review why I am excited for WrestleMania:
I Might Get a Repeat of WrestleMania X!
Granted WrestleMania X isn't the greatest show of all time but it does contain a few brilliant matches. One of those matches is the greatest opening match of all time, Owen Hart versus Bret Hart. Please go back and watch it on the WWE Network, it is more than worth your time. His title match later that night with Yokozuna is where Hart won his second WWE title, forever-establishing Bret as a major player in the WWE.
I love the parallels to what is occurring now. Daniel Bryan is going to truly remove all doubt where he is on the roster with this chance for a true star making performance. I hope Triple H and Bryan is the first match. Triple H can still go, if motivated, and Bryan cannot put on a poor match. It would be the perfect opener to get the audience involved and stay so during the entirety of the pay-per-view. Giving the chance to work and excel in two good matches is the perfect showcase for Bryan. After all, following in the footsteps of Bret Hart is not a bad place to be.
Battle Royals Are Amazing


I enjoy a good Battle Royal they are generally chaotic fun. This one has been set-up as a big deal. First, the Andre the Giant trophy adds a step of legitimacy to the proceedings. He loved them and being associated with one of the most beloved names in the WWE History is a nice touch to the history of pro wrestling at its biggest show.
Second, it gets a lot of stars onto the big show. Events like Money in the Bank and Battle Royals are a nice way to reward the vast roster that doesn't always get the time and respect they deserve. This is a nice nod to the entire roster that would otherwise be ignored this time of year.
Finally, it is a perfect stepping stone to bigger things. The winner gets a nice trophy and an instant push to legitimacy on this grand scale. We only get that now with Money in the Bank, good to see it back at WrestleMania in this interesting form.
John Cena is Doing Someone Good at WrestleMania
A lot of fans have certainly had their fill of John Cena. His constant place at the top of the card for years without any dramatic chance of his character has created some very vocal detractors. Nowhere is this more evident than WrestleMania where he has hogged the main event, even when it wasn't for the WWE Championship. That is until this year.
John Cena will do something amazing in New Orleans, he isn't going to be the last match on the card. You could argue he is about the 4th most important match on the card, a far cry from previous years. However it is another aspect that surprises me: being involved in a match to build up a younger talent. Bray Wyatt is certainly on fire now and this interaction with Cena can only build this intriguing heel, win or lose. Good for Cena and good for the fans of younger talents.
We Have Undertaker…..Duh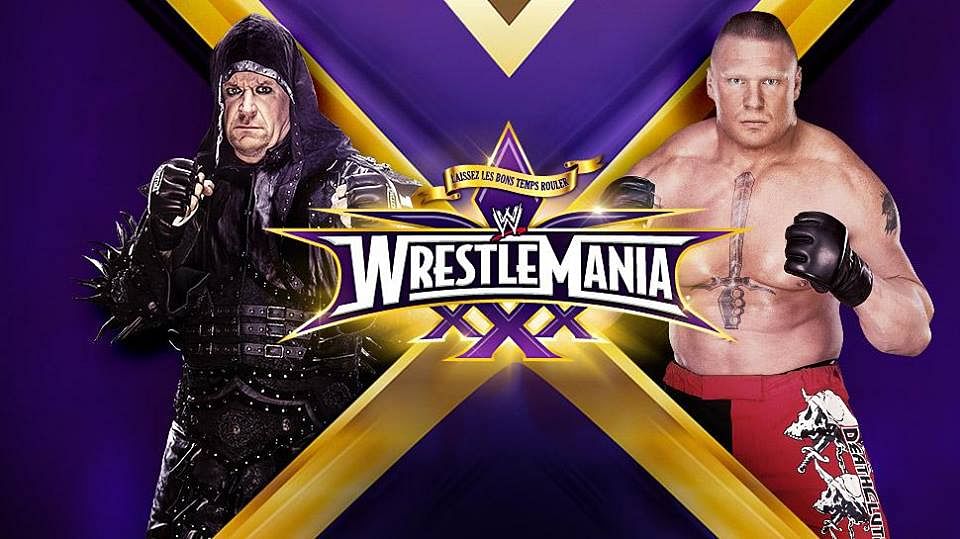 I never used to be the biggest fan of the Undertaker. Then we came to WrestleMania 25 when he was a part of one of the best matches in pay-per-view history. It was a trend he continued with the best match on the card for the next four years. The fact he is doing all of this in his late 40's is outstanding and unheard of.
His opponent for his yearly classic is Brock Lesnar. When Brock isn't fighting Triple H, he is proving why he is one of their best talents. Brock's matches with John Cena and CM Punk were among the best of 2012 and 2013 respectively. It will be fascinating to watch Undertaker in a truly physical match again.
We Have a Lot of Fun Unknowns
I think the WWE has the top of the card figured out but has a lot of room for good things or horrible things to occur with the rest of the night. What are you doing with your hottest team, The Shield, at the biggest show? Are we going to get a quality tag title match? Will the Divas have a good match? What will happen if the lights go out like at the Super Bowl? Will I even be able to stream it at the WWE Network? Will I be the only member of the TJR staff left when the rest reach the French Quarter?
It is fun to have some things figured out that the fans want but have room for some intangibles that could improve the quality of the show.
Conclusion:
I feel we sometimes are a negative bunch online. I know negativity on a daily setting and it gets old after a while. I choose to be the optimist. It took a lot of work but the WWE could be setting up for something special. That would be a nice change of pace right?
----------------------------------------------------------------------------------------------------------
Feel free to contact me at lasher@pacificu.edu. Additionally, I have my Twitter account, WWELasher as well. I hope you will read me again soon. Back to grading but soon spring break!