This week came the news that Santino Marella, 'The Milan Miracle', was retiring due to neck injuries. Does he have a career up there with Shawn Michaels? Stone Cold Steve Austin? Bruno Sammartino? Of course not. That's no disrespect to Santino but at the end of the day, he was never brought into the company to be that sort of wrestler. He was brought in to make us laugh as either a face (usually) or a heel. He wasn't there for the five-star matches and WrestleMania headliners. He was there to do something quite unique. He was there to make us laugh as a wrestler.
Compared to many wrestlers, Santino actually had quite a decorated career. OVW Television Champion twice, Intercontinental Champion twice, United States Champion once, Tag-Team title holder with Vladimir Kozlov once and, er, Miss WrestleMania twice. Quite a few titles for a man many people were prepared to write off as a clown but he certainly had his moments. Also, it is the latter achievement that shows what a game bird he was.
Santino famously 'debuted' as an audience member on an episode of RAW that was broadcast from Milan. Vince McMahon, still seething about losing his hair at WrestleMania, plucked a member of the crowd to face Umaga for the Intercontinental Championship. After a bruising beatdown, Bobby Lashley appeared, speared the Samoan monster and Marella shocked the world with the win. This immediately showed the two sides of Santino. He was game for the beating and the crowd instantly took him to heart. Granted, he had home-town advantage but still, the same cheers could be heard when he almost beat Albert Del Rio for the 40-man Royal Rumble in 2011.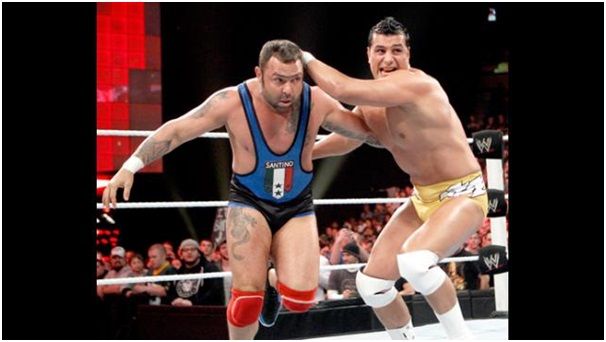 In the intervening years, leading all the way up to his announcement at a live show last week, Santino was the humour of the show. Sometimes it didn't work. If anything, the latter 'Cobra' gimmick, and final work with Hornswoggle, Heath Slater and Emma, didn't really wash as, post 'pipe-bomb' some of it seemed just a little too silly. One could never doubt his commitment to the cause though and, as with Hornswoggle, kids loved him and many adults appreciated the humour amidst yet another twenty-minute Triple H promo.
What Santino did, for pretty much the whole of his career, was try to make us laugh. The earnest anger of CM Punk or the psychotic rage of Dean Ambrose needs a clear juxtaposition or else how do we know they are earnest or psychotic? Without Santino, those characters would be the norm and this, perhaps more than any other reason, is why we need our 'Santino's' in wrestling. The goofball. The klutz. The fool. Just as wrestling has a 'rock' connection, so it must have a 'comic' connection.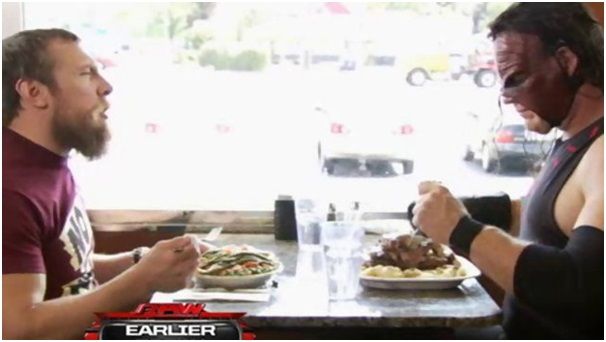 Back in 2012, Daniel Bryan was pretty much heading up what was left of the SmackDown brand extension when he fell into the RAW machine by winning a number-one contender match against CM Punk. Suddenly, both he and his fiancé AJ were involved in a romantic 'square' as the three of them were joined by Kane in a battle for both the title and AJ's affections. The focus shifted to Bryan and Kane until they were eventually forced into 'anger management' therapy.
It was here, under the watchful eye of Dr Shelby, that the two became both a 'comic' team but also a serious threat to the tag-team titles. The sketches in the therapy classes saw both men react brilliantly to the card they had been dealt. Many wrestlers with the backgrounds of Kane and Bryan might have taken offence to being shunted into a 'comedy tag-team' pairing, but these two saw that they could really achieve something and in the next few weeks, the anger management segments stole the show. From there we had the 'hug' storyline before eventually taking the tag-titles from Kofi Kingston and R-Truth. The run helped re-establish both men after a poor WrestleMania (Bryan by losing in 18 seconds, Kane by following that match). They embraced the humour and the audience went with them.
We all know that Vince loves his comedy as much as he loves a dance-off. The Attitude Era was full of intensity and craziness and whether it was a naked D-X backstage or Chris Jericho and Christian backstage in towels, the company ran a very thin line. For every Vince getting attacked by Stone Cold in hospital, with a primed and ready Mr Socko cameo, there would be a tasteless bash at JR. Having said that, WWE can lay claim to be the first time ever that a woman gave birth to a hand.
In a way, some of the comedy in WWE falls flat but it is in talking about it after the event that we can laugh. Take the 'hand' incident. It was ridiculous and cringe-inducing back in the day. Mark Henry had gone from the Nation of Domination to Sexual Chocolate in under a year. His romance with Mae Young was preposterous but the 'hand birth' smacked of a Creative Team dabbling in too many recreational products (fizzy sweets, cans of coke, that sort of thing).
Take it further to Hornswoggle, the illegitimate leprechaun son of Vince McMahon. Or a Zombie debuting in ECW. How about Hulk Hogan entering the Dungeon of Doom (a personal favourite – 'Ahh! It's not hot!')? Or a BoogeyMan that eats worms and smashes a clock over his head. Just reading these might put a smile on your face. When you watch it live, you think it's stupid but when you explain to someone why you love wrestling you might well mention Michaels versus Taker at WrestleMania XXV. Chances are though that you won't swing someone who hates wrestling so it's always best to pull out the time that Triple H dry-humped a mannequin in a coffin or when a bull and a leprechaun got it on in the ring. In the same way some of us will never be tempted by soap-operas ('What?! He's back from the dead again?!') so some people will never be tempted by professional wrestling. It is often the ridiculous things we remember as much as the serious stuff.
It is the humour that provides the moments of respite for us. Quite often, let's be honest, WWE Creative's humour is poor at best. They are fast-forward moments, but when you have a pro like Santino running with whatever ball he's been given, it's hard not to like the guy. If each episode of RAW was intense Bray Wyatt promo followed by serious Cena versus the Viper match followed by a creepy Undertaker promo, we'd get dragged down in the monotony. That's why we can't ever expect a WrestleMania full of Michaels v Taker quality matches, we'd be exhausted after the first twenty minutes.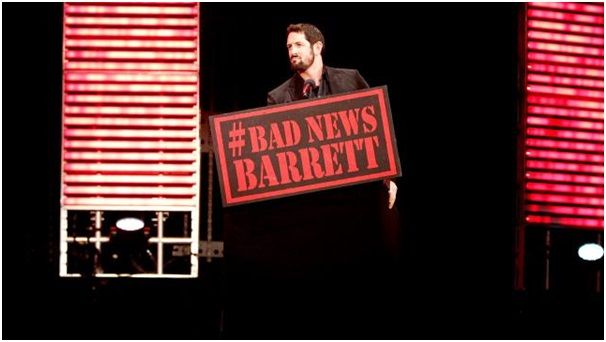 Humour doesn't necessarily need to come from a 'comedian' like Santino though. Until his injury, Bad News Barrett was really running with his gimmick and doing the polar opposite thing of being hated and cheered at almost the same time. His brief promos, particularly when he got off the podium and back in the ring, were excellent. The same can be said for Paul Heyman. Here is a character so vile that it's difficult not to laugh at how slimy he is. In this manner, Heyman is a juxtaposition with himself because we can laugh at his villainy and yet, when he calls Brock off from decimating another poor victim, it feels real. Business just got serious.
Again, we can look at Damien Sandow and his current gimmick is almost a punishment. Week after week he comes out dressed as a different 'character' and each time he gets beaten to a pulp and humiliated. Now, backstage politics will never really be known to the audience. The burial of Ziggler since SummerSlam 2013? Who really knows. Sandow being humiliated? It almost feels like hazing from the bullies. Humiliate the poor sap and let's do it in front of an audience of millions. Sandow's segments aren't particularly funny but, similar with some of Santino's work, he is going for it all guns blazing. It's almost two-fingers to the clowns of Creative for saddling him with the 'gimmickless gimmick'.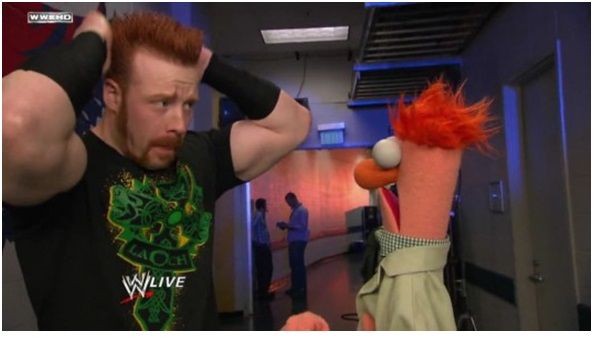 Obviously, the guest hosts usually have a part to play. Bob Barker and Chris Jericho? Pretty much as good as it got but who will ever forget SummerFest? Or, best of all, The Muppets with Sheamus meeting his cousin Beaker. Again, they were silly segments but a collective love of The Muppets meant we can look back fondly at that episode. Yes, some of it was off the mark but, the flipside, the kids still loved it. Also, any episode that pairs my favourite current wrestler in Daniel Bryan with my favourite ever Muppet in Animal gets my vote.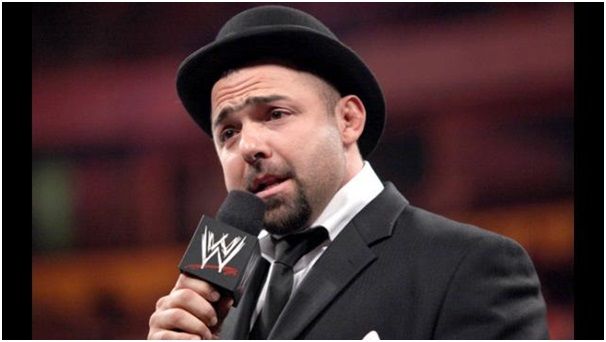 So, Santino represents a lot of modern humour in the WWE. Sometimes wildly off-the-mark but performed with such commitment it's hard to dislike the guy. Some of the segments were poor, yes, but Santino? No. He will be sorely missed because he genuinely leaves a gap in the roster. The wrestling comedian. He will always get a chance to shine though and so here is the 'Tea Party' segment below, perhaps his finest moment. For that one brief moment, the comedian had the last laugh over the bully and for that, Santino, we raise a glass of Chianti to you.
I'm on holiday for a couple of weeks now so have a great July and I'll be back with a sunburn and heatstroke soon.
Please follow me on twitter @HughFirth or email me on ashburnham54@yahoo.com All constructive criticism is appreciated.
I also write at www.whatculture.com My most recent is on 'Ten Cameos We Want To See At SummerSlam' and can be found here http://whatculture.com/wwe/wwe-summerslam-2014-10-cameos-we-most-want-to-see.php
(This is my archive of columns http://whatculture.com/author/hugh-firth )