Do we ever really know the wrestlers that we idolize and criticize? Heather Hickey looks at Sunny in the wake of her recent cancer diagnosis.
A young medical student, excelling at school and living off her father's credit card.
A scantily-clad vixen, posing suggestively on the beach.
A grieving woman, unable to get out of bed for months because her long-time boyfriend has died.
A celebrated personality, inducted into her profession's Hall of Fame, recognized by millions.
An inmate in a women's prison, sharing a cell with convicted killers.
Is it possible that these could all be the same person? Tammy Lynn Sytch - known to many as Sunny – proves it possible. Earlier this year, while in prison, she was diagnosed with and treated for cervical cancer. Released in May, she has spoken openly about her transgressions. She has launched a series of enterprising projects, some of which could be viewed as desperate in nature. On Monday night, Tammy posted online that she'd received news from her oncologist that her cancer has returned (follow her on Twitter @WWEHOFerSunny). I hope that she receives good care and recovers, and I felt moved to write about her.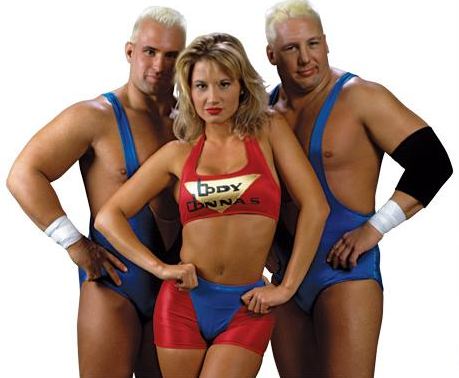 The Bodydonnas, 1995
Until recently, I only really thought about her as Sunny of the Bodydonnas in the WWF. She made an impression as a pretty, energetic valet for a tag team that wasn't nearly as memorable. One half of the team was her boyfriend, Chris Candido, and what I didn't know at the time was that Tammy had no intentions of following his footsteps into wrestling. She was a med student who had transferred schools to be with Chris when he joined Smoky Mountain Wrestling. The promoter, Jim Cornette, surprised them both one night when he asked Tammy to do a 6-month stint as a snooty college girl. She proved to be a natural, easily memorizing promos and getting huge heat with the fans.
When the WWF came calling, Tammy assumed that they were looking for Chris. But no, they wanted her, and rolled out the red carpet for an audition. After flubbing her lines on the teleprompter, Tammy felt deeply disappointed: not because she wanted to go into wrestling full time, but because she had failed at something. Apparently, the WWF saw enough in her on-screen presence to hire her on to do live event news as Tamara Murphy for the local stations. It was decision time for the medical student: say no, and continue living off Daddy's credit card down in Tennessee, or say yes to $1725/week and take a semester off?
A Rare Photo of Team Spirit
We know which way she went, though very few of us would have seen this early incarnation of the blonde bombshell. Eventually, they called up Chris as well, and packaged them as "Team Spirit", a pair of baby face cheerleaders who fell flat because they'd so successfully drawn heat in SMW. It was but the work of a moment to re-package them, and even though I was never thrilled by their gimmick, Sunny made an impact. She betrayed her team, and then the Godwinns, and then the Smoking Gunns, but far more remarkably she made headlines in the mainstream media. In 1996, AOL named her the Most Downloaded Woman on the Internet, a title that gave Sunny recognition beyond the realm of the ring.
Internet Sensation
A confident, intelligent woman, Sunny ensured that she had creative control over her image. She had an understanding with Vince McMahon on this, and never felt intimidated to stand up for herself or call upon Vince to back her up. I didn't know any of this about her background, until I happened upon an interview with her on Colt Cabana's Art of Wrestling podcast a few weeks ago. It's an interesting listen, and an opportunity to see Tammy in a different way than you may have before. Watching her as a youth, it was always obvious that she had a mesmerizing effect on male fans. Maybe as a female, I didn't put much thought into it past, "Oh there's Sunny, being flirty as usual." But then came WrestleMania 14, and she really turned my head.
What a Rush
She had been absent from my TV screen for a brief period, and I didn't know that she had joined Chris in ECW for a while. WrestleMania featured the big reveal of Legion of Doom 2000, decked out in insane costumes and led to the ring by Sunny. She. Looked. Wild. Like a lean, spiny creature all vamped up and set loose on the arena. There I sat, unable to look at anyone else in the match but her. Of course, LOD was victorious, giving Sunny another opportunity to take center stage in celebration. Today, it makes me think of a line from the movie Chicago: "The audience loves me, and I love them, and they love me for loving them and I love them for loving me". It was a short-lived moment of glory, however, as Sunny was dismissed from the company later that year.
I didn't think about Sunny again, until Tammy's name started appearing in the smutty section of the wrestling headlines a few years ago. To be honest, I wrote it off as another sad story on the road to a sad ending. I didn't devour the details because - from a selfish standpoint and not a sensitive one - I didn't want to think of Sunny as a mug shot.
Hall of Fame Portrait with Trish Stratus
As I write about Sunny today, I realize that I romanticize professional wrestling a lot. It's a profession that can pay you just a little bit of money, with the promise that you'll live your dream and maybe make more money someday. Maybe someday comes, with enough money to even justify the risks you take with your body. It's a profession that puts you on the road more than at home with your family. Your sense of what's normal is twisted into an alternate reality, where relationships are more intense, or more expendable. Temptation rears its alluring head for pro wrestlers more than for mere mortals. In an alternate reality, buoyed by ego and immortality, bad choices come easier. And even if you don't make the bad choices, and you do everything right, it can all end in a moment. An injury. A fickle promoter. A fickle audience. Everyone has a shelf life, and you don't know what yours will be. It must be hard to become mortal again, especially if you aren't prepared (emotionally or financially).
Perhaps that's why we see so many former wrestlers trying to bank on what recognition remains, because wrestling is all they know. After 20 years in wrestling, Tammy Lynn Sytch doesn't do the "9-to-5 thing". She is a driven person who has lost her way a few times. During her 114-day incarceration, she sobered up and wrote her biography. She's made a lot of commendable changes, and I'm not going to dwell on the projects that skew on the depressing side. When she announced that her cancer is back, I felt sorry for her. I don't know if that's the "right" way to feel. These days, people can even find a way to make sympathy a bad word.
Tammy Lynn Sytch, August 2013
In the course of your life so far, how many people have you already been? And when people judge you, which person do you want them to judge? If I had a choice, I wouldn't want my entire reputation to be based on the person I was in say 1997. But you can judge me specifically on this article, today. I know that it wasn't as wrestling-oriented as it could have been; I will atone with an Anatomy of a Match from Hell In A Cell next week.
Comments are encouraged below, on twitter @kickyhick or by email heatherhickey@live.ca if that's what you prefer.
October is the month designated for breast and cervical cancer awareness and fundraising. Give to a charity that you trust, if you can. Hug everyone that you love, whenever you can.