"Once I blazed across the sky,
Leaving trails of flame;
I fell to earth, and here I lie -
Who'll help me up again?
-A Shooting Star"
Johann Wolfgang von Goethe – Faust
The deal with the Devil is something intrinsic to the world. Someone who blazes so bright has their light snuffed out in an instant or someone who owns a generation only to crash and burn. In its essence, you only need look at Neil Young's lyric, 'Better to burn out that to face away'. Some people in our lives just burn so bright that when they're gone we look back on their legacy with both wonder and a feeling of 'how did they do that?'.
The deal with the Devil is a cultural motif laid down through history from Christian folk-literature. Essentially, an individual makes a deal with Satan in exchange for favours such as intelligence, power or wealth. The 'deal' comes in the fact that, one day, Satan will revisit the person and, in return for such 'gifts' will exact their end of the bargain, eternal damnation. So, you decide. Live a mundane life and earn a safe passage into the afterlife (to 'fade away') or reach to the top of the world and then be dragged to hell (to 'burn out'). This story can be found in such work as Doctor Faustus and Faust, most obviously, but also The Picture of Dorian Gray and films such as The Devil's Advocate, O Brother, Where Art Thou? and even, oddly enough, the original Transformers animated movie.
In sport too, this idea is also thrown around. In UK soccer, the brilliance of such unique talents as George Best and Paul Gascoigne, unrivalled on the pitch, saw their later lives shrouded in alcoholism and depression. Boxing too can look at the myth via such tragic tales as Sonny Liston, The Night-Train, who allegedly took a dive for the mob and most likely died of a heroin overdose. Not all sporting tales end so tragically for many looked to English rugby union player Jonny Wilkinson who scored an incredible last minute drop goal to win the World Cup for England and then became so injured he didn't play for his country again for over 1000 days and whose UK rugby career was plagued by injury and self-doubt.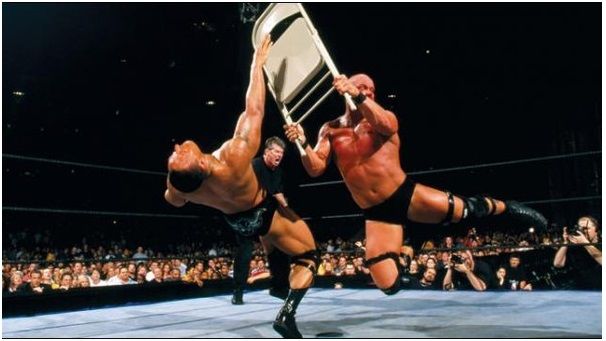 Wrestling, as it always does, casts its net far and wide when considering stories for our entertainment and the deal with the Devil is a popular motif. Stone Cold Steve Austin, a WWF hero and a man the fans could relate to, taking it to the boss, turned at WrestleMania X-Seven and defeated The Rock for the championship by using a chair provided by Mr McMahon. He had a choice. He was the people's champion, loved by millions...but he wanted the title more. Sometimes, some form of gain, material or power-based, will make someone turn. Why else would someone join 'the dark side'? From there, convinced of his own status, Austin turned into a whinging parody of his former self, even turning on the company when he thought Kurt Angle, the Olympic hero, was being groomed to take his place.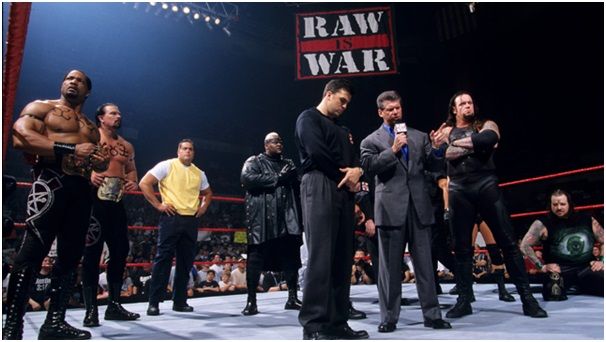 Similarly, Austin's long-time rival at this time, The Undertaker, also made a deal with the Devil. The fact that this man, The Phenom, would succumb is testament to the power of the deal. In 1999, Taker changed. He became almost a High Priest of Hell, followed by his Ministry of Darkness, The Brood, The Acolytes, Mideon and Viscera. All were subject to a 'Higher Power', someone that would lead them into control of the company. That that person turned out to be Mr McMahon shouldn't have surprised anyone. The only person more demonic than Taker is the man who, like a Roman Emperor, will decide the fate of all others in his company.
Does the deal always have to be with a demonic entity though? No. Sometimes the devil is in the detail as an individual has to make a choice. Money in the Bank is perhaps the most obvious example of this. Should an individual cash in by surprise, thus ensuring the win or should they announce a match later down the line, giving their opponent time to prepare? Holding that briefcase is almost like an internal deal with the demon in us all. For every John Cena and RVD, shining lights who want to do it the right way, there is an Edge or Kane, men who wait until their opponent is bloodied and battered, and beaten, before taking the title from them. The idea of 'the devil inside of us' is one discussed before, http://tjrwrestling.com/articles/give-the-devil-his-due, but this idea, the 'deal' is far more destructive because it almost makes Faust passive in the face of such power.
Of course, everyone knows 'the devil has all the best lines' and so, when a wrestler considers their future, they need to take into account those that can set them on a heady rise to fame, power and, of course, the title. Paul Bearer led both Undertaker and Kane to demonic glory but, if the Devil can take any shape, one need only look at a particular 'walrus' of a man. A man who will do anything for his 'clients' on a destructive path to success.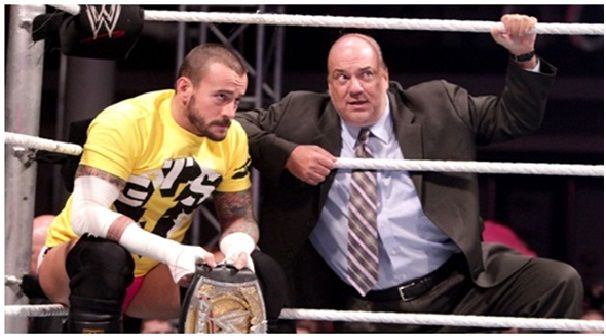 CM Punk struck just such a deal when his OVW mentor returned to the main roster. Heyman used every trick under the sun to keep the title on his 'friend', even using the hounds to take down a friendly Goliath in Ryback, before The Rock, again a victim to The Shield, refused to wilt in the face of Punk and Heyman and rock-bottomed them into a dangerous feud with The Undertaker. Heyman and Punk tried everything to end the streak but The Deadman vanquished the Devil and his protégé. Then Punk tried that old Faustian trick of trying to disassociate himself from Satan and the deal he'd made. The problem is, the Devil has a long memory and at Money in the Bank 2013, Heyman cost Punk the briefcase and set his monster on him, Brock Lesnar. To be fair, Punk took Faust's mantra that 'only action...can make a man' When Punk said, 'The truth is you don't have a future because I will burn down everything around you until you're the last man standing and I'm going to keep you alive just long enough to look you in the eye and hurt you worst of all'. It was a statement of intent to Satan, but the problem is, there's always a Mephistophilis who will drag you down to Hell, and that was Lesnar's role. In a way, SummerSlam was the last time we saw the 'real' CM Punk before his departure.
Taking this idea away from the 'story-line' however, we find that this deal need not always be completely negative. Should we ignore how bright some people do shine? When Edge was forced into premature retirement, he had had a great career, one that had taken in every title and seen such great battles with Cena, Taker and Jericho. He was such a determined worker in the ring that, when it was all taken away from him, as is the Devil's wont, people were in tears. He has since had to take himself away and rebuild his life, one away from the storylines and creative decisions of WWE. Would he trade it in though? Well...
'If you ask me if I'd do all this again...if you'd ask me if I'd travel all the roads, log all the miles, hope on all the flights, all the sleepless nights, all the surgeries, all the injuries, all the metal rods in my teeth, all of it...you ask me if I'd do it again? In a heartbeat.'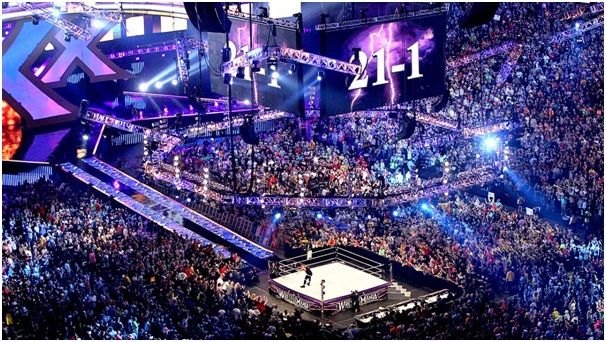 One could also look at The Undertaker. One could never accuse The Deadman of being a flash in the pan, but the most demonic entity, outside of his brother, to enter the squared circle, was a broken, battered man at WrestleMania XXX. What deals has he made to get him to where he is? What goals did he set himself later in his career which led to the loss? Match of the year candidate for five years running at that stage in his life would surely come back to haunt The Deadman. Similar to Edge though, surely he's deserved his time in the sun, a chance to drive away from the Devil on a Harley-Davidson with his wife riding pillion?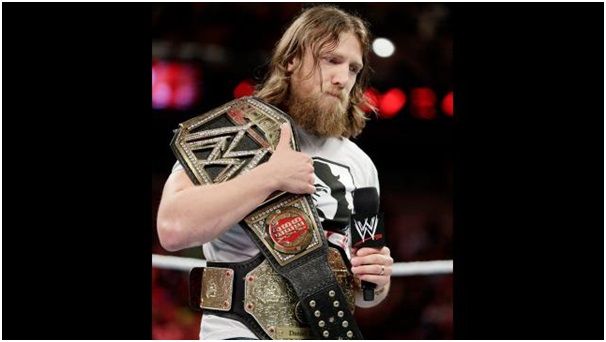 Which leads us to events still up in the air. For over two years now, Daniel Bryan has delivered a master-class in development from small mid-carder to main-event hero. His wrestling style is high-flying and dangerous but, only six weeks ago, we witnessed 'The Miracle on Bourbon Street' as he defeated, well, Evolution to take the titles. Since then, marriage to Brie aside, it has been a hellish time for him on a personal level. Now, we're five days away from finding out on RAW if the titles will be taken from him due to surgery on his broken neck.
Similar to Jonny Wilkinson, the idea of a 'deal with the Devil' isn't necessarily as negative as the folk-literature ideals, but it is doing anything, anything, to reach the top, and Daniel Bryan has done it, but at what cost? We all hope we will see him back in the ring soon but we should also wish him time for a recovery which will fully heal the events of the past month and a half since 'the miracle'. Daniel did everything possible to reach the top of his industry but he now needs to make a deal with someone else, himself.
"Waste not a day in vain digression;
with resolute, courageous trust
seek every possible impression
and make it firmly your posession
you'll then work on because you must."
Johann Wolfgang von Goethe – Faust
Please follow me on twitter @HughFirth or email me on ashburnham54@yahoo.com All constructive criticism is appreciated.
I also write at www.whatculture.com (this is my archive of columns http://whatculture.com/author/hugh-firth)