Poor Lonestar. He was sick yesterday so not much got covered in terms of headlines. But fear not. I've got you covered For the first time ever, I'm here bringing you a special Saturday edition of headlines, Melo Out style. And there is a lot to talk about so sit back, relax and let's get to it.
It's a new year! Finally it is a new year. I am so excited as I am at the start of every new year, especially when it comes to WWE. As in previous years, it seems that wrestling is at its best when it is the start of a new year, when the road to the Royal Rumble begins and right after that it's the start to the road to WrestleMania. It's the best time in wrestling and to be a wrestling fan in my opinion.
I am a huge fan of the Royal Rumble match. It only happens once a year. It's the one gimmick match that WWE still has that hasn't been played out. And it is also one of the longest. I'm also a big fan of the Elimination Chamber which is next month. Then of course we have WrestleMania. It's should be three solid months of programming. Or will it?
WWE is looking to kick off 2013 with a bang. With RAW's struggling ratings sinking even lower for the final two taped "holiday" shows of 2012, next Monday's live show represents a fresh start for the company's flagship show and steps are being taken to jumpstart the new year.

Next Monday's RAW will be up against stiff competition with the college football BCS Championship game, so WWE is bringing in The Rock for a special appearance and will feature WWE Champion CM Punk defending against Ryback in a Tables, Ladders & Chairs match. According to sources in WWE, there are big plans for Monday's RAW that will have everybody buzzing by the time 11:15pm (ET) rolls around.

The following week (1/14) is the 20th Anniversary of WWE RAW – and there will be appearances from various WWE legends to add some star power to the historic night. With the show taking place from Houston, Texas – it's possible we'll see appearances from local legends The Undertaker, Steve Austin and Shawn Michaels. It's also rumored that WWE will announce the first inductee into the Hall of Fame's Class of 2013 that night.

WWE Chairman Vince McMahon is gearing up for WrestleMania season and won't be wasting any time shaking things up. There are reportedly plans for every RAW this month to be "stacked." (Source: Sescoops.com)
Like I said, I was already excited for many reasons but then I read this and it only solidified that excitement.
There is no denying that RAW has been a difficult product to watch as of late. I think it is a combination of many things but in particular rushed storylines, bad matches and the 3 hour issue of having too much pointless fillers and not enough excitement.
If history is any indicator we are in for some great television indeed, especially with Rock being back as well as other past legends.
And speaking of The Rock being back...
The official poster for the 2013 WWE Elimination Chamber PPV features The Rock, John Cena, CM Punk, Ryback, Big Show and Sheamus, teasing that all six would be involved in a major way at the last PPV prior to Wrestlemania 29. If Rock works inside the Chamber that would be the first time he's ever done that match. (Source: PWinsider)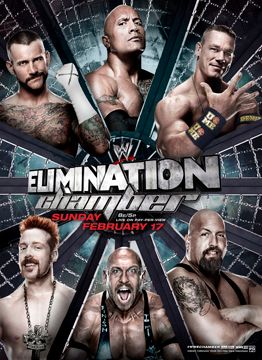 Isn't that just the icing on the cake? The Rock in an Elimination Chamber match. First time ever. Never before. Never again. Wait we've heard that before haven't we? Who cares? If this does in happen I'd be very excited about it. Rock, Cena & Punk in the ring all together at the same time? Good stuff.
The poster also shows Big Show, Sheamus & Ryback, but I would assume they would be in a match for Big Show's world title. Could they be setting up a possible Wrestlemania bout between Big Show & Ryback? I think that could be good. Who knows? We will have to wait and see. Although it would be cool if my Wrestlemania 29 fantasy booking started taking shape.
In other news...
"Zack Ryder says he has a major announcement coming soon for the 100th episode of his YouTube show. He tweeted:

"Working on Episode 99 of Z! True Long Island Story. A MAJOR announcement will be made. #OneeleVEnthiRteen"

Speaking of Ryder, he filmed the music video for his song "Hoeski" this week and tweeted the following picture from the shoot: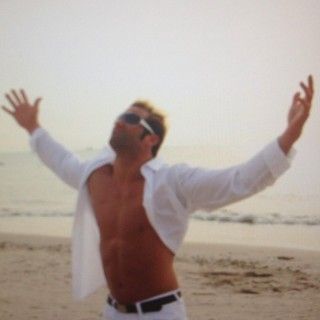 (Source: Rajah.com)
I wonder what it could be? Is the Youtube show going to be no more now that WWE has successfully killed whatever momentum Ryder had this time last year to the point that he is now to where he didn't want to be in the first place? Doubt it.
At the end of the day, we all gotta make that money money yeah yeah. But I can see how Ryder wouldn't feel the desire to want to make any more videos. They are what helped get him to where he is. I never saw him as a main eventer don't get me wrong, but the guy should at the very least be in the mid card. He more than deserves that in my opinion.
Maybe he will go heel and become the fourth member of 3MB thus officially making them 4MB. I dunno about you, but when I see MB I think of megabytes. Four megabytes of brain power these four guys would have in a stable that is for sure.
I can see it now... 4MBB (Four Man Bro Band)
Email: steve-melo@graphic-designer.com
Twitter: @MeloOutTJR
Facebook: /MeloOutTJR