Hello again Monday Headlines fans! Mike and I are here to -*phone rings… "What do you mean a gopher?..."It's stuck where?...What did the midget say?....Fine, whatever. I'll cover for you." Folks, I just found out that Mike won't be here due to, um, personal reasons. Looks like you have your good buddy Fozzie to keep you company. Hey, where you going?
And now the fake news. (Courtesy of NoDq, and whatever site(s) they cut and pasted from.)
A Flair for the New Generation: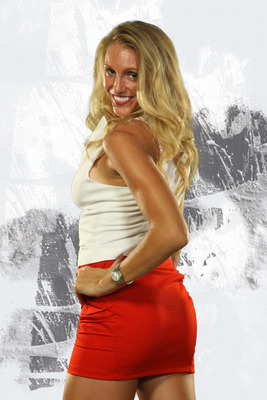 Ric Flair's daughter, Charlotte, made her in-ring debut recently, and good ol' JR was there with this critique:
"Ric Flair was on hand to see his athletic daughter, Charlotte, make her in ring debut and Charlotte did well for her first outing. She's approximately a 6 footer who has a viable upside."
Translation: "If she doesn't make it here, I am pretty sure TNA will pay her a ton of money to feud with Brooke Hogan."
Hammer Time
Philly.com published an interview with Bonnie Hammer, who works for USA network and is one of the WWE's biggest supporters. She mentions how WWE has always been a ratings monster, and that she gave McMahon advice years ago to "develop storylines and characters, which they did."
In other news, Mantaur talks about his lack of a developed character, saying "I threw people out of the ring, and they never came back. My finisher was "the Countout" before downing a bottle of Jack Daniels, putting on his headgear and storming a PETA rally. Poor, poor Mantaur.
Sunny Shines in New England
Former WWE Diva Sunny was elected into the New England Pro Wrestling Hall of fame this past weekend. According to Arda Ocal, she opened her speech with the line ""I don't have a restraining order against anyone in here do I?" I was told that the joke went over well, until three people raised their hands, causing Sunny to quietly walk off the stage and propose marriage to each of them.
McMahon Hates Christmas (Not Really)
Mick Foley revealed recently his original plan for his induction into the HOF:
"I pointed out to Vince that I'd never had any pyrotechnics during the entirety of my career. I thought it might be special if at the end of my speech at the Hall of Fame I could somehow ascend into the rafters on a sleigh with Santa Claus. Vince looked at me like I was just out of my mind and let me know in no uncertain terms that was not going to happen."
Damn Scrooge McVince! That would have been worth me getting shin splints because I had to walk very briskly (run? never) from the Lincoln Tunnel to MSG because of f*****g New York City traffic.
That's all I got. Enjoy your day.