It's like Team ZigSwag is still working together...
It's Monday. The start of a new week. I tend to write a lot in these things, so let's just get to it.
Remember last Monday's Raw when Dolph Ziggler cashed in the Money in the Bank briefcase to win the World Title from Alberto Del Rio? Apparently it was the plan for at least a few weeks and his former partner Jack Swagger played a role in it. Here's that story from Wrestlezone, which got the info from PWInsider.
According to PWInsider.com, despite the live Raw crowd in New Jersey clamoring for a Dolph Ziggler cash-in, WWE did not make an on-the-fly decision, as the plan was set weeks ago to have Ziggler win the title on the Raw show after WrestleMania.

This explains why Ziggler was doing so many jobs as of late, so WWE could create interest in talents chasing his title since they can claim they already "beat him."

In related news, word coming from backstage in WWE is that the company's interest in having Jack Swagger win the World Title fizzled after his DUI arrest.
In other words, Jack Swagger's DUI cost him what could have been the biggest push in his career assuming they booked his second World Title run better than his first one. It's the same DUI charge from February that will lead to a June 25 trial. I doubt it will be a trial. More like a court date. I also doubt that he's going to serve any jail time. It will probably be probation and community service.
With that said, I don't think the Swagger/Del Rio feud was hot enough to go another PPV with them feuding. It was the right move to put the World Title on Ziggler.
As for Ziggler, I think they made the right call in terms of putting the World Title on him. He deserves. Could they have created a special WrestleMania moment by putting the World Title on him there instead? Absolutely. Nobody would ever forget that. In the end it doesn't really matter. He's got the World Title, so let's see how he is booked.
I'm not a fan of the idea that a guy should lose a lot of matches before cashing in to win the "big one" or one of the big ones as it were. If you lose a lot of singles matches going into it you're looked at as a loser. Then the only way you could win the World Title is after the champion is already knocked out. That makes you look smart in that you took advantage of an opportunity, but you're still a loser because of the other matches you lost. If it was me I'd book the guys to win a lot before cashing in because then you condition the fans to think "this guy's a winner" and ultimately the fans are going to want to pay to see winners rather than losers.
By the way, I love how I was able to find a pic where Swagger has a stoned expression on his face. It really wasn't that hard to find.
IN OTHER NEWS
- Another WWE superstar is in a movie. This time it's Brodus Clay, who is a part of the film No One Lives, which is produced by WWE. Funny how that works out huh? Here's the two minute trailer. Note that it's pretty gruesome, so if you're not into that sort of thing maybe you should avoid watching it.
There was actually a lot of Brodus in the first minute of it. It also showed how he died too, so I guess if you're a Brodus fan (do they exist?) then maybe you have no reason to watch it now. Don't blame me. Blame the trailer!
- WWE Hall of Famer Stone Cold Steve Austin had some thoughts on Fandango that he shared on Twitter.
BOLD PREDICTION-FANDANGO WILL BE IC CHAMP WITHIN 6-8 MONTHS.#WWE You heard it here first.#steveaustinshow

— Steve Austin (@steveaustinBSR) April 14, 2013
He thinks Fandango will be Intercontinental Champion within 6 to 8 months? I don't agree. I think it will be sooner than that. With the way WWE rushes things they will probably get the IC Title on him within 2-3 months. Then again it could be the US Title. It's not like there's much difference these days.
It's not like the IC Title is as prestigious as it was before the World Title came around and they had two major titles. After all, this guy held the IC Title once.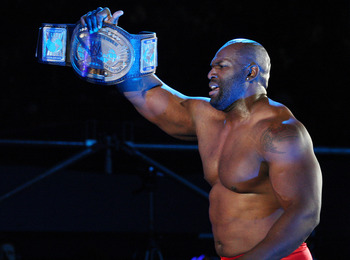 That's Ezekiel Jackson, in case you forgot. He still works for WWE. We think.
- The new Mick Foley DVD is released on Tuesday. Here's what it looks like.
You should get it. Why? Because it's Mick Foley and he's awesome. I have been very pleased with most of the recent WWE DVDs especially the documentary features in them. The match selections are generally pretty awesome, but I've seen almost all of the matches. I like getting the DVDs for the documentaries. For more info on the contents of the DVD visit WWE.com.
I can remember buying his "Greatest Hits & Misses" DVD from 2004 (admittedly I had to look up the year), so it's nice to see another one now that he's back in the WWE fold. I'll be getting it soon. I have no idea if I will review it. Probably not. But I might. Or not. Maybe. How's that for an answer? (What a jerk, I know.)
- In TNA news, last Thursday's Impact earned them their worst rating of 2013 with a 0.93 rating (ProWrestling.net). Usually they are in the 1.1 rating range. That's the range they've been in for like six years even though you'll hear Hogan or Bischoff do interviews where they talk about how they're growing. They've been there for four years yet now they're losing money by going on the road instead of taping at Universal Studios. How are they growing when they cut eight live PPVs? Anyway, moving on. This wasn't just some random episode. They hyped it up as a big deal with Bully Ray defending the TNA World Title against Jeff Hardy in a Full Metal Mayhem (basically a TLC match) match.
It should be noted that in the main event, Bully Ray lay on a table and it broke before Hardy could put him through it. Then Hardy went looking for a table by ringside, couldn't find one, had to walk all the way up the ramp for a table, bring it back to ringside and then he finally put Bully Ray through a table. It was a nice idea, but it didn't turn out well. Other than that I liked the match.
I want TNA to be better. Trust me on that. It can't happen with Hogan & Bischoff in charge. They don't know how to improve things. I'm not saying I do. I just know they don't know how to do it.
- Finally, in last week's Monday Headlines I wrote about how if you had your view obstructed by the WrestleMania set you should email WWE to complain at fanservices@wwecorp.com. A few days ago I got an email about it from Victor of Glendale, NY. Here's that email used with his permission:
Mr. Canton,

I've been a long time reader of your site, but I'm not much for interaction and contact, though I've wanted to many times.

I found your articles through NODQ.com, and followed you to TJRWrestling.com. Many props to you for your site and for your insight. It's great to hear/read someone who has similar ideas about wrestling (around my age no less...) and understand how great professional wrestling is, regardless of the sometimes stupid storylines that "Vince the machine" (as my dad calls him) force feeds us.

Anyway, the reason why I'm messaging you. In your Monday headlines column, you mentioned what you did with the seats at Mania last year with the palm trees... I advised my sister, who bought our WM30 tickets right behind the "skyscrapers", to do what you did.

WWE got back to us yesterday and offered us two choices:

A) 6 tickets to each of the next THREE events in our area... (which I can only hope includes a RAW taping, no one wants to go to SMACKDOWN around here to have their cheers/boos/chants drowned out on TV), or..

B) 6 tickets to next year's Wrestlemania.

Thought you might like to hear how it turned out. Please feel free to report this to others via your site if you would like.

But mainly, a hearty thank you from here in good old Glendale, NYC for the information leading to that outcome. If I didn't read your site, we'd never have gotten this far... and also a larger thank you for the RAW DEAL... the only thing keeping me sane at work on Tuesday mornings.

Thanks again,

Victor
First of all, thanks for the support and thanks for writing to me. The email was from Friday. Since then I've been in touch with Victor about this.
What did he and his sister pick? The six tickets to next year's WrestleMania in New Orleans. Victor informed me that WWE said they would be getting floor seats dead center or one level up dead center.
I'm glad that Victor and his friends got a sweet deal like that. If you sat really close you could probably get a similar deal. If you sat further back you should still email fanservices@wwecorp.com to complain because it's not like they told you your view would be blocked when you got the tickets.
Next year there shouldn't be a problem since WrestleMania is in a dome stadium, which means they can hang stuff from the ceiling rather than creating a set that obstructs views around the ring.
------
I'm done for now. I didn't post any Fandango related news. I'm sure they will mention it quite a bit on Raw, though, so if you're into the Fandangomania stuff then you can look forward to that. As usual, some things to plug.
If you missed my Q&A column on Saturday check that out. There were a lot of questions about The Shield as well as a number of people asking for my thoughts on the World Title reign of Dolph Ziggler. Can't we just enjoy it while it's here instead of trying to figure out when he's going to lose it?
Also, I wrote an exclusive column for LayfieldReport.com about Daniel Bryan that I'm really proud of. Basically I'm giving "The Dazzler" a lot of praise for becoming an all around performer who can do it all. Go "Like" it on Facebook too. I actually wrote a similar one in September. Consider this a follow up to that.
Here's a video of the Houston Texans (that's NFL for those that don't know) cheerleaders dancing to the Fandango theme song.
I have nothing against the Fandango song or their uncoordinated humming, but I can confirm that the video is just as good on mute. Just saying.
I'll be back tonight at 8pmET for a live Raw Deal here at TJRWrestling.com. I don't expect the crowd to be as loud as last week, which will be a letdown. Hopefully the show is entertaining.
John Canton - mrjohncanton@gmail.com
Twitter @johnreport