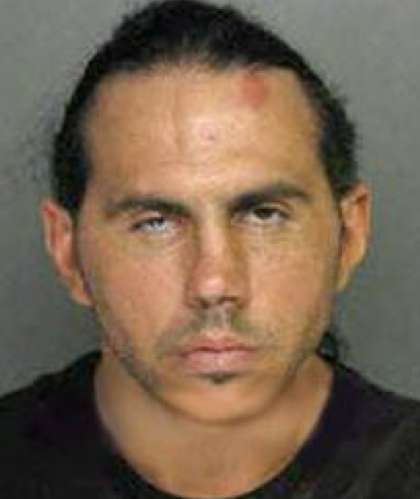 Monday Headlines: Matt Hardy Is SorryBy Jacob Lindsey
Hardy made his
long-awaited return
 ridiculous presence known on the internet again over the weekend, apologizing for all the stuff he got in trouble for in 2011. He spent a year high as a kite, drove around a bunch, got arrested a couple times, essentially ruined his future chances of a career in wrestling, and pretended he was going to kill himself for attention. But it's ok, because he's sorry.<!--more-->From
Rajah
:
Matt Hardy published a statement on Facebook acknowledging his past mistakes, which in 2011 included two arrests for driving while intoxicated, one arrest for drug possession and one arrest for violating a court order.The former WWE Superstar wrote, "I have made more than my share of mistakes in life, but those mistakes have also made me into the person I am today. I can't change my past, so I won't ever deny it or attempt to hide it either.
I'm pretty sure the person he was made him make those mistakes, then the mistake maker made him someone who feels bad about it? What is that supposed to mean to the dozens of people who still think anything Matt Hardy says isn't a load of total bullshit?
When someone compliments me, I greatly appreciate it. When someone insults me, it doesn't bother me because I know exactly how good I am and am confident in what I have to offer to others in my life now. No one's perfect-not me, not you, not anyone. We can all only try and be the best human being we can be.
I'm glad Matt Hardy is now telling everyone that we can only try to be our best selves, while he is currently editing his latest suicide video. He goes on to claim that he has never been more full of life, which is basically exactly what he said last year before AND after he posted the first "HEY LOOK AT ME!" video. I'm not saying the guy isn't being sincere, but *loud fart noise*.
In other news...
John Morrison was asked what he needed to do to reach the next level when he returns to WWE. He responded with, "JoMo needs to cut promos...." The rest of the quote was cut off, but the whole thing was "JoMo needs to cut promos about homos in slo-mo with Domo." It's a good thing someone else will be writing what he's supposed to say, because I don't really want to listen him read
Green Eggs and Ham
 every Monday night. (
NoDQ
)Tickets for the 2012 Hall of Fame go on sale this weekend. Rumored names for the inductions ceremony are Mil Mascaras (confirmed), Carlos Colon, Randy Savage, Honky Tonk Man, The Great Muta, Burt Reynolds, Jim Powers, Scott Putski, and Lord Littlebrook. Sounds legit. (
SEScoops
)Velvet Sky showed up at the TNA Genesis PPV that happened last night, unannounced, determined to find Sting. If you want to know what she had to say to him, you had to
buy
 stream the PPV. Or you could do what I did and just make up stuff:
She reeeaallly wants his autograph, but can never gather the courage to approach him.
She ran out of make-up, so she needed to borrow his old facepaint.
She has a thing for 50-something married dudes with high foreheads and soul patches.
She read John Canton's comment on TNA's Facebook page about them needing to pay their workers better, and she thinks Sting is the one she needs to talk to about that.
I wonder if she ever found him. Maybe I should ask Marc "Fozzie Bear" B., who covers TNA for the site, against doctor's orders.That's it for me after a super slow news weekend. I'll be back on Thursday with this week's Disasterpiece Theatre.-Jacob