Hey yo. It's Mr. TJR John Canton filling in for Andrew Johnson with the Monday Headlines. Andrew wasn't able to do it because he had some work commitments he couldn't get out of. Hopefully he gets some revenge on them like the guys in that hilarious film Office Space from over a decade ago. That scene when they destroy the fax machine is wonderful.
Moving on to actual wrestling related things, there was the WWE Elimination Chamber PPV last night. Hopefully you've read (or at least skimmed) by review of the event RIGHT HERE.
Due to the Elimination Chamber event happening last night there isn't a whole lot of news to joke about, so I'll just hit on some of the bigger things that happened at the event.
* The Rock defeated CM Punk in the main event to retain his WWE Title. It was expected to happen. There were two ref bumps including once when CM Punk hit Rock with a GTS, so I'd expect Punk to complain about how unfair things are.
Since John Cena won the Royal Rumble match that means he'll challenge The Rock for the WWE Title at WrestleMania 29. I've been writing about this happening since July 23 when Rock said he'd get a title shot at the Royal Rumble. It made sense.
Last year's tagline was "once in a lifetime" for their match. They heavily promoted it. This year? "We lied. Deal with it." That may not be official.
For those expecting Undertaker (even I wrote about that in the preview) at Elimination Chamber, he didn't appear. I don't think that means anything about his future because it's not like he was at the event the last couple of years. I think his match with CM Punk at WrestleMania 29 will happen, but it's not confirmed obviously. Maybe we'll see him tonight on Raw or next week. If he's not a part of WrestleMania I doubt we'll see him at all. Nobody really knows. It's okay to be surprised.
* In the Elimination Chamber match to determine a #1 contender for the World Title, Jack Swagger emerged as the winner. I thought it was the best match of the night. Mark Henry was booked like a monster, Jericho lasted over 30 minutes, Orton was on fire towards the end and Swagger was crafty in getting the win.
That win sets up the World Title match at WrestleMania 29 with Alberto Del Rio defending against Jack Swagger, who has his manager Zeb Colter cutting promos about foreigners. Del Rio is Mexican born. Expect plenty of angry promos from Colter.
* My favorite part of the show was The Shield's win over John Cena, Sheamus & Ryback. I had picked the babyface team to win, but I'm happy to be wrong! Why? Because The Shield was booked in an intelligent manner. They outsmarted their opponents. They worked as a team. Everything they did made sense. The booking was smart and the work during the match was exciting. The final five minutes were especially great.
What was interesting is that Ryback stormed off after his loss. Could he turn heel heading into WrestleMania and then they could use him as an opponent for John Cena after WrestleMania? It's a possibility. I'm not sure if turning him heel is the right move. It's something to keep an eye on.
That's it as far as big moments. For the full results of everything that happened as well as my analysis read my review of Elimination Chamber 2013.
There are a lot of photos and videos on WWE.com if you want even more coverage of Elimination Chamber.
In Other News
- WrestleMania 30 is going to be in New Orleans. We've known it for several months, but it's official now. The date for the event is April 6, 2014. It's the first time New Orleans will host a WrestleMania.
The official announcement will happen during a live press conference today on WWE.com at 1pmET. There was an article in today's New Orleans Times-Picayune newspaper. Here's a quote from New Orleans mayor Mitch Landrieu:
"We are proud to have played host to some of the greatest sports and entertainment events in the world over the past two years, and hosting WrestleMania is a great way to continue this unprecedented streak. We look forward to hosting WWE and its global fan base as they celebrate this historic milestone at the Mercedes-Benz Superdome."
That's such a generic statement. I don't like politicians. I'm sure that during Raw tonight we'll see clips of the press conference as well. They will probably call it the biggest WrestleMania of all-time, which is what they say every year.
If you're wondering why they wouldn't go to MSG in New York City for WrestleMania 30 since they did #10 and #20 there here's the reason: money. When you do a WrestleMania in a football stadium you can fit 65,000 or more people and the gate for the event will top $9 million. If you do a WrestleMania in a 17,000 your gate will be a third of that if not less. The bottom line is if you know you can sell over 60,000 tickets for an event every year you would be stupid to not do it.
If I had to pencil in a match for that event it would The Rock vs. Brock Lesnar. Of course it's way too early to speculate about something over a year away, but that's never stopped internet wrestling fans before!
- There's a TMZ article about how Ric Flair's fourth wife Jackie is a drunk lady that attacked him with a glass object in the past. They're in the process of getting a divorce because that's what Ric Flair does.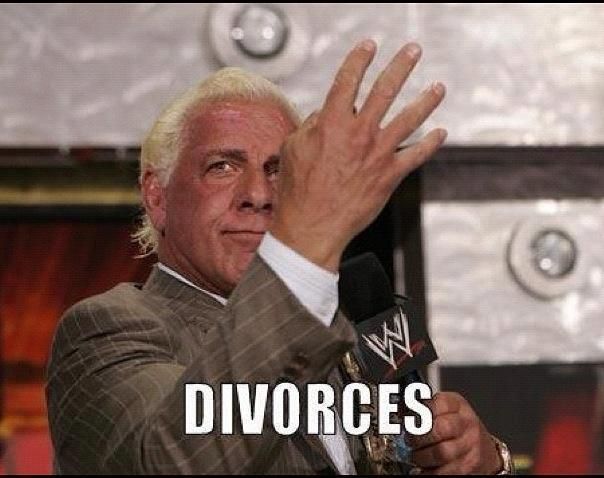 I'm not shocked that Ric Flair's ex-wife is a crazy, drunk woman. I think that's a prerequisite for agreeing to marry Ric Flair. Woo!
I'm pretty sure I've used that Flair meme before. I don't care. It's wonderful.
- Finally here's a picture of Shane McMahon along with his dad Vince and some random fan wearing a New York Knicks shirt. I don't know when the pic is from, but was told it was recent within the last month or so. It has a lot of people talking because of Shane's hair color.
He's pretty grey looking there. Shane is 43 years old with a wife and three sons. He's been out of WWE for three years. He's involved with a number of businesses including a sports agency company and the Chairman of YOU on Demand in China.
Could he come back to WWE one day? It's possible. I think he was probably burned out from it. There's a lot of travel there and since he has three sons under the age of ten perhaps he wanted to stay at home more or at least keep his family out of the demanding wrestling business. I have no idea.
I'll have you know that I google searched "Shane McMahon testicles" and "Shane McMahon electrocuted" many times to see that clip of him with Kane from 2003, but it did not pop up on youtube. I'm guessing WWE and Linda McMahon's people did their best to remove videos like that. Kudos to them on a job well done. Could you imagine if that was your job, though? Searching for clips of a guy getting his testicles electrocuted is a good way to make a living. That's your job?
No wonder Jack Swagger is going to fix America.
------
That's all I got for ya. There's not much else going on. I wrote nearly 6,000 words last night live. Tonight I'm writing the Raw Deal live, which is usually around 6,000 words too. On Tuesday night at 10pmET we also have TJR Radio. By that point I'll be sick of saying the letters "WWE" or the world WrestleMania, but I'll get through it. I always do.
I'll be back here tonight for the live Raw Deal. Have a great week.
Twitter: @johnreport
Email: mrjohncanton@gmail.com
Personal Facebook and TJRWrestling.com on Facebook