Hey yo. It's the second Monday in a row where I'm taking the Headlines duty because Andrew is unable to do so. His life has been pretty hectic of late, so I'm here to help. I'm also covering for Lonestar on Friday. Why? Because we're friends and that's what friends do. We might need to restructure some Headlines things after WrestleMania, but we'll cross that bridge when we get there.
There also could be some writing opportunities here at TJR after WrestleMania too, so be on the lookout for that. That DOES NOT mean you should ask me about writing of the site now. Wait until after April 7.
As I perused through the wrestling news tonight (late Sunday posting) I'm having a tough time finding any worthwhile WWE related stories, so there will be quite a few Total Nonstop Action items today starting with the lead item.
Last night was TNA's Lockdown pay-per-view, which is one of only four live PPVs that TNA has left on their schedule. The show ended with a massive heel turn as Bully Ray (formerly Bubba Ray Dudley in WWE/ECW) was revealed as the leader of the Aces and Eights stable that has been "terrorizing" TNA for over six months now.
Ray also became the TNA World Champion by defeating Jeff Hardy. He won the title when Aces and Eights members climbed into the cage, Devon (his former partner) handed him a hammer, he hit Jeff Hardy in the back with it and that led to him pinning Hardy for the cheap victory. For full results of the show check out my friend Jason Powell's review at ProWrestling.net.
Bully Ray has re-invented himself as a performer. He's in the best shape of his life at 42 years old, he is one of the better talkers in the business and he's had a lot of entertaining matches in the last couple of years as well. I'm happy to see his hard work pay off because I've always enjoyed his work.
After the victory, Ray told his storyline father-in-law Hulk Hogan that he used him (to get his title shot) and he told his storyline wife Brooke "Boobs" Hogan that he screwed her. I guess he screwed her literally and figuratively, in this case. The entire "boss pushes son-in-law" story is a nice dig at WWE's relationship with Vince McMahon and his son-in-law Triple H.
I didn't watch the whole Lockdown event, but I managed to see the ending of the show. I thought it was well done. Of course the Bully Ray heel turn was obvious with him joining Aces and Eights as the leader. I called it and so did many others. I like how it turned out, thought. Also fans pelting the ring with their drinks was a nice touch too especially because they had to throw over the cage to get in there. I'm guessing TNA encouraged fans to throw their garbage because it will remind people of the NWO angle when Hulk Hogan turned on WCW.
My next prediction is that in seven months at Bound for Glory, Hulk Hogan will be TNA World Champion because he can do what he wants since he's basically the guy in charge. Major groan. He's said in interviews that he is feeling better after having many back and knee surgeries. Don't put "one more title win" past that man. It's going to happen.

What was I doing that prevented me from watching this show live? I was doing my taxes. Damn you, Irwin R. Schyster! Also my interest was low other than the main event, but really it was all about the taxes on Sunday night.
There was also this tweet from Brooke Hogan, who clearly is as insane as her dad.
To all the people who think this is purely storyline- you're wrong. My heart is truly broken. I saw great things in my husband.. Crushed.

— Brooke Hogan (@MizzHogan) March 11, 2013
Sure. I think the best thing about the Hogan family is that Hulk's son doesn't wrestle because if he did the fans would be the ones to suffer.
In Other News
- This one confuses me. Bobby Roode is a TNA tag team champion and has been there ten years now. Over the weekend it was revelaed that his TNA contract had expired. The news came from PWInsider and ProWrestling.com, which you can read about here at WrestlingINC:
PWInsider reports that Bobby Roode and TNA have reached an agreement, and Roode will be working tonight's Lockdown pay-per-view. No further details were given, but it appears that they have worked out the issues with Roode's contract.

ProWrestling.net first reported last night that Roode's contract expired a few weeks ago. According to the report, talent relations head Bruce Prichard accidentally allowed his contract to expire, and Roode had to bring up his contract status to the company.

Roode hasn't been at the last two Impact tapings, and was also absent from Saturday's Lockdown fan interaction.
Roode ended up retaining the tag titles with his awesome partner Austin Aries. But let's get back to the point here. TNA forgot about the contract of one of their top performers. Not only that, but Roode had to tell them that his deal was up. Seriously? It's true. Other sites were reporting it as well.
The news came out on Sunday and a lot of people were thinking maybe he would leave TNA to go to WWE after dropping the tag titles. That doesn't look to be the case. Is he too old (35) for WWE to bring him in? Or does he not want to jump ship for fear of the unknown? I'm not sure. I just think he's a guy that would fit in well in WWE because he can have good matches with anybody, his promos are very good and he's a consistent performer who knows how to feed off the crowd.
Also if there are any conspiracy theorists out there, maybe Brother Love (Prichard) still works for Vince McMahon and this is all just an elaborate scheme to hurt TNA? Nah. But feel free to start playing some ominous music while you think about it.
- More TNA news. This time it's about former Knockout Daffney, who also had a run in WCW's last couple of years. From Cageside Seats:
Former TNA Knockout Shannon Spruill, aka Daffney, has won an out of court settlement from her former employer two years after she filed a Workers' Compensation claim for injuries that she sustained in the ring and TNA had refused to pay the medical bills for.

Basically, TNA's Head of Talent Relations Terry Taylor reneged on a promise to cover Daffney's hospital fees that stemmed from a laundry list of injuries (three concussions, a broken arm, a deeply bruised sternum and a stinger) caused by reckless in ring stunts and then fired her when she took the legal remedies at her disposal to force their hand.

Daffney wrote the following message on Twitter @screamqueendaff: "I'd like to take this opportunity to sincerely thank all the love and support over the past two years. I appreciate so much that you recognize the HUGE injustice that is being done to Professional Wrestlers throughout the industry. I hope my case has opened up a few blind eyes and maybe now we, the wrestlers who put our bodies on the line every time we step in the ring, are one step closer to being provided with medical coverage and all the benefits that go along with being a true employee and not an independent contractor."
I'm not sure how much money she got in the settlement and I would assume that the figure will be kept private. Hopefully she receives enough to help her get by in her everyday life because she lost the ability to do what she loved to do, which is a damn shame. Injuries happen. That's part of the business. It's just too bad TNA was irresponsible in how they dealt with it.
If I had to guess I don't think this case will have any impact on the term "independent contractor" as it relates to wrestlers. I don't think there will be a union anytime soon. A company like WWE has too much power. You want to go on strike? Fine, you're fired. Next person gets that push. Maybe a top guy like John Cena could make a difference, but in his case he's making millions of dollars and even after he retires will likely have a Legends Contract that will pay him very well.
I met Daffney last year at WrestleReunion in Miami on WrestleMania weekend. We have a few mutual friends in the business (Mickie James mainly), so it was very easy to get along with her. She's a wonderful person that worked her ass off to make it in the wrestling business. Her runs in WCW and TNA were good, but her career was cut short due to the injuries she suffered. It was really difficult for her to stop wrestling and I could tell just by talking to her about it.
I'm pointing at her…uh…necklace. Yeah. As an aside, see the person behind me to the left? That's Ahmed Johnson. He's become a REALLY big man.
- Finally, here's a pic of The Undertaker with Zeb Colter (Dutch Mantel) from somewhere in the late 1980s. This pic doesn't have anything to do with any news, but I saw it and I had to share it.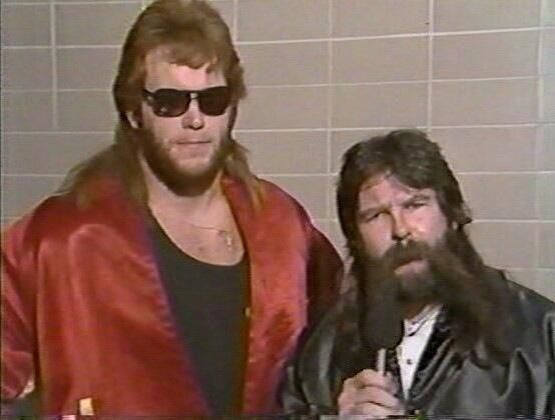 Wow. Just wow.
The Raw Deal goes up later tonight. Not sure if it's going to be live. I don't think it will be, but I'll post it by like 1amET Monday night/early Tuesday.
If you're a sports fan check out our news post on TJRSports.com and also the post I did about DeAndre Jordan's dunk on Brandon Knight last night.
Have a great week.
John Canton - mrjohncanton@gmail.com
TJRWrestling.com and TJRSports.com
Twitter @johnreport
Personal Facebook and TJRWrestling.com on Facebook