Stories about Vince, Arnold & Hulk. Happy old guys day!
Hey yo. It's not survey time. I'm just filling in for Jacob Lindsey for the Monday Headlines this week. It's actually Canadian Thanksgiving today. It's like American Thanksgiving except it's on a Monday in October and our crappy football league has games. I don't watch the CFL though. I am only a NFL guy. Go Rams.
On behalf of my country of Canada I want to thank the world for making Canadian pop music sensation Justin Beiber popular and forcing him to move to Los Angeles because we are so f**king sick of that kid. Thank you America. We love you.
Now onto the news about ridiculously large men…in this case some old men.
- The big news on this Monday is that Vince McMahon will return on Raw for the "State of the WWE Address." It's his big return since the July 23rd episode of Raw when he named AJ Lee the General Manager.
Why is he back? It's probably their way to help ratings because the number last Monday was a 2.5, which was the lowest number they have had in 15 years. Obviously the success of the NFL's Monday Night Football is a part of the reason for the low number, but they have been competing against that every fall for the 20 years that Raw has been on.
That's WWE business. The worst months of every year are usually from September to December. In part it's because of the presence of the NFL, but also because that's the time of the year when their viewership goes down. January to April are the peak months. We all know that. Things will get better. They always do.
I'm not sure what Vince will say to create a spark in programming. A lot of the problems stem from his booking decisions because he's the one that relies so much on performers from the past and doesn't do a good enough job of elevating talent.
So what's the answer to help Raw's sagging ratings? A 67 year old man that has a yacht named "Sexy Bitch" and has employees that refer to him as a "genetic jackhammer." It is true that McMahon was good for ratings during the height of the Austin/McMahon storyline in the late 90s. Problem is times change and we want new things. Bringing out the aging Chairman isn't the answer.
How about giving away some money again? That was fun.
-----------------------------------------------
- There's a lot of promotion on WWE.com about Arnold Schwarzenegger appearing as the dreaded (I added that part) "Social Media Ambassador" on Raw tonight. Apparently he wrote a book recently because he probably needs more money despite being filthy rich. Divorces are expensive, after all.
I think the biggest news is the fact that people actually think he can write a book. Then again we live in a world where an Austrian born man can become Governor of the state of California because of lines like "I'll be back" and "It's not a tumor" so miracles can happen.
As far as I know, Arnold is thrilled about the experience. Just look at the adorable face he makes during a Brodus Clay dance routine.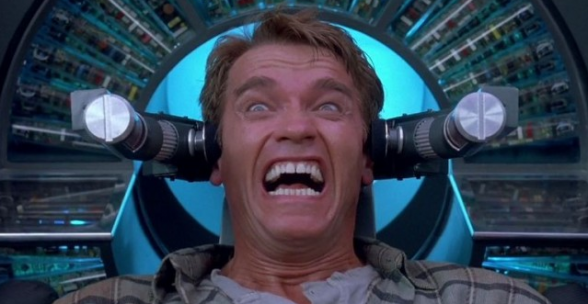 I don't follow him on Twitter. I don't care if he thinks CM Punk is mean. Congrats to WWE for getting a big name to do this, though. Suck on that Larry King. You too, magician guy. And one of those Kardashian chicks. Yeah. Take that.
-----------------------------------------------
- According to TMZ, the esteemed website known as Sex.com is making a HUGE OFFER to Hulk Hogan to distribute his sex tape that recently leaked on the internet. It's so big that HUGE OFFER is written in all caps because if it just said huge offer that would make it less of an offer apparently. Those TMZ folks sure are amazing huh?
I have not seen the Hogan sex tape. I've never been a fan of the horror movie genre. Plus, I watched that Hogan/Piper "Age in the Cage" match in WCW about 15 years ago that scarred me for life.
If you watch the sex tape please consult a psychiatrist. Seriously. I'm worried about you. That goes for you too, Chyna.
-----------------------------------------------
- Former WWE Champion Batista (real name Dave Bautista) had his first MMA fight on Saturday at the age of 43. (MMAFighting.com) The fight took place in Providence, Rhode Island and aired on pay-per-view. Bautista won via ground and pound knockout at 4:05 in the first round.
If you're wondering, he beat some guy named Vince Lucero, who has a career record of 22-22-1. Lucero took the fight with less than a week's notice. Apparently the Brooklyn Brawler was too busy because…well…he was brawling in Brooklyn and had no way to get to Providence.
-----------------------------------------------
- Thanks for all of the kind words regarding my WWE Roster Evaluation. It was over 20,000 words and had to be broken up into three parts. Here are the links in case you missed it:
Smackdown Roster Evaluation Part 1
Smackdown Roster & Final Rankings Part 2
It was a lot of fun. The number one spot went to Daniel Bryan. It was tough picking him over CM Punk, but that's a testament to their talent. They are both in the prime of their careers doing phenomenal work on a regular basis. It's a joy to watch them perform every week.
I'm still going through emails, so if you wrote me the reply is coming hopefully by the end of today. People still email? Yes they do!
-----------------------------------------------
Finally here's a great graphic from the wonderful Wrestling Memes group on Facebook. If you question how serious the wrestling business really is, this should answer it for you.
I will be back tomorrow with The Raw Deal as I do every Tuesday.
Follow me on Twitter @johnreport
P.S. Chyna follows me on Twitter. I get tested every week as a precaution. Pray for me, my friends.