Another Monday morning, another weekend of bits and pieces and pieces and bits. What happened over the weekend? Well, in short, a player cut his hair, Lesnar was called out, someone bashes the universe and Sin Cara makes the biggest mistake of his life. Oh, and Chikara returned.
Yes, that's right, Chikara is back!
Words don't do justice to how excited I am about all of this. National Pro Wrestling Day was this past Saturday, and it was cracking from start to finish. The card itself featured some great little matches, although the stream cracked up a bit during Hallowicked and Mike Bennett so I didn't get to see that. Still, the whole thing was streamed for free so I can't be angry about it. The main news story came towards the end of the main event however. Heidi Lovelace was about to win La Copa Idola as she had Joe Pittman tight in the Chikara Special, before a whole host of bad, bad chaps from the history of Chikara came out to shut down the show. Jimmy Jacobs of all people led them. Then things got awesome.
First of all, The Submission Squad put up a stand that was quickly quashed. Icarus finally arrived with his army, which turned out to be practically the entire Chikara roster, both good and bad, and a good old-fashioned BRAWL FOR VERY IMPORTANT REASONS (sorry Fozzy) broke out. Archibald Peck and 3.0 turned up in a DeLorean too, after travelling through time from Parts Unknown. That sentence alone should be enough to make you want to love Chikara. Chikara won out, and Icarus announced that on May 25th they would be returning proper. We were then reminded of their wonder with a 10-man tag main event, which included a 10 man suplex spot that was utterly wonderful. Chikara is back, and things are only going to get even more interesting.
National Pro Wrestling Day is available to watch for free from their website, so head here and do so. If you only watch one thing, I suggest the back scratch off between the Latvian Proud Oak and Mr. Azerbaijan (the sexiest man in Azerbaijan). Wrestling is so awesome sometimes.
So, what else happened this weekend?
Some Bloke Calls Out Brock Lesnar
Well, I don't know anything about UFC, but some bloke called Alistair Overeem called out Brock Lesnar this weekend. His nickname is The Reem, and as far as I remember that's something to do with making someone a new asshole, so if I was Lesnar I'd be a little worried. Actually, scrap that, if I was Brock Lesnar I probably wouldn't be worried about anything in the slightest. After beating someone in one of these thug battles, Overeem stated that he heard Lesnar was returning to UFC and that he'd be waiting for him. Afterwards, the head of UFC Dana White categorically denied it. In my head Dana White looks like Sidney Bakabella, and I refuse to Google this just incase I'm wrong. (PWTorch)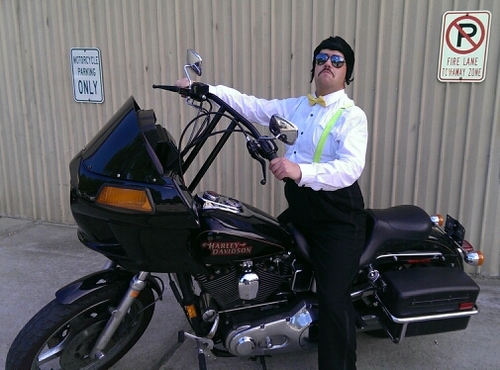 Some Anonymous Bloke Bashes the WWE Universe
Via F4WOnline.com, Rajah is reporting that an anonymous letter from a 'Top' WWE star was given to the Internet as something of a response to those bashing the Rumble. It makes a lot of sense really. Within the letter, the 'top' guy, states that the fans are wrong for giving Rey a hard time at number 30, and for taking rumors to be true. They also make a fair point about people saying they were done after the misery of the 'Daniel Bryan gets screwed' run of PPVs towards the end of last year, but still watching the Rumble. I assume that most will now turn their attention to revealing the author of the letter, but it'll probably just end up being Hornswoggle.
Some Bloke Causes Disruptions In WrestleMania Plans
The Internet is still rife with rumors of what the WrestleMania XXX card is going to look like though, and this speculation has exploded in the wake of CM Punk walking away from the company. Certain confrontations seem set in stone, such as Randy Orton and Batista coming together in some way as well as Bray Wyatt and John Cena, but it is the fate of Daniel Bryan and subsequently Sheamus that seems most in question. The latest rumors (via Rajah) pit Bryan going up against Triple H, and Sheamus taking on Kane. Whilst the first match does indeed have some intrigue, Sheamus vs. Kane is something most will have no interest in seeing. Surely there is something better for the Human Jar of Mayonnaise to be doing? Either way, most of us (myself included) should probably stop speculating on the card and just enjoy the product over the next few months. This is the best time of year after all.
Some Bloke Cuts His Hair, Other Bloke Cuts A Promo
The Prime Time Players split up on Smackdown last week, and WrestlingInc are reporting a new look for Darren Young. To be honest, this probably isn't worthy of its own paragraph because it isn't that different to his previous look, but we'll go with it nonetheless. Titus O'Neill also claims that Young is still his friend in a little promo posted on Tout. His delivery is uncomfortable in an engaging way, and I quite like the potential for Titus as a 19th century gentleman heel. He reminds me of Drunk History a little bit.
Some Bloke Signs With The WWL, Simultaneously Signs Death Certificate
Finally via Rajah.com, the original Sin Cara has signed with the World Wrestling League, a lucha promotion that began at the arse-end of 2012. The WWL has a pretty good working relationship with many other promotions, meaning it has a stacked roster full of names you'd recognize from previous stints in WWE or elsewhere. Guys like Carlito, Bobby Lashley, John Morrison and Chavo Guerrero. The usuals. Still, all fresh opponents for the artists formerly known as Sin Cara. I can't help but think he's making the biggest mistake of his life however, as one man reigns supreme over all in the WWL world. He's so very dominant that he is the frame at which the promotional video stops. I don't need to tell you whom I'm talking about, because it is the same man who haunts your dreams at night.
Stay tight, La Parka.
That'll do for now, I've got a travel guide to flesh out. If anyone is heading to Venice then hit me up on twitter (@pingvinorkestra), because good lord I know a lot about that place now.