The Money in the Bank Ladder match has long been a favourite of wrestling fans. It is unpredictable, exciting and has the potential to create new stars in a way the Royal Rumble doesn't anymore. Think Damien Sandow would win the RR? Not a chance. That PPV is a headliner for the big names only now unfortunately. It's the ladder match we look to for a peek into the future and, by and large, the match itself delivers every time.
In 2005, Chris Jericho proposed the idea of a contract ladder match to Eric Bischoff, then the RAW General Manager. Backstage, other people were probably involved but Jericho certainly had a hand in the development of this exciting new match. Ladder matches go down well but the added incentive of a briefcase with a contract that can be cashed in anytime over the next year really added a spark. Essentially, up until a couple of years ago, if the winner was a savvy enough, it was pretty much a certainty they would successfully cash-in.
Quite quickly though it became apparent that the briefcase was perhaps more of a curse. Wrestlers that held it either succumbed to bad luck or, as happens more often, awful booking. It's almost as if the writers think that by booking the contract winner as a loser makes it more of a surprise when they win but all this does is, if they successfully cash-in, they look weak and are destined to lose against almost anyone. Careers haven't necessarily been destroyed but it's certainly derailed many a young man looking to smash through the glass ceiling.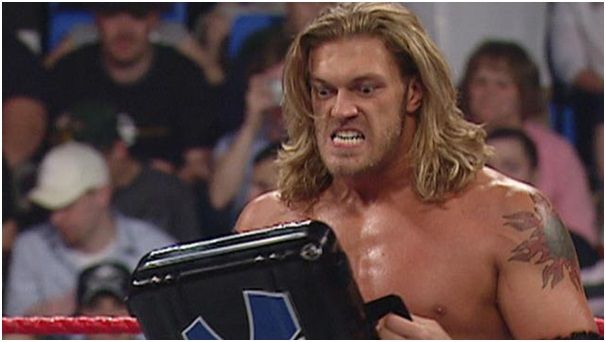 First, we had Edge. Winner of the 2005 match at WrestleMania 21. He beat Jericho, Christian, Benjamin, Kane and Benoit in an excellent match that really showed what this concept could do. With hindsight, this was the making of Edge as it really set him up on another level. At the time though, Edge quickly became embroiled in the notorious Matt Hardy/Lita triangle which not only turned the locker-room against him but also many fans. During this feud, which also negated the Lita/Kane angle when Matt Hardy broke the storyline and basically said the whole Kane story wasn't real (which we obviously know as wrestling fans but it is a bit of a slap in the face for the 'story'), Edge put his briefcase on the line in a 'Loser Leaves RAW' match. Obviously, Hardy lost and Edge retained his contract. Finally, he cashed it in in spectacular fashion at New Year's Revolution, defeating a beaten and bloodied Cena after the latter's Elimination Chamber match.
Winning the title should have begun to cement Edge as a main-event player but, if you've seen his biography DVD, there were many in the back who didn't think he was championship material, didn't think he was ready. In a way, it didn't matter what Edge did in his career, those naysayers were ready to put him down and, three weeks later at the Royal Rumble, Edge was defeated by Cena who regained 'his' title.
Maybe this first win proved very little and some later winners would go on to great things but the briefcase itself quite often doesn't even feel like the catalyst for greatness it should do. If anything, it placed a spotlight on Edge and when he cashed-in, management bottled it and went back to their old favourite as soon as possible.
2006 saw RVD win and, as a face, do the honourable thing and give the champ, Cena again, notice that he would cash-in at the ECW One Night Stand PPV. The match itself was great and the ECW crowd were vicious and loud throughout. When a disguised Edge speared Cena and Heyman counted to three, the crowd went wild as their extreme champion was held aloft. It was a great night and well-deserving of an ECW legend. RVD did actually last more than one PPV, defeating Edge at Vengeance before losing to the Rated R Superstar in a Triple Threat. Shortly after though, he was suspended for 30 days due to a drugs violation. Just when it was going so well...
2007? Well, the name Mr Kennedy jumps right out. The man who was dumped as Vince McMahon's illegitimate son in favour of Hornswoggle didn't even have the chance to cash the briefcase in due to injury and he promptly lost it to Edge who defeated The Undertaker in what was to become one of the feuds of the year. So, it might have taken two years but management trusted Edge now, Mr Kennedy, we'll never know but his career with WWE after that injury didn't exactly last long after the infamous in-ring bust-up with Randy Orton.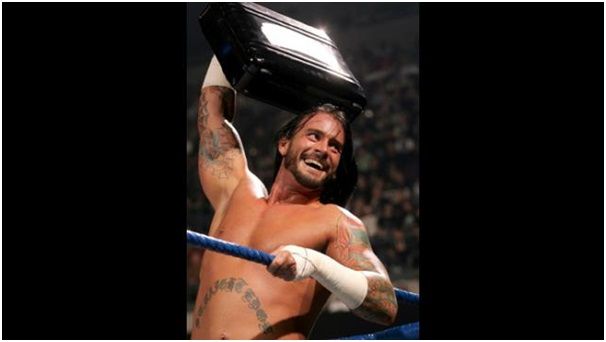 2008 and 2009 saw double wins for CM Punk but with very differing flavours of success. The first saw a face win and cash-in as he defeated Edge after a Batista attack. Again, CM Punk held for longer than one PPV but his eventual lost, again documented in his own DVD, smacked of management not backing their new star as he was taken out of the Championship Scramble match by Legacy. He never even got to defend his title. The year after saw a heel turn after he cashed in against Jeff Hardy which, similar to Edge two years before, saw a feud of the year develop which merged into a battle with The Undertaker.
So far, so-so. For every wrestler that nearly makes it, it's seems there's another that falls away. If anything, Edge and Punk seem to confirm that the first wins came too early for management but their second wins were treated with greater respect. Surely though, the fact that they win the ladder match means many think they are ready for a shot, at least in a year if nothing else. Not the case though.
2010 saw three briefcases float around as there was the annual match at WrestleMania and now a PPV solely there for the contract bouts, for both RAW and SmackDown. Jack Swagger won at the big one after an awful losing streak and promptly cashed in a few nights later. This win prompted a change in Swagger as he became even more of a 'sports jock' and his victory celebration was booed out of the building. Yes, Swagger did defend in several matches before losing to Rey Mysterio but his booking after that was awful, not even getting a sniff of a win until a certain Mr Coulter appeared on the scene.
The Money in the Bank PPV saw Kane win and become the quickest man to cash-in, that night, taking the title from Rey. It was an interesting cash-in and, as opposed to other winners, was more of a reward to a company stalwart who deserved a real title run after his 24 hour reign at the King of the Ring PPV. On the RAW side of things, Miz won the briefcase in a run that saw a cash-in against Randy Orton and then a complete career burial as the WrestleMania main event was more about The Rock and John Cena than the actual WWE Championship. Miz's career tailed off so badly that he's not only off television now and his main event is now considered one of the worst in WrestleMania history.
2011 saw the ladder match disappear from WrestleMania, a shame to be sure, but it did mean that the Money in the Bank PPV immediately became one of the hottest buys of the year. To that end, the 2011 PPV is widely considered to be one of the best events the WWE has hosted. Del Rio won the RAW briefcase and Daniel Bryan the SmackDown one. The PPV was also monumental for Christian defeating Orton and, of course, the incredible main event between Punk and Cena. Taking the match away from WrestleMania seemed to have paid off and Del Rio and Bryan both successfully cashed in and appeared to have the backing from management and creative in their runs...until Daniel Bryan lost in nine seconds against Sheamus at WrestleMania.
2012? Dolph Ziggler won with an eventual cash-in the night after WrestleMania 29 as he successfuly cashed in against Del Rio for one of the loudest pops of the year. Unfortuntely, a concussion ruled Ziggler out within weeks and Del Rio took the title back with numerous kicks to the head. It could be argued, after a second successive concussion, trust in Ziggler has gone but at least he had that night on RAW.
The RAW ladder match broke with tradition and saw previous champions fight for the briefcase. This, similar to only big names winning the Royal Rumble in recent years, meant the match lacked excitement as it was hard to get behind men who had already reached the top many times before. The eventual winner, Cena, was not a surprise and his 'heroic' cash-in, giving CM Punk a week to prepare before RAW1000 only served to give a strong main event. Surprisingly, Cena became the first man to lose his shot after interference from The Rock. Even this though smacked slightly of Cena losing 'because he can'. Within eight months, he held the title again anyway so it was all for nought.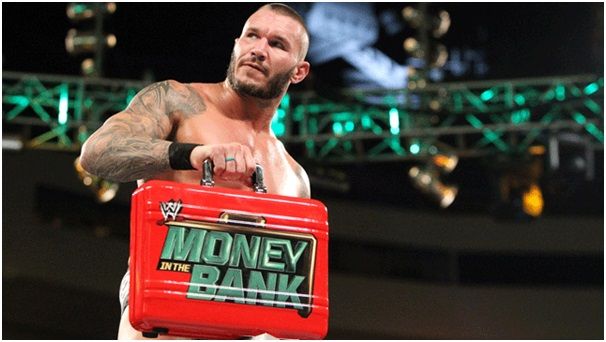 Finally, 2013 saw yet another previous champions match which was won by Randy Orton and the second match saw a surprise winner in Damien Sandow. We all know that Orton would cash-in against Daniel Bryan at SummerSlam and be a big part of The Authority storyline. Sandow, however, was buried. Loss after loss until a cash-in against Cena in a brilliant match that, as usual, Super-Cena won, even after a five minute chair attack before the bell was rung. Sandow can now be seen wrestling as a ballet dancer or Davey Crocket.
There we have it. The matches themselves are usually great. High-flying, unpredictable and enjoyable. What happens afterwards though is a combination of bad luck (injuries and drug violations) or a complete lack of confidence in the winner by creative. Edge and Punk had to win twice before they were given a chance whereas other recent winners are often pushed down the card after they eventually lose the title.
This Sunday, we're probably looking at another Cena win as the machine cranks up for Brock Lesnar's return at SummerSlam. Many people would like Cesaro or Bray or Reigns to win but it's both too soon (probably) and not enough of a mainstream draw for one the biggest PPV's of the year. The second ladder match holds more excitement because of the participants lower down the card but Barrett's ladder curse has struck again (he was supposed to win a couple of years ago before injury and now has a separated shoulder and is a doubt for this Sunday). For those in the second match though, a year of doubt will be cast over them. Will they be trusted to win the big one and, even more, have a strong run with the title? There are many stories that can be told over the next year with the Money in the Bank briefcase, let's just hope their luck holds out.
Please follow me on twitter @HughFirth or email me on ashburnham54@yahoo.com All constructive criticism is appreciated.
I also write at www.whatculture.com (this is my archive of columns http://whatculture.com/author/hugh-firth )