GIRLS GIRLS GIRLS! What a cheap way to elicit readers, but here you are, and I embrace you with shameless arms. You might assume that this column will feature scantily-clad, airbrushed delights (heck, I've even seen sexy Diva photos posted as an apology for a slow news day). I do not wish to disappoint, but instead, to put my own spin on a request from my friend Rocky (kind of his real name).
My column "21 Things I Love About The Shield" sparked some comments about the physical attractiveness of Roman Reigns. Rocky asked that I write a companion piece about women. Picking my favorite women was easy; narrowing it down to a small handful was difficult (especially given the plethora of silicone, wacka-wacka).
AJ Lee
I first saw AJ on Season 3 of NXT. Compared to the other trembling beauties who stumbled and flirted their ways through a spontaneous promo challenge, AJ grabbed that microphone and showed us how much she deserved to win. She spoke with passion about wrestling giving her a natural high, and how getting in the ring had been a lifelong dream. She shone. As she finished her promo, AJ referred to herself as "natural dynamite". CM Punk, taking a wry turn on commentary, informed us that he could use a little natural dynamite in his life. Clearly, the suits backstage agreed.
AJ has been given more screen time and storylines than the rest of the women's roster combined. And she is worth every minute. Until AJ came along, we had been subjected to "filler" segments in which women were used as eye candy or the butt of a joke. When they were given a bit of script, it was usually delivered in a painfully one-dimensional manner. AJ seems able to take an idea - such as "Crazy Chick addresses each of her suitors, but in the end she's really just talking to her Crazy self in the mirror" - and give us an expressive performance, especially commendable given the ridiculous material. AJ has the elusive It Factor. At the young age of 26, she has a self-awareness and charm that cannot be taught.
She also has a beauty that has not been bought. While many of the Divas have enhanced their looks with a variety of artificial means, AJ has taken the opposite, understated approach. She favors sneakers over stilettos, a fashion choice that stands out amongst the women tottering around like new colts in high heels. AJ Lee is a beautiful woman, being sold "as-is", and she is MONEY. Females of all ages and shapes are clambering to emulate AJ's esthetic. They are snipping up their t-shirts, lacing up their sneakers, and adjusting their faux-punk accessories. AJ is relatable, and she is breaking the mold of the Barbie Doll Diva. Why strive for a glossy, homogenous ideal when the real thing has mass market appeal? AJ is the only Diva with a t-shirt for sale on WWEShop.com. It reads Love Bites, and refers to her Black Widow submission hold.
Not only has she carried a love triangle, the RAW General Manager job, and the role of spunky valet, but AJ can also carry a match. Her bout with Kaitlyn at Payback drew rave reviews (including one from yours truly), showing how hard she has worked to realize her dream. I have a huge amount of respect for her. There is an intelligent woman behind the hipster glasses, and I hope that she will be the spark that ignites the Divas division again.
I chose this photo of AJ because it represents her connection with young female fans.
Miss Elizabeth
If AJ Lee is the most recent of my favorites, Miss Elizabeth is the first. She debuted in 1985, in a big reveal as Randy Savage's manager. Even in the dark arena, being broadcast on our murky old television, Elizabeth was stunning. I can clearly remember her shy smile and careful composure as she stepped into the ring. In sequins and rhinestones, she was a shimmering, elegant creature amongst the drooling beasts. The Lovely Miss Elizabeth.
As a kid, I would spend hours doodling glamorous outfits to match Elizabeth's, dreaming up who would be in my wrestling stable when I grew up to be a manager. I practiced my autograph, and made my mother curl my hair like Elizabeth's for special occasions (my huge glasses, braces, and acne served to dampen the effect). Every time Savage would point his sweaty, taped-up finger in her face, I was NOT pleased. Nor was I fond of George "The Animal" Steele's clumsy courtship, offering her the guts of a turnbuckle pad and always trying to carry her away. She really couldn't win: The Macho Man, or The Animal?
But Elizabeth's unyielding support for the rule-breaking, domineering jerk endeared her to everyone. She was his quiet constant at ringside, and never cared for the spotlight to shine anywhere but on her man. Elizabeth was selfless to the extreme.
The most iconic moment for Randy and Liz happened at WrestleMania IV when he won the WWF title. They walked the aisle at Trump Plaza four times that night, Elizabeth dazzling in a different gown each time. When Randy hoisted her onto his weary, triumphant shoulders, it seemed a celebration of their journey together. Her grinning tears of joy offered a candid glimpse behind the composed, glitzy curtain.
She died at the age of 42, a life that was only glamorous on the outside, and far too short. I will always think of her fondly.
I chose this pretty photo of Elizabeth, ever supportive at ringside.
LayCool
Real talk! Layla and Michelle McCool were never as good apart as they were together as Lay-Cool. Prior to their teaming up, Layla did a spiffy job as William Regal's valet. For her part, Michelle McCool had a gorgeous, fit body. She also won some titles, but what you need to know is that Michelle McCool teamed up with Layla in 2009, and the result was a year and a half of Mean Girl magic.
They really shouldn't have been as fun to watch as they turned out to be. All they did was crow about how fabulous they were, often in unison, and switched gears if there was someone nearby to make fun of. Their sing-songy voices grated on my nerves, but after a few weeks of their schoolyard antics, it was as if I fell into their synchronized, flawless clutches! They were having such a good time being a—holes, and I felt guilty for liking them.
The unlikelihood of their pairing helped. Tall, southern blonde meets short, British brunette. I loved their accents and how different they looked from each other. I also loved that they sincerely seemed to enjoy being together on screen. They could have sold bedazzled Flawless hoodies, and I would have considered paying the shipping and duty to get one to my doorstep. Huge oversight, Merch people! At a time when the women's division was suffering from a scarcity of actual wrestling, Lay-Cool helped pass the time (save the Piggy James storyline, which was horrific and stupid).
Lay-Cool disbanded when a "loser leaves WWE" match resulted in McCool's departure and Layla being injured. I have my fingers crossed for a Lay-Cool reunion someday soon.
I wanted a photo that captured the fun synergy between Michelle and Layla; shortly after this photo was taken, Mae Young beat them up.
Trish Stratus
Trish first hit the scene as the buxom valet for Test and Albert (T&A, to drive the point further home). I didn't find her look very appealing, like a pimp from Baywatch, but I suppose it was in keeping with the time and place. There was no arguing that Trish was attractive, but she was not content to bank on her looks alone, and for that I commend her.
Trish was a major part of the revolutionized women's division. With Fit Finlay as their trainer, Trish, Lita, Molly, and Victoria paved a new road that didn't lead to a Bra and Panties Match. They kept fans in their seats, and brought crowds to their feet. Trish translated her fitness background into a wrestling career, and was so charismatic that the storylines followed. She was involved in a silly-yet-sexy Jericho/Christian rivalry, the McMahon family meltdown (well, one of them), and a memorable Mickie James feud (also silly yet sexy). She became the emblem of women wrestling well, and is now the beloved retiree who's Still Got It.
I loved Trish for her Attitude Era achievements, but as a fellow Canadian, I feel proud of the cool stuff she did after she left wrestling. She has hosted TV programs, proving she has the star power and gravitas for Canada's Walk of Fame and her own travel show, Stratusphere. She ditched the bottled-blonde hair for an earthy brunette look, all the better for her new image as a yoga instructor/studio owner. She has parlayed her celebrity into a healthy, intelligent enterprise, proving there IS life after wrestling.
For having a tremendous work ethic, and re-inventing herself to great success, I love Trish Stratus. Here she is, making a comeback for Wrestlemania 27, wearing her signature TRISH belt for old times' sake.
Sensational Sherri
Sherri Martel. Sensational Sherri. Scary Sherri. Queen Sherri. Sister Sherri. Hall of Famer Sherri. She played so many roles, all of them dialed up to 11. If you told me that Sherri was a normal person, I don't think I'd believe you. I can't say that I loved her, as much as I loved to hate her.
She held the WWF Women's Title in the 80's, but it turned out that Sherri's talents were far better suited to ringside, as a manager. She played a huge part in elevating Shawn Michaels' "sexy boy" persona when he first split from Marty Jannetty. She fawned over him like a lovesick lunatic, and ran interference whenever The Heartbreak Kid was in jeopardy. Sherri never shied away from taking a bump, nor from doling out cheap shots. And she did it all while wearing the most insane concoctions on television. SHE LOOKED CRAZY, Y'ALL.
I seriously don't know where to start. Sherri walked around as if she was only wearing one shoe. She dressed like she was going to a Halloween party as a deranged prom queen/sparkly clown, got tipsy, made out with the DJ a little bit, then hitch-hiked to the arena for a night of low blows and screeching promos. What a woman!
Over the course of her career, Sherri also allied with Randy Savage, the Honky Tonk Man, and the Million Dollar Man. In his recent Hall of Fame speech, Booker T thanked Sherri for being "the Harlem Heat Legitimizer", proof that her colleagues valued her as much as the fans despised her.
All of my childhood notions about Sherri – that she was crazy for real – were TOTALLY CONFIRMED when she was inducted into the Hall of Fame in 2006. I think every night was a bit of a party for Sherri, tragically so, for she died the next year at age 49. But here is the absolute best part: the last time she was on a WWE show was the night after that Hall of Fame, at WrestleMania 23. The inductees that year included Eddie Guerrero, whose wife Vickie accepted on his behalf. As the stadium rang out with "Eddie, Eddie!" chants, the overwhelmed Ms. Guerrero was comforted by Sherri, who embraced her with a warm, reassuring smile. And THAT was the moment that I loved Sensational Sherri.
This photo doesn't show Sherri in all her insanely-styled glory, but does represent how I remember her best: gleefully kicking the crap out of someone.
Maryse
My God she looked like a stripper. I don't care if she was, and her snide, skankier-than-thou attitude was sooo entertaining. Maryse was all limbs and boobs and uproariously fake hair, and she used them for one purpose: to titillate. I should have found her offensive, but I was too busy being charmed.
I like to think Maryse was in on the joke. She seemed to relish being a sassy sexpot, and had fun with it. Her talk-to-the-hand cracked me up every time. She had great comic timing for backstage segments and the announce table. My favorite moments include her swerving DiBiase for the Kiss Cam, and prancing around in John Morrison's fur coat to tease him in defeat.
I even loved Maryse's entrance music. It was catchy, and even better, it was French. Maryse was very, very French (-Canadian), and they were smart to capitalize on that. She spoke French as a means of demeaning people, and entrancing them. Her French Kiss finisher was a respectable DDT, but otherwise, Maryse's in-ring work was limited to straddling opponents to slap them around. Bless.
Her fiance, The Miz, is not my favorite on-screen character, but they are adorable together. He's the cheesy people-pleaser, and she enjoys fromage. May they live goofily ever after!
It was difficult to find the perfect photo of Maryse. I wanted something that showed how haughty and playful she could be.
Honorable Mentions
Honorable mentions must be given to Mickie James, Lita, Mae Young, Vickie Guerrero, and Beth Phoenix. I didn't plan to write so much for each woman, but I didn't want to skimp on details or memories. Savor the women, people!
For those whose tastes run the other way, I give you my version of an apology: here is Roman Reigns with a puppy.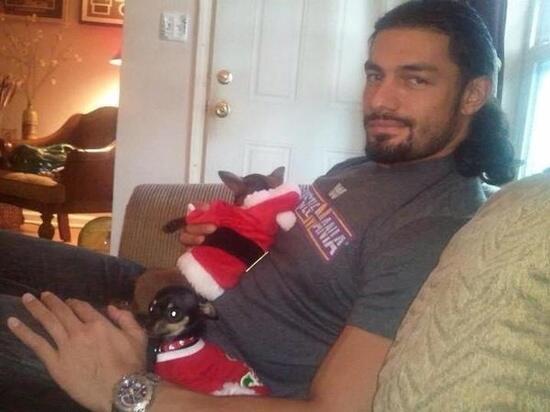 I hope that you will light up the comments below with tales of your favorite women. John Canton likes to drop the line, "Thank a woman" but I say if you liked this column, "Thank my friend Rocky". You can also ping me on twitter @kickyhick or by email at heatherhickey@live.ca. Thanks for reading!