As we meet the mid-point of Movember, let's look at some fine taches from wrestling history.
The October pink-a-thon is over, and now the colour can go back to being something only bad guys wear. WWE will now stop shilling Susan G. Komen, which has a great cause but other than that is generally an awful charity from what I read, and for a year nothing will be mentioned. By this same token, I'm surprised WWE doesn't make more of November, the given month of the year where all of a sudden people talk about testicular cancer among other things. These are things we should be talking about all year round, but one month is still better than no months. Where as pink is worn in October, November is all about the growing of moustaches thanks to Australia, where the concept began.
Despite not really making vocal sense (wouldn't Novembeard and Chrismoustache work better?), Movember is now a universally accepted phenomenon. Even in my tiny little town of Welshpool, Mid Wales, Middle of Nowhere, we've got chaps cultivating some fine nose-ticklers in aid of the cause. Again, for one month of the year, moustaches are saved from porn oblivion and become the in-thing once more.
Wrestling has a long history of facial foliage, and it would seem the last year or so has seen an up-turn in focus on the things. Right now we have Daniel Bryan, the Wyatts, Damien Sandow, Big Show and a few others sporting full on beards. On the independent scene you can also find a wonderful collection of the things, and even some glorious moustaches in the form of Joey Ryan (all be it recently shaved) and Dasher Hatfield (all be it part of his mask). In honour of Movember, a new tradition that I take zero part in, let's look at some of the finest moustaches in the history of wrestling. And despite having probably the greatest facial hair I think I have ever seen, Ox Baker won't be in here because I have no idea who the heck he was.
DUTCH MANTEL/ZEB COLTER
Despite his hate-filled vitriol that borders on racism every now and then, there is something slightly adorable about Zeb Colter. When he was gored by El Torito I felt genuinely bad for him, despite his xenophobic comments that led to it. Maybe its the fact that as he stands ringside with the Real Americans, he has a tendency to twirl his fabulous moustache when things start to get a little hairy. Pun almost certainly intended.
It's easy to assume that Colter has recently cultivated this facial accomplice, as pretty much every wrestler will go through a change of look a few times in their career. Not true however, and ever since the days he was known as 'Dirty' Dutch Mantel he has sported this glorious appendage underneath his nose. It manages to combine both the rough souther style with an air of astute knowledge. It's a moustache that on first impression looks as though it has merely been left to its own devices, but on closer inspection is perfectly set, with not a hair out of place. Add to it the classic mullet and angry t-shirt, and you have the angry man's man right here. If you spill his beer, he isn't going to give you the chance to apologise or purchase him a new refreshment. It is game over.
THE IRON SHEIK
Speaking of game over, you won't see a wrestling moustache discussion without mention of the greatest heel alive today, the Iron Sheik. I used to enjoy his illogical twitter ranting truth be told, but it grew tired over time. His irrational dislike for things was often humorous, but now and then it was just too ridiculous to take even jokingly. It does make me just a little bit sad that Sheik, who is probably the greatest Iranian athlete in the history of the world, has been reduced to a running joke on the internet.
Even if he's now the drunk man in the corner bellowing, at least he has maintained his exemplary villainous moustache. The perfectly raised ends give him an air of mischief. Honestly though, I find this to be the most trustworthy of all moustaches. There is a lot to be said for a man who has the testicular fortitude to wear such a beast, an unspoken statement that this is me, and if you don't like it, jog on. Despite this, this is the moustache of your best friend who will eventually sleep with your wife. You know you can trust him, you always have, but eventually he is going to stab you deep in the back. That is what Sheiky Baby's moustache says to me.
One thing I do adore about Sheik's lip tickler however, is thus. He always has the grimace of a villain on his face, and in many photographs it seems like he has a fake moustache, unattached to his face, that he must keep in place by grimacing his lips and nose together. Extra villainous.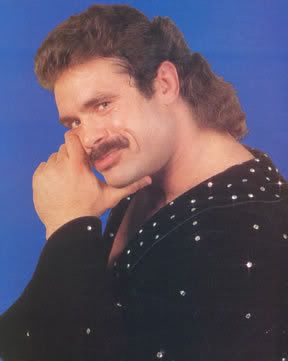 'RAVISHING' RICK RUDE
When I started watching professional wrestling, there was a group of heels that were very easy to hate as a young chap. 'The Million Dollar Man' Ted DiBiase was hated because he was rich and was horrible to the poor, Bobby 'The Brain' Heenan you hated because he would always cheat, and Mr Perfect you hated because he was, well, perfect. 'Ravishing' Rick Rude was one that you could never quite understand why you hated him, but you definitely hated him. As an adult of 27, going on 28, it has since become clear to me why I hated Rick Rude as a young boy.
I can't imagine a sleazier moustache than that. Despite it being the late 80s and early 90s, most children were weary of the moustache, especially such a pornographic one. That is the beauty of the Rude look however. If you surveyed 100 people, and asked them the first word that came into their head when they saw a picture of Rick Rude, I can guarantee that 100% o them would say the same thing. That word would be 'porn', or at least some variation on it.
It fitted the gimmick perfectly. Rick Rude was Tom Selleck's sleazy younger brother, the one who lost his virginity early and couldn't stop. He had the hair, he had the gyrations, he had his own face on his tights (genius), but most of all, he had that moustache. That disgraceful moustache.
BIG BULLY BUSICK
If Rick Rude had the moustache of a sleaze dog, Big Bully Busick had the moustache of, well, a dog. He had a run in the 90s that if you blinked particularly hard you would have not only injured your retina, but also missed him. Indeed, I wouldn't have remembered him if it wasn't for the internet and that WWE.com worst Survivor Series teams thing. By the looks of him he should have been a bigger deal, because I can imagine kids boo-ing the heck out of him. He was big, he was a bully, he was erm, a busick. You can make that a play on words of 'abusing' if you so wish. There isn't much to say about Big Bully Busick that hasn't already been said, which is to say there really isn't much to say about Big Bull Busick.
But by god, that moustache. Just look at it. Take a moment to take in the majesty of that thing. This is what Zeb Colter would look like if he came into a load of money and decided to move to 1800s London. In fact, in my mind, thats what everyone in London still looks like today, despite my experience being that they all look like idiots down there. The moustache that sat proudly on the chops and lip of Busick was far from idiotic. It was downright majestic.
HULK HOGAN
The most famous in wrestling history? I'm not sure how debatable that really is. He is arguably the most recognisable professional wrestler in the history of the sport, and a lot of that comes from the bleached blonde horseshoe that sits proudly on his grid. Much like Sheik or Busick, it would take balls of juggernaut size to wear such a thing on a frequent basis, yet Hogan built an entire myth, an aura, an icon out of it. I would argue that without his moustache, he would have been just another star, as opposed to the man who dragged professional wrestling into the mainstream.
I like to think that when Hogan passes on, his moustache will stay sentient and haunt TNA until their dying day. Which will most likely be long before Hogan's, but the point stands. When someone says wrestling moustache, Hogan's won't be the first that comes into your head. It will, however, be the one that when mentioned you respond 'oh yeah, of course Hogan. Duh'.
That'll do for now. Are you taking part in Movember? Do you have any particular favourite moustaches from the history of professional wrestling, not including Ox Baker? Are there any modern day grapplers who could benefit from a lip tickler? Drop a comment in the lonely comment box below, or we can go deeper into moustaches on twitter (@pingvinorkestra) or on the email machine (haraldmath@gmail.com). I'll be absent next week unfortunately, as I'm off to Belgrade to celebrate my 28th birthday. If I survive, I'll see you in a fortnight.