NXT Mock Draft based on their readiness to make the jump to the main roster
Happy Friday TJR Faithful! It has been quite some time between posts for me on TJRWrestling.com, and a lot has happened in that time. I celebrated my 24th Birthday, Magna Carta Holy Grail dropped, The Lone Ranger bombed, The NBA Draft came and went, Bray Wyatt debuted (complete with creepy horror movie style vignettes and feud with Kane that I suggested in my articles, so great work WWE), and last but certainly not least, the WWE opened their state of the art Performance Center in Orlando.
This cutting edge facility will be the home of the WWE's developmental process. It has been said in many of the pieces that I read about it that the compound is like a slightly more advanced NFL team's training facility, which is certainly high praise. This Performance Center is one of the WWE's smartest investments in recent memory, and quite possibly of all time. You can't go wrong investing money into getting the very best out of your athletes and your future. This state of the art compound certainly made the bright future that many developmental superstars have, a whole lot brighter.
In light of the opening of the WWE's new Performance Center, I thought I'd try something I've been working on for a little while. It has been a long time since I posted my piece advocating a ranking system on Smackdown or NXT, simply as a way to tinker with the current format of the WWE's narrative. While I still think such a system would be a worthwhile experiment, especially if done on NXT (making it like a NCAA to the WWE's NFL/NBA), I know the chances of it happening are futile. Therefore, I have decided to rank NXT's developmental Superstars myself, based on my perception of how ready they are for the main roster. Think of it as a Mock Draft big board (only there are far fewer than 100 prospects), where I'll talk about the best available talent. This could be a monthly thing if it goes over well, but without any further adieu, Let's Do This!
1. Paige
In the inaugural edition of My NXT Draft Rankings, it is a no brainer to have Paige ranked number one. She is the closest to a sure thing on the entire developmental roster. She is absolutely one of the most beautiful girls on the roster, she is a fantastic worker, she delivers a good promo, and certainly stands from the rest whether it be her look, her accent, or the unique maneuvers she has in her arsenal.
I know it's tough to say anyone is a sure thing (I would have said Karma was a sure thing), but Paige is so young and so absurdly talented, it's hard to imagine a situation where she isn't successful on the next level. She could debut this Sunday on PPV and make an immediate impact on the Divas division. As a matter of fact, upon her inevitable debut, she'll be one of the top two female workers on the entire main roster (and definitely better than a handful of the men). I don't see a scenario, barring a freak injury, where Paige fails, which is why I feel comfortable calling her a sure thing, and she is a clear cut number one in these rankings.
2. Xavier Woods
Mr. Woods may seem like a strange choice to have at number two, but he has two things that propel him up to the top ranked male superstar on this list, the first being a dynamic and engaging personality, the second being a character that the WWE can currently benefit immensely from. With Santino out, Tons of Funk not getting over, and Fandango being a heel, the WWE has no fun babyface that the live crowd can really get into. Xavier is an exciting and engaging performer that would will the fun void in the WWE right now.
I know he's likely not a future World Champion, but he's virtually guaranteed to be a great in-ring worker, with a ton of charisma, and garner a positive response from the WWE Universe. Those attributes make him stand out from the pack, and I have no qualms about saying that right now he is the more than ready to make the leap to the main roster and fill a role perfectly.
3. Kassius Ohno
A month ago, Kassius Ohno would have been my number one, but an apparent injury has derailed him, only slightly. The fact is that he is more than ready for the main roster, and the only reason that I have him ranked below Xavier Woods on this list is because unlike Xavier Woods, I don't immediately see where he fits on the main roster. It doesn't mean he can't fit, and it doesn't mean he's not ready, it's just his transition takes careful thought so as not to ruin him before he gets started, while Xavier easily fills a role.
The fact that Wade Barrett has for all intents and purposes commandeered Kassius' shtick, complete with the KO Elbow finisher, and compression sleeve on the right arm, isn't helping Kassius' cause, but could be the best way to debut him. Have them clash over the fact that Kassius feels that Wade studied him and stole his moves. A series of matches with two guys one elbow away from knocking out the other could be great fun. At the end of the day Kassius is ready, he has unlimited potential to be a start, and it is simply a matter of finding out where exactly he fits on the landscape of the Main Roster.
4. Corey Graves
This guy has all the tools to succeed. He's a good talker, he has a unique look, he's a good-looking cat, and above all else, he can wrestle. He can chain wrestle, he can hit highflying spots, and he is well versed in submissions. This kid is well rounded, and has very few weaknesses as a performer. All that and you add the fact that he can have one of the coolest WWE t-shirts of the year with the phrase "Chicks Dig Graves" and illustrations of beautiful women actually digging graves, and it's plain to see that this guy is marketable and talented.
Corey Graves is right behind Kassius as far as I'm concerned. They're almost neck and neck and could both be HUGE players on the main roster. The only worry is introducing them to the world in a way that will stall or kill their momentum before it has a chance to get going. Find the right way to introduce him, and you've got a star in the making. He'll more than likely be successful on the next level.
5. Sami Zayn
One of NXT's fastest rising stars and best in-ring performers is none other than the former El Generico, Sami Zayn. It hasn't taken him long to show that masked or unmasked, he can put on a show. He is responsible for a handful of NXT's best matches of they year, including a few with Antonio Cesaro (apparently there is more to come at the end of August), and several better than a majority of the WWE's PPV output.
He is fresh to the WWE's developmental scene, and has quickly shot up into the top 5 prospects the WWE currently has under contract. His only weakness, and it's barely a weakness, is his promos. To me they are entirely too subdued. He has the framework down pat, but they lack life and emotional resonance. I'm certain he'll improve with a little more time and opportunity to let loose on the microphone, and even if he doesn't, I could watch him wrestle 7 days a week and twice on Sunday, so he's unquestionably someone who's chances of success on the main roster are high. I'd let him stay on NXT for a little while longer but he's basically ready to make the jump.
6. Adrian Neville
I like Adrian Neville's physicality. The things he can do in the ring are nothing short of incredible and he really does have one of the best nicknames on the roster (The Man That Gravity Forgot). That being said, the only way that I would bring him up to the main roster at the moment would be as part of a tag team (I might be crazy, but I thought he would have been a great compliment to Connor O'Brian in the new iteration of The Ascension).
He doesn't possess enough charisma as far as I'm concerned and needs to work on his promos. The in-ring and athleticism is off the charts and the potential for greatness is there, but he needs more development.
7. Leo Kruger
There might not be a bigger fan of Leo Kruger than yours truly, but I think he's gone too extreme with the whole crazy shtick. I like the bush hunter/mercenary idea. I even like that he is crazy because he's addicted to the hunt and needs to be engaged in violent confrontation. I just wish he didn't have to go full on crazy. I want the character to be clever, in his approach to combat instead of a wild, crazy bushman that likes to hurt things.
I want him to convey the demeanor of a great hunter, who calmly, intelligently stalks and studies his prey, before pouncing viciously, and taking advantage of any weaknesses. I just want the character to be more refined I guess. That being said, he is great worker and performer who has really committed to this iteration of the character and has successfully conveyed a creepy, unpredictable, mentally imbalanced individual perfectly. He should stay in development until he finds the perfect mix of crazy and clever, but once he does, bring him up to the main roster because he's ready.
8. Richie Steamboat
I really like Richie Steamboat as a prospect and out of all the names I've gone through, he could be the biggest name on the Main Roster in a few years (stressing "could be"). He has been hit with a few setbacks recently with his back injury. He's been out of action for a long time, but even before then, he wasn't quite ready for the bright lights of the Main Roster.
He was a solid in-ring performer and worker, but he lacked confidence and charisma when cutting a promo. There are ways to get around such impediments, and you could still make him a star on the main roster, but he could be THE star on the roster if he spends his time out with the back injury, working on his promos, so that he comes back a more complete prospect. The sky is the limit for Richie.
9. Bo Dallas
I like the direction they are headed with Bo on NXT, making him a heel. He is solid worker in the ring, and has actually impressed me from time to time with his taped promos (including the obnoxious one that he did when he won the NXT Title). That being said he clams up when he needs to speak live and his delivery is extremely poor as a result. He lacks the confidence in front of a live audience, which is a major weakness at this point.
I like the Justin Bieber-esque direction they are taking the character (obnoxious young kid that thinks he's a great/nice guy), but he really has to improve his ability to speak. If he can, he is definitely worthy of a main roster spot.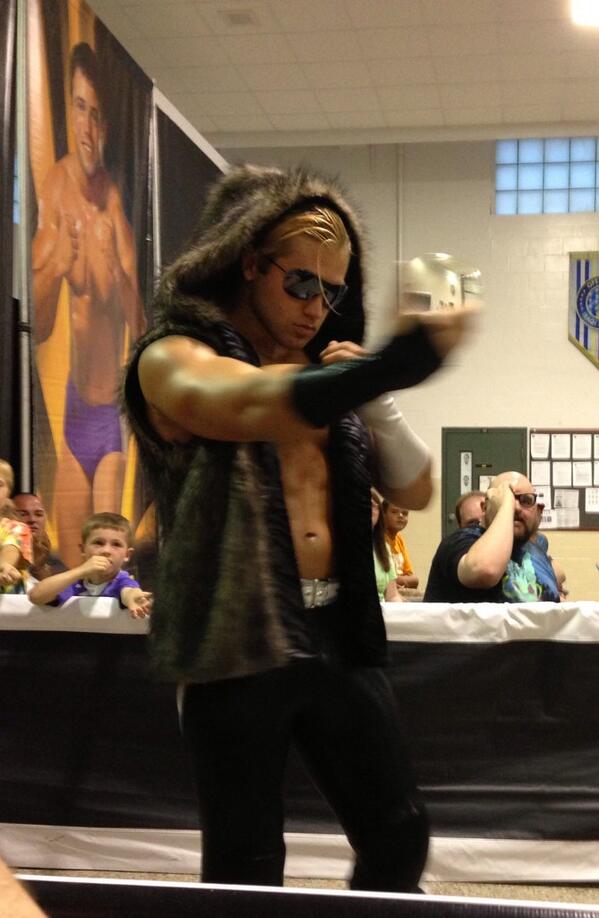 10. Tyler Breeze
This guy is a sleeper in my opinion. Tyler Breeze (formerly Mike Dalton) is a former FCW World Heavyweight Champion trained by Lance Storm, and has been struggling to find an identity for himself in developmental. He has been a great worker, since arriving in developmental and just needed a character to help get him over.
He has never been given a lot of promo time dating back to FCW days of developmental, so I can't speak to his promo ability just yet, but I can say that the new Tyler Breeze character has legs. It needs a lot of work obviously, but the potential is there, for a character that will work on the main roster. The character officially debuts on TV next week, but I've seen some snippets out there and I'm optimistic for this talented young superstar to finally have a gimmick he can sink his teeth into. I'm kind of hoping he evolves the character into WWE's version of Owen Wilson's "Hansel" from Zoolander.I'm also pretty excited to see him bringing boot tassels back.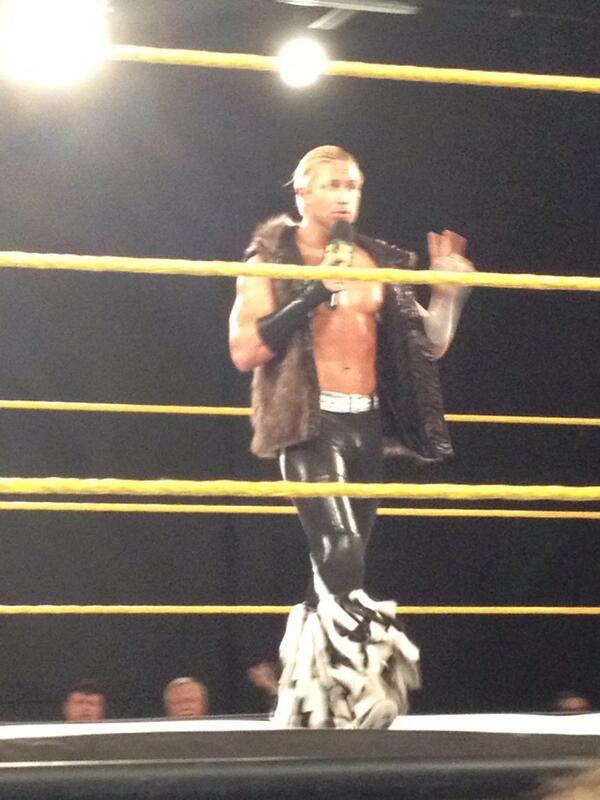 ----
There you have it, but as always I want to hear what you think! Do you like my inaugural rankings? Do you agree that Paige and Xavier Woods are the most ready for the main roster? What would your rankings be if you disagree? Did I leave anybody off that you think should be in the top 10?
Until next time folks, I'm Matty J. Douglas saying that I'm pretty pathetically happy MTV's The Challenge is back. I'd totally do a season of The Real World just to do The Challenge! Have a great week everybody!