The biggest news of the week comes to Outside the Ring via curious pictures posted to Twitter. One of those pictures shows Triple H holding a NEW World Heavyweight Championship Title. Well, it's actually the same, ugly and uninspired, Championship belt we've had since the Rock defeated CM Punk, but it features a new logo! Can WWE finally just reveal that the new WWE logo is the WWE Network logo? Do they think they're going to shock anyone with that "surprise" reveal?
The bigger news, based on a Twitter picture, is the possible return of Smackdown to Thursday nights. Here's the pic:
Before we go into full on analysis mode on this story, just remember that we live in an age where it's VERY easy to manufacture stories with the use of Photoshop. Hey, did you guys know that Nicholas Cage is going to be in the next Avatar movie??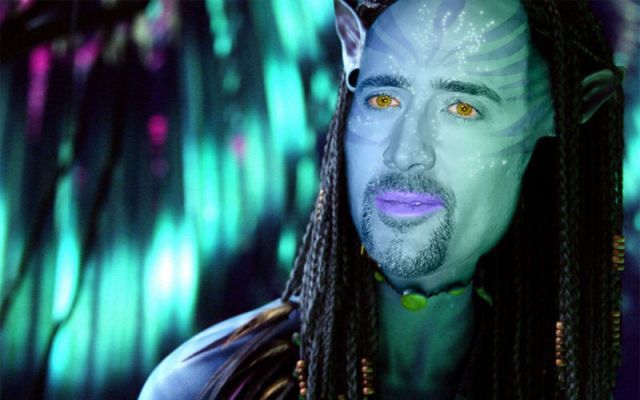 So moving past the fact that the "Thursdays 8/7c" script on the truck could be fake, lets look at a couple of reasons why the change would actually make a lot of sense and be awesome:
1) Friday nights are terrible for television. Friday evenings are meant to be spent with friends and significant others, celebrating the fact that you just escaped yet another week in your own personal hell - your job. Boy, it sucks to be an adult, what with all your responsibilities and all. It's not like when you were in grade school and able to spend a Friday night watching TGIF and pining over Topanga Lawrence (she's still hot, guys). And because television networks know this - that people tend to go out on Friday nights - they schedule programming that is either on the road to being canceled, or of very low quality in general. Smackdown doesn't belong in that group.
2) A move to Thursday nights could also mean a return to LIVE Smackdowns. This was a big rumor during WWE's negotiations for a new television deal. Advertisers see live tv as less desirable to DVR, and therefore would be willing to pay more for advertising on live Smackdowns. As fans, this should be very exciting, as one of the largest reasons Smackdown is no longer required viewing is because spoilers are released online for the show a full three days before it airs. In theory, live Smackdowns on Thursdays puts the show on even footing with Raw. Now, the way WWE treats Smackdown as show #2 will certainly keep it from being another Raw, but that could change in time.
Of course, there's some risk involved in moving Smackdown to Thursdays. WWE would be going head to head with Thursday Night Football, which is expanding to network television this year. That would make it twice a week in which WWE had to compete with America's favorite sport in the fall.
Also, it feels as if the move to Thursdays rides, just the tiniest of bits, on the death of TNA's Impact Wrestling. If Spike TV renews Impact, WWE is risking a segregated audience. More likely, they're going to kill off TNA in the move to Thursdays. It's an interesting development to keep an eye on.
Whatever ends up happening, Smackdown looks like it's coming home! Cue the cheesy "Coming Home" music that played 9.887 times when the Rock returned in 2011. (ProWrestling,net)
​_________________________________________
And now, here's a feature we like to call: Marty Jannetty TAKES ON the Internet.
On Triple H and Stephanie McMahon recently comparing the UFC to WWE. (MMA News)
This is one of those stories that I would have had no idea about if you fellas hadn't filled me in. But I read the transcript of what Triple H and Stephanie told a bunch of nerdy New York investors, and I have a few thoughts of my own on the subject. First of all, I love the comparison Triple H makes when talking about wrestling being similar to the movie Rocky. Real life sporting events offer very little replay value, while I'm sure plenty of people don't have to have their arms twisted to go back and watch some "Marty J" classics. The problem I have is with Stephanie saying that she can guarantee everyone will get their money's worth for every wrestling Pay Per View. Tell that to the poor heart broken kids who emptied their pockets in the mid 90s to see yours truly only to have their dreams crushed after I was let go.
On TNA debuting Chris Melendez (an amputee veteran). (SEScoops)
This is a real tough one to comment on guys. On one hand, Chris Melendez lost a leg fighting for our freedoms overseas. Why shouldn't he be able to pursue his dreams like anyone else in this country? On the other hand, it would be really greasy if TNA was using Mr. Melendez as a way to drum up publicity (already receiving coverage from the New York Post) in the midst of rumors of being canceled off of Spike TV. I guess a lot of questions will be answered when we witness this modern day hero's work in the ring. I for one am rooting for the guy, and won't make the easy cheap joke that his career may not have a leg to stand on. I would have to be a true scumbag* to say something like that.
On Triple H being spotted with new WWE Championship Belt. (Wrestling Inc)
I don't get what all the hoopla is surrounding this news. It's the exact same ugly design as before, but with a new logo. "BRING BACK THE EAGLE BELT!" I say. That beauty was even more attractive than me in my patent dayglo purple and yellow striped tights! And trust me, I was a pretty sight.
On persistent rumors that Hulk Hogan is making an effort to return to the ring. (SEScoops)
Yeah, I'm sure that's what the world is clamoring for. I'm sure that the world wants to see a guy who was a terrible worker in his PRIME come back and embarrass himself at this point of his life. I got a better idea. Why doesn't WWE just show his famous video where he makes sweet sweet Hulkamania love to Bubba the Lovesponge's wife? That can't be as embarrassing as an in ring return would be, right? Oh, its that small? Yeah Hulkster, come back to the ring!
*Aaron Briggs is that scumbag, and is truly aware that Chris Melendez could kick his ass and run circles around him.
​_________________________________________
Be sure to check out our latest podcast! This week on the SharpShooter Cast, we review Guardians of the Galaxy starring Dave Baustista. It's a fun one!
This episode covers:
That's not my wood!
Aaron rants on Roger Goodell and the NFL.
NFL vs Women.
A review of Guardians of the Galaxy.
Dave Bautista proves his mettle as Drax the Destroyer.
Audible fart!
A review and analysis of the 8/4/14 episode of Raw.
Is Roman Reigns improving?
Last Man Standing concept is tired.
Beat the Clock challenge feels different and fresh.
Sooooo much filler.
Stephanie McMahon once again finishes the show, Aaron is outraged.
Riffing on Daniel Bryan taking down a burglar.
Cena vs Lesnar promo gets us properly hyped!
Final Raw scores.
Listener questions!
1) Has Alberto Del Rio over or under achieved in his career with WWE?
2) Can heels and faces ever be friends on screen?
3) Should there be more title defenses on Raw and Smackdown?
Here's a STREAM for your convenience:
And here's the Direct Download! (Right click and "Save Link As")
If you're interested in listening to more episodes, visit our little corner in the iTunes Store. Be sure to leave us a rating! Or, you can always click "More" on the above player, and listen to our entire catalog. Pretty handy.
Finally, if you're like me and have a favorite app not made by Apple to play your podcasts (I love me some DOWNCAST for my iPhone, and iPP Podcast Player for my Android Tablet), here's the RSS Feed for your convenience: http://sharpshootercast.libsyn.com/rss
​_________________________________________
Written by Thomas and Aaron Briggs