Two years ago at Christmas time I wrote a combination of articles about the wrestling video games that have impacted my life the most, for good or bad. Recently I played WWE '13 for the first time, and while it was good, I found myself longing for the old days where online gaming and making my own Dake Ken in create-a-wrestler weren't as important as the game play. So, because I'm feeling nastolgic, I'm going to repost my two favorite SEW articles. The second and more popular article will be posted this weekend, but here's the first one where I discuss my favorite wrestling games. Two years later and the list hasn't changed at all.
---------------------------------------------------------------------------------------------------------------------
Originally posted 12/09/2010
It's the Christmas/other lesser holidays season, and with it comes an important tradition; shopping for gifts. For many Christmas has become a time to relish in the latest pop-culture fad of the year. In my youth I always associated Christmas with three things; time with family, eating lots of food, and new video games. For my brother and me, Christmas became synonymous with new virtual worlds to lose ourselves in while the unforgiving cold made going outside unappealing. Since we grew up wrestling fans, our parents knew exactly what kind of games would wet our whistles and keep us from annoying the hell out of them as we shared the warmth of the indoors on cold winter days. That being said, it shouldn't be a surprise that I've played a lot of wrestling video games. Here are my five favorite in chronological order.
WWF Royal Rumble (1993, Super Nintendo)
Game Features
I don't remember too much about the logistics of this game, but I do remember my brother and I renting it from the video store on a weekly basis until our parents finally bought it for us. The whole selling point of this game was the Royal Rumble match. This is a normal staple of all WWE based wrestling games now, but at the time it was insane.
Also the game revolutionized the way sibling resentment was forged. In the past the only way to cheat was to knock the controller out of your little brothers hand while you pinned his character, then tripped him as he attempted to run downstairs to tell on you. WWF Royal Rumble changed all that. It was the first game where you could cheat within the game, and no one could ground you for it. You could use steel chairs while outside the ring, and you could legitimately knock out the ref and break the rules as he lay there unconscious. It was groundbreaking technology for deceitful older brothers everywhere.
Graphics
This was 1993. If you're expecting anything other than brightly colored pixels that loosely resembled your favorite WWF Superstars, than you hold the early 1990's to a much higher standard than I do.
Roster
Limited, but still boasting the top stars of the day. The SNES and Sega Genesis versions had similar rosters, but each had a few differences to make them unique. Unfortunately I had the SNES version, so instead of dropping legs with the Hulkster, I was stuck building tee pees with Tatanka and wondering who the hell Ric Flair was. Sure I know he's a legend now, but for an eight-year-old that spoke fluent Hulkamaniac, I felt rather put out.
Replay-ability
We played that game consistently for almost a year before we moved on to more interesting things. It briefly re-piqued our interest after our cousin made a game of seeing how many times he could run Razor Ramon into the guardrail before getting counted out, but that lost its appeal rather quickly when we realized it was more fun to watch him do it in real life. His current job is collecting change from water fountains at local malls. We're all really proud of him.
WCW/nWo Revenge (1998, Nintendo 64)
Game Features
WCW/nWo Revenge is the sequel to WCW vs. nWo: World Tour, and it was a vast improvement over the original. To be fair though, it wasn't hard to beat World Tour, because that game was built alongside Virtual Pro Wrestling 4, which was essentially just a Japanese version of the the game. While World Tour was fun and easy to play, it lacked basic things like entrances, championship belts, and signature moves. Revenge improved on all of World Tour's faults, by adding new arenas, entrances, a larger, more WCW appropriate roster, and more compelling grapple system. Revenge was the game that really put THQ on the map, and it's engine became the standard for all wrestling video games for the remainder of the Nintendo 64 system.
Graphics
For being on the Nintendo 64 and it being 1998, the graphics were really top notch during the time. While the characters looked a bit bulky and the weapons seemed to vanish into thin air when dropped, they were still a huge improvement over World Tour. You could easily identify who each character was, and the moves appeared very realistic. Goldberg's Spear for instance, looked like Goldberg tearing another man in half. But, the graphics weren't really the selling point of the game, which was a good thing because that alone wouldn't be enough.
Roster
The best thing about Revenge was the deep roster. The whole theme of the game was "gang warfare," and the roster was split into several factions; nWoHollywood, nWo Wolfpac, Raven's Flock, WCW (split into four sections, with one dedicated to the Cruiserweights) and two fictional federations named Empire Wrestling Federation (EWF) and Dead or Alive Wrestling (DAW). While the real wrestlers were great, but I had the most fun with the fake wrestlers from the EWF and DAW. Some of them were really over the top. They even had a monster who looked suspiciously like Frankenstein's Monster, who was coincidentally named Dr. Frank. My friends, that's just good comedy.
Also Revenge was the first game that allowed you to change the attire and names of your favorite stars. Since Ric Flair was suspiciously left out of the roster, all I had to do was alter one of Fit Finlay's four optional attires and I had Ric Flair, name change and all. It wasn't really Create-A-Wrestler, but it was a step in that direction.
Replay-ability
The only reason we stopped playing Revenge is because WWF WrestleMania 2000 came out the following year. If it hadn't, than I bet we would have kept playing it for the foreseeable future. Everybody we knew loved Revenge. We would have parties with our friends dedicating the night to battling each other in the squared circle. And boy did we have some epic encounters. One time, my brother Adam and our friend Pete had a TKO match between Rey Mysterio Jr. and Kevin Nash. That means the only way to win is to knock your opponent out. No count-outs, no DQ's, no pins. Their match went on for over an hour. Everyone in the room was on the edge of their seat to see who would come out on top. I honestly don't remember who won, but needless to say it was the greatest match of Kevin Nash's career.
WWF No Mercy (2000, Nintendo 64)
Game Features
No Mercy is generally considered by many video game aficionados to be the greatest professional wrestling game of all time, and it's hard to argue that claim. It was the sequel to WWF WrestleMania 2000 and was developed with the same engine as the previous WCW game titles. While No Mercy did have its faults (shortened entrances, no create-a-belt feature, lag-time when four wrestlers were on screen at once) it was still a vast improvement over all of its predecessors, and became the standard by which all wrestling games would be judged. It was the first game to introduce the Ladder Match, story modes, backstage brawling, and sending your opponent crashing through the announcer's table. It's the zenith of professional wrestling games, and if any of you politely disagree, than I politely invite you to suck on the largest bag of dicks you've ever seen. Politely.
Graphics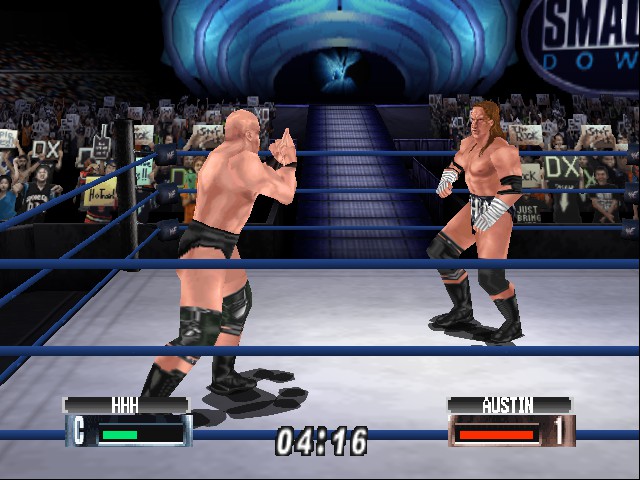 No Mercy's graphics were improved over it's predecessors by giving the wrestlers a less bulky image. It smoothed out the wrestlers so they looked more like Superstars, and less like painted marshmallow men. The arena's were very detailed, but like all wrestling games on the Nintendo 64 the fans looked like cardboard cut-out's struggling to come to life. But, just like Revenge, No Mercy's selling point was not the graphics, it was the game play. It got so many things right that the games of today consistently miss, sacrificing the details so that you can see the sweat beads on Randy Orton's chest. Cutting edge graphics can be a definite plus, but if the game play sucks, than all you have is a very nice looking turd. No Mercy might look like shit by today's standards, but it shined where it mattered.
There are very few games that made me feel like I was actually in a wrestling match, but holy crap did No Mercy make me feel like every match was a battle. In today's games you can pretty much dictate the match anyway you see fit; if you want to hulk up and destroy someone quickly, you have that option. But every match in No Mercy felt like a war. There was never a game prior or since that has made me stand on my feet as I mashed buttons on a game pad, trying to keep my opponent from standing up again. Thinking that if I hit the button just a little harder or hold it down longer, maybe that will finally be enough to put them down for good. It had nothing to do with the graphics, or the entrances, or the create-a-mode options; WWF No Mercy is the only game that made me feel what it was like to be a real Superstar.
Roster
The roster was filled with the top stars of the Attitude Era. Stone Cold, The Rock, Mankind, The Undertaker, Kane, Chris Jericho, Triple H, Edge and Christian, the Hardy Boyz; all of these Superstars and more were included. Even the under-card was filled with memorable Superstars that would never be in a WWE video game of today. No Mercy was jam packed with all of the top Superstars, and boasted a Create-A-Wrestler feature so in-depth that you could make pretty much anybody you wanted. That being said, it should be no surprise to all of you when I say that Dr. Frank had a resurgence in my gaming experience after I mastered the CAW feature.
Replay-ability
If my Nintendo 64 hadn't died on me in college, I'd still be playing No Mercy today. I know I could download a game mod that would allow me to enjoy the experience once again, but without the ridiculous Nintendo 64 controller in my hand, it wouldn't be the same. Rest well WWF No Mercy cartridge, may we meet again the day I find a moderately priced Nintendo 64 at a yard sale.
*Update* I have since gotten a used N64 and a copy of the game, and played it non-stop for 6 hours before the cartridge died and refused to ever boot up again. The search begins anew.
WWE Smackdown!: Here Comes the Pain (2003, Playstation 2)
Game Features
WWE Smackdown!: Here Comes the Pain was probably the best of the Smackdown! series of games that preceded the Smackdown vs. Raw series. It boasted one of the best grappling systems in the series history by allowing players to choose their wrestler's moves freely from multiple select categories, each with their own style and strengths. With a Season mode written by actual WWE writers instead of over-worked game developers, Here Comes the Pain had several unique story lines independent from WWE canon. Also it was groundbreaking in that it debuted several new modes, such as First Blood, Elimination Chamber, and Bra and Panties. It had a simple but effective progression for stats (rated 1-10 for Strength, Submission, Stamina, Technique, and Speed), and a CAW mode that still stands on its own in terms of options and creativity. Here Comes the Pain was enticing and easy to lose yourself in for hours on end.
Graphics
Whenever I think of this game's graphics, I distinctly remember something my old college roommate said while competing in a bra and panties match:
"Dude, I could totally jerk off to these bitches right now. They're smoking hot."
Unfortunately I soon realized he wasn't just using juvenile humor to compliment the game on its stellar graphics. Needless to say, he ended up buying me a new controller after I caught him showing the ladies of the game just what he thought of them.
Roster
Undoubtedly the biggest disappointment came from the lacking roster. While it can be fun to create your favorite Superstars, they lack that certain sizzle that makes their legitimate video game counterparts so special. Due to a severe roster shift that year in the WWE, I was forced to create the soulless husks of many new Superstars, along with many legends that were left on the cutting room floor. Don't get me wrong, the CAW mode was awesome. But, no matter how hard you tried to create the Ultimate Warrior he always ended up looking more like the Renegade. And that's just terrible.
Replay-ability
Since college was the time where playing wrestling games was stupid, and Halo was the boner-inducing game of my friends, I spent the majority of my time playing Here Comes the Pain on my own. The story mode was pretty excellent, and I had fun creating my friends and pitting them against each other, but for the most part I only played it when I had free time and was bored. Still, it was a good go-to game when there was nothing better to do.
WWE Smackdown vs. Raw 2007 (2006, X-Box 360)
Game Features
Of all the games to be developed since No Mercy, this has to be my favorite. Up until this point the Smackdown vs. Raw line had been very hit or miss. The first one aptly named Smackdown vs. Raw was a complete disaster, lacking all the great things that made Here Comes the Pain great. They improved on the mistake with its later titles, but there was no real consistency. SVR 06 had too little, SVR 08 had too much. And just like Baby Bear's uncharacteristic meal for a bear bowl of porridge, SVR 07 was just right.
This game included a lot more interactivity in the arenas such as fighting within the crowd. Signs and objects could be used to beat down the opponent, and the inclusion of environmental hot-spots such as the ring ropes and steel steps which players can interact with. It was the first game in the series that had the Money in the Bank match, and was the first to develop the analog control grappling system, which is still being used today.
Graphics
SVR 07 was a landmark in that it was the last game where I was able to notice the graphics had been improved. Now they all look the same. That being said, the graphics are excellent. It might not be necessary to see sweat beads glistening off of Superstar's bodies or blood dripping from their heads to enjoy the game, but the amount of detail they put into making these Superstars as real as possible is pretty cool.
Roster
SVR 07 had a good mix of top-tier talent, WWE Legends, and Superstars I never wanted play with. I'm sure someone out there would find a Buried Alive Match featuring Vito and The Boogeyman enthralling, but I am not one of them.
Replay-ability
Just like all the other games in the series, SVR 07 was only relevant until the next game with it's updated roster and features. The series has become as stale as Madden, and SVR '10 and SVR '11 have really started to show it's age. This game did have a great GM mode that gave it a longer shelf life by having a reasonably sized roster and only two competing shows (SVR 08 was the first to include ECW, which ended up just being an additional headache in the GM mode). All-in-all SVR 07 is a lot of fun, even with it's faults, and is currently the only game in the Smackdown vs. Raw series I would still play again given the opportunity.
Next week I'll return with my top five least favorite wrestling based video games. See you then!
Email: johnsonator62@yahoo.com
Twitter: @TheAEJohnson
Tumblr: Andrew Johnson Is A Robot