As promised, here is the second half of my post about wrestling video games. 2 years later and it's still one of my favorite columns. Enjoy!
------------------------------------------------------------------------------------------------------------------
Originally posted 12/16/10


Last week Thursday we looked at my five favorite wrestling based video games, and shared an enjoyable trek into our shared gaming past. This week we are going to look at the five games I've played that made me wonder how they made it past the beta stages. Since this is the internet and you all go Nerd Hulk every time someone writes something you don't agree with, lets keep in mind this is my list and it emphasizes how I felt about these games, not how the masses received them. It's my opinion, nothing more. There are probably worse games out there, but these are the ones I've had the most contempt for. With that being said, join me as I stare into the video game abyss.
Pro Wrestling (1987, Nintendo Entertainment System)
Game Features
Pro Wrestling for the NES was a testament to how gullible the Japanese thought the American consumer was in the 1980's. Instead of licensing real professional wrestling federations already prominent in North America, Nintendo decided they would slap together an incredibly convoluted game filled with unrecognizable characters. It didn't matter who you picked though, since they all had the same moves except for their token "special" move. The story mode was a mix between laughable ease and ball shattering difficulty. It was like Punch Out! only without the fun or sense of accomplishment.
I know a lot of you disagree with me and think Pro Wrestling was a great game. That might be true for you, but for me it was a huge disappointment. I still don't know why my parents handed me this on Christmas morning instead of a WWF game and expected me to be excited. I thought I was being punished, or my parents were trying to tell me they didn't love me anymore. Turns out they were just really susceptible to Japanese trickery.
Graphics
Even for the NES the graphics were a joke. The game included a referee that moved with the speed of a double leg amputee. By the time he got over to you to count the pin, your opponent had enough time to grab a quick nap and awake just in time to kick out at two. The characters in Pro Wrestling moved like refrigerators packed with raccoon meat. The graphics jumped around so much I thought my Nintendo was broken, but it turned out it was just a really shitty game. This was the worst wrestling import from Japan until Kenzo Suzuki.
Roster
What child would want to play as Hulk Hogan or Randy Savage when they could control the likes of King Corn Karn and The Amazon (who was half-piranha, half-man, all suck).
Pro Wrestling was also known for having one of the hardest bosses in the history of NES games. For a guy with exactly two moves in his arsenal, Great Puma was more frustrating and difficult to beat than Mike Tyson with a cheat code. I got so pissed off I found myself shaking my NES hoping for a glitch that would skip over the madness. Losing to Great Puma is only less embarrassing if you're drunk, and even then you have to be legally dead to not feel the shame.
Coup De Grâce
Pro Wrestling was probably most famous for its horrible grasp of western language and poor translation techniques. After you won a match, the game displayed this message…
Some of you might be unaware of the term, but this helped reinvigorate an old stereotype known as "Engrish," which is a term that loosely means "We're not going to hire a proper translator to convert the language in this shitty game." Maybe if someone had told the programmers "Not this game make," we might have avoided this whole nightmare.
Tecmo World Wrestling (1990, Nintendo Entertainment System)
Game Features
Tecmo World Wrestling was the first wrestling video game to include a play-by-play announcer. Coincidently it was also the first wrestling video game to fail horribly at adding commentary. Since the NES was not designed to handle sound bites that weren't "bleep" "bop," and "bong" it seriously limited the announcer's ability to call a match correctly. Fortunately Tecmo World Wrestling found a wonderful loophole of text-based commentary, bypassing the need for ears.
That's Tom Talker, your play-by-play announcer and source of adolescent frustration. Tom Talker interrupts more contests with inane chatter and pointless observations than John Madden on cocaine. He's Robin Williams with a spray-tan and a poor grasp on the English language. Tom Talker is only slightly less annoying than your girlfriend's nagging when you get drunk and forget which hole it goes in.
Graphics
Tecmo World Wrestling should really have been re-titled to fit the creatures on the screen. They looked about as human as a dog in a bow tie. Tecmo could have called this game "Tecmo Rock Golem Wrestling" and you wouldn't have said boo. The background images look like they were designed by a twelve-year-old in mid seizure, and the characters moved around as if they were killing time. If the designers had used more megabytes on the wrestlers instead of Tom Talker's facial scowls, perhaps you could get through a match without having to hit reset because your character got stuck between the ring ropes and the floor.
Roster
All of the wrestlers in Tecmo World Wrestling were actually based on real wrestling greats. Tiger Mask was cleverly disguised and renamed as El Tigre. Akiri Dragon was a blatant rip-off of Antonio Inoki. The reason for their "original" roster was so Tecmo didn't have to pay for licensing rights. It's nice to see they used the money they saved to create state-of-the-art graphics and innovative game play and not a little chattery asshole that froze the game up every twenty seconds.
Coup De Grâce
I'm not one to bash an individual's sexual orientation. If you are gay and proud of it, than I say more power to you. I'm also aware that there is a dispute on whether homosexuality is a choice (it's not), something you're born with (it is), or something that is brought upon by conditions during a person's adolescence. While I don't really support any of the above arguments (yes I do), I'd say that those who think its conditional can use Tecmo World Wrestling to strengthen their case. There is no other wrestling game I've seen that is as homoerotic as Tecmo World Wrestling. Every grapple resembled a loving embrace, every power move a thrust of erotic pleasure. I spent less time playing the game and more time checking the back of the box to see where the characters had made their wedding registry.
Look at him scream in pleasure as that pervert Tom Talker watches. For years I thought a "Giant Swing" was slang for the missionary position. Needless to say, after playing Tecmo World Wrestling I had a lot of questions my parents were uncomfortable answering.
WWF WrestleMania: The Arcade Game (1995, Super Nintendo)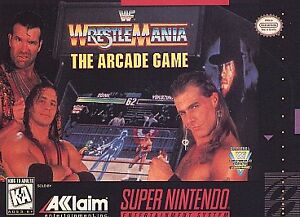 Game Features
I've been disappointed by a lot of video games in my life, but none more so than WWF WrestleMania: The Arcade Game. Since arcades were losing their prominence during my childhood, I never had the experience of playing this game until it came to the home consoles. Take a look at the extremely misleading text on the back of the box…
Even almost 20 years later, and I'm still amazed with how perfectly fine Acclaim was with printing blatant lies on the box art. I hope whoever wrote "Realistic Wrestling" on the back got a promotion for the gigantic balls it took to inscribe that falsehood.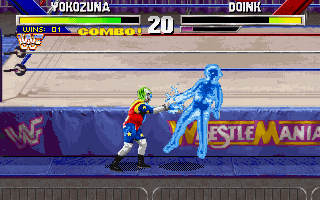 WWF WrestleMania: The Arcade Game wasn't as much of a wrestling game as it was a fighting game in the style of Mortal Kombat. Matches consist primarily of special strike attacks and insane combos, such as the Undertaker casting spirits at an opponent or Razor Ramon's arm morphing into a blade like the T-1000. Honestly, the only thing they really got right was at the end of the "match" you pinned your opponent, but I don't ever remember their being a 3-count. Even at ten I thought this game was too immature for me. I had never felt so insulted, and I was the kid that stuck boogers under his desk and wore a fanny pack.
Graphics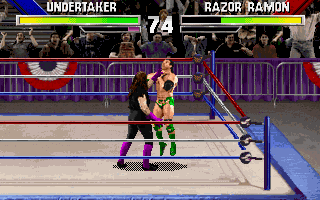 The wrestlers were digitized sprites, which was a form of graphics that used footage of real actors that were then made digital and put into the game. This made the wrestlers look highly realistic cardboard cutouts in a completely unrealistic wrestling arena. Digitized graphics are meant for high speed game play, something that the SNES seriously lacked. It was riddled with slowdowns, limited commentary, and persistent freezing issues. It's ironic that the one thing they got right was also the one thing that made the rest of the game suck.
Roster
WWF WrestleMania: The Arcade Game for SNES had a whopping six wrestlers to choose from. With such a limited roster, you'd think they would have given you someone a little better than Doink the Clown. You would think that, but then again you would be wrong. This game flipped off the player so hard it made Steve Austin blush.
Coup De Grâce
Have you ever seen a movie so bad it was unintentionally funny, so you showed it to your friends so they could laugh at it too? WWF WrestleMania: The Arcade Game is the wrestling video game equivalent of Troll 2, only less enjoyable.
WWF Warzone (1998, Nintendo 64)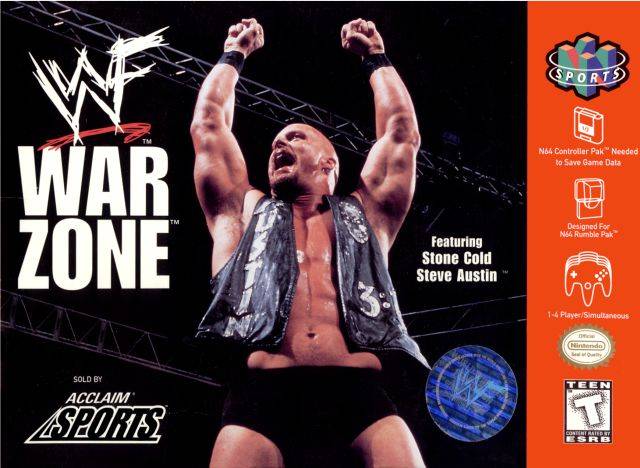 Game Features
WWF War Zone was Acclaim's answer to THQ's incredibly successful WCW game series, but to be honest it's actually a better answer to question "How do you make video games not fun." WWF War Zone let down more children than a drunken mall Santa that just had a fist fight with his elf. While they tried to be innovative with their motion-capture 3D graphics and authentic move execution, they really only succeeded in making a game that took way too much time to learn. In lieu of the easy grappling system THQ developed, they stuck to the out-dated combo system to pull off the simplest of moves. For example, a body slam required the player to hit up, up, down, A, B, and order a subscription to WWF Magazine. A leg drop consisted of hitting all the C buttons at once while standing on your head. And, don't even try to pull of a Stone Cold Stunner unless your parents aren't home and you're able to scream "Do the stunner you fucking piece of shit game!" while you ferociously mash all the buttons on the tentacle-rape inspired N64 controller.
Graphics
WWF War Zone used motion-capture technology to get a realistic model of the WWF Superstars. Realistic, that is, if all the WWF Superstars were inanimate store mannequins. Plastic wrestling action figures showed more life than these video game wrestlers, and they didn't even need dodgy controls to do it. It also became very apparent that the developers never really watched WWF programming, and instead got all of their knowledge on the wrestlers through magazine pictures and merchandise. Take Mankind's attire for example…
Have you ever once seen him wear "Have a Nice Day" on the back of his ring attire? You might think I'm being picky, but this was his default attire. In order to get his normal outfit you had to unlock it in the career mode. And, by the time you unlocked it you don't really give a shit anymore, because you realized the lack of accurate ring attire was the very least of this game's problems.
Roster
WWF War Zone was made during the Attitude Era, and had the potential to fill the roster with any number of memorable Superstars of the day. Instead you were given a few of the bigger stars before getting saddled with grapplers such as Faarooq, Goldust, Ahmed Johnson, and the Headbangers. Be still my beating heart.
Coup De Grâce
WWF War Zone eventually redeemed itself in my eyes when the cartridge helped steady my Grandmother's wobbly kitchen table, a place of honor it still retains to this day.
Backyard Wrestling: Don't Try This at Home (2003, Playstation 2)
Game Features
I don't think I'll ever be able to hate anything as much as I've hated Backyard Wrestling: Don't Try This at Home. This game came into my possession when one of my floor mates in college disappeared from campus. He owed a lot of people money for various reasons, so his roommate decided that he would reimbursed them by giving away the items he left behind. After everything of value was taken by those he was indebted to, his roommate decided to just give away the leftovers to the rest of the floor. I was given the choice between this game and an Insane Clown Posse CD. I chose the game thinking I would get some enjoyment out of it. Turns out the word "enjoyment" is foreign to anything associated with the ICP. I basically got the game for free, and I still wanted a refund.
The game was inspired by the backyard wrestling craze, and the ICP's own wrestling federation Juggalo Championshit Wrestling. If you don't believe that's a real thing, than go ahead and Google it. I'd link it for you, but I'm afraid this website would contract some sort of virus for making even the loosest of viral connections. If you're unaware of the existence of ICP, all you need to know is that they are two hellish "rappers" who work tirelessly in the bowels of Satan's butthole to produce auditory rape for your ears. Their fans are called Juggalos, and are more socially out of touch than people that still collect Pogs. I mention this because the only people that would find this game enjoyable are mentally and socially handicapped teenagers with a preference for clown paint and shitty music.
Backyard Wrestling: Don't Try This at Home had probably the worst controls in the history of pro wrestling games. If you pressed the circle button to do a strike, your character would always turn around and dropkick the air. I think the programmers did this on purpose, because the characters seem to know exactly what you wanted to do at any time, yet they mocked you by doing the opposite.
Graphics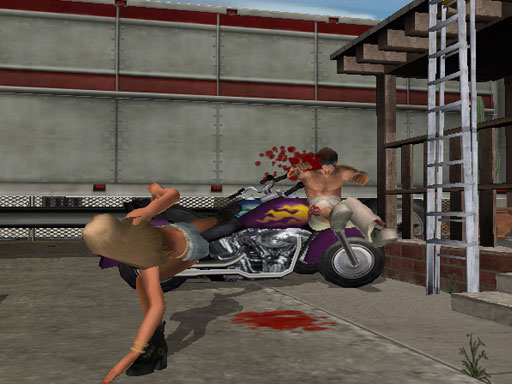 The graphics are a mess. If the design of the game camera was to be held by an eighty-year-old man with Parkinson's than they nailed it. The moves are highly exaggerated, and the wrestlers are so light on detail that covering them in pixilated blood and moving them around at high speeds is actually an improvement. I've seen better graphics on the Atari.
Roster
Backyard Wrestling: Don't Try This at Home was basically a vanity project created by ICP so that they could put themselves in a wrestling game and be the best characters. The only real wrestler in the game is Sabu, and even he doesn't seem like he wants to be there. Other than that, you have the unenviable task of choosing between a bunch of rapping nobodies and wrestlers you've never heard of.
Coup De Grâce
Besides containing one of the worst games ever created, the disc also featured the hellishly unintelligible, hatred proliferating rap stylings of the Insane Clown Posse and several of their equally shitty peers. This game's title is still probably the greatest misuse of the word "wrestling" in the history of the English language. I played it for two hours before my Playstation 2 ejected it and refused to ever work again. It looked like it was ashamed of me before it died. Backyard Wrestling: Don't Try This at Home is a spectacular tour de force of failure and misery only the ICP can provide.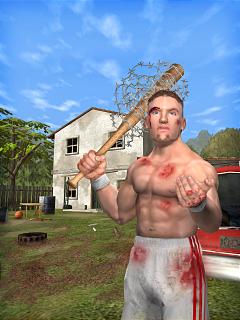 Email: johnsonator62@yahoo.com
Twitter: @TheAEJohnson
Tumblr: Andrew Johnson Is A Robot