I was watching WWE Raw on June 17, 2013 and Mark Henry began to speak. He was so emotional and was riffing with an appreciative crowd. It was impressive. My family believed his tearful retirement. Heck, I almost believe it. When he slammed John Cena, the crowd went crazy. It was Mark Henry's finest moment.
It was amazing to see how far he has come. Recently Mark Henry did an interview where he discussed his career. If you look at the trajectory of his career, he ran the risk of being one of the biggest flops in WWE history. I am glad that turned out to not be the case.
In past articles, I examined three wresters (Trish Stratus, Alberto Del Rio and AJ Lee) using film studies Professor Richard Dyer's "Star Text" theory. Mark Henry, one of the most important wrestlers of the current WWE, will be examined in the same way. By looking back at his history, I can determine whether Mark Henry has become a successful WWE wrestler.
Establishing your credibility is important and Mark Henry's is unique. He was a world-class weightlifter wining three national titles, international titles and even making the Olympics at the age of 19 in 1992. He was a favorite to win medals at the 1996 Summer Olympics but some back injures led to a disappointing 14th. While he quit competitive weightlifting, he won himself a unique contract in the WWE.
Mark Henry was given the amazing 10 year, $10 million contract by Vince McMahon. It was quite a long-term investment in an unknown commodity. I believe this contract; quite well known by wrestling fans, was an albatross that hurt Mark's early career. He didn't seem to live up to that lucrative contract Vince gave to him.
In wrestling, first impressions are vital. What was Mark Henry's? He feuded with Jerry Lawler beating him in In Your House Mind Games pay-per-view in 1996. The problem is Mark Henry had virtually no experience and it showed. Lawler did the work to make the match look good but Henry got the win. However, it showed the audience a lack of experience in Henry and it hurt his credibility.
He was going to be in a Survivor Series match that November but something occurred that would define Henry's early career. He was injured. If the image of constant injury is in the mind of the audience and its management, it is hard to get behind a wrestler. While Henry used the time to improve his craft, it set up an image of an injury-prone wrestler early on.
However sometimes you simply need to work with credible stars to get over and when Henry returned in November 1997, he would soon do that.
On the January 12, 1998 Raw he would join the "Nation of Domination". This allowed him to spent most of 1998 working with D-Lo Brown in a successful tag team. They competed at WrestleMania 14 and Henry had pay per view matches against the likes of Vader, Ken Shamrock and The New Age Outlaws during this pretty successful 1998. He had found a valuable role, the "enforcer" in a very credible tag team. Despite being a constant tag team with D-Lo for nearly two years, they would never win the Tag Team Championship.
An important thing for any character to do is to evolve. Mark Henry's evolution would be one of the most embarrassing in WWE history, nearly killing his character. He would become "Sexual Chocolate" a very unsuccessful ladies' man. How unsuccessful? He was unsuccessful in winning the affections of Chyna until a very disturbing episode of Raw in January 1999 when he met Sammy, the transvestite. I really don't want to say too much more about this disturbing event. Look it up if you dare. It was a pretty tasteless angle but sadly only the start to Henry's embarrassment.
You must be successful from time to time to build credibility with an audience. Henry did not have that luxury. One of his biggest moments of his early career was Summerslam 1999 when he turned on his longtime partner D-Lo to aid Jeff Jarrett. He was given the European Championship the next night. Being given his first and only championship for nine years doesn't build your credibility. He would lose his first title only a month later on Smackdown.
But the embarrassment of his character would only get worse. He would attend sex therapy and admit he had his first sexual experience with his sister at age eight. Yikes. If that weren't disturbing enough he would begin a long-term relationship with everyone's most disturbing octogenarian Mae Young. Do we even need to say what occurred in February 2000?
After losing for a few more months, Mark Henry would vanish from television to train in Ohio Valley Wrestling. If at this point I look at my initial question, "Is Mark Henry a successful wrestler?", the answer would be resounding no. At this point in his career he would be simply a joke and one of the biggest busts in WWE history.
However, we love a good redemption story and Mark Henry's is a long one. He would spend the better part of 2001 and 2002, in Ohio Valley Wrestling improving his craft. It was likely something he should have done years earlier. He would appear a bit in 2002 on Smackdown for "tests of strength" but injures would derail that run. He would however win a series of Strong Man competitions adding credibility to his claim as "World's Strongest Man".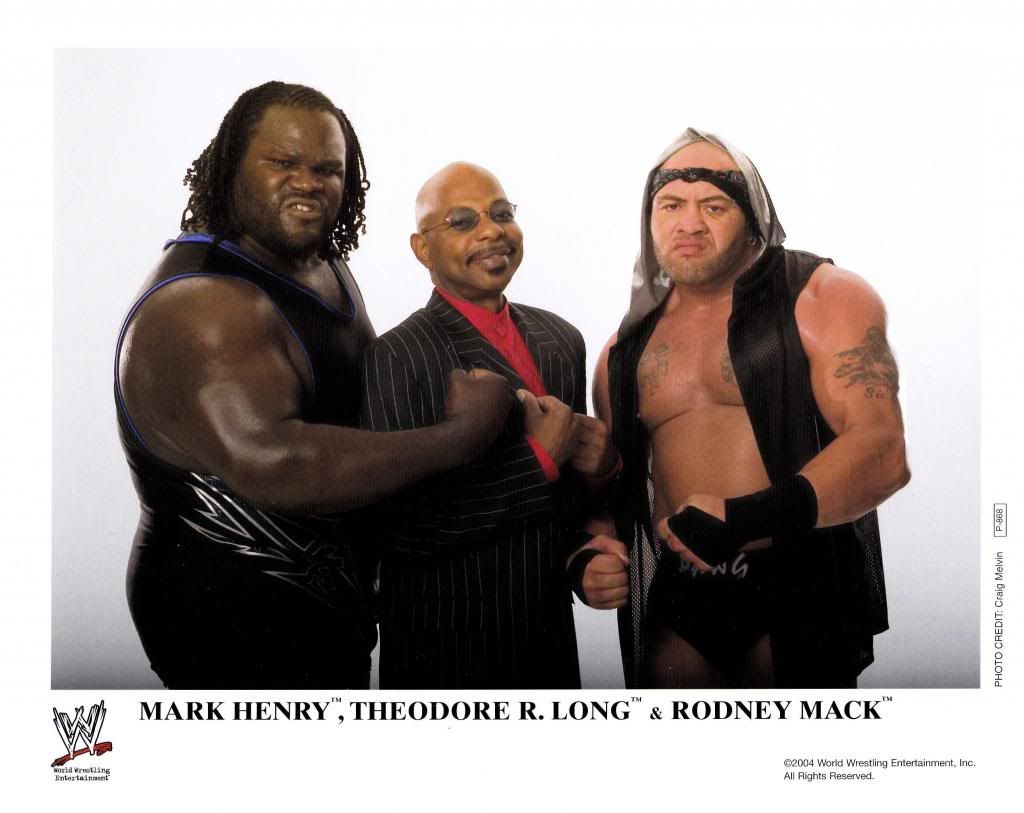 On August 25, 2003 Mark Henry returned to team with Rodney Mack. Teddy Long managed him in a group who argued how the white man was keeping them down. It was a brief and somewhat unsuccessful run for Henry. He had some mini-feuds with Shawn Michaels and Goldberg but was always on the losing end. Later that year he moved on to feuding with Booker T. However, the pattern of losing continued when the feud ended with Henry losing to Booker at Armageddon 2003. If you never win a feud, how is the audience going to buy you as credible? In February 2004, he injured his quad and would be out of action over a year.
However, one of Mark Henry best qualities is his persistence. He keeps coming back. His next run was an impactful one. He returned with a vengeance in December 2005 when he attacked World Heavyweight Champion Batista. At a live event a few weeks later, he was part of a match when Batista was injured with was used to get over this new tough character. He would lose in the January 2006 battle royal to Kurt Angle but this would be a start of building his credible character for the first time in his career. He wrestled unsuccessfully in the main event of the 2006 Royal Rumble against Kurt Angle. But this was just the start of increasing the credibility of Mark Henry.
Mark would move on to his biggest feud ever with the Undertaker. It shows the faith that the WWE was getting in Henry to give him the WrestleMania slot with the Undertaker. While he would, of course, lose to Undertaker in a Casket Match at WrestleMania 22, it shows he had come a long way since his "Sexual Chocolate" days.
He continued to build his dominating persona but destroying wrestlers in the coming months. He even had a pay-per-view count out victory over Kurt Angle at Judgment Day 2006. He was leading into a major match with the returning Batista at Great American Bash 2006 but Henry's bad luck continued. On an episode of the Saturday Night's Main Event, he tore his patella. Just as he was really coming into major feuds, the injury bug returned.
I decided to stop part one of the Mark Henry story here. It was now approximately the end of his ten-year contract. If we asked the question was he a success, the answer would be a resounding no. He would likely be one of the bigger flops in WWE history. It was a career of injuries, losing every major feud and many embarrassing moments. But one of the things I admire about Henry is he didn't give up. He would begin his recovery from his latest setback and return again. I will discuss his most successful part of his career next time.
----------------------------------------------------------------------------------------------------------
Feel free to contact me at lasher@pacificu.edu. Additionally, I added a Twitter account, @WWELasher as well. Please tell me about your favorite Mark Henry moments.