The crowd. The audience. The onlookers. To all intents and purposes they are a mass as much as they are individuals. They cheer for heroes and bay for the blood of the opponent. Pick a sport and the crowd atmosphere makes or breaks it. Soccer matches are full of fans who sing songs, chant phrases and, due to the unfortunate minority, spit, swear and throw coins at those on the opposition. For some, this amounts to a hatred of anyone that does not follow and believe what they do. That their team, their hero, is the only thing that matters. The same can be found in boxing. Last year saw IBF super middleweight champion Carl Froch take on cocky cockney George Groves. The latter was booed into the arena. One first round knockdown and eight rounds of excellence later and Groves was cheered out a hero, even though he controversially lost in the ninth round via TKO.
Sport is made by the sportspeople, but the atmosphere is the crowd's alone. Look at any recent episodes of RAW. Generally, the best episodes are a combination of some top matches, some biting promos and a 'hot' crowd. This is the same through wrestling history whether it's Ric Flair taking on Antonio Inoki in front of 190,000 in Pyongyang, The British Bulldog defeating Bret Hart in front of 80,000 at Wembley Stadium or 19,000 at the New Jersey Izod Centre last year on the post-WrestleMania Raw. The crowd are 'given' something, a match, a promo, and react accordingly. It's the way it's always been. Until now.
The crowds have always been raucous and one need only look at the reactions around the world to John Cena to realise if they're not happy, they'll tell you. The duelling chants between John Cena and Chris Jericho at SummerSlam 2005 were great and showed that, whoever their favourite was, the crowds would cheer. It's almost become pantomime with Cena now though as the adults boo and the children cheer. Cena is a polarizing figure, but not a destructive one.
One could look back at the Izod Centre as the tipping point but you could go back to WrestleMania XVIII and the first match on the card. World Heavyweight Champion Daniel Bryan versus The Celtic Warrior Sheamus. The two had had an interesting build to their feud since the Elimination Chamber and, although Bryan, along with his girlfriend AJ Lee, was the heel, the fans still liked him. They liked his run since the Money in the Bank Ladder match the year before. They liked how he said he would only cash in at WrestleMania. Hell, they still liked him even after he cashed in early against the Big Show. The crowd liked the little guy. They liked his in-ring skill. They liked his tenacity. Even when he 'turned heel' the crowd largely stayed with him.
In Sheamus you had a man who was, to all intents and purposes, a 'face'. This came after he attacked Mark Henry for being a bully with his Hall of Pain mantra. He then defeated Christian time and again (oh, how history repeats itself) before eliminating Chris Jericho to win the Royal Rumble match. The problem was, although the WWE wanted Sheamus to be their 'face' of Smackdown, the crowd couldn't relate. How could you with a man who is built like a brick outhouse and stands 6ft 4in? Also, as the later months would testify, by berating and attacking Mark Henry as a 'bully', Sheamus himself became one. In a world of 'Be a Star' Sheamus went on to feud with Damien Sandow because he was 'clever'. Sheamus was a big bully but we were expected to cheer for him.
That night in the Sun Life Stadium in Miami was supposed to be the night that Daniel Bryan shuffled back down to the mid-card for the rest of his career whilst Sheamus moved on forward to the Hall of Fame. It was the first televised match on the card and, obviously, the crowd was electric and then...eighteen seconds later after a punishing Brogue Kick, Bryan lay unconscious and Sheamus stood tall with the title. So far, so good for the creative direction.
Was it because of Daniel Bryan? Maybe. He was popular back then, not as much as now but still a man on the up. Was it the fact that almost 80,000 people had paid for a ticket and over one million individuals had coughed up for the PPV? Probably. To bury a young talent like Bryan so obviously disgusted almost all who saw it. Had the two had a competitive ten minute match up only for Bryan to lose concentration and be Brogued back to Washington the crowd would have probably left happy. An eighteen second match with the best technical wrestler in the company and a big man on the up? No. No. No.
From there, the first hour collapsed. Kane versus Randy Orton was showered with chants for Daniel Bryan and boos. Almost unheard of for a WrestleMania where the crowd is more 'mainstream'. Big Show versus Cody for a heart-warming win still did little to dissuade the faithful and the divas tag match had about as much interest in it as Creative have showed in the Divas division for years now. It took The Undertaker and Triple H to save it, two of the biggest names in the business.
From there, the post-WrestleMania Raw became a haven of chants and smarky comments. The crowd had had enough. Word was out that Brock Lesnar had re-signed over the weekend and when John Cena came out, all anyone wanted to see was the WWE's self-appointed golden boy take an F-5 to the canvas. Obviously they got their wish that night but the simmering seeds in the live crowds had been sown in the space of eighteen seconds.
Fast forward to the post-WrestleMania Raw last year and the whole night was full of crowd chants. To take the most recent phrase, the crowd 'hijacked' RAW. When they were bored with a match, they'd chant for the announcers. They sang and danced to the 'Fandango' for hours. They chanted and cheered for Dolph Ziggler to cash-in his briefcase. Cena, again, was booed out of the building with even Ryback getting a cheer for his 'heel turn'.
Since then, the crowd has begun to make their opinions known in a way not heard for years. If they're unhappy with a filler match they will chant for Randy Savage. Or JBL. Or Jerry Lawler. They've paid good money to go to that arena. People have paid good money at home. The only reason we're watching a lacklustre squash match, or a comedy dance-off is because RAW has to fill 3 hours for advertising revenue and Creative don't have the imagination to fill that time. So, it's win/win for the WWE at the moment. They get that advertising stream and ticket sales, PPV buys and don't even provide a 'full' product. All you have to do is look at the Diva's division since Trish and Lita retired. Since that infamous Playboy Pillow match at WreslteMania 22 between Torrie Wilson and Candice Michelle which set the standard for 'toilet breaks', the writing was on the wall. The divas and mixed tag matches are an embarrassment to the corporation. Not necessarily because of the individuals involved but because of the creative decisions that take us there.
These chants do go into other matches though and often this feels unfair. Who knows who the next Daniel Bryan, or CM Punk, or John Cena, or Rock will be? If there are wrestlers wrestling, let them go at it. If Creative have 'nothing for them' but are letting them have a match, appreciate it and support it. Most recently, we saw Christian and Sheamus battle valiantly but to no avail. The crowd didn't care, and this is with fan favourite Christian and a recently returned Sheamus. One quick finish later and they were out of there.
Chicago is always a 'hot' crowd but this week held a different air. Those men and women were going to 'hijack' RAW and the #yesmovement was going to let their feelings known. Very cleverly, Paul Heyman brought out the bad news in an excellent promo that only he could deliver. This was followed by Brock coming out and then a devastating F-5 on Mark Henry. We then had The Uso's finally go over Triple H's huffing and puffing best buddies The New Age Outlaws for a heart-warming win. The chants were still there though.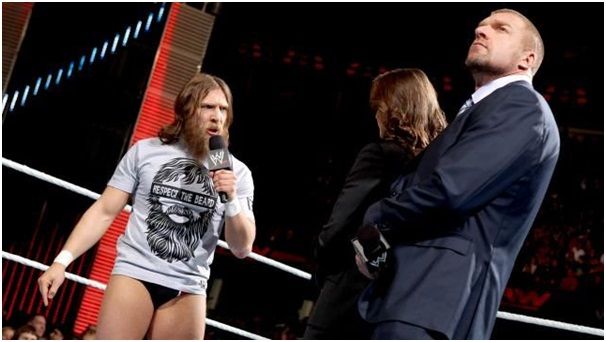 For weeks, Triple H and Stephanie McMahon have had to smile and battle on regardless as chants of 'Yes!' or 'No!' or 'CM Punk' reverberate around the arenas. Generally, they don't acknowledge them because it's not part of the plot and that, in itself, is wrong. People like that are strong enough on the mic to improvise, to react live to what's happening, but they don't. Those chants are ignored and that fuels the ire even further.
The crowds of the past couple of years are obviously more savvy. They knew of Lesnar's return and when Cena came out to close the show they knew that it was going to end messily for the Champ. At the recent Royal Rumble, Rey Mysterio was fed to the crowd as the number 30 entrant. Why? As punishment to the baying crowd. If it wasn't going to be Daniel Bryan, then surely a mid-card heel would benefit hugely from being in that place, but no. The children's favourite was pushed out and booed out of the building. A lack of class by Creative if ever there was one.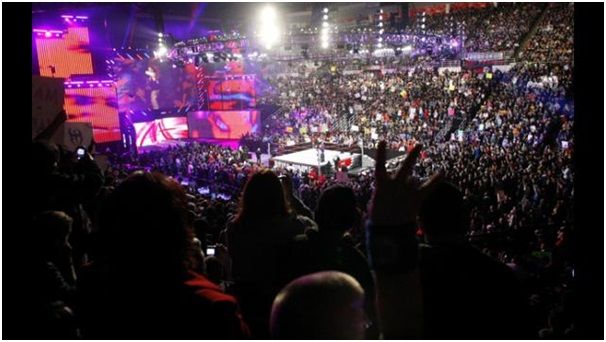 Crowds make an event as much as the competitors in that ring, on the track, or in the middle of that pitch. Their voices are heard because, by and large, they are fans. No, management can't give the crowds what they want all of the time because then, as Stephanie correctly asserted this week, they will turn on anyone. Ask John Cena. Crowds make their voices heard and if those in charge are deaf to them, they will walk. Daniel Bryan has become the figure-head for this, whether he wants it or not. He is part of a tipping point that will signal a new era for WWE. By that, it means either many fans will leave and WWE must work hard to either bring them back or find new ones, or they can continue to build on the loyalty given to them. It's a huge moment. In this game of poker, however, it's all about who will blink first. The crowd or the WWE.
'The future belongs to crowds' (Don DeLillo).
Please follow me on twitter @HughFirth or email me on ashburnham54@yahoo.com All constructive criticism is appreciated.
I also write at www.whatculture.com (this is my archive of columns http://whatculture.com/author/hugh-firth) along with John and Heather so give it a look. I don't just write about wrestling there but also films and TV.
Ta ta for now and hopefully see you next week.