Live from Omaha, Nebraska this is the Raw Deal for episode #1080. Follow me on Twitter @johnreport.
No video package or music to start the show. Instead, we get the entrance of WWE World Heavyweight Champion Randy Orton. The announcers Michael Cole, John Bradshaw Layfield and Jerry Lawler welcomed us to the show.
Randy Orton complained about everything in WWE right now like he always does. Were those "CM Punk" chants? It sure sounded like them. He wondered how many times he has to beat John Cena and Daniel Bryan. The same goes for Sheamus, Christian and Antonio Cesaro. He said he would win at Elimination Chamber and also at WrestleMania, where he would beat Batista. He said he was the best of this generation or any other and the main attraction of Raw.
Triple H and Stephanie McMahon aka The Authority appeared on the ramp for a promo rebuttal. Stephanie told Orton to calm down. Orton said he didn't care what the people thought. Hunter mentioned that Orton comes out to say the same thing every week - yes he does, so get better writers. Hunter said maybe they should consider putting their faith in somebody else. The fans chanted "yes" for that. Stephanie said that over the next few weeks, Orton is going to have to face all five Elimination Chamber opponents in singles matches. Tonight's opponent is Daniel Bryan, which led to HHH joining the crowd in "yes" chants.
Analysis: That was only 7 minutes, so I don't mind the length of it compared to the usual 15 minutes that those segments go. At least they didn't drag on like usual. Bryan vs. Orton one more time is not really a new matchup, but Bryan's such a hot performer with the fans that it will still be an interesting match. I wouldn't put much into Hunter supporting Bryan like that. It would be nice if Hunter & Stephanie were heels all the time instead of straddling the fence like they do, but it appears they're back on that fence again.
Later in the show, we'll get the New Age Outlaws vs. Cody Rhodes & Goldust in a steel cage match for the tag titles. They said it's pinfall or submission only. That's good.
The Shield made their entrance. They showed clips from last week with Hunter booking The Shield in a six man tag against The Wyatt Family at Elimination Chamber. They're in a match after the break.
Analysis: That six man tag at Elimination Chamber will be a lot of fun. I'm looking forward to it.
(Commercial)
The opponents are Kofi Kingston, Rey Mysterio & Big E Langston.
Seth Rollins, Dean Ambrose & Roman Reigns vs. Kofi Kingston, Rey Mysterio & Big E Langston
JBL questioned Ambrose's US Title reign and lack of title defenses. That's what most fans think. He barely defends the title on television. It's the most poorly booked title in WWE right now. The heels worked over Kingston in their corner. Rollins missed a splash, so Kingston tagged in Mysterio, who hit some quick moves and a nearfall after a kick to the head. Reigns tagged in and hit a leaping clothesline on Mysterio that was like a Hart Attack clothesline except higher up since Rey was on Rollins' shoulders. They went to break with Rey in trouble.
(Commercial)
Back from break, Reigns had mystery grounded in the ring and they showed a clip during the break that saw Reigns hit his awesome leaping dropkick out of the ring. Ambrose missed a corner charge due to Mysterio moving out of the way. Mysterio made the hot tag to Langston. Running body tackle by Langston on Reigns and then an overhead belly to belly suplex. Big splash by Langston for two on Reigns as the other Shield members broke it up. Kingston and Mysterio got involved as things got wild and Ambrose threw Kingston out of the ring. Langston sent Ambrose to the floor. Reigns recovered to hit a Superman Punch on Langston. Reigns wanted to set up for the Spear, but Ambrose tagged himself in and hit his Facelock DDT on Langston, which was good enough for the pinfall win. The match went 12 minutes.
Winners by pinfall: Seth Rollins, Dean Ambrose & Roman Reigns
Post match, Reigns was mad that Ambrose tagged himself in while Rollins stood between them to keep the peace.
Analysis: **3/4 It was the typical very good tag match featuring The Shield. There's a formula that they've mastered and that's what we got here. What was interesting was the finish with Ambrose tagging himself for the win. I like how they are playing it with Rollins as the middle man in it too. Right now there's no issue because they won, but as soon as they start losing that's when there will be problems.
With The Shield still in the ring, Bray Wyatt showed up on the video wall to cut a promo saying he knew their kind of people. He said he was going to build his Empire and laugh from his throne. Luke Harper said that what those three have failed to realize is that "he" has always been your king. Rowan, with sheep mask, said "run" while Harper whistled.
Analysis: That was a change from the norm because Harper got to speak a bit and Rowan even said a word too. I expect a Wyatt Family win at Elimination Chamber. Makes more sense with Wyatt positioned in a likely WrestleMania match against John Cena.
Orton vs. Bryan later.
(Commercial)
Plug time: As I've mentioned before I have started writing about WWE for WhatCulture.com. I'm writing 10 feature columns per week and news commentaries throughout the week. Recent topics: The top 20 crowd reactions in WWE history (one of my favorites), reliving some silly moments in Kane's career, the weekly Q&A, why CM Punk was wrong to walk out and more. Check it all out now and head back there daily for more.
Wade Barrett showed up for his Bad News Barrett segment. He spoke about how fat people are because they ate too much at the Super Bowl. Jerry Lawler stood up to say maybe Barrett won't be back next week.
Analysis: That's the best the writers can do? This gimmick could be pretty good, but another poorly written segment.
Oh no, there's the WWE App video. I still don't have it out of protest. They also plugged WWE Network. Video package for WWE Countdown show. Batista is coming up later.
Christian entered for a match. He's been a favorite of mine for a long time although I like him more as a heel. I'm glad he's back in action after making his return on Smackdown this past week.
(Commercial)
Christian vs. Jack Swagger (w/Zeb Colter & Antonio Cesaro)
This is a rematch from Smackdown because WWE thinks people don't watch Smackdown. I do. Christian gave Swagger a back body drop over the top rope. Swagger tripped him up on the apron. Swagger was in control in the ring as Colter gave him instructions. Powerslam by Swagger for two. Boots to the face by Christian countered Swagger's leaping I-don't-know-what off the middle rope. Dropkick off the middle ropes by Christian, but Swagger came back with a knee to the gut. Reverse DDT counter by Christian for two. Punch to the face by Christian. Swagger came back with a Patriot Lock, but Christian fought out of it. Swagger went for the Swagger Bomb except that Christian got boots to the face again. Christian jumped off the middle ropes into a sunset flip and that was enough for the win after about 6 minutes.
Winner by pinfall: Christian
Post match, Colter was mad at Swagger for losing. They're doing a story where Swagger's a loser while Cesaro's on a roll.
Analysis: ** Solid work by two guys who know what they're doing in there. Christian looks like he hasn't missed a beat and they're continuing the story where Swagger is a loser. Looks like a split for the Real Americans even though I would have liked to see them have a tag team title run. Who goes face? I think it might be Cesaro although I'd like to see him stay heel because there are too many top faces right now.
Replay of Brock Lesnar destroying the Rhodes Brothers last week. Steel cage match coming up.
The New Age Outlaws made their entrance with Road Dogg doing his usual thing on the microphone. Billy's hair is really receding. I know he tries to make up for it with the longer hair in the back, but at some point you have to make a change. I'm just saying. The challengers made their entrance too.
(Commercial)
Next week on Raw in Los Angeles, the guest star is Betty White. She is 92 years old. Just looked it up. That's damn old and impressive to still be acting at that age.
Steel Cage Match for the WWE Tag Team Championships: Road Dogg & Billy Gunn vs. Cody Rhodes & Goldust
You can win by pinfall or submission only. Two guys in the ring and the other two are standing on the apron. Gunn did the "suck it" to Goldust, but that was a bad move because Goldust decked him. Gunn wasn't wearing a shirt this week like he has in recent weeks, so that's an update on his wardrobe that all of you are dying to know. The crowd was chanting "CM Punk" as Road Dogg worked over Rhodes. I'm surprised Cole didn't say the crowd was "electric" like he usually does when they chant stuff they don't want. Rhodes had Gunn in an armbar. Goldust went at it with Road Dogg, who ducked an attack and Goldust went back first into the steel cage. The crowd was chanting "we want Punk" as they went to break.
(Commercial)
Back from break, the Outlaws were still working on Goldust in their corner with quick tags. Back elbow off the middle rope by Goldust to create some space. Spinebuster by Goldust on Road Dogg and then a hot tag to Cody, who faced off with Gunn. He threw Gunn into the steel cage, then wanted to continue the offense, but Road Dogg attacked. Goldust hit a powerslam on Road Dogg for two. Gunn slammed Goldust into the cage. Cody hit the Disaster Kick and that got a two count. Awesome nearfalls right there. Cody climbed to the top of the cage and he hit a moonsault on Road Dogg, who wasn't the legal man. Gunn capitalized on the fallen Cody to hit a Fameasser on him and that led to the pinfall win after 17 minutes.
Winners by pinfall: Billy Gunn & Road Dogg
The replays of the moonsault looked impressive and showed that he didn't hit it perfectly. It grazed Road Dogg a bit. The Rhodes brothers didn't tease any kind of dissension. While I expect that to happen soon, it didn't happen here.
Analysis: ***1/4 Really good effort by all four guys. Fun tag match to watch in the last few minutes. It was really too slow early on, but after the break it picked up. I thought the finish was very creative because the youngest guy in the match (Cody) took a big risk and it cost them their shot at the tag titles. The idea was the impact of the bump stunned Cody and that's why Gunn was able to capitalize. I would expect the Outlaws to go into WrestleMania as tag champs where they will likely drop the titles to The Usos. That's what should happen.
Batista is there later on and Orton vs. Bryan non-title main event.
(Commercial)
Plug time: I enjoy writing a lot, but I also enjoy podcasts whether it's the TJR one every three weeks or a guest spot on the Sharpshooter Cast with my buddies, the twins known as Thomas & Aaron Briggs. Here's a link with all the info or get it on iTunes right here. It's about an hour chat from Friday talking about CM Punk, Daniel Bryan, Royal Rumble and more.
Zack Ryder is in the ring. I wonder who he will lose to. That's what 99% of the fans think when they see him. It's Titus O'Neil with a new, generic heel theme song after he turned on Darren Young on Smackdown. They showed a replay of that.
Titus O'Neil vs. Zack Ryder
Titus shoved Ryder to the floor and slammed him into the security wall. The Miz walked down to ringside and complained about the guy that barks like a dog and makes an internet title get to be on Raw, but he doesn't. Then he walked to the back. That was pretty random. Titus applied a bearhug one minute into the match. The crowd didn't care about this, so they chanted "CM Punk" again. Ryder got some offense in with a Broski Boot in the corner, but then Titus caught him and gave him a couple of backbreakers. Corner splash, then the Clash of the Titus finisher (Sky High by D-Lo Brown) finished it after about four minutes.
Winner by pinfall: Titus O'Neil
Analysis: * Just a basic squash match. Ryder got some offense in, but it wasn't much. They don't care about Ryder. O'Neil's bearhug helped kill the crowd. Hit some offense moves and get out of there. The finisher was impressive. They didn't even replay the finisher. They cut away so quick and plugged Orton vs. Bryan again. Why can't you replay finishers? It helps.
(Commercial)
Fandango and Summer Rae entered for something. There was a video package for Black History Month that honored some black athletes in WWE history. It focused on Ernie "Big Cat" Ladd by talking about his athletic career and his work in civil rights. That was really well done.
They were in the ring for a dance off against Santino Marella. Santino told him he's a dancing machine. He said that he didn't need to dance, so he decided to have Summer Rae go against an audience member. He chose Emma from the crowd with her #Emmalution sign.
Dance Off: Summer Rae vs. Emma
Summer did her dance that was pretty good, of course. Then Emma did her dance with the arm pointing. Her music started to play for it. It barely got a reaction. Santino called her "Summer Day" by the way. He asked the crowd for the winner and they picked Emma. Lawler said he had never seen that dance. I guess he doesn't watch NXT. Way to support the company, Jerry. That was it as Summer and Fandango left.
Analysis: I like Emma in NXT, but that was pretty bad. It would have been better if they had her attack Summer Rae or fight back after an attack. The dance is her thing as a joke before or after matches, but the crowd barely reacted to the actual dance. They only reacted when Santino asked for the vote.
There was a video about WWE Legends House that will air on WWE Network.
Sheamus made his entrance for a match.
(Commercial)
Sheamus vs. Curtis Axel (w/Ryback)
Sheamus was in control early on with the ten forearm shots to the chest and then a clothesline while Axel was on the apron. Axel came back by going after the left shoulder and he shoved Sheamus into the turnbuckle. Axel went after the surgically repaired left shoulder. Ryback knocked him down with a kick. The fans were bored of this so they chanted "CM Punk" and the announcers didn't mention it. Granted, it's not the whole crowd. It's some of them. Sheamus made the big comeback with a forearm shot, then a forward roll and then he wanted the Brogue Kick, which connected. That led to the pinfall win after 7 minutes.
Winner by pinfall: Sheamus
Analysis: ** It was an obvious clean win for Sheamus as a way to build him up for the Elimination Chamber. Axel had no chance. I figured Ryback would at least try to interfere a little in there, but he did nothing at all. I figured Sheamus would hit some other moves before the finish, but that was it. I'm so used to the White Noise in there somewhere.
Batista was shown walking backstage.
There was a commercial for Shawn Michaels' Mr. WrestleMania DVD that has all of his WrestleMania matches (most of which are great) except for WrestleMania 20 because it involved Chris Benoit. That DVD comes out next week. I don't know when, but in February or March I'll write a list ranking HBK's WrestleMania matches.
(Commercial)
Batista entered the ring for some kind of promo. At least he was dressed like an adult this week instead of dressing like a drunk Justin Bieber. Or a sober one. I don't know what's worse.
Before Batista could say anything, Alberto Del Rio entered the ring. Del Rio wasn't happy about him being there, so Batista said that he didn't have an issue with him. Del Rio said Batista was afraid of him. He told Batista he was going to hurt him. Batista said he had no probl...but then Del Rio hit him in the face.
Del Rio attacked Batista with a series of punches and kicks. Then he ran the ropes, Batista stopped him, wanted a Batista Bomb and Del Rio left the ring. He retreated up the ramp.
Analysis: As expected, the Del Rio feud against Batista is likely going to lead into a match at Elimination Chamber. Spoiler: Batista wins. It gives Batista something to do since he's already booked for the WWE World Heavyweight Championship match at WrestleMania.
Dolph Ziggler made his entrance first. He was followed by R-Truth and Xavier Woods. They're going to wrestle the Wyatt Family in a 6 man tag coming up. By wrestle I mean lose.
(Commercial)
Next week on Raw, Mark Henry returns from the "broken arm" that Brock Lesnar gave him. I hope he enjoyed his most recent vacation.
The Wyatt Family made their entrance.
Bray Wyatt, Luke Harper & Erick Rowan vs. Xavier Woods, R-Truth & Dolph Ziggler
Poor Dolph Ziggler. Harper decked Truth with a big boot to the face as they focused their attack on him. Harper had Truth in a headlock as the crowd chanted for Ziggler. It was "yeah yeah yeah" time for Harper after a headbutt. Truth hit a jumping sidekick. Ziggler received the hot tag and hit a nice dropkick, then a neckbreaker, elbow drop and impressive leaping DDT. Rowan made the save, then Woods took him out and Wyatt slammed down Woods. Ziggler dropkick on Wyatt. He went for the Zig Zag on Harper, but the big man came back with a spinning clothesline to knock him out. Wyatt tagged in, hit Sister Abigail on Ziggler and that was good enough for the victory after 5 minutes.
Winners by pinfall: Bray Wyatt, Luke Harper & Erick Rowan
Analysis: *1/2 A predictable match that put over the team that's actually getting pushed as opposed to the team that loses more matches than they actually win. Ziggler's brief moments of offense were nice to see, but it didn't last long. Wyatt Family continues their momentum.
Post match, The Shield appeared on the video wall with Ambrose saying they don't live in their fantasy world. Rollins said that Bray was delusional if he thinks that their family can hang with The Shield. Reigns said they're standing in the Shield's yard now. Believe that. And believe in The Shield. Wyatt reacted to it by yelling: "I welcome this war! Bring it to me!"
Analysis: It was nice to see each group follow the victories of the other team with a quick promo talking trash. As I've said, I expect a Wyatt Family win because I think the loss will lead to the breakup of The Shield.
Still to come is Bryan vs. Orton.
(Commercial)
There was an Alexander Rusev promo video with his manager Lana. They said the Rusev legacy starts now. He'll be debuting soon following his appearance in the Royal Rumble.
The divas were in the ring when Divas Champion AJ Lee entered with Tamina Snuka to join the commentary team.
Naomi (w/Cameron) vs. Aksana (w/Alicia Fox)
AJ put her hat on JBL's head. Apparently, there's a AJ/Naomi story even though they barely get TV time. AJ called her a "sexy baked potato." They did some choreographed comedy spots early. Looks too fake, girls. Aksana slammed her down face first and then hit a suplex. AJ mentioned her reign of 232 days as Divas Champion. She made fun of Cameron for doing her cheering outside of the ring. I appreciate that insult. Naomi broke free after avoiding an elbow. Naomi went for a sunset flip, which Aksana countered by driving a knee to her face. It looked like it legitimately hit Naomi as the ref checked on her. Naomi came back with a kick to the head and then hit a split legged moonsault to win after 5 minutes.
Winner by pinfall: Naomi
Post match, Cameron hit a kick on Alicia and then whipped Alicia into the Rear View (flying ass) move by Naomi.
Analysis: DUD They tried, but it wasn't very good. They're building up Naomi for a title shot against AJ Lee. Shouldn't she have received that title shot by now? It's been a while. I also wouldn't have given Naomi and Aksana five minutes. Some divas matches don't get that long when they should. This one did.
Orton vs. Bryan up next. Up to this point I would give the show about a 3 out of 10. It has been uninspiring. Good thing is this match is starting with about 30 minutes of show left, so it will certainly help.
(Commercial)
Next week on Raw it's Betty White as the guest star of the show.
Daniel Bryan made his introduction to a big ovation and plenty of "yes" chants of course. Randy Orton entered last. The Elimination Chamber main event is Orton vs. Bryan vs. Cena vs. Seamus vs. Christian vs. Cesaro. They went to break after Orton entered the ring.
(Commercial)
This week on Smackdown it's Randy Orton vs. Christian. They had the best feud of 2011, so that should be a great match.
Randy Orton vs. Daniel Bryan
As mentioned, this is non-title. The announcers mentioned that Orton hasn't won an Elimination Chamber match despite taking part in five of them. Crowd was chanting "CM Punk" early, but then they moved onto chanting for Bryan. Bryan was aggressive early on by placing Orton's knee against the steel post and he hit a dropkick into the knee that was against the post. Bryan continued his onslaught in the center of the ring with a variety of submission holds. Orton actually bit Bryan's leg to break free from a hold. Bryan continued the offense by working on Orton's left knee. They went outside the ring and Bryan threw Orton into the chair where the announcers are seated. Lawler asked Cole if he was okay, JBL said "hopefully he's not." That was funny. Back in the ring, Bryan hit a running dropkick into Orton's knee that was against the ropes. Bryan hit a hurricanrana off the top. The story of this match to this point was that Bryan was in complete control of the match. Bryan kicked many of Orton's body parts with his main focus on that left leg. Single leg crab submission by Bryan. Orton was able to crawl over to the bottom rope to break the hold. Bryan went after him outside the ring, so Orton gave him a back suplex onto the barricade, so Bryan was in a lot of pain. Back in the ring, Orton was finally in control of the action. Orton hit a powerslam in the center of the ring and he grabbed his own knee as they went to break with both guys down.
(Commercial)
As they returned from break, Bryan hit a bunch of kicks and then Orton hit an overhead suplex that was very impressive. Bryan was grabbing his shoulder. It was the right shoulder. Usually in wrestling they always work on the left, but here it's the right shoulder. Orton shoved Bryan right shoulder first into the steel post a couple of times and also the steel steps. In the ring, Orton stomped on the shoulder of Bryan. They fought on the top rope, Orton wanted a superplex, but Bryan was able to knock him down. Missile dropkick by Bryan. Both guys were down.
Bryan unloaded some kicks again, but Orton just grabbed the right arm of Bryan and gave him an arm wringer to slow him down. Bryan came back with a Yes Lock attempt even with the bad right arm. Orton got his foot on the ropes to break the hold. Bryan hit two running dropkicks in the corner, then Orton came back with a dropkick of his own. Orton hit the DDT off the ropes. He wanted the RKO, but Bryan hit a kick to the face. Bryan went up top and hit the flying headbutt for two. I love how Bryan favored his right arm even as he stood on the top rope. Bryan hit a series of kicks to Orton's upper body. Kane walked out, so Bryan kicked him, sent Orton outside and hit a Flying Goat dive to take out both guys. Kane ran at Bryan, so he gave him a drop toe hold into the steel steps. Back in the ring, Orton went for the RKO, Bryan ducked out of it, ran into the corner and nailed Orton with the running knee. He covered for the pinfall victory after 27 minutes.
Winner by pinfall: Daniel Bryan
After the win, the crowd erupted in "yes" chants in support of Bryan as the announcers wondered if Bryan would be the new face of WWE.
Analysis: **** That was an outstanding wrestling match that gets four out of five stars from me. The pacing of the match was really slow early on, but that was part of the story. If you're going to wrestle for nearly 30 minutes you can't go all out from bell to bell. It's just not that easy. I liked the story of the match with Bryan working on Orton's knee throughout the match and Orton was working on the shoulder. It makes sense to pick on a body part to wear down the other guy. I liked the way the crowd really got behind Bryan when he made his comeback. He was on the receiving end of a beating for so long that when he did fire back they were ready to support him. Good tease of the finish with the Yes Lock too. I'm surprised they didn't have Orton hit the RKO at one point and have Bryan kick out, but I guess they're protecting the finisher and that's okay. Great match from two guys that have worked together so much in the past six months.
Post match, Orton tried to attack Bryan. Then Kane went after him from the other side and they stomped him down. What about when Stephanie said when Kane shouldn't hit superstars? Heels lie, I guess. Kane gave Bryan a Chokeslam in the center of the ring. Then he lit the ring posts on fire although it was a bit more delayed than usual. Orton and Kane stood over Bryan to end the show.
Analysis: The heels ruined the celebration and Bryan is a loner with no friends apparently. They're trying to make fans think that he can win the title at Elimination Chamber. Do I believe it? No. I don't think he will. I hope I'm wrong on that. Best thing WWE could do at WrestleMania is insert Bryan into the rumored Orton/Batista match to give the fans somebody to root for. Based on this ending, it feels like they're going in the direction of Bryan vs. Triple H at WrestleMania. Plans could change. Keep watching.
Three Stars of the Show
1. Daniel Bryan
2. Randy Orton
3. Cody Rhodes - Respect for the moonsault off the cage.
The Scoreboard
5 out of 10
Last week: 6.5
2014 Average: 6.4
2014 High: 8 (January 13)
2014 Low: 5 (February 3)
Last 5 Weeks: 6.5, 6, 8, 6.5, 7
Final Thoughts
I'm giving it a 5 out of 10.
The main event was great. It was better than some of the PPV matches they've had. They also had a lot more time. Going 27 minutes in the main event of Raw is pretty rare, but they proved they could have a very good match.
Most of the show was pretty uneventful. They did a good job of furthering the Wyatt/Shield story, but fans want it to get physical and on this show it was just a verbal kind of thing.
There was no mention of John Cena or why he wasn't there. It was because of an eye injury he suffered at a house show on the weekend. They barely said his name during the show. He did appear after the show for the live crowd.
Brock Lesnar wasn't on the show. He's not likely going to be a part of the Elimination Chamber PPV, so I doubt we'll see him until the night after that show.
There was also no mention of CM Punk, who left the company last week and we don't know when or if he will return. Even though the fans chanted for him at various points, his name was not uttered on the show at all. His status going forward remains uncertain. Here's a Punk related sign. Thanks to Nick G. for sending me the screen cap for it.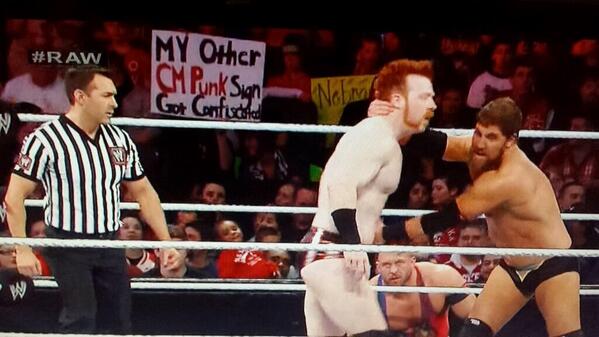 Good job by that fan.
---------
We'll bring it home with some plugs again.
Plug time: As I've mentioned before I have started writing about WWE for WhatCulture.com. I'm writing 10 feature columns per week and news commentaries throughout the week. Recent topics: The top 20 crowd reactions in WWE history (one of my favorites), reliving some silly moments in Kane's career, the weekly Q&A, why CM Punk was wrong to walk out and more. Check it all out now and head back there daily for more.
Plug time: I enjoy writing a lot, but I also enjoy podcasts whether it's the TJR one every three weeks or a guest spot on the Sharpshooter Cast with my buddies, the twins known as Thomas & Aaron Briggs. Here's a link with all the info or get it on iTunes right here. It's about an hour chat from Friday talking about CM Punk, Daniel Bryan, Royal Rumble and more.
Thanks for reading.
John Canton - mrjohncanton@gmail.com
Twitter @johnreport
Personal Facebook and TJRWrestling.com on Facebook