Live from Chicago, Illinois this is the Raw Deal for episode #1061. Follow me on Twitter @johnreport. Chicago's the best city that WWE goes to in my opinion, so I always look forward to shows from there. Others are great, but I think Chicago's at the top of the list. Just my opinion.
Raw began with some photos of wrestler Angelo Savoldi, who died at 99 years old last week. Vince McMahon narrated and said: "They don't make 'em like they used to." Nice tribute to a man that must have meant a lot to Vince and his family. I honestly don't know much about him, but I like seeing things like that.
The opening video focused on everything that happened last week with the WWE Title being vacated.
Ten superstars were standing at the ramp: Justin Gabriel, R-Truth, Zack Ryder, Kofi Kingston, Dolph Ziggler, Rob Van Dam, Jimmy & Jey Uso, Titus O'Neil & Darren Young. There was a microphone on the stage too. They helped Daniel Bryan last week, so now they had to deal with the consequences. WWE COO Triple H and wife Stephanie McMahon entered the ring. The announcers for the show are Michael Cole, John Bradshaw Layfield and Jerry Lawler like usual.
Hunter reminded us that the ten men on the stage held Bryan on their shoulders and chanted "yes" last week to end Raw. Stephanie thanked them for taking matters into their own hands and for finally being men. RVD spoke up for the group saying that they were fighting for Bryan. Hunter talked about Bryan squandering "opportunity after opportunity" while I'm sitting here thinking he did win at SummerSlam and at NOC except for the stripping of the WWE Title, so that's not really squandering opportunities. They said the reason that none of them have a WWE Title shot is because of The Shield. Hunter mentioned that The Shield has beaten them all up many times. He's going to give them an opportunity (he went through all of them by name) tonight against The Shield. It will be a handicap elimination match against The Shield with Daniel Bryan on their team as well. It's an 11 on 3 handicap match.
The other part of the promo is that the WWE Universe gets to pick who gets to face Randy Orton on Raw. It will be R-Truth, Dolph Ziggler or Rob Van Dam via fan vote. The crowd was chanting "CM Punk" during that. When Stephanie mentioned the WWE App the fans booed. That's funny. Hunter ended the promo by saying that what's best for the fans is also best for business.
Analysis: A promo to open Raw obviously isn't anything new. The promo was pretty generic. They weren't acting like heels too much. It was interesting that they would set up an 11 on 3 handicap match because obviously heel Hunter & Stephanie have had The Shield work for them since SummerSlam, but now they were being put at a disadvantage. The match against Orton with the fan vote is a good idea because at least two of the choices in RVD & Ziggler are even while Truth is not at that level.
We'll hear from CM Punk later in his hometown of Chicago.
(Commercial)
Kofi Kingston was in the ring for a match. Cole reminded us about the WWE App match. Then there was a video about how to download the WWE App. It's one of those weeks where they are pushing the App hard. Sometimes they barely mention it. Other times they don't shut up about it.
Alberto Del Rio vs. Kofi Kingston
This is not for Del Rio's World Title. Kingston hit a headscissors, clothesline over the top and then somersault dive over the top rope to take out Del Rio. He landed on his feet too. That was awesome. Del Rio regained control with a suplex. Kingston came back with a dropkick that knocked Del Rio to the floor. Kingston went for an attack, but Del Rio moved out of the way and Kingston bounced back to his feet. There's the vintage floor to commercial break.
(Commercial)
Back from break, Del Rio was in control of the match after he shoved Kofi's arm into the ring post. The crowd was chanting "Randy Savage" as Del Rio knocked down Kingston with a clothesline. There was also a "Colt Cabana" chant that the announcers didn't acknowledge although Cole said they were "electric" during this match. Apparently "electric" means chanting the names of other people because they don't care about the guys in the match. Del Rio went for an attack off the middle rope, but Kingston countered with a dropkick to the face. Del Rio kicked him in the arm. Kingston came back with the SOS for two. Boom Drop by Kingston. Awesome spot as Kingston went for Trouble in Paradise, Del Rio caught him and hit a bridging German Suplex for two. That was very cool. Del Rio went for a backbreaker, Kingston went upside down and looked like he wanted a bulldog counter, but didn't really hit it. Cole called it a DDT although it really wasn't that. It got two for Kingston. Kingston missed a springboard cross body, so Del Rio threw him shoulder first into the turnbuckle. Cross Armbreaker submission by Del Rio earned him the tapout victory after 14 minutes.
Winner: Alberto Del Rio
Analysis: **3/4 Very good TV match. It's nice to see a champion win a non-title match for a change. They told a good story with Del Rio working on the arm the whole match and it eventually earned him the victory with the Cross Armbreaker. Kingston showed off his athleticism very well as he came close to winning the match a few times. The fans bought into it too, so it showed they did a great job of telling an entertaining story in the time they were given. Nothing wrong with having matches like that.
Another reminder that we'll see CM Punk later.
(Commercial)
The lovely Renee Young interviewed The Miz backstage. We saw a video of Orton injuring Miz last week. Before Miz could speak, Triple H showed up to ask him how he was feeling. He told Miz that he won't let him go anywhere near Orton because of his condition. Hunter said Chicago wants Miz TV (really?) with Big Show as his guest. Miz didn't say anything. End segment.
The announcers narrated videos that showed Cody Rhodes getting fired three weeks ago, Orton beating Goldust two weeks ago and then Dusty Rhodes getting knocked out by Big Show last week.
Wyatt Family made their entrance. The crowd gave them a superstar reaction, which isn't surprising. They have a great entrance. The show went to break as they entered the ring.
(Commercial)
Luke Harper & Erick Rowan (w/Bray Wyatt) vs. Prime Time Players
Harper hit Young with a boot to the face. I'm a big fan of Harper as a worker. He's a big man that can really move and he has awesome facial expressions too. Rowan hit a slam while wearing his mask. Harper tagged back in to hit a back elbow to the face. Rowan hit a backbreaker on Young. Young broke free of Harper to make the hot tag to O'Neil. Corner splash by O'Neil and then Rowan went after him. Young took Rowan out of the ring with a clothesline over the top. When O'Neil turned around, Harper drilled him with a discus clothesline to get the pinfall for this team. Love that clothesline. Even JBL loves it on commentary and he's the most recent WWE performer to use a clothesline as a finisher. The match went about five minutes.
Winners: Harper & Rowan
Post match, Wyatt went into the ring where he hit Sister Abigail (his neckbreaker finisher) on Young. "Follow the buzzards."
Analysis: *1/2 It was the expected finish. No problem with that. At some point the Wyatt Family needs a feud. They keep getting wins on television, which is great. When do we get another feud for them because there's been nothing for them to do since taking out Kane at SummerSlam.
Big Show is on Miz TV coming up.
(Commercial)
Miz TV with Big Show
The Miz walked out with a serious look on his face as we got replays of Orton's attack on Miz last week. Miz said he was banged up and really pissed off. He said it's easier to knock him down than keep him down. Payback will come and it will be awesome. He welcomed Big Show to the show.
Show entered the ring in his ring gear. Another replay of Show knocking out Dusty. Holy crap they really love replays. Miz said that he respected show and then asked Show how he could do that to Dusty. He told Show they're trying to break him because they know if they can break Show (the biggest and most respected guy) they can break anybody. Miz told Show it was time for him to step up. Miz called Stephanie a castrating witch, which led to Stephanie coming down to the ring.
You could see notes on Stephanie's hand as she came out here (will post the pic below). She said Miz' comments were borderline slander. He told her she can shove legal threats straight up her ass. Stephanie said Miz was suffering from his own cul-de-sac of disappointment. There's a phrase you don't hear too often. Stephanie told him he knows he's not a major player and there's nothing worse than a superstar who peaks too early. She called Miz a utility player because if there's a radio appearance they need, an appearance out of the country or a local supermarket opening - they call Miz. She pointed out that Miz' mom was disappointed last week because he failed her and his friends. Last week he couldn't measure up to Orton according to Stephanie. She said he never learns his lesson. She was sorry she had to do this and then told Big Show to knock him out. Show gave Miz the KO Punch to end the segment.
Analysis: I enjoy heel Stephanie quite a bit. I'm surprised that I like it so much, but she's really doing an awesome job as a condescending bitch. What she said to Miz definitely had some truth to it because you could say he already peaked and they do make him do a lot of media appearances as well. The best promos are the ones that have some truth in them. Silly ones don't always work. It doesn't mean it was a "shoot" like some may think. They use comments that come off as real to get more heat. It's smart. It's just a heel being a jerk. Hopefully this angle can make Miz a bigger star. As for Show, he didn't hesitate in throwing a punch. He walked off angrily, though. Here's a shot of Stephanie's hand.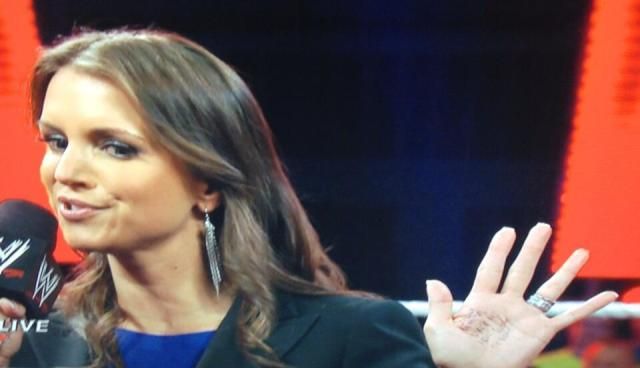 It looks like a few words. Perhaps she wasn't originally planned for the segment and she needed a reminder of what to say. I'm not sure. Is it a big deal? No. I don't think it is. The Rock did the same thing in the past too. Other people likely have done it as well.
Results of the vote up next.
(Commercial)
Replay of Miz getting knocked out. He did a really good job of selling the punch.
Randy Orton entered for his match. The results of the vote for Orton's opponent: RVD 57%, Ziggler 26% and Truth 17%. Ziggler winning would have better. I wonder how many of that 17% for Truth were actually joke votes. "Let's vote for Truth because we know he's not going to win!" You're making a mockery of WWE App votes, you fools! I'm just kidding. I don't care.
Randy Orton vs. Rob Van Dam (w/Ricardo Rodriguez)
These two had an awesome match on Smackdown a few weeks ago. It's still weird seeing Rodriguez with RVD. RVD started out on fire, but Orton tripped him up when he was on the apron. Floor to commercial break one minute into the match.
(Commercial)
Orton had him in the chinlock, but then RVD hit Orton with some clotheslines, a kick and then Rolling Thunder for two. Split legged moonsault missed for RVD. Orton hit the DDT off the middle rope. RVD avoided the RKO and got a rollup using his legs for two. Thrust kick off the middle rope for RVD. Somersault flip off the top for RVD. He went up top again, but Orton tripped him up on the top rope. A swift boot to the head sent RVD outside the ring. Orton threw RVD into the barricade. The ref counted them out to end the match at around ten minutes.
Match Result: Double Countout
Orton gave RVD a back suplex onto the top of the barricade that was exposed. Orton threw RVD into the steel steps. He threw him into the steps on the other side of the ring too. Orton threw Van Dam over the announce table. Oh no he went crashing into leather chairs! It doesn't look that bad. Orton set up RVD on the top rope and gave him his DDT off the top. RVD's head was maybe three inches higher than where it was off the middle rope. I was thinking a top rope RKO could have been better. The doctor went into the ring to tend to RVD.
Analysis: ** Orton didn't care about the win. He just wanted to hurt RVD. That was the story of the match. I like this sadistic side to Orton. It's a more natural role for him as opposed to his forced babyface act. If Ziggler won the poll he would have done an even better job of taking an ass kicking although RVD did well too.
The 11 on 3 tag match is coming up later.
(Commercial)
Los Matadores vignette aired. They debut next week on Raw. It's surprising to see them debut on Raw the week before a PPV rather than the night after the PPV.
They showed footage of what happened during the break as Del Rio went into the ring and gave RVD a Cross Armbreaker while he was being helped out by the doctor as well as officials.
The WWE 2K14 video game comes out on October 29th. Get all the details on WWE.com including names of everybody in the game. I'm not a gamer anymore, but if you are go get it.
The Bella Twins were stretching backstage as Orton went up to them. He asked if they saw what he did and Brie said she was busy not caring. Orton said that what he did out there is just a fraction of what he's going to do to Daniel Bryan. Orton said if she wanted to upgrade to a real man he's available, but she said she's with a real man like Daniel Bryan. He told her that he is what a real man looks like. Her goat face troll of a boyfriend will never be the face of WWE apparently. Orton left.
Analysis: Last week they acknowledged Brie's relationship with Bryan when they hugged. It's been a part of Total Divas. I don't mind it being used in storylines. Orton came off like a jerk here. Every time I see him in segments like that it just shows how much better he is as a heel.
There was a plug for Triple H's "Thy Kingdom Come" DVD with clips shown of Hunter's wedding to Stephanie. I'm not sure when I'll see the DVD or if I'll ever review it. Divas Champion AJ Lee went up to Stephanie backstage. Steph gave her a copy of the DVD so that she can see what a real wedding looks like. AJ complained about some tag match against the Total Divas. Stephanie stared down at her to make her look small. She told AJ to compete in the tag match or maybe she won't be Divas Champion much longer.
Analysis: Is Stephanie going to get her ass kicked for being a bitch? I doubt that ever happens. If she keeps standing over AJ to make her look small it's going to turn AJ face because she is made to look like a sympathetic figure when dealing with Stephanie. Shouldn't she be a bitch to the babyface divas instead? Also, what's the point of having Brad Maddox if people go to Stephanie and Hunter when they complain about things on the show? We don't need a GM of Raw with the way they book these segments lately.
Fandango made his entrance with Summer Rae.
(Commercial)
Fandango vs. Santino (w/Summer Rae)
The bell rang, so Fandango danced. Then Santino did a comedy dance. Santino missed a cross body block. Santino failed when he tried a kip up. I would fail too. Fandango whipped Santino into the turnbuckle for a two count. "Summer Rae" chant from the crowd. Good choice in women. Abdominal stretch by Fandango. Santino hit a back suplex to get out of it. Hip toss followed by flying chop by Santino. Summer Rae jumped on the apron when Santino tried to apply the Cobra. Suplex by Fandango. Top rope leg drop by Fandango gave him the victory after about four minutes.
Analysis: * Short TV match to get Fandango a win. Not much more to it.
I love how the announcers keep mentioning "first time ever" for 11 on 3 elimination handicap match. It's like the viewer has no idea that it was the first time ever so they better keep saying it. I can't wait for "first time ever" the 14 on 7 tag match in two weeks and the 9 on 6 tag match next month.
CM Punk is up next at the top of hour three.
(Commercial)
CM Punk's music hit and there was a huge ovation for Chicago's own. He was wearing a Chicago Blackhawks jersey of Duncan Keith, who is a star defenseman (a Canadian, of course) of the Stanley Cup Champions. I'm sure the ovation would have been huge anyway, but wearing that jersey led to even more cheers than usual. What a great reaction. Love it. I need to see a WWE show in Chicago one day. I almost went to this one, but it didn't happen. It's official for Battleground: CM Punk vs. Ryback.
He said he wanted to bring the Stanley Cup, but it was being engraved in Montreal. He feels he let us down by not bringing it just like he felt like he let us down at Night of Champions. Punk referenced "Grey's Sports Almanac" saying that it would say he lost to Heyman. He said he didn't know if he can do this anymore, to wear that sweater or perform to the greatest wrestling crowd in the world. He feels like he let everybody down so much that he didn't deserve to say he's from Chicago, Illinois. Quality pandering in this promo! Punk spoke about how the Blackhawks were down 3-1 to the Red Wings and came back to win in overtime of game seven. He's proud of the team, proud of the sweater and proud of the people of Chicago. He gave a fired up promo about how he's going to fight and he's going to win.
Paul Heyman entered on a John Laurinaitis-like scooter as he sang his rendition of "Start Spreading the News." Boos for him. He stayed on the ramp as Punk told him that they're in Chicago now. Punk said he had 18,000 people that will bail his out of jail when he gets his hands on Heyman. That was a great line. Huge "CM Punk" chants for that. Heyman claimed he didn't need a reminder of the beating he took in Detroit. Because of Punk, he was confined to that contraption (the scooter). Heyman bragged about beating CM Punk. Heyman mentioned that Chicago was the second city with second rate teams (what about the Blackhawks) and he called Punk the second best in the world. Heyman showed a picture on the Titantron (I always call it that) of Night of Champions when he pinned Punk thanks to Ryback's help.
There were loud "Walrus" chants. Heyman: "I may be a walrus, but I pinned the biggest shark in the city of Chicago." Punk wondered if Heyman's goons can get to Punk faster than Punk can get to Heyman. He's not going to break Heyman's face; he's going to rip his face off. Heyman reminded him that he beat Punk with both hands tied behind his back (he was handcuffed). Heyman tried to get out of there with the scooter, but it wouldn't work.
Punk went after Heyman. As soon as he got there, Ryback and Curtis Axel showed up to attack Punk. Punk fought back by hitting Ryback with forearms and then throwing Axel into the screen by the ramp. He kicked Axel in the ribs. Punk attacked Ryback with a stage dive and he whipped him into the screen by the stage. Axel saved Ryback, so Punk gave Axel a roundhouse kick. Ryback sent Punk into a part of the staging area. Ryback gave Punk a Gorilla Pres Slam through one of the tables by the production area. Heyman got out of his scooter and walked over there triumphantly. It's a miracle! He can walk! Okay maybe not. Ryback said this is what happens to bullies. Oh the irony. Punk was down as the segment ended.
Analysis: That was an excellent segment. Punk was fired up. Heyman was a jerk. Ryback looked like a badass in dishing out the punishment while Punk didn't look like a loser because it took two guys to keep him down. The crowd was very loud during the segment as they supported Punk and tried to get behind their hometown hero. I loved how Heyman got out of the scooter triumphantly at the end of the segment. The timing of this was good, the way it was booked was just right and I thought it accomplished a lot. We also know that it's Punk vs. Ryback at Battleground, which means it's the second year in a row where they are having a PPV match in October except this time in different roles.
(Commercial)
Back from break, Punk was getting looked at by the doctor as well as referees. Replay of the previous segment. Punk slowly walked away from the wreckage as divas entered the arena for a match.
Natalya, Naomi, Cameron, Brie Bella & Nikki Bella (w/Eva Marie & Jojo) vs. AJ Lee, Layla, Aksana, Alicia Fox & Tamina
Fox started with Natalya. After about thirty seconds of action, Brie got the hot tag for her team. She's a babyface now all of a sudden. She hit a running knee on Fox. AJ tagged in for her team to a big reaction. She threw Brie into the middle turnbuckle. AJ tried to hit a kick, but Brie blocked it and hit an X-Factor to win the match. It went two minutes.
Winners: Natalya, Naomi, Cameron, Brie Bella & Nikki Bella
Analysis: The champ losing in a tag match is pretty common. I don't understand why they need to book a 10 diva tag match when only four of them were in the match. The others couldn't even break up a pin? It felt so rushed.
They showed a RKO in 30 seconds video on the WWE youtube channel. I actually like WWE's youtube channel a lot. They have some good videos there. It's youtube.com/wwe if you don't know.
The Shield did an interview into the camera even though Cole said they were going to be interviewed by Renee Young. She was not there. Ambrose basically said they would win the match because they are winners that will do their job, which is to win.
(Commercial)
Daniel Bryan made his entrance to a big ovation. Loud "yes" chants of course. The WWE Title match is official for Battleground: Daniel Bryan vs. Randy Orton. Plenty of "Daniel Bryan" chants too.
Bryan told the crowd they were awesome. He mentioned that last week he was stripped of the WWE Title because he was accused of conspiring with WWE official Scott Armstrong. He mocked the idea that he would ask for a fast count. Bryan said you don't need to fast count a man when he's already knocked out. He spoke about how Triple H gave Scott Armstrong a lot of money after he fired him. Bryan said he didn't know and he didn't care about what happened at Night of Champions. He didn't care what version of Orton shows up - in two weeks at Battleground he (Bryan) will take back the WWE Championship. No fast counts, no guest referees and no more hiding from Orton. He led the crowd in "yes" chants because that's what we'll be chanting after he wins the WWE Title at Battleground.
Analysis: He said he didn't care about what happened, but shouldn't he care more? He was screwed out of the WWE Title when it's obvious that Triple H told Armstrong to fast count. There's no advancement in that storyline? There should be. I was thinking they would do something to further that angle a bit more on this show, but they really did nothing to add to it. Bryan saying it's "fine" makes him look too dumb.
The Shield made their entrance to the ring. As they made it over the barricade, Goldust & Cody Rhodes attacked The Shield. Huge reaction from the crowd. I loved how Goldust had his face paint on. Way to not stick out in a crowd haha. Security was all over both of them quickly, so they didn't do too much damage.
Analysis: That was a good follow up to their storyline. I like the Rhodes boys working together. The crowd enjoyed it a lot too. If you're going to surprise attack somebody, though, don't ask Goldust for tips. "Let's paint our faces. Nobody will notice!" Not the best strategy, Goldy!
(Commercial)
On Smackdown, Ziggler gets a US Title shot at Ambrose. Ambrose won clean at Night of Champions, Ziggler beat him on Raw the next night and now they have another US Title match.
11 on 3 Handicap Elimination Match: Daniel Bryan, Justin Gabriel, R-Truth, Zack Ryder, Kofi Kingston, Dolph Ziggler, Rob Van Dam, Jimmy & Jey Uso, Titus O'Neil & Darren Young vs. Dean Ambrose, Seth Rollins & Roman Reigns
Yes that is Zack Ryder in the Raw main event. It's such a weird dynamic to have the babyfaces with a significant advantage in the handicap match when it's usually the heels that have the advantage. The Shield isolated Ziggler in their corner. Ziggler hit a dropkick on Ambrose. RVD was taped up due to his injury earlier in the show. RVD hit his injured left shoulder into the ring post. Ambrose hit the Headlock Driver to pin RVD. They went to break there.
Rob Van Dam eliminated by Dean Ambrose
(Commercial)
Kofi Kingston was in the match even though he had his left arm bandaged up. Apparently babyfaces are stupid because they let injured guys work the early portion of the match instead of the fresh guys. Ambrose took advantage of Kingston's injury and he hit the Headlock Driver to eliminate him. Cole mentioned Kingston was hurt by Rodriguez earlier. It was actually Del Rio, but the reason Cole likely messed up there was because Rodriguez is Del Rio's real last name.
Kofi Kingston eliminated by Dean Ambrose
O'Neil knocked down Ambrose with a shoulderblock. Reigns tagged in for his team and was able to quickly hit a Spear on O'Neil. That was enough to pin him.
Titus O'Neil eliminated by Roman Reigns
Justin Gabriel tagged in, ran the ropes and he fell victim to a Spear by Reigns. That eliminated him. Awesome Spear right there. Gabriel looked like a really fast jobber in that spot.
Justin Gabriel eliminated by Roman Reigns
Zack Ryder entered for his team. Ryder hit a dropkick off the middle rope. He went for the Broski Boot in the corner, but Reigns popped up and hit another Spear. "Woo woo that" said JBL. That eliminated Ryder.
Zack Ryder eliminated by Roman Reigns
Daniel Bryan was sick of the jobbers on his team, so he entered the match with a couple of dropkicks on Reigns. Jimmy Uso tagged in and hit a superkick. Then Jey Uso hit a top rope splash to eliminate Reigns. Cole said it was the first time Reigns has been pinned in WWE.
Roman Reigns eliminated by Jey Uso
Analysis: That was really well done. Reigns was amazing in eliminating three guys in a couple of minutes. It really put over how devastating his Spear is. It looks as good as anybody's Spear in wrestling history. Impressive finishing moves go a long way, that's for sure. I liked how Bryan took control of the team, dominated Reigns and the Usos finished off their cousin. Cole mentioning that Reigns has never been pinned makes it even more impressive while not hurting Reigns too bad because it's a match where The Shield is at a disadvantage.
(Commercial)
Back from break, Ambrose hit a dropkick on Young as The Shield was able to focus on one man. Young hit an overhead suplex and then a Northern Lights Suplex for two. Rollins made a blind tag and hit a springboard flying knee to the head to eliminate Young. Love that move.
Darren Young eliminated by Seth Rollins
Ziggler entered the match to face off with Rollins. This is a feud I want to see one day soon. They're two of the best in-ring performers and especially two of the best guys at selling big moves. Ambrose tagged in for his team. He tried to slam Ziggler, but Ziggler slipped out and hit the Zig Zag to eliminate the US Champion.
Dean Ambrose eliminated by Dolph Ziggler
Rollins had a worried look on his face as he realized he was all alone for his team. Ziggler had Truth, Bryan and both Usos on his team. Ziggler hit an awesome leaping DDT. Truth tagged in and hit a flying forearm followed by front suplex for two. Rollins hit the Curb Stomp on Truth to eliminate him. It's a running foot to the back of the head while putting Truth's head into the mat. Awesome move.
R-Truth eliminated by Seth Rollins
Bryan, Ziggler and The Usos circled Rollins before attacking him at the same time. Ambrose came out, so Ziggler took him out with a clothesline. Reigns tried to get in, but the Usos kicked him out of the ring. The Usos hit dives over the top rope to take out Ambrose & Reigns. Rollins attacked Bryan in the ring. Bryan fought him off and hit a flying headbutt off the top rope. Bryan hit the running knee attack to the face for the win. Rollins did an amazing job of selling it by spinning in the air and taking the bump on his chest. Bryan pinned him to win the match after 23 minutes.
Winners: Daniel Bryan, Dolph Ziggler, Jimmy & Jey Uso
Analysis: *** It was fun. It's also a hard match to rate because I've never seen a 11 on 3 elimination handicap match before. Like I said earlier, it's such a weird dynamic to see the heels as the underdogs in the match when we're used to seeing them as the favorites in this type of setting. I almost feel bad for Rollins for having to face five guys at the end of the match like that. You don't want the heels to ever come off as the sympathetic figures yet here they were. I thought more heels would come out at the end of the match to help The Shield win or at least lead to the show ending in some kind of wild brawl. It didn't happen. The babyfaces won even though seven of them were pinned, which makes them look like a bunch of losers or I guess you could say it makes The Shield look tough.
Post match, Bryan celebrated in the ring by leading the crowd in "yes" chants. No sign of Ziggler or The Usos celebrating with him. Ziggler was chilling on the floor for a while after that clothesline he did, huh? I would have liked to see the team together at the end celebrating with Bryan because it would show some unity to end the show. Raw ended with Bryan chanting "yes" along with the appreciative crowd.
Analysis: I'm fine with a babyface ending. It needs to happen once in a while. I'm interested to see how they follow up on this because Hunter needs to explain why he would put The Shield in a situation where they are underdogs like this.
----
Three Stars of the Show
1. CM Punk - Awesome promo. Wish we saw him a match although he apparently wrestled the dark match after the show.
2. Daniel Bryan - Seems like he's always in this spot.
3. Seth Rollins - Great job in that main event.
Also very good performance by Orton, Reigns & Ambrose.
The Scoreboard
6 out of 10
Last week: 7.5
2013 Average: 5.86
2013 High: 8.5 (August 27)
2013 Low: 3.5 (January 28)
Last 5 Weeks: 7.5, 6, 5.5, 8.5, 6
Final Thoughts
It was slightly above average as you can see from the score I gave it.
That was one of the most bizarre main events in the history of Raw. It wasn't bad. Just different.
The Punk angle with Heyman was a lot of fun. At some point Punk may need to have a friend actually help him, but for this week it worked well.
The Chicago crowd was a lot of fun like usual. I wish the show was better for them, though.
---------
That's all I have for this week. I'll be back on Saturday with Canton's Corner and the ten questions & answers about WWE Battleground because it will be a week before the PPV airs. Also check out TJRSports.com for my NFL picks every Thursday & Friday.
Until next time, thanks for reading.
John Canton - mrjohncanton@gmail.com
Twitter @johnreport
Personal Facebook and TJRWrestling.com on Facebook