Live from Manchester, England this is the Raw Deal for episode #1068. Follow me on Twitter @johnreport.
There was a video package about Veterans Day narrated by John Cena. Thanks to all those who have served in the military and continue to do so.
A video package aired that highlighted the end of Raw last week when Big Show was destroyed by Randy Orton, The Shield and friends.
The Authority (Triple H and Stephanie) are on vacation, so who's in charge of the show? WWE Champion Randy Orton starts the show by heading to the ring. The announcers are Michael Cole, John Bradshaw Layfield and Jerry Lawler.
Orton did a promo saying he's going to be victorious at Survivor Series. He said he's in charge of the show. Raw GM Brad Maddox interrupted him saying he has the authority to be in charge of Raw. New "Director of Operations" Kane interrupted him. Of course he was wearing a red tie with his suit.
Kane said that in the absence of The Authority, he's in charge. Maddox called him "Mr. Kane." He suggested that Kane follows his lead. He put Orton into a match with Cody Rhodes. Kane wanted it to be Orton vs. Goldust. Orton told them to make up their mind.
Vickie Guerrero let out an "excuse me" and she stood on the stage for a promo. Vickie said she has confidence in Orton's skills. She called herself the voice of reason while the crowd tried to "what" her. It upset her. Vickie ended up booking Orton vs. Cody and Goldust in a handicap match.
Analysis: So the person that isn't the GM of this show got to book a match that was unfair to the heel champion. That was a very confusing opening segment. At least the crowd was hot for it.
Cody Rhodes and Goldust entered for their match as the show went to break.
(Commercial)
Cody Rhodes & Goldust vs. Randy Orton
It's WWE Champion vs. Tag Team Champions. It started as they returned to break, which is the benefit of taping the show five hours before it aired. The tag champs were in control early on with Cody hitting a front suplex. Orton gained some momentum after a clothesline on Goldust. The crowd did chants for the announcers because the match must be boring them. Goldust tried a comeback, but Orton kicked him in the leg while Goldust was on the middle rope and that knocked Goldy down. They went to break about five minutes into it.
(Commercial)
Back from break, Goldust dropped Orton with a DDT. It's always weird when a heel is the one dealing with two opponents. It's more common to see a babyface against two opponents. Cody received the hot tag and hit a moonsault for two. Goldust tagged in and missed a corner charge, but the brothers knocked Orton down again. Double team clothesline sent Orton over the top to the floor. Orton didn't feel like continuing, so he walked away for the countout loss after 10 minutes.
Winners by countout: Cody Rhodes & Goldust
Analysis: *1/2 Hey look it's my most hated finish in WWE. I get why they did it because Orton wanted no part of the match, but that's something they do at least once a month. I'd rather see a DQ ending or something that doesn't hurt the match like a walk out does.
As soon as the match ended, Big Show's music started up and he went after Orton. Clothesline outside the ring. Show cleared the announce table like a sweetheart and he dragged the steel steps over. The whole crowd was chanting "yes" for it. Show gave Orton a Chokeslam through the announce table while they were standing on the announce table. Crowd chanted "yes" for that too. Show left.
Analysis: Revenge for last week when Show was the one put through the table. That makes sense from a storyline perspective. I'm fine with that.
Doctors checked on Orton at ringside. They went to break there.
(Commercial)
Replay of Big Show destroying Orton. Moments ago, Big Show went into a cab to head somewhere for a pint.
Los Matadores (w/El Torito) & Santino vs. Heath Slater, Drew McIntyre & Jinder Mahal
Santino had bull horns. 3MB were named "The Union Jacks" in UK gear. How many times can they do this match with Los Matadores against 3MB? I think I heard some "3MB" chants. Nice running kick by McIntyre. Santino hit a back suplex on Jinder. Torito distracted Slater, which led to Santino hitting Slater in the butt using his bull horns. McIntyre grabbed Torito, which led to Los Matadores taking out McIntyre. Torito hit a somersault dive off the top onto Slater. Santino finished off Mahal with a Cobra strike. The Cobra had horns on it. That was it after about three minutes.
Winners by pinfall: Los Matadores & Santino
Analysis: * Same type of match we've seen a bunch of times with this group of wrestlers. Nothing new or fresh about it except the bull horns, which might be exciting for the 8 year olds watching.
In the trainer's area, Maddox, Guerrero and Kane showed up to talk to Orton. He told them he didn't want to talk to any of them. The doctor asked them to leave so he can examine Orton's shoulder.
Curtis Axel vs. Dolph Ziggler for the IC Title is taking place later in the show.
(Commercial)
Damien Sandow vs. Kofi Kingston
Cole mentioned that Sandow has been more aggressive due to the loss against Cena, so that is WWE's way of trying to recreate him as a more serious character. Sandow controlled the action with several hard whips into the rope and shoulderblocks. He hit the Elbow of Disdain. Kingston came back with a kick to the side of the head. The crowd was pretty quiet for this match. Cross body block to the back by Kingston for two. Sandow tripped him up when Kingston went for a springboard, which led to Sandow hitting the You're Welcome (full nelson slam) for the win after about four minutes.
Winner by pinfall: Damien Sandow
Analysis: * Finally they booked Sandow right! It was a decisive win where he looked like a credible performer and didn't waste time with theatrics. This is how they should have booked him when he was holding the Money in the Bank briefcase instead of all the losses he had. Kingston didn't get much offense in. I was fine with it. It's important to elevate Sandow. This kind of booking helps him.
Axel vs. Ziggler for the IC Title is up next.
(Commercial)
Next week it's "Raw Country" from Nashville according to a commercial. My favorite diva ever and good friend Mickie James is in Orlando this week at the WWE Performance Center as a guest trainer to the NXT divas. She has a country music album out. Could she be there? Maybe I know. Maybe I don't. Tune in to find out.
Intercontinental Championship: Curtis Axel vs. Dolph Ziggler
Last week, Ziggler beat Axel non-title. This week he gets his title shot. No Heyman with Axel. Loud "Let's Go Ziggler" chant to start. He used to get cheered a lot in England as a heel. They appreciate the great workers. Axel hit a dropkick early on as Cole reminded us that Axel has held the IC Title for five months. Ziggler dropkick for two. He has the better dropkick. Suplex by Ziggler followed by the ten "heart stopper" elbows for two. Axel whipped Ziggler into the corner and Ziggler went flying over the top to the floor. Back in the ring, Ziggler hit an impressive leaping DDT. Axel missed a corner charge as the crowd chanted for Ziggler again as he unleashed his offense with some punches, a neckbreaker and elbow for two. Axel gave Ziggler a slingshot into the turnbuckle for two. Ziggler came back with a Fameasser for two of his own. Belly to back suplex by Axel for two as they continue to trade nearfalls. Axel went to the top for some reason, so Ziggler brought him down with a X-Factor off the ropes for two. Great nearfall right there. Axel threw Ziggler up in the air so he landed on his chest and Axel hit his neckbreaker finisher for the win after 9 minutes.
Winner by pinfall: Curtis Axel
Analysis: **1/4 Slow start. The pace really picked up with great nearfalls. It was a solid TV match that gives Axel a win over a guy that's been IC Champ before. I like seeing the IC Title defended on TV because it doesn't happen enough. That will help the credibility of the champion and the importance of the title. As for Ziggler, obviously he deserves better.
Kane was arguing with Maddox in their office. Maddox booked Real Americans vs. John Cena to continue the main event theme. Kane made a tag team handicap match with all three members of The Shield against Daniel Bryan and CM Punk. Maddox want to shake hands. Kane just left.
Analysis: It's handicap match theme night. An odd concept. As soon as I heard the main event I was excited about it.
(Commercial)
Zack Ryder tried to sell us merchandise in an advertisement for WWE Shop. He has a goatee now. I hit FF through this.
Tamina Snuka (w/AJ Lee) vs. Nikki Bella (w/Brie Bella)
Nikki hit a dropkick that caused Tamina to angrily head outside the ring for a break. When she went back in, she shoved Nikki to the ground to gain control. The crowd was totally dead for this, so Brie clapped at ringside to wake them up for about ten seconds. They still didn't care about the match. Powerslam by Tamina for two. Back body drop by Nikki and then a headscissors. I think the crowd was chanting "we want tables" because they were bored. Monkey flip by Nikki. AJ got a cheap shot on Nikki and that allowed Tamina to knock down Nikki. AJ knocked down Brie outside the ring. Tamina hit a Superfly Splash for the pinfall win after 4 minutes.
Winner by pinfall: Tamina Snuka
Analysis: 1/4* Not a very good match. They looked lost a few times. Nikki's offense shows she's not as good as Brie. That was not a good splash by Tamina. She takes the bump on her knees too much that it hurts the visual appeal of the move and she barely landed on Nikki's body. If you can't hit a move properly every single time, try something else. I like Tamina, but she doesn't have to do the Superfly Splash just because her dad did it. It's looked sloppy in the past too.
Post match, Brie hit AJ with a dropkick. Then she hit a dropkick on Tamina to knock her out of the ring.
Analysis: It was a way for the Bellas to get their heat back. Hopefully it doesn't lead to another Brie title shot. We've seen it too many times before.
It's Cena vs. the Real Americans coming up later.
(Commercial)
There was a poll asking who was Undertaker's greatest WrestleMania opponent. It was Shawn Michaels. They listed WM26. I like the WM26 match, but think the WM25 match is the greatest ever. The announcers kept plugging the video game. Jerry Lawler probably thinks it's the greatest game ever while Total Divas is the best show ever. Of course he does.
Randy Orton was in the trainer's room as The Shield walked in. He wondered where they were when Big Show attacked him. Dean Ambrose said it's none of his business. Rollins said they don't work for Vickie, Brad or Kane. Reigns said they don't work for Orton either. Ambrose told him to feel better.
Analysis: The implication is that they work for Triple H and Stephanie.
Fandango danced with Summer Rae as he prepared for a match. A big reaction for him as the crowd did the Fandango dance.
(Commercial)
They showed a clip from an upcoming episode of Total Divas where Natalya was training with Fandango and Tyson Kidd was jealous of it. Of course Tyson is married to Natalya. Oh the drama. Yes I watch Total Divas. No, I don't plan on writing about it.
Fandango (w/Summer Rae) vs. Tyson Kidd (w/Summer Rae)
Kidd hit a running dropkick early. Fandango dumped Kidd over the top rope to the floor. The crowd really enjoyed the Fandango song. Kidd gave Fandango a headscissors into the turnbuckle and then a missile dropkick. Kidd took down Fandango outside the ring with a headscissors. Back in the ring, Kidd went for a sunset flip, but Fandango leaned forward with his arms and had Kidd pinned. Fandango won after three minutes.
Winner by pinfall: Fandango
Analysis: * I wish they got more time. Hopefully they do on Main Event or Smackdown in the future. They have good chemistry. Nice finish to the match. I'm assuming it was done as a tribute to British Bulldog vs. Bret Hart at SummerSlam 1992, which was also in England.
Post match, the fans did more of the Fandango song/dance. Of course the night after WM29 a lot of the credit for the Fandango chants was because of how loud the British fans were that night.
John Cena aka Mr. Total Divas was shown walking backstage in preparation for his match.
It's TJR Radio time on Tuesday at 10pmET/9pmCT. The plan is to go for an hour. You can listen live right here or stream it/download it after the show airs. Here's the iTunes link too.
(Commercial)
The World Champion John Cena made his entrance. Zeb Colter did a promo before the match. Colter said England was full of imperialists, soccer thugs, bad food and evil monarchs. He also mocked Mr. Bean. He also insulted the "sea of bad teeth" in the building. "We the people" ended it. I love how he insults them, yet they still do the chant with him.
John Cena vs. Antonio Cesaro & Jack Swagger (w/Zeb Colter)
John Cena against two guys? He's still the favorite. Always. There's the "let's go Cena/Cena sucks" chant. Before the match could really get going, Alberto Del Rio's music hit. He made his way down to ringside. I don't like when the music plays during the match, but it was early and didn't cost Cena the match. If they're going to do it in a match then that's the best way to go about it. Cena got dumped to the floor as they went to the vintage floor to commercial break.
(Commercial)
Del Rio was at the announce table saying that he was there because JBL invited him. The heels tried to isolate Cena in their corner (does it matter if he doesn't have a partner?), but Cena was able to hit a neckbreaker. Swagger hit the Swagger Bomb twice. The third try missed. Cena took down Swagger, but Cesaro tagged in and gave Cena a huge uppercut. Cena countered the swing and hit the spinning suplex on Cesaro. Swagger made a blind tag, so he applied the Patriot Lock to Cena. Another quick tag led to Cena having Cesaro ready for the Attitude Adjustment, but Swagger gave him a chop block. Cena backed out of the Neutralizer. Cena gave the spinning suplex on Swagger and then the Five Knuckle Shuffle. Swagger fought back with the Patriot Lock. Cena shoved him off. Attitude Adjustment by Cena on Swagger for two as Cesaro made the save. Cesaro tagged in and Cena hit a Powerbomb. I guess he's added that to his arsenal. It's not like Batista is coming back. Cesaro exchanged blows with Cena, which led to Cesaro tossing Cena up and hitting an awesome uppercut. Huge pop for that led to a two count. Swagger tagged in, Cena hit a cross body block to knock him down. Clothesline on Cesaro sent him outside the ring. STF on Swagger. He tapped out, so Cena won after 13 minutes.
Winner by submission: John Cena
Analysis: ** They did a good job of creating believable nearfalls even though most fans probably didn't think the heels could win. Like I said if Cena's in a handicap match he's still the favorite. This is why some fans hate the guy. Obviously WWE wants Cena to remain strong as the World Champion, so they're going to book him strong in matches like this. He rarely loses to begin with and a non-title match doesn't mean he's going to lose there either. Hopefully this doesn't hurt the momentum of the Real Americans, who should be in the tag team title picture soon.
Post match, Del Rio attacked Cena with a couple of chair shots to the back. He put the chair on Cena's left arm and applied the Cross Armbreaker on it. Referees ran in to break it up. Big E Langston ran in for the save. He tossed Del Rio outside the ring.
Analysis: What are the odds that Del Rio beats Cena at Survivor Series? I'll give him a 1% chance. They still need to add heat to it, so that's why they did this.
It's Punk & Bryan vs. The Shield later on Raw.
(Commercial)
This week on Main Event it's AJ Lee vs. Natalya for the Divas Title. A couple of weeks ago, Natalya made AJ tap out via the Sharpshooter so that's why she gets a title shot. I was hoping they would do it at Survivor Series. I expect AJ Lee to retain the Divas Title.
Backstage, Del Rio went into the office of the people in charge. He told Kane, Brad and Vickie he'll defeat Cena at Survivor Series. Del Rio mentioned Big E Langston, so they booked him in a match against Langston.
Analysis: I guess the key to being a match maker on WWE TV is to have very few matches actually planned and just figure things out when you get there. The logic of that has hurt my head for years.
Ryback vs. R-Truth
I like JBL, but I'm tired of him doing the "What's Up" thing during Truth's song. Maybe that's what he's going for. The crowd wasn't paying attention to this as they were looking at something else going on. Ryback gave Truth a hard whip into the corner. Gorilla press into a powerslam by Ryback. Splash by Ryback. He should probably stop doing that move because it doesn't look good. Bearhug by Ryback. Ryback went for a clothesline, R-Truth ducked, Ryback went into the turnbuckle and Truth rolled him up to win the match after four minutes.
Winner by pinfall: R-Truth
Analysis: * Very average match that didn't mean anything. No reaction to the finish. At least it was a short match. I didn't expect R-Truth to win. I assume they'll do a rematch later in the week or next week where Ryback gets the win back.
At Survivor Series in less than two weeks it's Randy Orton vs. Big Show for the WWE Title.
Big E Langston made his entrance for his match.
(Commercial)
Alberto Del Rio vs. Big E Langston
Langston hit a shoulder block early. Boots to the face by Del Rio, who also hit a nice DDT for two. The crowd was busy entertaining themselves with a wave while Del Rio applied a sleeper hold. Langston hit a side slam, two clotheslines and nice belly to belly suplex. Splash to the back by Langston. He should keep doing the splash. Ryback should stop it. His looks better. Del Rio hit an enziguiri kick to the arm for two. Langston hit his running body attack. The crowd chanted "we are awesome" because they are so bored by this match and they are proud of themselves. Del Rio escaped the Big Ending and applied the Cross Armbreaker. Langston tapped out after about four minutes.
Winner by submission: Alberto Del Rio
Analysis: *1/2 It sucks to see Langston lose a match in under five minutes like that, but at least it can be justified by saying he lost to a guy that's a borderline main eventer. They need to give Del Rio momentum before Survivor Series, so that's why he got the clean win. It's the right booking decision. The crowd didn't care about the match because they were busy entertaining themselves.
Did you notice "The John Report" sign on Raw? I sure did. It was on throughout the night, but here it is during the Del Rio/Langston match. It could be more noticeable, but I appreciate the effort. Thanks to TJR reader for Tom Robinson for bringing it.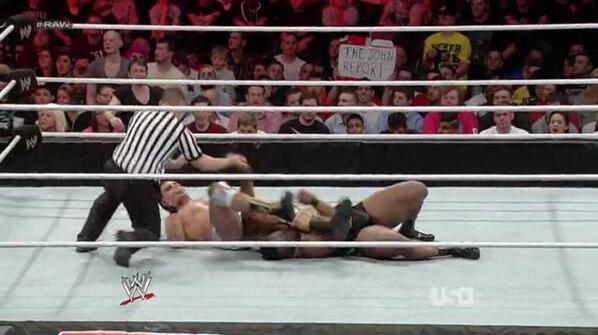 Here's a photo gallery of other TJR signs that fans have brought over the years. There are over 40 pics there. I'd love to see some that say "TJRWrestling" on them, but make sure you leave out the .com because WWE takes signs away that are website addresses.
The announcers plugged the main event and thanked the military on Veterans Day.
(Commercial)
This week on Smackdown it's John Cena vs. Alberto Del Rio in an Arm Wrestling contest. I'm not a fan of Arm Wrestling contests. If you got me tickets to watch the two best arm wrestlers ever I wouldn't care. At least it's not a contract signing.
Paul Heyman was in a wheelchair in the ring with Curtis Axel standing behind him. Heyman had a neck brace, arm brace and cast on his leg. Heyman said Punk was never a match for Heyman. He called Ryback a "big, ugly dummy." He took Ryback under his wing and apparently Ryback never accepted his proposal. Heyman blamed the fans for encouraging Punk to climb to the top of the cell to lay the beating on Heyman. "This is all your fault." He said he needed a room full of witnesses to hear him go public with his intentions. "I, Paul Heyman, shall return with a vengeance. I am going to hover over CM Punk like the Sword of Damocles. I will drive my blade of the sword through the heart..." and then CM Punk's music hit. Heyman yelled "oh no" as Punk made his way down to the ring. Punk went to the ring. He gave Axel a roundhouse kick, a whip into the security wall and then a GTS put Axel down.
Punk grabbed a kendo stick from under the ring. He spun Heyman around in a circle while he was in the wheelchair. Punk dumped him out of the wheelchair and destroyed Heyman with about a dozen kendo stick shots to the back.
Analysis: That speech by Heyman could turn Ryback babyface although I'm not sure they are turning Ryback face. They need to do something unless they simply give up on Ryback. Crowd loved seeing Punk destroy Heyman again. I wonder if Heyman's speech means the return of Brock Lesnar hopefully in the new year. I really hope Lesnar is back before WrestleMania because he's a special talent with a presence about him. Of course the other idea is that Heyman could be the "devil" that the Wyatt Family is talking about too.
Daniel Bryan made his entrance for the main event tag match. Heyman was in pain outside the ring.
(Commercial)
The Shield made their entrance. The announcers talked about their first year in WWE. Their debut was at Survivor Series last year. Perhaps I should write a column about them soon. I think I will!
Daniel Bryan & CM Punk vs. Dean Ambrose, Seth Rollins & Roman Reigns
Bryan had his hair in a ponytail. Bryan gave Rollins the surfboard before tagging in Punk, who hit a spin kick on Rollins. Punk gave Rollins a slingshot into the turnbuckle as Rollins bounced back into his corner where he tagged in Reigns. Punk tagged in Bryan as they kicked Reigns simultaneously. Reigns fired back with a double clothesline that knocked down both guys. Rollins was brought in, so Bryan destroyed him with a release German suplex. Sick bump by Rollins. Bryan with a running dropkick followed by a Frankensteiner for two. He hit some kicks on Rollins, but Ambrose distracted him. When Bryan turned back, Rollins knocked him down with a kick. They went to break there.
(Commercial)
The heels were still in control as Rollins whipped Bryan into the corner. Reigns tagged in and he stopped a Bryan comeback with a big punch to the face. The Shield kept Bryan in their corner. Bryan sent Rollins and Reigns outside the ring. Reigns tagged in Ambrose as Bryan made the hot tag to Pun. Neckbreaker by Punk to Ambrose, then the running knee and a clothesline. Flying elbow off the top rope by Punk for two as Rollins made the save. Bryan hit a missile dropkick on Rollins. Flying Goat attack by Bryan on Rollins outside the ring. Reigns clothesline on Bryan and Punk hit a diving attack on Reigns. Back in the ring, Punk hit a roundhouse kick to Ambrose. He signalled for the GTS, but Reigns interrupted and Punk hit the GTS on Reigns. Ambrose got a rollup for two. Anaconda Vice by Punk on Ambrose. Cue Wyatt Family entrance. The match portion went about 14 minutes.
Match Result: No Contest
Luke Harper and Erick Rowan were in the ring. They faced off with The Shield while Punk and Bryan went outside the ring. There was a lot of shoving going on. Harper went after Ambrose while Rowan went after Rollins. JBL loved it. Reigns argued with Wyatt. They brawled outside the ring. All six guys were in the ring brawling until they went to opposite sides of the ring. "This is awesome" chant from the crowd.
The brawling stopped as all six guys focused on Punk and Bryan. The two heroes were in the ring together while the other six were on the floor. There was a big brawl. All of a sudden, Cody Rhodes, Goldust and The Usos ran in for the save. There was a twelve man brawl. The faces managed to clear the ring of all the heels. The six babyfaces stood together in the ring.
Analysis: *** That was an awesome, energetic tag match that this show really needed. It featured some very good workers who know how to put on an entertaining match. I love seeing Punk and Bryan working together like that. If they have a proper tag match down the road it could be special.
As an angle it was outstanding. Really hot ending to the show. The crowd was really loud for it. The wrestlers did a great job as the Wyatt Family went from brawling with The Shield to working together against common enemies. It was well done.
The assumption is that this show ending angle will lead to a huge 6 on 6 elimination tag at Survivor Series. That's not happening because WWE announced Bryan & Punk vs. Harper & Rowan on WWE.com. Here's the match graphic to prove it. The match could have been Daniel Bryan, CM Punk, The Usos, Goldust & Cody Rhodes vs. The Shield and The Wyatt Family. I think it would have been a lot of fun. Instead we get a regular tag match. Why don't they do a traditional Survivor Series tag with more partners? I don't get it.
----
Three Stars of the Show
1. Daniel Bryan
2. CM Punk
3. The Shield
I cheated. Sue me.
The Scoreboard
6.5 out of 10
Last week: 5
2013 Average: 5.85
2013 High: 8.5 (August 27)
2013 Low: 3.5 (January 28)
Last 5 Weeks: 5, 6.5, 6, 5, 4.5
Final Thoughts
It's a hard show to rate because the last 20 minutes were awesome and the kind of thing that makes me love watching Raw. The problem is there was so much filler over the course of three hours that meant absolutely nothing. It would be nice if WWE cared about the midcard more. If it was a two hour show with some of the boring parts left out then it would have been better. Since it was three hours it gets a 6.5 out of 10.
I have a mild interest in Survivor Series. It doesn't have a "big show" feel to it, no pun intended. I feel like it should, but it's missing something.
The "who is in charge" concept doesn't interest me much. What I liked was that Triple H wasn't there, which meant the focus was more on Big Show vs. Randy Orton as it should be. I don't really love it as a PPV main event for the WWE Title, but if you're going to go with it then you need that to be the focus of the show.
I don't know why they felt the need to put three handicap matches on the same show. Smackdown last week had only tag matches. I guess they like having "theme" type of shows. It's not like viewers at clamoring for handicap match. There really isn't much appeal in those.
The crowd was fun. They were dead for some of the bad stuff, which should tell WWE what isn't working. If a vocal crowd is dead for something that makes it pretty clear.
---------
It's TJR Radio time on Tuesday at 10pmET/9pmCT. The plan is to go for an hour. You can listen live right here or stream it/download it after the show airs. Here's the iTunes link too.
I'll have a Q&A about Survivor Series that will likely be posted on Saturday.
Until next time, thanks for reading.
John Canton - mrjohncanton@gmail.com
Twitter @johnreport
Personal Facebook and TJRWrestling.com on Facebook