"I guess that two can play the game
Of part-time lovers
You and me, part-time lovers
But, she and he, part-time lovers." - Stevie Wonder
Well, here it is. My second column and it's Wrestlemania week. That's like getting a lovely new girlfriend just before Valentine's Day (it's actually nothing like that but my only other analogy was some weird Easter/chocolate egg mash-up). There will be a lot of Wrestlemania columns written by far better people than me so I thought, how can I redeem myself in a week when, as a newbie, readers will pass me by for a predictions column by a site-stalwart or a running diary of the show itself? Blimey, I know I'd pass me by for them (in a typically self-depreciating British manner). How can I draw people in to clicking on the link? What tried and tested format will make people 'buy into my product'? Then I thought about it (mused over a glass of wine if you will) and decided.
Top Trumps.
Everyone likes playing Top Trumps. It's legend of a game from our childhoods. Also it's just about gimmicky enough to get the interest of people. Almost as gimmicky as bringing back 'legends' at the biggest pay-per-view of the wrestling year. Almost...
I'm sure we've all have had part-time jobs at some point in our lives. Going in to work on a variety of days and trying your best next to the full-time workers. Sometimes your work is appreciated, often it is not. The flipside to that is if you're a full-time worker, you look down on the part-timers. They're not committed enough. They mess around when, in fact, it's you keeping the company running (Goddamnit). If this is prevalent in our lycra-free lives, it's sure as hell prevalent in a wrestler's life, particularly this year. Indeed, you've all probably read Dolph Ziggler's latest comments which sum up the contradiction of the 'part time players':
"It really pisses me off. But it also is good business. Every year a part timer comes back, but there's a reason that they're back. Whether it's the fans want to see them, if they're a draw, if they're a movie star, there's a reason that they're back. They're not back just to do it. There's business to be had. And it pisses me off and it motivates me a hundred percent. It makes me want to be that guy that they're begging to come back. I appreciate it, it's just good business. When people come to Wrestlemania to see the Rock and the Undertaker and they leave that Wrestlemania thinking, "Wow, that Dolph Ziggler stole the show. I can't wait to tune in to 'Raw' to see what he does next." That's how I've lived my entire career."
So Ziggler, perhaps one of the most misused of the current roster, understands the need for the part-time players but it also 'pisses' him off. I think it might be the same for the audience too. Although we love seeing the legends back, doesn't part of us want to be in the generation when we can say, 'I remember when Ziggler/Bryan/Punk were full-time on the roster and now they're worldwide stars'. It gives us ownership on our generation of the product and maybe, just maybe, that's why, although the buy-rate will be huge, the build-up is lackluster.
So, today I'm going to analyse the four primary part-time players (I'm not counting Jericho in this list as he not only wrestles on TV and at live shows, but also his mini-feud with Fandango is not a 'draw' on the main event line-up). I'll start with the two men facing each other in a rematch (as opposed to the others who are just in rematches). I'll start with…the next big thing.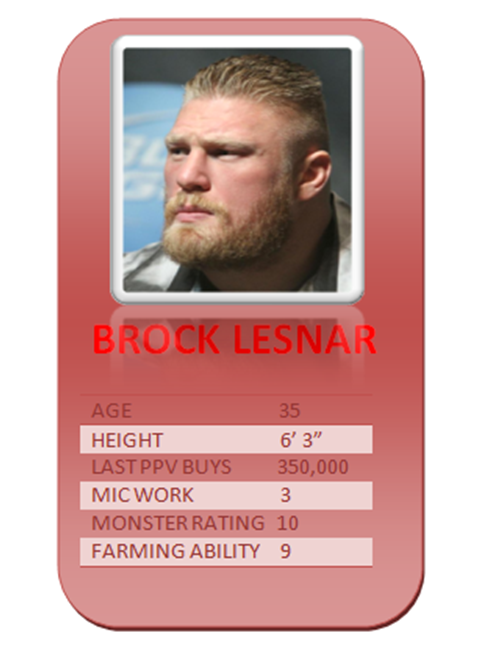 Brock has long been a favorite of mine. Not only from his initial run but from his time in UFC. He is one of the few in WWE who has proved he is not only a legitimate beast but also willing to go toe-to-toe with another man in a non-scripted bout. He is the youngest man in the Top Trumps Part-Time Players set (by some margin) and, due to his draw, he has commanded a big salary for a reduced work-load.
I have a couple of issues with the contract he's on. Firstly, I want to see him wrestle more. Simple as that. I know it's his current contract (and I also know that the rumour is that he's negotiated further dates next year) but three bouts in a year is only one fight more than his UFC contract. It doesn't feel enough for the only fighting cross-over star on the roster. Yes. I want to see him fight more. I want to hear the music and 'mark out' to it (not like 'Brock Lesnar guy', more like Hugh Grant kissing Julia Roberts - calm, subdued, terrified of embarrassment). I want to enjoy seeing him dominate.
The other problem this year has been twofold. Firstly, the intense feud with Cena was brilliant. Four weeks of blood and punches. The Extreme Rules pay-per-view bout was a strange, violent beast and then…Cena won (let's not forget, Cena's looking for redemption this year after a 2012 in which he, er, beat Brock bloody Lesnar). Then he has to appear on Raw the next night saying he'd 'dominated' Cena. He had, but only as much as Foreman 'dominated' Ali and the record there will always say a loss for Foreman. It didn't ring true (almost as much as Cena saying he was taking time off) and the 'character' of Brock was sullied.
The next problem is a man I will discuss in a minute…Triple H. Trips isn't a huge favourite of mine but I do like his matches and mic work. What I haven't liked is him inserting himself in big-name feuds (Punk in 2011/Lesnar in 2012). He should be putting other men over (perhaps not as much as Jericho but a little of that would help). I'm worried for Sunday because it's likely that Lesnar will lose. And what then? Another weak Tout saying he'd dominated Triple H and has nothing left to prove? Again, it won't wash. WWE needs a monster. A legitimate wrecking machine. What they potentially will have is a man with a win-loss record of 1-2.
Therefore, I think my Top Trumps 'Monster' rating is based on where he should be. He is a PPV draw. That is clear. I might be alone in saying that I'm looking forward to the bout on Sunday simply because seeing Brock is always a treat. He weak mic work has been supported by Paul Heyman, the 'mic master' but, at the end of the day, a loss and return to the farm will damage the 'character' of Brock and I'm not sure, really, what it'll do for the next Part-time Top Trump Player.
Now, Triple H is clearly the future of the company in term of the business model. He will be the man who, along with Stephanie, will decide on the future direction of the product. That means he'll be the new Vince. And that worries me. How many times has Vince dropped himself into the biggest feuds at the expense of story and stars? Out of the top 100 Raw moments DVD, how many were Vince-centric (his birthday party?! Really? The limousine explosion? What? The plot that never even finished because of the heinous actions of 'he who shall not be named'?). The thing is, I like Vince. His 'evil boss' character is one of the best in the history of the company. The triangle of Rock/Stone Cold/Vince was great but, too often, Vince was the focus of the stories. I fear this is already started with Triple H.
The 2011 summer of Punk was almost derailed by the Triple H/Kevin Nash story to the point where Punk was no longer the focus and the fight ended up being between H and Nash. The same with Lesnar. That story had run its course. The bad guy won. What happens when the bad guy wins, and then keeps winning? It makes his eventual defeat even sweeter (hark back to one of my favourite matches, Brock Lesnar v. Eddie Guerrero).
Now, although he's not a favourite, I do still like Triple H. His mic work can be very good and I liked the whole run of Evolution (his version of the 'evil boss' character). However, he has nothing to gain 'career-wise' from beating Brock. Now, I know that sounds ridiculous as it's a 'career ending' bout but Triple H doesn't have to win. He's achieved it all. He's a future hall-of-famer and, for a period of his career, he was 'the man' (and not many can say that). His career is nearly over though. His focus is on the business future. Brock can make him (and WWE) a lot of money. If they keep tarnishing Brock's 'image' though, then it'll be meaningless dollars they're paying him. Also, it is a long time since people bought a PPV because Triple H was on it (350,000 for Summerslam 2012, I'd argue, was due to Brock's presence). However, I'm not stupid enough to ignore the brilliant 'End of an Era' match last year which was a success not because of one man, but because of three. Triple H was immense on that night but, actions before and after have been, well, up and down.
I might be wrong. Triple H might retire at Wrestlemania and it all might lead to a bout down the line where Daniel Bryan beats Brock Lesnar for the WWE championship (I'm a sucker for the underdog story) but I don't see it happening. Who knows, if I'm wrong, feel free to berate me on Monday morning. I'll take it (but secretly weep quietly to myself).
Next, for me, the match of the night...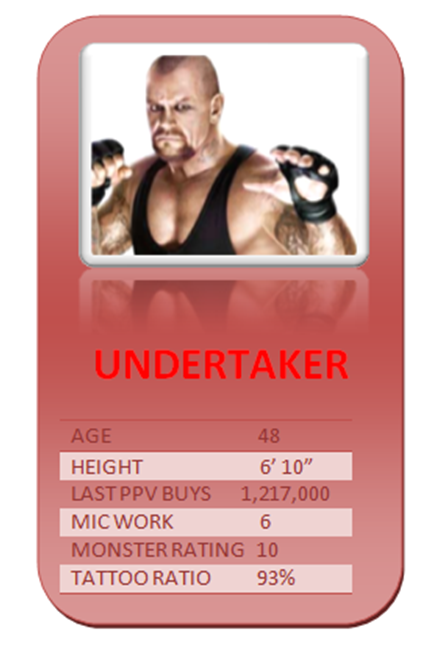 For those of you who read my first column, thank you. It's quite humbling to have others read and comment on your work. For those of you that didn't...go and read it now. I'm not continuing till you do.
......
Good. Now. It's no secret that I'm a fan of both wrestlers in this match but also of the (admittedly short) feud. If Brock is a combat crossover star, and Rock is a multimedia crossover star, The Undertaker is the returning superstar for the WWE fans. Some UFC fans might buy the PPV, some GI JOE 2 fans might buy the pay-per-view. The return of the Deadman, however, is an easy sell to wrestling fans. Even those that don't like Taker, let's be honest, like Punk. This match sells itself.
For me, a yearly Undertaker return is a good thing. Wrestlemania is a celebration. It's where 'it all begins again'. If we're lucky enough to see the streak on the line for the next few years, we'll be lucky. Maybe the mantle will be passed to another. Maybe his career will end by the character disappearing and the urn being left in the ring surrounded by smoke. Who knows. What I do know is that this part-time player is currently a WWE necessity for Wrestlemania. This is a man who, for the past four years, has had match-of-the-night candidates. He has been part of the greatest 'long haul' story in the PPV's history from Michaels/Taker I to Michael's as special guest referee for Triple H/Taker II(III?).
My Top Trump section for The Undertaker is shorter than the others simply because not only was my first column all about this story, but also because Taker is Wrestlemania for me. All I know is that, when he is no longer on the card due to retirement, it will definitely be a true 'end of an era'.
Now the man who epitomises the 'part-time player'...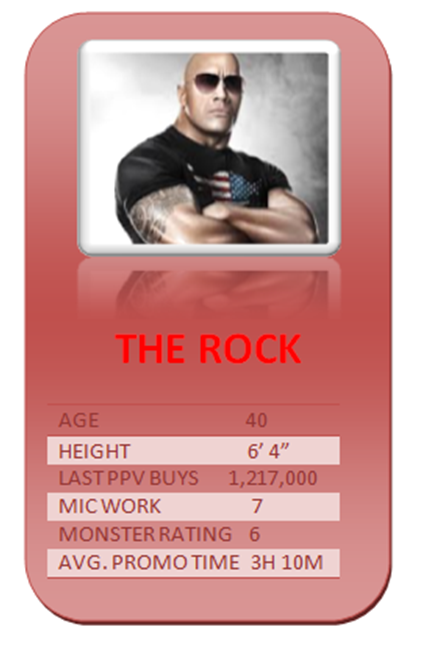 The Rock is a conundrum for me. He brings star-power. He brings in money (indeed, to repeat, I feel Brock and Rock are the PPV monsters who will guarantee another 1 million plus buys). He is true multimedia star. The live audiences love him and, for a while, on his return, I did too.
On his Valentine's Day return in 2011, the crowd, and TV audience, went wild. He was the all-conquering hero returning home (finally!). He also, to the excitement of everyone, acknowledged Cena's earlier 2009 comments about, ironically, how Rock left the company (and was now returning 'part-time'). We had the year-long build up to Wrestlemania last year which did essentially one thing. It derailed Cena. If we know how the story ends, why care about the subplots? We knew Cena was fighting Rock so why should we care about Kane attacking Ryder? We know it'll be forgotten about. Ironically, this has now continued with Cena not being on the show three weeks ago because Rock was abroad promoting GI JOE 2 and the writers didn't want the feud to be lop-sided.
Let's look at those facts again. In the build up to the biggest PPV of the year, the WWE champion and the No.1 contender were not on television. Indeed, the WWE champion was missing for a fortnight. We also never see the champ fighting on TV. Yes, we were spoiled by Punk wrestling every night. We saw the champion regularly take on all comers. Then Rock won the title and...nothing. We have debates. We have talking segments. We have...much ado about nothing.
I'm a realist. Dwayne Johnson will have a cast-iron contract with WWE but also with the Hollywood studios. If he gets injured, he could derail a multi-million dollar production. People will lose money because of Johnson getting injured. However, I honestly feel a bit angry that WWE have allowed themselves to be second place in this agreement for PPV buys. I know it's business. I know it's about the money. I know it's about the buys. It should also be about the future though. And The Rock doesn't represent that. He has moved on. He makes enjoyable films (I'm a fan of most of them). I feel he is damaging the product though.
The live audiences love The Rock. They love his promos. They love his twitter trends. For me though, it doesn't translate for the TV audience. They're self-referential and lazy. Maybe he was always like that but we didn't mind because he was on TV every week fighting Stone Cold. When you see someone part-time though, it highlights the problems and, for me, this is the current issue with The Rock.
So, for the part-time players, they will be a success. They are brought in to do a job and, unless there is a shocking audience rejection, Wrestlemania will earn over 1 million buys for the second year running. Each wrestler is hitting a different demographic. A different audience. Each, however, is at a different point in their careers and the future of the product will be determined by the returns of the part-time players over the coming years. You can look at my problems with The Rock and easily argue about the PPV results from last year and that I'm utterly wrong. I'll take that. The disturbing beauty of the WWE at the moment is that for every CM Punk getting the match of his life (again) against The Undertaker, there's a Dolph Ziggler getting more and more pissed off and there's only one way that story ends.
Thanks for reading. You can follow me on twitter @HughFirth or email me on ashburnham74@yahoo.com. I'm not on Facebook but any comments and constructive criticism you give, I'll listen to.
I hope you all have a 'cracking' Wrestlemania week and I'll be back next Wednesday (unless my PPV buys are down on last week).
Hugh Firth
Hugh Firth is an English gent with a penchant for suits. I'm an actor, director and very poor squash player. I write professionally but not things like this. This I enjoy. I like to think of myself as a cross between Brock Lesnar and Frasier Crane but I'm probably more like The Shockmaster and Niles Crane. Favourite match? Eddie vs Brock. Favourite wrestler? Jericho. Favourite costume? Dunno. Probably Doink.