This year could see big changes in the WWE. We've heard talk that the 'independent experiment' could be over and the corporate heads want to go back to the 'big man', the sort of wrestler that creates awe in the audience whether by height or by pure muscle mass.
It's an interesting thought when you consider your childhoods and think of the terrifying spectacle of Undertaker face to face with Kane in the cell for the first time. It was an awe-inspiring moment. Did we ever have that with Paul London and Billy Kidman? No. They wrestled great matches, but it was never the sort of marquee moment that the company strives for. The one they can replay time and again or plaster the website with. They need the big men for those.
Not only is this the year when the big man truly returns, but it's also the year where we inch closer to the Undertaker's retirement. Yes, it might not be for a couple more years yet but when he does decide to leave the squared circle, there will be a massive hole in the big man league. When Taker arrived, he was more of a gimmick, a monster there to terrify others. Over the years, his technical expertise and ability to tell a story in the ring has increased immensely. Yes, there have been other great big men in wrestling, lots of them in fact, but the amount of match of the year contenders the Deadman is having in his final few years is incredible.
Obviously, you can look at 6ft 6in Hulk Hogan, 7ft Kane and 7ft 4in Andre the Giant. That doesn't tell the whole story though. Height is impressive, but so is body mass. You could look at 450lb Vader, 487lb Viscera and 589lb Yokozuna. Even then it's not the full story because the muscle soaked monsters of the past are equally impressive and it's no coincidence that Batista is making his comeback this month ready to be placed as immediate Royal Rumble favourite. Basically, many fans love Daniel Bryan and CM Punk, but it's a massive monster that will get the mainstream column inches.
With a whole league of big men heading towards the end of their careers, hell, even Kane is corporate for now, the time is now for a whole new division of wrestlers to take centre stage. WWE has been sowing the seeds for quite some time though with a variety of big men who are already beginning to shine. Many of these men have been placed in stables or tag-teams so they can build up their in-ring work and learn the ropes. The next twelve months will see if the dividends will pay off.
Firstly, we have Roman Reigns. What's interesting here, and I didn't even notice it for the first few months after The Shield's initial debut, is that he isn't even the tallest member of the group standing one inch shorter than Dean Ambrose. He is clearly, however, the muscle of the faction and has been painted that way since day one. He is over 50lbs heavier than his stable-mates and his spear has been set up as the most devastating one since Goldberg's (with a doff of the cap to Edge too). He is intense, he growls, he shouts, he is a beast.
If I was to compare him to a recent wrestler, ironically, it would be Batista as both have that similar ferocity. There has been a lot of talk about this being a big year for Reigns and, with the current Shield storyline heading towards him taking out the arrogant Ambrose and naive Rollins, that will run and run. Is he the future for big men though? Well, this isn't fantasy booking but let's be honest, he has heritage with relations including The Rock, Rikishi and current roster-mates, The Usos, and he has the look that WWE loves. He's also one of theirs after a short career in the NFL, he signed up to Developmental in 2010 and hasn't looked back since.
I feel this last fact is important because although you can argue that the 'independent experiment' has worked wonderfully, corporate must look at some of those wrestlers and think that they're not 'true WWE' workers. Maybe this is the problem with the current negotiations with Davey Richards and Eddie Edwards. To that end, Reigns' future has the potential to burn very bright.
Next, we can look at a man Reigns challenged back in FCW, Big E Langston. Now, there are two ways this one could go. He could be the new Brock Lesnar or the next Ezekiel Jackson. He started as muscle for Dolph Ziggler before breaking free and taking the Intercontinental Title from Curtis Axel. In that time he has proven, via his Twitter account, to be a highly personable and witty man and in the ring, due to his title run, he is showing both size and speed. Again, being big doesn't always mean height, he stands 5ft 11in, but it does mean muscle mass and he weighs in at 290lbs. Whereas Reigns started in the NFL, power and speed, Langston started as a record breaking power-lifter. His speed and agility has clearly come from his desire in developmental to work hard and break out from the 'strong, slow big man' mould. His match this week with Fandango also showed that he (along with Johnny Curtis) could tell a great story.
If he carries on developing and grabbing the opportunities he's being given, I would love to see a match versus Brock Lesnar down the line. Obviously, to explain the earlier comparison, Brock has the MMA experience, but he is one of the quickest big men to appear in the wrestling world. Langston's not there yet but he's clearly on the road less travelled for a big man to inject their work with pace and speed.
Now there is a man whose whole career seems to have been one big transition, Brodus Clay. There's no denying the size of the man, 6ft 7in and 375lbs, but his career is now at a massive crossroads. He began in NXT before becoming Alberto Del Rio's bodyguard and then disappearing to film the exploitation movie 'No One Lives'. His return was delayed on-air for weeks by John Laurinaitis before an entrance no-one expected, that of a disco-dinosaur called the Funkasaurus. It was strange but it's the sort of thing WWE likes to do, a bit of dancing and a family-friendly party gimmick. It just didn't seem to fit this monster though. He had a few interesting bouts, and his in-ring habit of calling out his moves (primarily because he was so big there was nothing his opponents could do about it) was good and one he'll hopefully bring back. The party monster gimmick just doesn't wash with a big man though (and maybe that's why it's been handed to Xavier Woods).
His heel turn could be his last chance to become a main-event monster though. For inspiration, he need only look at Mark Henry. For years this big man was jokingly referred to as the big threat in a Royal Rumble and became a smiling Kool-Aid man for the masses. His 2011 heel turn though created the Hall of Pain, a championship run and allowed him to show his brilliance on the mic (particularly the retirement speech of last year). Essentially, Henry confounded expectations to such a degree that his decimation at the hands of Brock Lesnar was, to some extent, a shock. This is who Brodus should look to. If this is the year of the big man in WWE, Clay is one of the biggest they have and needs to take the ball and run with it.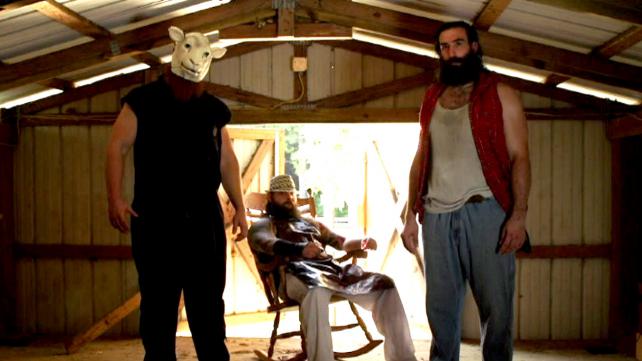 When looking at The Undertaker and Kane, and their eventual in-ring retirements, the role of the 'scary' big man will be open for interview. To that end, The Wyatt Family might be jostling against each other in the near future. There have been failed experiments in the past, primarily Kevin Fertig who was both Mordecai and the vampire-lite Kevin Thorn, but the role of the big man that scares the kids is up for grabs. The Wyatt's are currently filling the void for weird and scary though and all stand well over 6ft 3in. The religious cult idea has worked brilliantly and, when moving up from Developmental, the word was that Bray Wyatt was the one to watch and, on the mic, this is certainly true. In the ring though, Erick Rowan is improving with each match, but Luke Harper is very impressive. He is strong, fast and intimidating. His calls of 'yeah, yeah, yeah, yeah, yeah' are strange and his overall look, along with his stable-members, works.
There is speculation that Bray will face Cena at WrestleMania and Harper and Rowan will enter the big one as tag-team champions. The former seems a little early, and particularly speculative, whereas the latter appears to be a very real possibility. No doubt, similar to The Shield, the Wyatt's will end up disbanding, but these three big men have a very real chance of keeping the 'larger than life' characters on the wrestling map. In the world of pipe-bombs and snarky Triple H comments, characters like Undertaker and Kane might disappear forever. We need The Wyatt's, and their ilk, to keep this tradition going. Basically, wrestling works well when it has a good balance of 'real' and 'heightened' and these three need to fight to keep it going.
Obviously, there are others I could mention both old and new. Ryback appears to be heading towards either another character change or disappearing altogether from the company. The Great Khali can barely walk and The Big Show, although he clearly has a few years left, must be looking forward at what to do when the in-ring career is slowing down. Again, WWE is still looking at how they can build and develop the big man division to the point where, clearly to keep the Indian market close, they might be hiring 7ft 5in Rajesh Kumar who is currently training in Japan.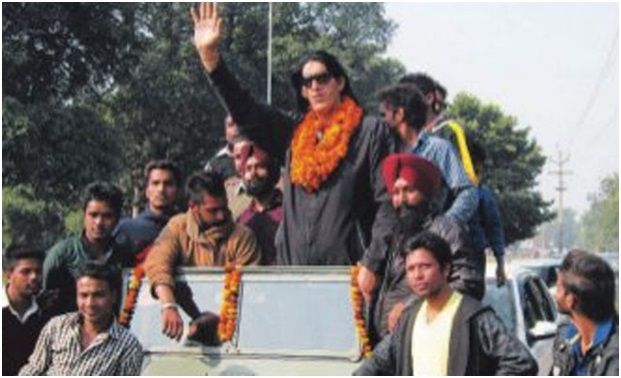 The big man is essential to the world of wrestling. It is the larger than life characters we all remember as children that creates favourites in our minds and then lets us appreciate the smaller, independent wrestlers as we grow older. Also, the ascents of Punk and Bryan have been great but these smaller men, the Davids, need the Goliaths to conquer or there is no story, no crowd-pleasing moment. The WWE is right to build up the big-man division but, just as they are developing their own WWE-branded young wrestlers, hopefully the independents can still make their way through to the big leagues because different styles, histories and stories are what make us interested. Also, the sight of a 6ft 7in monster beating down a 5ft 9in technical marvel before a great comeback is about as good as wrestling gets.
Finally, a quick apology. I was going to write a column last week but the excitement of the holiday season got the better of me. I hope you all have a topping time and have a great 2014 too.
Please follow me on twitter @HughFirth or email me on ashburnham54@yahoo.com All constructive criticism is appreciated.
Ta ta for now and hopefully see you next week.