I am honoured to fill the clown shoes of Andrew Johnson for The Smacking of Smackdown this week (clown shoes because he's funny, see, and also because they are big shoes to fill).
I enjoyed Smackdown more than usual. Maybe I am feeling generous of spirit, because WWE has been showcasing its talent so well. Not to fear, there is still plenty to Smack Down, but first, the bones of the beast:
~~ RESULTS ~~
Miz TV Segment with Team Hell No and Randy Orton
Curtis Axel defeated Chris Jericho by pin
Alberto Del Rio vs. Heath Slater – bell never rang
Ryback defeated Kane by DQ
Damien Sandow Intellectual Challenge
Fandango defeated Zack Ryder by pin
Bryan/Orton defeated Rollins/Reigns by DQ
There was a lot more filler in between: backstage segments to bridge the storytelling, two Wyatt Family vignettes, and two RAW Rebound clips.
Let's reveal my choices for which parts were Smacked Down aka the worst parts of the show. Drum roll please…
Curtis Axel Just Kicked Your Leg Out of Your Leg
This is a nitpick - but Curtis Axel had one thing to say, and it didn't come out...quite right. As he walked towards the ring for his match against Jericho, he informed us that "Tonight, another former champion finds out what it means to be… perfect."
See, when I did the ellipsis first myself up there, it was to pause for effect. When Curtis Axel did the dot-dot-dot in his head, I'm pretty sure it was because he realized as the words were coming out that the signature finish wasn't going to totally make sense. He decided to just go with it anyways, and spoiler alert, Chris Jericho actually did find out what it means to be perfect.
This is why Axel has Paul Heyman, whose guys should never get on the mic, unless they are a) named CM Punk, or b) going to talk about piss running down John Cena's leg.
This Raw Rebound Business
I love Andrew's rants when he smacks stuff down, and I am slowing working myself into a lather so that I can do him proud. I know the Raw Rebounds shouldn't be reviewed here for Smackdown, but guess what, they shouldn't be on Smackdown FULL STOP.
The three-hour Raws, better matches notwithstanding, still feel interminable. Why pad your two-hour show, Smackdown, with long-ass segments lifted from Raw? The inefficiency, repetition, and squandered opportunities for other wrestlers make me feel like a chump for watching.
Maybe if they put up the WWE App in the corner of the screen during the Raw Rebounds, and the WWE App shows the people from the Raw Rebound segment standing backstage at Smackdown, watching the Raw Rebound as it's being aired on Smackdown, but also they are being watched on the WWE App, AND by viewers in the corner of their television screens who are watching the Raw Rebound on Smackdown. Hole on a minnit, playa! There's only one way to solve this, and that's in the ring, with a tag match between the Raw Rebound and the WWE App. Winner gets a Brogue Kick, because people cheer when anything gets Brogue Kicked!
Which brings me to:
Of Course He's Going To Brogue Kick The SuperComputer
The Awful Sheamus Character hadn't really bothered me yet, because I hadn't exposed myself to it much. I know we're supposed to think that Damien Sandow is an arrogant, condescending bad guy, hence anything Sheamus does it justified and laudable. But when Sandow's biggest offense is dropping sweet one-liners and being a total natural on the mic, not even Deep Blue can compute why a violent response is the one worth cheering.
First Sheamus taunts Sandow by saying he's too scared to fight, and when Sandow uses only words to retaliate, Sheamus snipes, "So quick with the wit!" and then Brogue Kicks the computer that Sandow was using for this week's intellectual challenge. I'm not going to get all pearl-clutchy with, "What are we teaching our children here?!" because if you think a show called Smackdown is the place for teachable moments, well…Perfect.
I'm not mad because Sheamus is acting like an immature bully. I'm mad because lots of people seem to love it. It's the accent, isn't it?
Zack Ryder's Hair
Well, it's given me an appreciation-in-hindsight for his old hair. I wonder if the Merch people have been busy squirting copious amounts of Dippity Doo onto the spiky Zack Ryder wigs.
A Smacked Up: Fandango seems well suited to short squash matches where he can make his big entrance, get in a few moves, do it with flair, correct the ring announcer, and leave.
(This is for the best parts of the show in case you didn't know.)
Miz TV Was Tolerable, Useful
Picture me mouthing the words "I loved Miz TV, I'm sorry," before super-kicking Andrew Johnson into a mental institution, which is where he'll surely need to be when he reads that I've Smacked it Up.
I give some credit to The Miz for keeping it concise, for being uncharacteristically restrained, and for actually acting in a host-like capacity to help further the story of Daniel Bryan's inferiority complex. He kept the catchphrases in check, sorta, but he needs to tone it down with the finger guns.
Kane, Daniel Bryan, and Randy Orton worked together to recap what's been happening, and set up the rest of the night's events. Everyone said their piece, and it didn't sound forced (or forgotten, in Orton's case).
When Smackdown began, and the announcer warned us that Miz TV was coming up, I wrote down "Can DBry even save this?" Shame on me for doubting him. He is SO popular with the fans, a Daniel Bryan chant broke out as soon as he raised the mic to his beard*. He is plainspoken in the very best way, and he is good at engaging the crowd without it seeming forced. How do you start a Yes chant? Well obviously, you just say No.
Daniel Bryan's Hair (ALL of it)
It's not to my taste. But when a person has so much going for him, it doesn't matter a single bit what he looks like (and I say this in the context of WWE television, where we are conditioned to judge based on beauty). Vince McMahon lets him look like this. Brie Bella likes him just fine. As a matter of fact, I think this look is an unintentional stroke of genius.
Now more than ever, he does not look like your stereotypical WWE wrestler (although facial hair is certainly becoming more common to see, Bryan's is definitely housing a habitat for amphibians). Then he pulls out such thrilling work in the ring, and nuanced wit on the microphone, and it plays with our expectations. Love it. He's like a superhero, come out from the woods after years of isolated training by wolves who were trained by William Regal.
The Jericho/Axel Match (ALL of it)
I feel a bit terrible about Smacking Down poor Curtis Axel's (possibly) misspoken line, but it's all typed out now. Every other part of this match was impressive.
I love their integration of Mr. Perfect's music into Axel's. It's done well and sounds cool. I like Axel's wrestling style. He is agile, he has some unique moves (I'm going to call it a ScissorFrog over Jericho off the ropes), and he's polished. I also love his running neckbreaker, and the detailed homage to his father by bridging for the cover after the Perfect Plex.
Jericho vs. Fandango wasn't clicking for me, and though I hated to do it, I kinda pointed a bent baby finger Jericho's way. Hey, with a great track record comes great expectations. But tonight he was totally froot, and I actually loved when he grabbed the camera and yelled "COME ON BABY!" right into the lens. The match was fun; both guys looked good. It was hard hitting, fast, and competitive.
Heyman got on the headset, and proved why he is so integral to the introduction of Curtis Axel. As JBL and Cole implied that Axel's recent wins weren't clean, Heyman retorts, "If you don't like the WAY he wins, change the criteria for what it means to be a victor!" He does not Brogue Kick them, but he does get his leg up on the announce table to proclaim, "It's clobberin' time!" Cue Punk's music, Jericho's distraction, and Axel's roll-up for the win. Jericho spent a few minutes being sad, before he threw hands Winnipeg-style, and stared Heyman down. I loved Jericho's fire tonight.
Pro of being a Paul Heyman Guy: you get Paul Heyman to talk for you.
Con of being a Paul Heyman Guy: you may have to endure his musky odour in celebration.
Don't Worry, Babe, It's All Good
After a throwaway "match" that saw Del Rio and Rodriguez beat up 3MB, Ziggler came up on the screen ("Via Satellite" which is Latin for "With A Fake Plant") to address Del Rio. He is cleared for work this Monday, and vowed "I'm gonna be showin' off right in front of your FACE!" That's kind of filthy, but I approve.
Kane vs. Ryback Did Its Job
Ryback looked strong, Kane was energetic, and the latter ended up being put through a table. Daniel Bryan reacts by saying, "I didn't ask him to defend me!" which isn't kind, but makes sense for this story.
Consistency Is Next To Godliness
Aside from my dismay that Seth Rollins can no longer roll over the barricade because he's holding a title belt, check marks all around.
Reigns and Rollins showed excellent teamwork. Rollins is a great opponent for Bryan, as he is small enough to look super vulnerable to Bryan's offense, but skilled enough to pose a threat right back. Reigns showcased more moves and personality than before. He was as intense as usual, but also wrestled well, sold pain well, and upheld that lovable brotherhood of The Shield.
Just after a stern "No!" to Daniel Bryan for attacking his little Rolly
Mr. Hot Tag DBry was cleaning house, when he accidentally kicked Orton. Then Ambrose interfered, to save Rollins from tapping out to the No Lock. Bryan cleared the ring, then eats an RKO. They are pacing this story very well in my books.
No Lawler
I wish Jerry Lawler would have come back for One Last Visit, and then left to do whatever he wants, in good health, as long as it's not on a TV show that I watch. Smackdown is greatly enhanced by the absence of The King. JBL and Cole have better chemistry without Lawler's awful jokes and tasteless innuendo.
"You better run."
Two Wyatt Family vignettes during a two-hour Smackdown is a good use of my time. I will even watch the Wyatt Family watching a Wyatt Family vignette on the WWE App.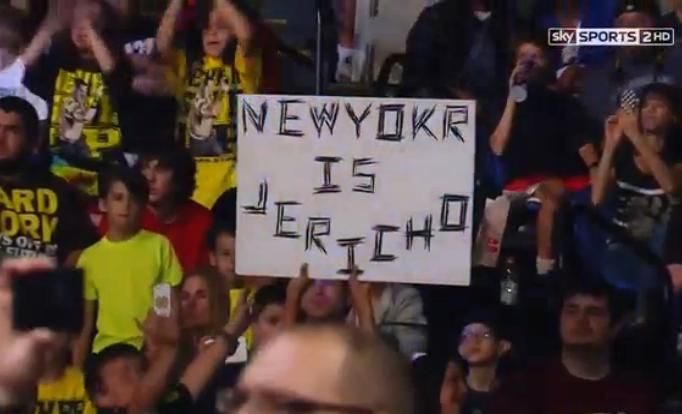 Sign of the Night: "NEW YOKR IS JERICHO"
You didn't show anyone your sign before you came? Are you sure? You probably didn't want anyone to steal your idea, right?
(This coming from someone who submitted a column on Bray Wyatt, with two obvious typos in the first sentence. Stop reassuring me John Canton, I know I'm the weak link!)
--------
I hope I didn't miss anything too major from Smackdown. Teddy Long did show up to make the main event tag match, wearing a white suit ("That's COLONEL Peanut Head to you, sir"), and Cole made a subtle joke about needing hand sanitizer after Heyman left their table.
The good parts of the show greatly outweighed the bad, so I would recommend checking it out if you haven't already.
For years, I often relied on TJR to help me determine whether to watch a show. I remember standing in a long line-up to buy popcorn at the movies, and reading Andrew's Smacking of Smackdown while I waited. It was so funny that I laughed out loud uncontrollably. When he asked me to fill in for him this week, I could only sputter gibberish in astonishment. Thank you, it has been a pleasure.
I'm on twitter @kickyhick and my email is heatherhickey@live.ca. Please do all the lovely, supportive things like retweeting and liking and commenting below. Thanks!