Ask any wrestling fan for their memories of WrestleMania and many things will jump in. Hulk Hogan press-slamming Andre the Giant at WrestleMania III. Steve Austin passing out in the Sharpshooter at WrestleMania XIII. Ultimate Warrior and Hogan embracing at the end of WrestleMania VI, He Who Cannot Be Named and Eddie Guerrero embracing at the end of WrestleMania XX and much much more. There aren't many things more enduring than The Undertaker's streak however, something which has become possibly more prestigious than anything else at the event.
In amassing his 21 victories at the Showcase of the Immortals, Taker has vanquished many greats of the game. King Kong Bundy, Giant Gonzalez and A-Train, the list goes on. To truly put 21-0 into perspective, no other individual has more than eight victories on the grandest stage of them all. This weekend the Streak is on the line against the Beast Incarnate, Brock Lesnar. A few years back this would have been a most definite 'Holy Moly' moment, but unfortunately it feels a little flat. Undertaker will win, Undertaker should win, but the intrigue has gone out a little. When was the last time the Streak felt legitimately threatened? Sure, when I'm drunk I'm all out believing it can be ended, but not since Randy Orton's failed attempt at Mania XXI has there been a real feeling that this could be it.
This isn't to take away from it, not in the slightest. The Streak will go down in history as one of the, if not the most impressive achievements in professional wrestling. Like many other writers this week, I'll be focusing on the streak in this column. Not The Undertaker's streak though, oh no sir. Funnily enough, there a number of other greats of the game with perfect WrestleMania records. Did I say perfect? My bad, I meant the total opposite. Let's have a look at some of the big names that have never been victorious at the Big One.
Maybe it's a little unfair, but Jeff Hardy has a WrestleMania record that involves a grand total of zero victories and five losses. All but one of his appearances have been in mutli-man matches, and three of those have been some form of ladder match. The first two of these are the famous ladder and TLC wars against Edge and Christian and The Dudley Boyz, and the third was Money in the Bank at Mania XIII. Still, in the two matches Jeff has contested where pinfalls counted, he has taken the loss. The first of these came at WrestleMania XVIII, where he and his brother Matt competed in a four team tag elimination against the APA, the Dudleyz and Billy and Chuck. (Side note: The Dudleyz are also victory-less at WrestleMania, with a record of 0 and 4). The Hardyz made it to the final two, but Jeff would ultimately be pinned by Chuck Palumob after being struck with a tag belt.
His other pinfall loss would come at WrestleMania XXV against his brother. This, to date, is Jeff's only singles match on the Grandest Stage of Them All, and even this was contested under Extreme Rules. WMXXV was something of a disappointing show, but the Hardy brothers put on what this writer considers to be one of the most underrated Mania matches in recent memory. It managed to be innovative under rules that have been done to death by the two, with the finish in particularly taking breaths away even to this day. Matt's Twist of Fate with Jeff's head jammed in a chair wasn't just brutal, it was downright nasty. Despite all of this, the record books put a big L next to Jeff's name, meaning his record at WrestleMania stands at 0-5.
Jeff Hardy is a great example of the meaningless of wins and losses in the grand scheme of things. He may have never been successful at WrestleMania, but his moments live long in the memory, the same of which can't be said for Sable and Virgil, both undefeated at WrestleMania.
Here's a little trivia question for you. Who is the man who has main evented every WrestleMania they have appeared at? If you guessed Sid, you guessed correct. His stop-start time with WWE always had him booked high up on the card, to the point where I always forget how big a name he actually was. He has two WrestleMania appearances, at WrestleMania VIII against Hulk Hogan and against at Mania XIII against The Undertaker. Indeed, on both occasions his defeat came in shady circumstances, with a DQ loss against Hogan and Bret Hart getting involved at the end of XIII. It is extremely unlikely that Sid will appear at another WrestleMania, let alone in the main event, so his record will surely now go down in history at 0-2.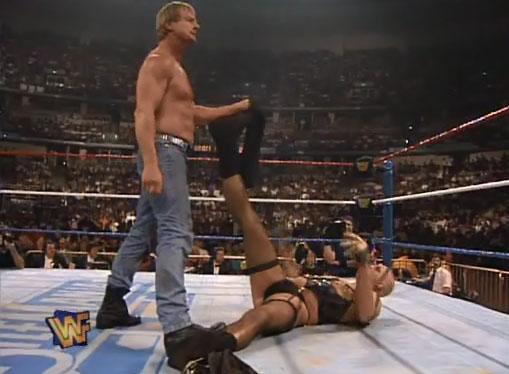 With his return last year, Goldust completed one of the most heartwarming resurrections in pro wrestling. Always a fine talent, the general consensus was going to be that Dustin Runnels had flittered away his talents. Not so, he returned in 2013, looked better than ever and put on a series of fantastic matches, to the point where it feels almost criminal that he is thrown into the Andre the Giant Battle Royal. (Side note: I have a total of zero interest in that). So how was the Bizarre One faired at WrestleMania? Not so great actually. He has featured in a total of five matches, and has been unsuccessful on all five occasions. One thing to take into account is that the last of these appearances was at WrestleMania XVIII, where his Hardcore Title bout against Maven ended up being won by Spike Dudley, because of the ridiculous rules of that belt. Still, his other four appearances have seen him defeated. The first of these was his most memorable, against Roddy Piper at WrestleMania XII in a Hollywood Backlot Brawl. Since then he has tasted defeat against Triple H (XIII), Marc Mero and Sable (teaming with Luna Vachon, XIV) and Roaddog in a four corner match at XV (Val Venis and Ken Shamrock were the other competitors). Goldie has a chance to rectify this record in the Andre the Giant Memorial Battle Royal this coming Sunday.
Which brings us to the most infamous unsuccessful streak in all of WrestleMania. There are a few things that are a given at WrestleMania. The Undertaker will win, someone will sing the US National Anthem as pictures of eagles, airplanes and soldiers are show, the video packages will be awesome and Vince McMahon will lose. Vince has actively competed in four matches at Mania, and has lost all four of them. He also kind of participated in the Battle of the Billionaires, and even that saw him lose his hair at the end of it. Arguably the greatest heel in the history of the game, Mr. McMahon has come up short against his son Shane (XVII), Hulk Hogan (XIX), Shawn Michaels (XII) and Bret Hart (XXVI). The quality of the matches range from thrilling (Shane) to 'what the fudge is this guff?' (Bret). Despite being the creator of the thing, Vince McMahon is likely to never get a win at the biggest event of the year. Which is exactly how it should be.
That'll do for now. It's WrestleMania weekend, and for the first time I'll be watching it from outside of Britain. I'll be sat on my own in the hostel here in Serbia, screaming and betting on the matches against myself. Living the dream. Are you excited about the big event? Are the above losing streaks surprising to you? Did you know Rob Van Dam is undefeated at WrestleMania as well? Drop a comment in the lonely comment box below or we can duke it out on twitter (@pingvinorkestra). Enjoy the show folks, enjoy the show.