Hey, remember Goldberg?! You know, that WCW guy who became super popular in the late 90s, but couldn't quite hack it when he was brought over to the WWE? Well he's back in the news, teasing a return to professional wrestling. Here's a Tweet he posted yesterday morning:
It's coming...RT @david99126: @goldberg @jrsbbq @blessyorton @wwe Such a shame... The Spear needs to been seen once again!!

— Bill Goldberg (@Goldberg) January 23, 2013

Cool! I'm sure those of you who still give a damn about Goldberg are super excited about this development. But don't bust out your "Who's Next?" t-shirts and douchey tribal tattoos out just yet, Goldberg apparently has no interest in returning to the biggest wrestling promotion in the world. When asked if he would return to the WWE, Goldberg posted these gems:
I think it's common knowledge about my feelings towards the WWE......

— Bill Goldberg (@Goldberg) January 23, 2013
Not a chance in hell....RT @baba_b0b0: @goldberg so are you showing up for royal rumble?

— Bill Goldberg (@Goldberg) January 23, 2013

So, either Goldberg is contemplating a return to TNA, or he's just a giant troll who feeds off the attention of those obsessed with nostalgia. I'll save you some time and effort: he's a troll. A big old flash in the pan troll.

Am I being too harsh on old Goldilocks? Maybe. But I can't be the only one tired of his lame shtick. He had some good glory years in the late 90s, but he's acted incredibly entitled ever since. Although he was unquestionably a top draw for a few years, he never had the crossover appeal of guys like Rock and Austin, nor did he possess the skill of technical masters like Michaels and Hart.

In the end, all Goldberg is is a chapter in an interesting era for professional wrestling. He'll never be known as one of the true greats because the length of his career/popularity didn't warrant it. My theory? Goldberg knows his popularity has waned, and trolls the internet in an attempt to earn any sort of attention he can find. And how do we treat internet trolls? We ignore them.
—————————————————————————————————————————
Speaking of past WCW stars, WWE.com has posted an article titled "The 20 Greatest WCW Matches of All Time". It's a good list and worthy read, with Ric Flair and Ricky Steamboat's Clash of the Champions VI bout nabbing the top spot. Of course, the list shouldn't be seen as credible, as it failed to list The Shockmaster's debut match at Fall Brawl 1993. Seriously, the guy is never given his due for revolutionizing awesome in professional wrestling. (WWE)
—————————————————————————————————————————
After filing for bankruptcy, long time wrestling video game publisher THQ has sold off its assets and properties, including their WWE license. According to IGN, Take Two Interactive has purchased the rights to creating WWE games. I'm excited to see where WWE games go from here. Consider the fact that Take Two has published such games as the GTA series, Red Dead Revolver, and the 2K sports games, and there should be plenty of optimism going forward for WWE. Awwwww, who are we kidding? The game is still going to suck compared to Wrestlemania 2000. (IGN)
—————————————————————————————————————————
WWE has begun sending out surveys regarding the names used for live events. Here are the choices offered to fans:
WWE World Tour

WWE: The Tour

WWE Live in action!

WWE Live

WWE Universe Live!

WWE Superstars Live!

WWE Presents

WWE Live Tour
Notice the lack of Raw/Smackdown branding? That could be intentional, with the WWE finally ditching the brand split. "Wow, what a phenomenal idea!" said everyone five years ago. (Wrestling Inc)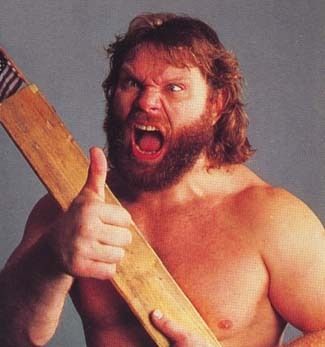 —————————————————————————————————————————
Finally, a special thanks to loyal reader Skitz M. Jones, who sent in a tip this week, informing us that Thursday Headline favorite Marty Jannetty will be headlining a POWW event on March 9th. He even supplied us with the event's promo flyer!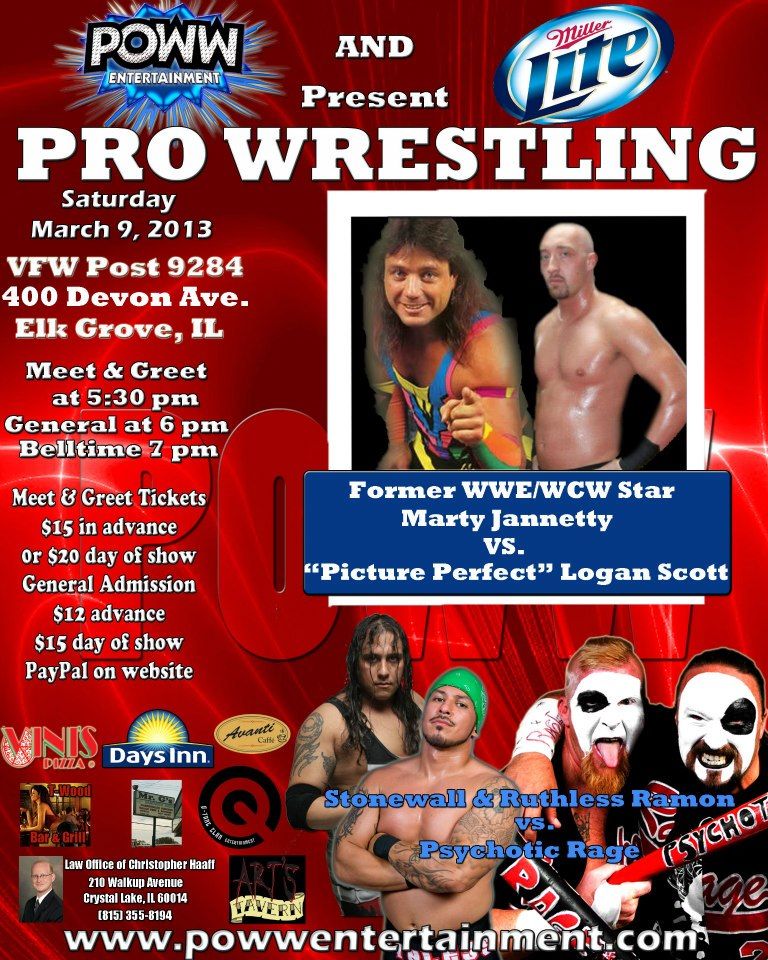 As someone who has utilized Marty Jannetty as the butt of about 100 jokes, I encourage you to attend the event and support Marty. We're actually big fans of the guy, and would probably go nuts if we ever met him. So show some love for our hero and buy a ticket! Because come on, he needs more for his "Jesus Christ I'm So Fucking Hungry" fund. (POWW)
—————————————————————————————————————————
Remember when I wrote The Sunday Sharphshooter? And then it turned into The Monday Sharphshooter? Well why the hell did I miss this week? Simple. I spent the weekend camping in Borrego Springs, California. For those unfamiliar, Borrego Springs is the mother f'n desert, with mother f'ing badlands. While I'd love to tell you that I spent the weekend wrestling rattlesnakes and punching coyotes in the throat, the truth is that it was my first experience camping at all, and I spent the entire time watching my girlfriend do EVERYTHING. After she set up our tent and ensured there were no bugs near our sleeping beds, I cowered in a corner, doing my best not to be cold in forty-degree weather; all the while William Regal's "Real Man's Man" entrance song played in my head:

He's a man, such a man
He's a real, real man's man
He's a man, such a man
He's a real, real, real, real man's man
He's a real, real, real, real man's man

He's a man, such a man
He's a real, real man's man.......

It was a traumatizing experience. Anywho, next week The Monday Sharpshooter should return to its regular schedule.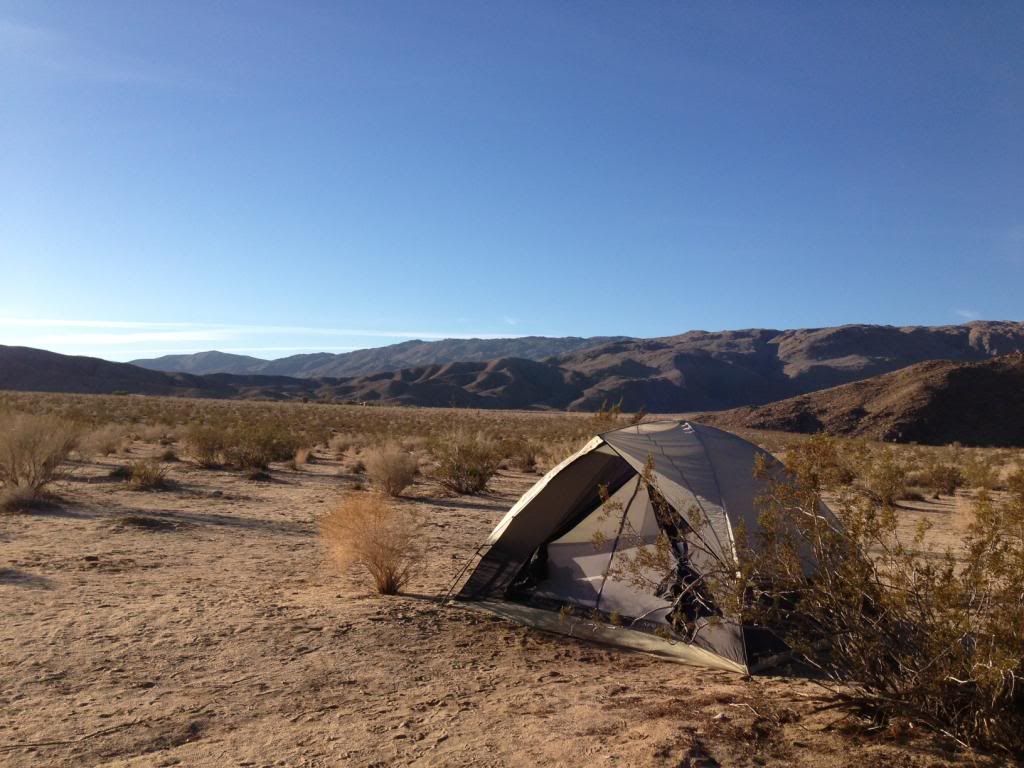 —————————————————————————————————————————
Written By Thomas Briggs
Email Thomas Here
Follow Thomas on Twitter