It looks like today is an incredibly slow news day for professional wrestling. I mean, there isn't even a new, major WrestleMania match rumor! I guess I'm just going to have to take the day off...
Holy hell! CM Punk just called the (former) Pope a Nazi!! Everybody go crazy!!! CM Punk is taking off his hoodie, and about to go toe to toe with the Catholic church! Awww yeah, shit is about to get real!
Oh... that story appeared two days ago? Well, hell. Still, there's gotta be something I can say about the story that wasn't already covered by Fozzie and Mike Ayers. I mean, I'm Catholic and all, I've gotta have a unique opinion on the story, right?
The thing is, I don't, at least not really. The Twitter post that Punk retweeted was funny. It was a play on words, and one of those words was Nazi. Clever stuff, and an almost irresistible chuckle. So you can't blame Punk for calling it "Magic".
For anyone who got offended, Punk simply stated a half-truth - "Pope was a Nazi". This is an instance where Twitter's character limit certainly hurts context. The key word in that sentence is "WAS". Punk was referring to the Pope's time in the Hitler Youth, a program for German children during Hitler's rule. Someone would interpret that as enough to label the Pope as a Nazi. Others would argue that the Pope was simply in a mandatory program like the rest of Germany's youth.
In other words, Punk's comments certainly weren't as inflammatory as many are making them out to be. Before demanding severe punishment, imagine how many people you personally know, or are on television, that have labeled others "Nazis". I've called a meter maid a Nazi before after he had my car towed for not paying my registration! If anything, Punk at least has a "slightly" excusable reason for his words. (SEScoops)
—————————————————————————————————————————
The WWE has officially dropped their lawsuit against former video game publisher THQ. WWE claimed that when THQ declared bankruptcy, and sold off its assets, it was breaching its exclusive contract with WWE to develop wrestling video games. The WWE license, though, was sold to Take-Two Interactive, and the company has agreed to continue developing WWE games on an annual basis, and also bring the Yukes development team into its fold. In other words, future WWE games are going to be a lot like the most recent past WWE games. That's great news for fans of WWE '12 and WWE '13, and terrible news for those of us cranky old guys who just want to play an HD WrestleMania 2000. Yeah, I said WrestleMania 2000 and NOT No Mercy. Get over it you dumb whippersnappers. (PW Torch)
—————————————————————————————————————————
Hulk Hogan is scheduled to be a part of WrestleCon in New Jersey on WrestleMania weekend. Hogan will be a guest of Legends of the Ring, who have also scheduled the Ultimate Warrior to be a part of the event. What will happen if the two happen to run into each other during the event? I imagine it would look like this: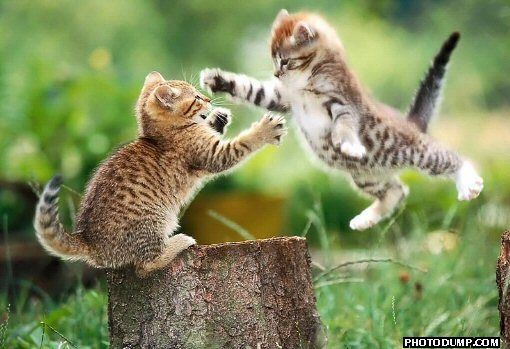 —————————————————————————————————————————
Speaking of Hogan, in a recent tweet he commented that he'd like to someday induct Randy Savage into the WWE Hall of Fame. While I'd love to give Hogan grief over the comment, and say that it's just Hogan trying to keep the limelight on himself, I just can't get over the main point of the tweet, which is to one day see Randy Savage inducted into the Hall of Fame. If Cyndi Lauper can be added to the WWE Hall of Fame, the Macho Man certainly should be as well. (Wrestling Inc)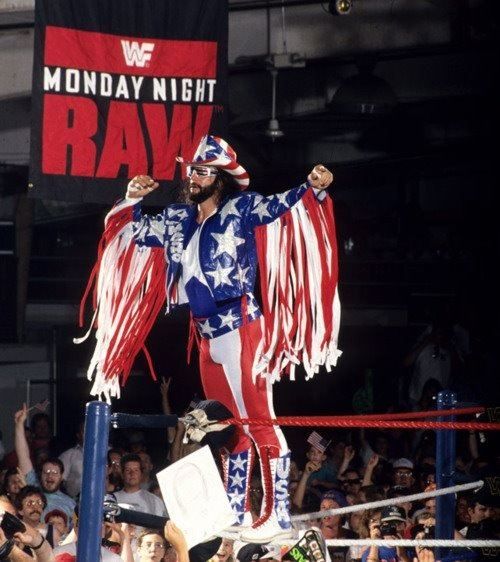 —————————————————————————————————————————
In an interview with The Sun, TNA Superstar Kurt Angle said that he plans on wrestling for three more years, and then dedicating his life to amatuer wrestling, including getting wrestling back on the Olympics schedule. In other news, Marty Jannetty has committed himself to bringing "Rocking out with your c*ck out" to the Olympics. When Thursday Headlines asked Jannetty to describe the new sport, he simply replied: "It's basically ribbon rhythmic gymnastics, but without pants." (Wrestling Inc)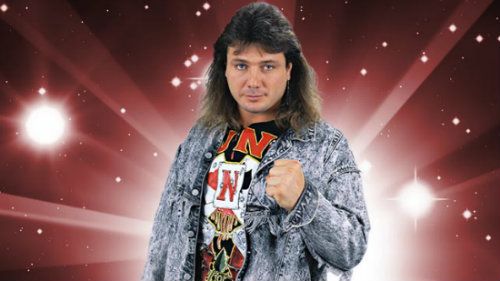 —————————————————————————————————————————
Written By Thomas and Aaron Briggs
Email Thomas Here
Follow Thomas on Twitter