The Iron Sheik challanges Rob Ford, TNA does more stupid things, and Kevin Nash talks about his most recent run with WWE.
It's no secret that we at Thursday Headlines reside in sunny San Diego, California. And while there are plenty of reasons to be thankful about living in such a beautiful city, our most recent mayor - Bob Filner - is not one of them. Just a few months ago, Filner made national headlines for being a disgusting womanizer, and was forced to resign due to dozens of sexual harassment claims. You read that right, DOZENS.
So yeah, while that was an embarrassment, at least Filner wasn't caught on camera smoking crack! ZING! Jokes now on you Toronto!
Yes, Rob Ford, the mayor of Toronto, was caught smoking crack on camera. And because of his reckless actions, he's deservedly receiving plenty of negative media attention at the moment. But although there have been plenty of calls for Ford to resign, he has chosen to stand firm, and remain in office until the next mayoral election.
But one brave and beautiful man has decided to fight back against Rob Ford. No, friends of Thursday Headlines, that man is not Marty Jannetty. It's none other than WWE and Twitter legend - Iron Sheik.
The Iron Sheik took to Toronto's City Hall this week to challenge Rob Ford to an arm wrestling match, saying:
"I saw he beat Hulk Hogan (in an arm-wrestling match in August). I want to know if he can beat the Iron Sheik or not, I was the champion before Hulk Hogan.

The man eats a cheeseburger and smokes crack. What kind of role model is that for the city? I just want to know if he is a real man or not."
In other words, The Iron Sheik is F*ing awesome. But you already knew that.
As for embattled Toronto Mayor Rob Ford, I don't know exactly what rock bottom looks like, but it can't be much more bleak than getting caught smoking crack and being publicly challenged to a fight by a 1980s wrestler, who quite possibly has a screw loose.
You know, unless you are a TNA employee. (Toronto Sun)
_________________________________________

In an interview with Big WrestleShark Radio, Kevin Nash had this to say about his most recent stint in WWE, in which he feuded with friend Triple H:
"If you would have told me at 50 years old, that at 52 I'd be in a ladder match [laughs]. I think it was a rib. I think they booked it, they called me up, put me on speaker and were waiting for me to start cursing and then I said 'alright fine I'll do it,' I think they just thought 'oh my god he's going to do it.' Visit Wrestling Inc.I knew it was against Paul, and I've always said I'll work against anyone good enough to carry me! I can't ballroom dance on my own. Gimme someone who can dance and I can do my part.

He's so busy from a running the company stand point, we basically called it on the fly because we didn't have time to do anything. I got out there, picked up the ladder and I'm like, 'oh my god this thing is heavy.' I'm waiting for him to get up, and I know when he does I'm gonna swing it at him and I know just from the physics of it, I'm not gonna be able to stop this ladder once I swing it... so it's comin. That's the thing about working with your friends; you'll take real good care of somebody you don't know, but you'll beat the hell out of your friends." (Wrestling Inc)
Kevin then went on to say "But seriously though, the damage we did to each other in that match was NOTHING in comparison to what we did to CM Punk's big run! I mean hell, we took the belt off him, and then forced him to put Paul over! Of course it was all worth it. Remember how big of a draw our match was? You don't? Well that's just plain old odd."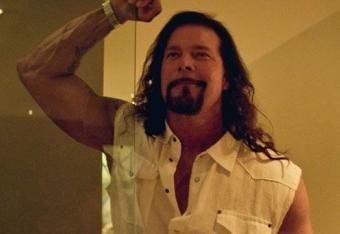 _________________________________________
According to The Wrestling Observer Newsletter, TNA will continue to keep AJ Styles off television for the next couple of months. The plan is to have Styles travel to other promotions to defend the title he won at Bound for Glory. While this idea may seem cool at first glance (you might remember a similar idea being tossed around when CM Punk defeated John Cena at Money in the Bank back in 2011), you should remember that WWE and TNA are two VERY different companies. While WWE can afford to experiment with its top performers, TNA is on its last legs, and keeping their legitimate champion off television for an extended period of time is the epitome of stupid. But hey, what else would you expect from a company who currently employs not one, but TWO Bischoffs? (Wrestling Inc)
_________________________________________
Dwayne "The Rock" Johnson is slated to star in the upcoming feature film "Seal Team 666", about an elite team of Navy Seals who battle supernatural evils. This, of course, is a major change to the original plot, which involved satanic fin-footed marine mammals voiced by a certain charismatic eyebrow-raising machine! (PW Torch)
_________________________________________
If you haven't listened yet, this week's SharpShooter Cast is a great jumping on point for TJR's only weekly podcast. We had a lot of fun discussing the "Top Guys" in WWE, WWF, WCW, and NWA over the last three to four decades. Here's this week's show notes:
- Bob Filner is a total perv.

- Hard-bristled tooth brushes: menace to society?

- Why didn't Hogan ever attempt to improve his in-ring work?

- Chris Jericho vs Triple H: Was either ever "the guy" in WWE?

- Thoughts on Montreal Screwjob. (Because it's still real to us DAMMIT!)

- Sean Waltman appreciation.

- SharpShooter Cast vs North Korea.

- A review and analysis of the latest episode of Raw.

- The rebirth of Goldust.

- Will Triple H ever put Daniel Bryan over?

- Final Raw scores.
Here's the STREAM:
Click HERE for the Direct Download.
If you're interested in listening to more episodes, visit our little corner in the iTunes Store. Be sure to leave us a rating! Or, you can always click "More" on the above player, and listen to our entire catalog. Pretty handy.
Finally, if you're like me and have a favorite app not made by Apple to play your podcasts (I love me some DOWNCAST for my iPhone, and iPP Podcast Player for my Android Tablet), here's the RSS Feed for your convenience: http://sharpshootercast.libsyn.com/rss
​As always, we appreciate any and all comments. Let us know what you think, positive or negative comments are welcome.
_________________________________________
Written by Thomas and Aaron Briggs
Email Thomas HERE