We get a sneak peek at the rumored new WWE Title, Edge and CM Punk trade girlfriends, and Ric Flair keeps on being awesome.
A possible picture of the new WWE Championship belt has leaked online. BeltTalk.com, a wrestling belt enthusiast forum, posted a picture of the belt yesterday. A change to the title has been rumored ever since CM Punk won the title at last year's Money In The Bank. The "Spinner" belt that John Cena introduced has worn out its welcome. But the rumors solidified this weekend, when Punk confirmed a new belt was in the works at Wizard World 2012 in Philadelphia. Said Punk:

"I email people that you people don't know exist and I bother them constantly about this damn thing. There is a new title. I've seen it. I'll probably get in trouble for saying it, but I don't think it's any better than the current one."

"It's better than [the spinner belt]. They literally just made it. It's about 20 pounds heavier than this one. I keep preaching that I want to be the guy – if I'm not the guy who doesn't produce a new title, then I'll be a liar, and I don't want to be a liar. It's out there, and it's coming soon. Probably a lot sooner than the ice cream bars." (YouTube)

Well, if this really is the new WWE Championship belt, Punk wasn't lying, it's not much better: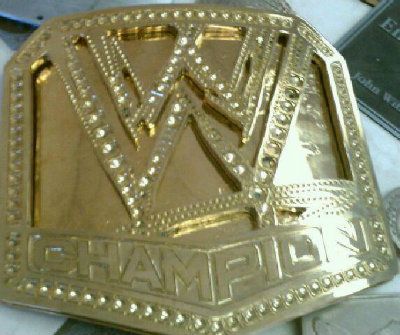 According to sources inside the WWE, this indeed will be the new title belt, after a couple of minor modifications are made. Before you get outraged, take a minute to go back over that last sentence. Modifications will be made. Which likely means the WWE Logo will be "diamond" encrusted, and the inverted swoosh will be made of red "jewels". In which case, it'll look a bit plain, but somewhat similar to the Spinner belt. Of course, it will nice to see "Champion" written on the belt instead of the abbreviated "Champ".

In other words, while not quite a looker, you wouldn't be ashamed to bring the belt back to meet your parents.

I guess my biggest issue with the belt is that it doesn't seem like much time was invested in the design. There's no way that this is the product of a years worth of work, ever since Punk claimed he would see that the belt was replaced. The belt looks like something a freshman graphic design student would come up with in a 90 minute class. It's uninspired.

I don't understand why the WWE finds it so difficult to design attractive title belts. It wasn't a problem in the past. The former "Winged Eagle" title was a thing of beauty. The Intercontinental Title has consistently looked fine. And the Undisputed Championship title was easily 12,569 times better than the current Spinner belt. But at some point, WWE forgot how to create good-looking titles.

The Divas Title? An abomination. The US Title? Ugly. The Tag Titles? Giant pennies. Outside of the Intercontinental Title, the World Heavyweight Title is the only belt that isn't an embarrassment, and that's because WWE hasn't changed its design.

I just don't get it. UFC belts look fantastic, and even TNA's Championship Title puts the Spinner belt to shame. Is it really that difficult to create something worthwhile? Here's a thought: wait until you have a good design. Don't rush things. Be proud of your product.

Of course, this is an unfinished product. Let's give WWE the benefit of the doubt, and pray that changes are made to improve the design. (SEScoops)
—————————————————————————————————————————
Former WWE Superstar Carlito revealed a past "drunken fist fight" with John Cena in an interview with The Konnan Show on MLW.com. Apparently the fight broke out after Cena accused Carlito of not working to his potential. Despite speaking about a physical altercation, Carlito spoke very highly of John Cena's character, saying:

"I think he just wanted to see me do better. Cena is one of those guys that's a top guy, but he wants to see other guys. He doesn't try to hold guys down, he wants to see them come up."

Carlito followed this statement with "Unlike that diva d-bag Hornswoggle. That guy looks down on EVERYBODY. Well not literally... you know what I meant." (SEScoops)
—————————————————————————————————————————
According to David Meltzer of The Wrestling Observer, Brock Lesnar is said to have "nuclear heat" on him in the WWE locker room. Not only has Lesnar been difficult to work with in his limited time back in the WWE, but Vince McMahon is said to be furious over Lesnar's appearance at UFC 146 and talks with Dana White. Wow, that sure does sound bad. The WWE reportedly hasn't seen such "nuclear heat" since Brodus Clay discovered the effects of combining and devouring a Doritos Locos and Volcano taco at Taco Bell. (f4wonline.com)
—————————————————————————————————————————
Last week, WWE Hall of Famer Edge was spotted with Beth Phoenix at the Devils vs Kings Stanley Cup Finals in New Jersey. According to The Wrestling Observer, the two are now officially dating. Phoenix, of course, was last in a relationship with WWE Champion CM Punk. Punk, who has dated several women in the wild world of professional wrestling, is now romancing Lita. And you'll remember, Lita was once involved in the most infamous wrestling love triangle ever, which included, you guessed it, Edge! Ah, the circle of life. Where everyone's penis has been in the same, damp, dark places. (f4wonline.com)
—————————————————————————————————————————
According to The Wrestling Observer, Alex Silva, the first contestant of TNA's Gut Check wasn't supposed to be offered a contract on television. Bruce Prichard and Ric Flair were supposed to vote no, with Al Snow being the lone yes. But Flair went off script after Silva's tear-filled promo, and gave the developmental talent a yes vote. Worried over audience reaction, TNA decided to not reshoot the segment, and instead offered Silva a spot on the TNA roster. Ric Flair, everyone. Spending other people's money to the very end! (SEScoops)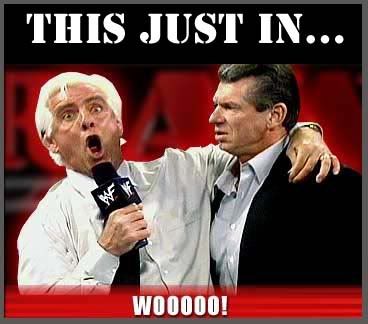 —————————————————————————————————————————
Kelly Kelly has been granted time off from the WWE. Although she may be the most popular Diva in WWE, she's been working without break since 2006, and is said to be burnt out. She'll take the time off to spend time with family, and recharge. How long Kelly Kelly will be out remains a mystery, with some in WWE believing she'll stay away for good. She's already begun to promote her pre-WWE stage name "Barbie Blank" and is accepting requests for appearances. Upon hearing the news, Jerry Lawler let out a terrifying howl, turned green, grew in size, and trampled downtown Memphis in a rage. (PWInsider)
—————————————————————————————————————————
Written By Thomas and Aaron Briggs
Email Thomas Here
Email Aaron Here
Follow Thomas on Twitter
Thanks for reading Thursday Headlines! Just a reminder, on Sunday I'll be posting a new Real Life Feuds. This one will be on Paul Heyman and Eric Bischoff. Should be fun to talk about in the comments. Also, I wanted to post a video in the Alex Silva/Ric Flair/Gut Check joke, but for some reason I couldn't get it up and running. It's a video of Joey Ryan, the second Gut Check contestant, "shooting" on Bruce Prichard, Al Snow, and Taz. Yeah, it's all a work, but it's really good. So even if you don't watch or care about TNA, I still recommend you give it a look. The guy is cheesy, but I think he could be entertaining. Check it out here.