Sheamus is out, Hulk Hogan chooses an actor for his life story, and the Unauthorized biography of CM Punk gets released.
There's nothing I hate more than a slow news day when preparing to write Thursday Headlines...
HOLY HELL, SHEAMUS IS OUT FOR 4-6 MONTHS DUE TO INJURY?!
I think that qualifies for a major news item. Of course, there's pros and cons when a major news item happens on a Wednesday. It means I, the perennially lazy writer that I am, must write extensive thoughts on the subject.
Not today my friends. Not today. John has me covered today! Yes, the editor in chief of TJR Wrestling broke the news earlier today, and wrote his thoughts on the topic. For the record, I agree with him on thoughts like these:
"Sheamus is a guy that has been featured on television as much as anybody in WWE the last four years. He's even featured more than John Cena because Cena's rarely on Smackdown. It seems like he was wrestling on television every week the last few years. Since he was pushed heavily in 2009 and he beat Cena for the WWE Title at TLC in 2009 he's been one of the most durable guys in WWE. As he said in the article, he's never had any kind of surgery before.
He's a guy that always works hard all the time. I like a lot of his longer matches because he gets the crowd involved, his moves generate a reaction and he does a great job of telling a story. I think sometimes his babyface character isn't likable because he can be too much of a bully or they have him saying bad jokes. However, more often than not I like his performances."
That's pretty much a perfect summation of my thoughts. Honestly, I've got nothing new for you. Sheamus is a great performer, but it sometimes feels like his babyface run is in a rut. While I look forward to a character refresh, I'm going to be sad to see Sheamus' four-star matches with just about anyone (seriously, his matches with Big Show were classics!) go away for a while.
Perhaps, while he's out recovering, WWE can introduce a Sheamus replacement?
————————————————————————————
Everybody's favorite movie star wrestler - The Rock - took to Twitter to show off his new Got Milk ad:
Drink milk. Get protein. Save world. All before 8am. @MilkMustache #UngratefulKitty #RockTheStache pic.twitter.com/5Nesnc3yeF

— Dwayne Johnson (@TheRock) August 6, 2013
While the ad doesn't directly state that drinking milk lends to a body builder esque physique, the inclusion of "Protein saves the day" next to a jacked Dwayne Johnson certainly suggests the point.
Missing underneath the tagline is: "Also, steroids. Steroids save the day."
————————————————————————————
TMZ caught up with Hulk Hogan at LAX recently, and asked him when a movie about his life would be made. According to Hogan "It's being worked on right now, brotha!" If that isn't enough to get you excited (you need to check your pulse, brother!), maybe this bit will: when asked who he thought would play him well in the biopic, Hogan responded that his son, Nick Hogan, would be PERFECT for the role! To which, out of nowhere, Bret Hart popped out and yelled: "That's not what John Graziano thinks, dickhead."
If you get that one, internet high-five to you. (PW Torch)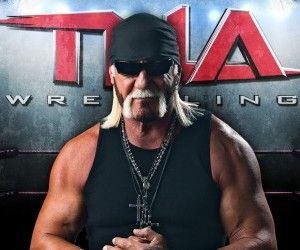 ————————————————————————————
PW Torch has reported that there is now an "unauthorized" biography of CM Punk available on Amazon.com, titled: Best in the World: The Unauthorized Biography of Phil Brooks. Besides having a SUPER original title (sarcasm meter level 5), you can tell the book is going to be a riveting read due to its staggering 32 page length (sarcasm meter broken). Look, I'm not going to tell you how to spend your money. But if you're absolutely looking to throw away $2.99, I've got this amazing 33 page Marty Jannetty biography all ready to go! 50% of the proceeds go to the starving wrestler fund.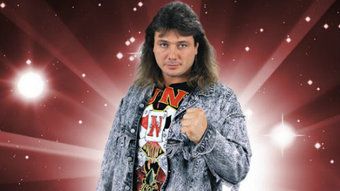 ————————————————————————————
If you missed it on Tuesday, the writers of Thursday Headlines are proud to present to you Episode 3 of the Sharpshooter Cast. Once again, we're TJR's only weekly podcast (that's bound to change at some point, so I'm going to get as much mileage out of it as possible). This week, we talked about:
- Smackdown's superb main event.
- TNA's big announcement being an even bigger letdown.
- A thorough review of Raw.
- Listener questions:
1) What was the standout moment that made us fans?
2) Where, internationally (not including Canada), should WWE hold a PPV?
- WWE documentaries are awesome!
If you'd like to subscribe, you can do so in two ways. Here's the iTunes link, and here's the RSS feed: http://sharpshootercast.libsyn.com/rss
And here, my friends, is the Direct Download link. So give it a listen, and let us know what you think. Questions and comments regarding the podcast can be read in the next recording.
Thanks to everyone for reading/listening!
————————————————————————————
Written by Thomas and Aaron Briggs
Email Thomas HERE