HHH gives fans what they want, while refusing fans what they want, John Cena releases a mobile game, and Thursday Headlines meets Mick Foley!
In possibly the least impressive "get" in the history of so-called internet journalism, WWE.com sat down with Triple H for an exclusive interview. Now, I know that there was a lot of snark in that sentence, but when it pertains to the "King of Kings", it kind of comes with the territory.
The interview was kept in character, and used as a way to further current top storylines on Raw. Possibly the most exciting of which involved Triple H inviting the entire Rhodes family to appear on the next episode of Raw. Why invite the family back, you ask? Because it's what the fans want, Triple H explains. And if there's anyone in tune with what wrestling fans want, it's Triple H.
Speaking of what fans want, Triple H cited that as his reasoning behind his decision on Monday to put the Shield in an 11 on 3 handicap match.
If you're like us on Thursday Headlines, the match made absolutely no sense when booked. Why would Triple H, who has clearly fashioned himself as a top heel, punish The Shield, a heel stable who actively protect him, his wife, and his hand-chosen face of the company?
According to Triple H, it's what fans wanted to see. And giving fans what they want to see is good for business. So follow me here: having a hated heel stable dismantled due to overwhelming opposition = good for business. But putting the title on the arguably most beloved superstar in the company = bad for business?
I get that this is all storyline, and in the long run, getting hung up on silly inconsistencies and logic holes doesn't really matter. But good Lord, can't WWE even try to keep it together??
_________________________________________
Sports Illustrated released a Twitter 100 list this week, featuring the 100 most influential athletes on Twitter. The ONLY wrestler to be featured was CM Punk. The publication had this to say about Punk's activity on Twitter:
"The seven-time WWE champion (and noted Blackhawks and Cubs fan) is a master of the Twitter mic, whether mocking spelling and grammar mistakes from Twitter trolls or tweeting photos of himself to battling singer Chris Brown ("I would like @chrisbrown fight somebody that can defend themselves. Me curb stomping that turd would be a #wrestlemania moment.")" (Wrestling Inc)
While Punk is undoubtedly an entertaining performer on and off Twitter, we have to say, Sports Illustrated snubbed possibly the most deserving professional wrestling Twitter user of them all, the man, the myth, the legend:
_________________________________________
Roddy Piper made an appearance on last night's episode of It's Always Sunny in Philadelphia, reprising his role as "The Maniac", a past his prime pro wrestler. While not the funniest episode in the series' history, Piper was very entertaining in the role. So much so, that I'd recommend checking out the episode on Hulu Plu… wait a sec, It's Always Sunny isn't on Hulu Plus?? I HATE HULU PLUS.
_________________________________________
WWE issued a press release yesterday, announcing the launch of "John Cena's Fast Lane", an iOS and Android game. The app release is significant in that WWE co-produced the game with John Cena the individual, rather than funding the entire project under their one banner. Obviously, if the game turns out to be a big success, John Cena stands to make a nice profit. This opens up so many opportunities for future joint efforts between WWE and individual pro wrestlers. Our most anticipated release? Marty Jannetty's "Foot Race to Soup Kitchen", to be released on iOS this holiday season. (Market Watch)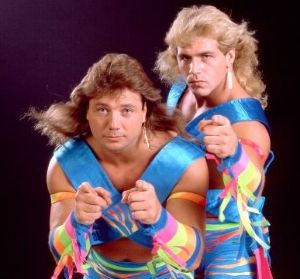 _________________________________________
Check out the latest episode of The SharpShooter Cast, which features a review of Mick Foley's Stand Up Tour:
- A story about golf, and why we released thisweek's episode late.
- A review and analysis of this week's episode of Monday Night Raw.
- A review of Mick Foley's Stand Up Tour.
- Mick and Tom make a connection.
- Aaron asks Mick: What was your greatest feud? vs Undertaker, Rock, or Triple H?
- Listener question: What is our favorite wrestling entrance music?
- A note on future episodes of the SharpShooter Cast
Here's the DIRECT LINK to download. And you can always find us on iTunes.
Let us know what you thought of the episode in the comments. Have any of you checked out Mick Foley's stand up tour yet? And what is your favorite entrance music? And as always, any questions will be answered on the podcast, so fire away! We appreciate your continued support.
_________________________________________
Written by Thomas and Aaron Briggs
Email Thomas HERE