Vince McMahon to boost ratings, who came up with the Paul Heyman proposal storyline, and Saturday Morning Slam is canceled!
If you read yesterdays Headlines here on TJR (and where else would you get your daily dose of wrestling news??), you'll know that Raw saw a steep decline in ratings this week. PW Torch reported that Raw declined all the way down to a 2.68 rating.
Of course, there are several reasons behind Raw's ratings slide. The biggest of which is competition. WWE is now facing off against Monday Night Football every week, which attracts much of the same demographic as Raw. Also, John Cena has been absent from television due to injury, and while that may please some hardcore fans, he's clearly the company's biggest draw.
So what's WWE's solution to their ratings problem? Are they going to stay the course, and make elevate young talent to new heights, ensuring future ratings draws? Of course not! VINCE MCMAHON IS COMING BACK TO TV, BABY! (Just imagine I said that in Chris Jericho's voice)
The Wrestling Observer is reporting that Vince McMahon will make an early return to Raw, possibly within the next couple of weeks. The original plan was to have McMahon return in November, but the WWE feels that he could boost ratings immediately.
So there you have it, the WWE is convinced that more McMahon family = better ratings. Silly of us to think that more coherent, consistent storylines, a stronger midcard, and time given to wrestlers fans ACTUALLY want to see, you know, like Dolph Ziggler, would lead to more viewers.
But instead of getting better quality television, along with a fair share of Dolph Ziggler, we get more of these goons:
You know, Thursday Headlines actually wouldn't mind to see Shane McMahon back. That guy had some stones.
_________________________________________
Speaking of Vince McMahon, The Wrestling Observer is reporting that Vince himself was behind this week's teased marriage proposal between Paul Heyman and Ryback. Apparently the idea was to create a shocking moment that would draw some attention away from Monday Night Football. While some may find WWE bating homophobia out of its audience offensive, what do you really expect from this guy?
_________________________________________
In an interview with Busted Open Radio, Austin Aries was asked why the momentum behind TNA has recently faded. Aries answered: "I know why it's gone and I'll keep that to myself. I don't control those decisions, all I can control is what's in front of me and I feel whatever you put on my tee, I'm going to knock out of the park."
Luckily for you, Thursday Headlines is here to translate. What Austin Aries was really saying was "The people running TNA are idiots who don't understand a hot run from a hot pocket. Sure, I derailed James Storm's big push, but there was absolutely no reason we couldn't work together. We were two of the hottest things going. Instead, TNA decided to stall both of us. PLEASE HELP ME, THEY'RE SUFFOCATING ME HERE!"
Boy, that sure was a candid interview.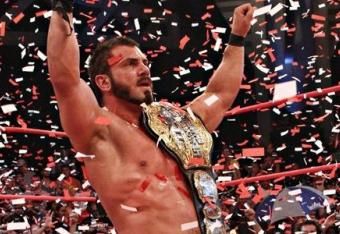 _________________________________________
It looks like Saturday Morning Slam, WWE's kid friendly weekly program, is officially cancelled. The program, which aired on CW, was apparently being retooled as a "news magazine" show, which would offer a different look at WWE's backstage elements. Unfortunately, all of the changes couldn't be decided on/made in time. So, Saturday Morning Slam is no more. "OH NO!" yelled absolutely no one in the world. But if, hypothetically speaking, there actually was someone out there who enjoyed a wrestling show which feautred absolutely no moves or holds to the head/neck, we're pretty sure he would yell "Oh no!" like this guy:
_________________________________________
Listen to the biggest episode of The SharpShooter Cast yet! Featuring an interview with TJR's Marc "Fozzie" B., a review of Raw, and an extra special look at the finale of Breaking Bad!
Here's the STREAM:
Here's a Direct Link for the download. And you can find all of our episodes on iTunes.
Let us know what you think in the comments. Should TNA re-sign Hogan and/or Sting? What did you think of the Breaking Bad finale? Sure, it had nothing to do with professional wrestling, but it was awesome!
_________________________________________
Written by Thomas and Aaron Briggs
Email Thomas HERE