Last week, we reported on the rumor that TNA's Bound for Glory would be coming to Thursday Headlines' hometown - San Diego, California. Well, the rumors turned out to be true, and The Hulkster and friends are indeed coming to our little city by the bay. Although we told TNA to stay the hell out of our city, we're actually looking forward to the event and have, yes, purchased our tickets already.
Now, I know a bunch of the TJR Staff got together for WrestleMania this year and last, but I don't expect the same for Bound for Glory. Call me pessimistic, but I think it's just slightly less of a big deal. Slightly. Wink.
But if you're interested in coming to the World's Finest City (that's honestly the nickname of San Diego) and watching TNA's biggest event of the year, you'll be able to spot us in the crowd at Viejas Arena, holding up the world's largest Marty Jannetty sign. In both honor of our beloved Marty, and SDSU's The Show. Hope to see you there.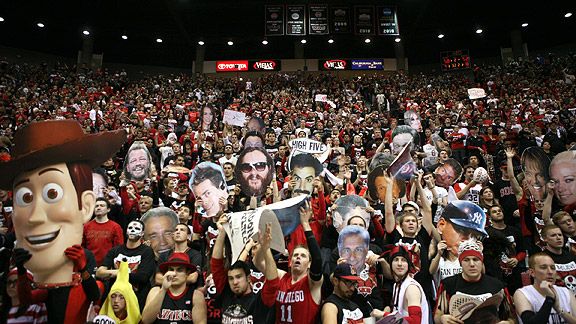 ————————————————————————————
George Stephanie Bellars Frankenstein - formerly Gorgeous George, a valet for Randy Savage in WCW - took to Facebook as a cry for help yesterday. Here is what she wrote:
"Mylige.sucks if i cant get a car and drive to find.a.job this week i am going to end it i cant take it anymore my life.has.too manyproblems i am nothing but a burdon on people i wish God would get.me.out of here"
Frankenstein's career has gone downhill since the late 90s, and she has since resorted to selling foot fetish photos online. Of course, business dried up a bit once Rex Ryan and his wife sent Frankenstein a cease and desist letter for stealing their idea. (Wrestling Inc)
————————————————————————————
WWE released this press release yesterday:
WWE Returns to China

June 5, 2013, London - WWE (NYSE:WWE) today announced that it will be returning to Shanghai, China on Friday, August 2, 2013 at the Oriental Sports Center. Tickets are available via www.Ticket2010.com.

Fans attending WWE LIVE® will be able to see all their favorite Superstars and Divas in action including WWE Champion John Cena®, Ryback™, Kane®, Daniel Bryan™, Kofi Kingston™, Natalya™ and many more*.

"We are extremely delighted to be back in Shanghai and offer the 'WWE LIVE' experience to Chinese fans for the first time," said Sweesin Wu, WWE's Vice President & General Manager, Asia Pacific. "We look forward to showcasing our unique brand of family-friendly entertainment that only WWE can deliver."

WWE opened an office in Shanghai in 2007 and took part in Expo 2010 Shanghai at the Mercedes Benz Arena giving fans a first look at the WWE live event experience. Last August WWE debuted WWE SmackDown® at the Oriental Sports Center.

*Lineup subject to change, see www.wwe.cn or http://weibo.com/u/2479110454 for details.
Of course, I, and I assume many others, first thought this was a press release for a new "adult film" starring Chyna. Shucks. (Wrestle Zone)
————————————————————————————
WWE.com has a new article up exploring the 10 greatest wrestlers of all time who never appeared in the WWE/WWF. Naturally the list concluded with Sting as the greatest performer to never wrestle for Vince McMahon. The article included a cryptic hint at a possible Sting vs Undertaker showdown at a future WrestleMania, and isn't that the only realistic opportunity of seeing the Scorpion Death Lock in a WWE ring?
At this point it has to be. While I'm sure that Vince will continue to pursue Sting until the day he retires, a one-time only match might be the only worthwhile deal for the Stinger. Think about it, at this point any sustained run in the WWE would only expose deficiencies in the "past his prime" Sting. We're currently seeing that version of Sting right now in TNA. A match on wrestling's grandest stage could entice the legend, but anything short of that, and I believe Sting would prefer to stay the greatest to have never been under the WWE umbrella.

Besides, the WWE is only big enough for one Stinger, and I don't think Dusty Rhodes' bumble bee trunks are ready to come down from that perch. (WWE)
————————————————————————————
In a recent interview with The Sun, Chavo Guerrero spoke about the differences in working for TNA and WWE. According to Chavo:
"The big thing here is that it is like a family. One big TNA family I guess you could say. It may not be a Hollywood and have the spectacle others have. But what we lack in money, we make for in talent and quality. In my opinion this is the best roster in the world right now. We have so much talent that we can put on good quality shows wherever we go."
Chavo's unpublished follow up to this quote was: "I mean, have you guys noticed that Sting and Hogan are the top babyfaces here? Shit! It's like the late 90s all over again! Not like those goofs over at WWE, pushing no names like Daniel Bryan and Dolph Ziggler. Trust me, bad move. Wait a sec guys, I have to go check and see how my stock in Napster is doing." (Wrestling Inc)
————————————————————————————
Nikki and Brie Bella promoted their upcoming E! reality show on NBC's The Crossover yesterday. During the interview, the Bellas confirmed that their real life boyfriends - John Cena and Daniel Bryan - will indeed make appearances on the show. While we hate "reality" tv as much as anyone, the fact that Daniel Bryan gets to show the world that he landed a Bella is pretty awesome in my book. So ultimately, this gets a big thumbs up from Thursday Headlines. (Wrestling Inc)