Find out who sponsored Kurt Angle in rehab, when Rey Mysterio figures to retire, and whether or not Jim Ross considers Smackdown a "B" brand.
It's no secret that we at Thursday Headlines are big fans of Kurt Angle. The guy is a natural in the ring and one of our favorite performers of all time. He's got charisma, uncanny athletic abilities, and a fearlessness rarely seen in performers who have suffered the kinds of injuries he has. He's just all around awesome.
But the guy has his flaws. In August he was arrested for driving under the influence of alcohol. This would have been awful even as an isolated incident. But it wasn't; it was another instance of destructive behavior by Angle, a pattern he's seemingly been on for the better half of a decade.
Luckily, in August, Angle decided to take a break from wrestling with TNA, and get help by going into rehab. And as Bound for Glory (TNA's biggest event of the year) approaches, Angle is in the spotlight once again, and giving more insight into his recent struggles.
In an interview with Montana's Hot 1019 radio station, Angle expressed his gratitude towards those who supported him through his time in rehab. One interesting fact became public in the interview: the rehabilitation program Angle entered into was sponsored by none other than the WWE.
Now, I'm not here to sing the praises of WWE. I think the McMahon family, primarily Vince, has done plenty of damage to others throughout the WWE's history. Still, you have to appreciate their efforts in supporting former employees getting well. We've seen it in the form of rehab for Scott Hall, Jake the Snake, and now Kurt Angle.
Thursday Headlines will be at Bound for Glory this Sunday, in San Diego, California. And we're ecstatic to see Kurt Angle in action at the event. The card was looking terrible without him, and he'll no doubt add plenty of entertainment to the show.
But it does make you stop and think: WWE sponsoring Angle's rehab has done more to sell me on Bound for Glory than anything TNA has done in the past year. Gotta love Dixie Carter and Hulk Hogan!
_________________________________________
In an interview with WWE.com, cruiserweight legend Rey Mysterio JR. revealed that despite all of his recent injuries, he is in no hurry to retire from professional wrestling. According to Rey, he doesn't envision finishing his career for another two to three years. I guess you could say "when Mysterio retires remains a mystery-o".
Yeeeeaaaaahhh!!
_________________________________________
In Jim Ross's most recent blog at JR's BBQ, Ross defends the Smackdown brand, and says that while the show is perceived by fans as WWE's "B" show, it's actually on the same level as Raw. Jim Ross everyone, a classy professional despite no longer being employed by the WWE. He's a regular Wayne Jarvis.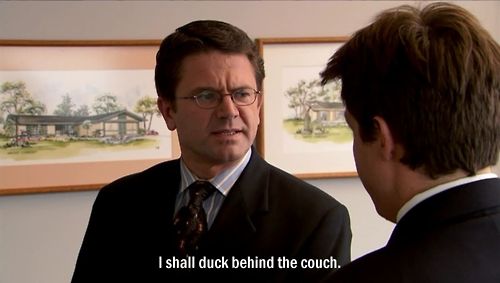 _________________________________________
Wondering where WWE Wade Barrett has gone? Well according to PW Torch, Barrett has been absent from WWE television due to issues with his Visa. I can relate to Barrett, as Thursday Headlines fans will be shocked to learn, I've had issues with my Visa as well. Specifically, too small of a credit limit. HEEEEEEY OH!
Terrible joke? Well here's a pic of Marty Jannetty to cheer you up:
_________________________________________
If you haven't yet, be sure to check out the latest SharpShooter Cast - TJR's only weekly podcast, featuring your Thursday Headlines writers! This week is our biggest episode yet, featuring an extended interview with TJR's own John Canton.
Here's the STREAM:
Click HERE for the Direct Download.
If you're interested in listening to more episodes, visit our little corner in the iTunes Store. Be sure to leave us a rating! Or, you can always click "More" on the above player, and listen to our entire catalog. Pretty handy.
Finally, if you're like me and have a favorite app not made by Apple to play your podcasts (I love me some DOWNCAST for my iPhone, and iPP Podcast Player for my Android Tablet), here's the RSS Feed for your convenience: http://sharpshootercast.libsyn.com/rss
_________________________________________
Written by Thomas and Aaron Briggs
Email Thomas HERE