Jim Ross retires, Kevin Nash trolls, and Gail Kim speaks up!
The big news of the day is Jim Ross's announcement that he will be retiring from the WWE. Andrew touched on the news a bit yesterday, but a bit more information has surfaced since the WWE first reported the news on their website.
Since the news was released, The Wrestling Observer has reported that Ross's retirement is due in part to his lack of control over Ric Flair at last month's WWE 2K14 event. Vince McMahon is said to have been displeased that Ross failed to simply cut Flair off once he went "off script". (The Observer)
Honestly, I don't know if I believe that report. If true, Vince McMahon is punishing the wrong man. If not, then this is just a case of Ross moving on because his services were no longer needed. I think that's a mistake, because Ross is arguably the greatest professional wrestling commentator ever, but the WWE and Jim Ross have every right to make a change that better suits both their interests.
Personally, I'll miss Jim Ross. My first memories of wrestling commentary consisted of Gorilla Monsoon, Vince McMahon, and Bobby Heenan, but my FAVORITE memories of wrestling commentary always consisted of Jim Ross and Jerry Lawler. The two shared great chemistry.
Ross was the definition of a pro. At their best, commentators help tell stories in professional wrestling. They give meaning and significance to the action we're all watching. No, they aren't absolutely necessary, but they can elevate a story from good to great. Some of the greatest moments in WWE/WWF over the last twenty years were so memorable because of Jim Ross. His importance can't be understated. He will be sorely missed, even if he hasn't been a regular presence in quite some time.
But don't worry about the man himself. Ross blogged about his departure later in the day on Wednesday:
"I was fortunate enough to have a key role in arguably one of the most interesting and compelling eras in our business's history.
Hmmmm....perhaps a book is in order some day. Time will tell. Now I actually have the time to write the autobiography many have asked about over the years.
For the record, I'm not purchasing a rocking chair so I'm not "going away." I have many interests & I plan on exploring them all." (JR's BBQ)
When Jim Ross decides to finally release an autobiography, I'll be standing in line, outside of my local Barnes & Noble, ready to purchase it. Can't wait to see where he goes from here.
_________________________________________
Darren Young, who has been heavily featured in the mainstream media after coming out as gay, will be a guest on the Ellen show this Friday. When asked what we can expect to see in his interview, Young answered: "A complete lack of sexual tension, and a whoooooole lot of embarrassingly bad dancing." (SEScoops)
_________________________________________
Here's a story that fell through the cracks: After Raw on Monday, Kevin Nash took to Twitter to "complement" Daniel Bryan. As we've all learned over the years, Kevin Nash NEVER says anything stupid, so this is sure to be good:
What's really amazing is the hottest angle The vanilla midget angle.Bryan is fantastic and the WWE corp. Against him is must watch

— Kevin Nash (@RealKevinNash) September 10, 2013
Should you be offended that Kevin Nash called Daniel Bryan a "vanilla midget"? Perhaps. But only if you're also offended by me calling Nash a "condescending cock". I guess we can all be mean sometimes.
_________________________________________
The Miami Herald published a recent article focusing on TNA Knockouts star Gail Kim. This is a highly recommended read, as Kim talks about the differences in women's wrestling in TNA and the WWE. As someone who has been at or near the top of both wrestling organizations, Kim is able to shed light on both products from a very rare, and more importantly, credible position. With zero negative publicity behind her name, quite simply when Kim speaks any wrestling fan should be inclined to listen.
Now I know this may seem a bit crazy, but perhaps Kim and TNA are on to something concerning women's wrestling. Maybe, just maybe, the future of women's wrestling will consist of not only sexy/strong female characters, but also those who are adept at performing in the ring. What's that Vince? Not a fan? Ok, I guess an occasional Bella twin nipple slip is the direction we are headed. Good enough for Marty and I!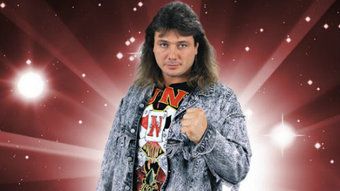 _________________________________________
Hulk Hogan spoke with a local Fox affiliate in St. Louis about TNA 's upcoming No Surrender edition of Impact, as well as other minor tidbits regarding his experiences in professional wrestling's number two company. Unfortunately, once again no one asked the most important question that has shockingly eluded the Hulkster over the years: How come I've been taking my vitamins and saying my prayers since I was four and yet my body still looks like shit and I can't even do a leg drop in the ring without f'ing up my tailbone?! Sure, I have a fu Manchu that is the envy of my neighborhood, but where is my starring role on "Thunder in Paradise?!" Yeah, that's right, I think I've earned a show focusing on speed boats and terrible dialogue after taking all those damn vitamins over the years! (SEScoops)
_________________________________________
If you missed it, this week's SharpShooter Cast features TJR Star Heather Hickey, and one hell of a heated argument between your Thursday Headlines guys.
A quick rundown of Episode 8:
- A quick discussion on NFL football.
- An analysis and review of the 9/9/13 episode of Monday Night Raw.
- An interview with Heather Hickey covering:
- Her live report of Raw in Toronto.
- Her history with live shows.
- A preview of what she's working on for TJRwrestling.com.
- How well do we think Triple H is playing his current character?
- A HEATED ARGUMENT!
- Tension.
- Listener question: Do we have special twin powers?
- MORE HEATED ARGUMENT!
Here's the STREAM:
Let us know what you thought of our discussion in the comments. Is Triple H putting himself ahead of Daniel Bryan and Randy Orton? We want to know your thoughts, and we will of course respond to them on next week's episode.
Click HERE for the Direct Download.
If iTunes is your thing, we're very easy to find. Just search for "Sharpshooter" in the store. We'll be in the podcast section. Here's a LINK to our little spot in the store. Be sure to leave us a review!
_________________________________________​
Written by Thomas and Aaron Briggs
Email Thomas HERE