According to the Wrestling Observer Newsletter, Sheamus and Sin Cara (Jorge Arias) were involved in a backstage altercation this past week, in which, shockingly, Sin Cara got the best of Sheamus. Yep, another case of small dude taking down a big dude. It's enough to make future Vince McMahon spin in his grave! That was morbid.
Honestly, details are sparse at the moment, so you should take this news with a grain of salt. But if true, it wouldn't be the first time a smaller, but more experienced wrestler, has bested a significantly bigger foe. Chris Jericho (one of Thursday News Update's heroes) famously took down Bill Goldberg, and Booker T once made Batista look foolish. Booker T isn't the smallest man out there, but you get the point.
The difference between Sheamus vs Sin Cara and the other fights mentioned is the fact that we at Thursday News Update REALLY like Sheamus. He seems like a cool dude and has the ability to have a great match with just about anyone. Moreover, he seems like a good person. Have you watched the Daniel Bryan road to WrestleMania 30 documentary yet? It's impossible to not come away from that not liking Sheamus all the more. So whatever the issue was between he and Sin Cara, we sincerely hope it doesn't negatively affect him in the future.
The one man happy to read this news? Zeb Coulter. That crazy racist son of a gun may have just crossed out two names off of his deportation list. (Wrestling Inc)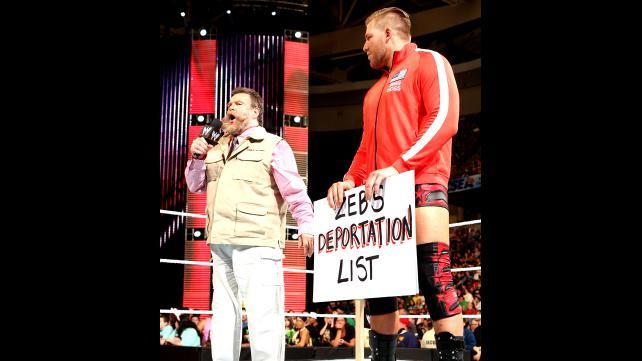 ​_________________________________________
Here's an update to our feature story: Responding to the online reports of a backstage altercation with Sin Cara, WWE superstar Sheamus took to twitter to say, "Must be getting punchy. Don't remember being beaten up by Sin Cara backstage… It's just how Mexicans & we Irishmen hug it out fella."
When asked for comment about said altercation, Thursday News Update correspondent Marty Jannetty responded, "I wouldn't personally settle a conflict with fisticuffs, that's just how I was raised. But hey, hobo-life ain't for everyone." (Wrestling Inc)
_________________________________________
According to SEScoops, WWE superstar Randy Orton was originally slated to turn face in the near future, but is now considered to be locked into his current heel role. We don't have a joke here, just a rant. Why in the hell was Orton even being considered for a face turn? Was no one in creative even remotely around the product during Orton's previous face runs? Seriously, what's next? Turning Rey Mysterio heel? Seriously guys, I don't care how many douchey t-shirts Randy Orton can sell to everybody's awkward cousin, but know your talent! We here at Thursday News Update know two things about life, dinosaurs in sunglasses are hip, and Randy Orton isn't a good babyface.
_________________________________________
In an interview with F4WOnline, former TNA talent Christopher Daniels described his being surprised with his recent release from the struggling wrestling company. This comes as a bit of a shock to us at Thursday News Update, as TNA's classic tagline "developmental system for the indies" should have probably raised a red flag. (Wrestling Inc)
_________________________________________
Thanks for reading, and be sure to listen to our latest episode of The SharpShooter Cast! This week we review Extreme Rules, which we both found tremendous. Give it a listen!
This week's episode covers:
Can Chris Benoit's son have a career in pro wrestling?
Who do we prefer: Kurt Angle or Mick Foley?
Listener Questions: 1) Who would we book in a dream Elimination Chamber match? 2) Who do we think will feud with Daniel Bryan after Kane?
Our thoughts on the news that Batista will be leaving WWE early?
A Review of WWE's Extreme Rules.
John Cena vs Bray Wyatt was an overbooked mess.
WeeLC far surpasses expectations.
WWE makes fun of Putin and then pays tribute to Special Olympics = Awesome.
Who is the most offensive WWE character: Kamala, Eugene, or Crime Time.
Evolution vs The Shield was perfect.
Bryan vs Kane delivers something delightfully different.
A Review of the 5/5/14 episode of Raw.
Sheamus captures the US Title.
Daniel Bryan unfortunately involved in a cheesy storyline.
Adam Rose makes his debut.
Shield vs the Wyatt's delivers.
Final Raw scores.
And here's the Direct Download! (Right click and "Save Link As")
If you're interested in listening to more episodes, visit our little corner in the iTunes Store. Be sure to leave us a rating! Or, you can always click "More" on the above player, and listen to our entire catalog. Pretty handy.
Finally, if you're like me and have a favorite app not made by Apple to play your podcasts (I love me some DOWNCAST for my iPhone, and iPP Podcast Player for my Android Tablet), here's the RSS Feed for your convenience: http://sharpshootercast.libsyn.com/rss
​_________________________________________
Written by Thomas and Aaron Briggs