What do we at Thursday News Update do when it's a slow news day? We dredge up old stories of course! It's the American way. (Picture bald eagles, Hulk Hogan, and hot dogs right now.)
Thanks to the mainstream news media, dredging up an oldie but goodie wasn't too difficult this week. A BIG story making the rounds this week has been Stone Cold Steve Austin's comments on gay marriage. In the interest of full disclosure, Austin made these comments nearly a year ago on a podcast. Yet it's taken until now for the media to pick up the story and run with it.
TMZ, Deadspin, USA Today, and now TJR. All peas in a pod! Except with varying degrees of integrity.
Here's a quote from Austin's remarks on gay marriage:
I believe that any human being in America, or any human being in the ******* world, that wants to be married, and if it's same-sex, more power to them.…….

What also chaps my ****, some of these churches, have the high horse that they get on and say 'we as a church do not believe in that.' Which one of these people talked to God, and God said that same-sex marriage is a no-can-do? (USA Today)
Regardless of your feelings on the topic (my beliefs unapologetically fall right in line with Austin's), it's nearly impossible to view Austin's statement as anything else but ballsy and brave. BALLSY I say!
I think it's fair to say that wrestling fans have been stereotyped in the past. Heck, Glenn Beck did so as recently as a year ago. And that stereotype wouldn't be "progressive and tolerant". But the WWE, despite their insane history of stereotypical characters, have also been at the forefront of some major ideological changes over the years. And I'd like to give wrestling fans the benefit of the doubt and say that WE are just as kind, tolerant, and empathetic as any other community of people.
But Stone Cold Steve Austin absolutely put himself out there. He risked segmenting his audience, and he did so in the exact same casual gusto that we've watched on television for nearly two decades. How can you not admire the hell out of the man?
And that's the bottom line, BECAUSE STONE COLD SAID SO.
_________________________________________
Mick Foley has apparently refused a Legends contract with WWE. TJR's own Andrew Johnson went into great detail on the topic, and there's a fantastic discussion going on in the comments of the article right now! Head over there now to join in on the fun. (TJRWrestling)
_________________________________________
Eric Bischoff took to twitter to address the possibility of ever going back to WWE. According to the Bisch, one should "never say never, right?" This of course would be contingent on Hulk Hogan's availability, as everyone knows Eric Bischoff's nose didn't get so damn brown by being far away from Hogan's ass. Well I guess maybe it's from a spray on tan, but that doesn't exactly eliminate Hogan from the equation. (SEScoops)

_________________________________________
If you get the chance, head over to WWE.com and check out their "Where are they now?" archive. The latest edition catches up the reader on Trevor Murdoch's current exploits. Warning, this article is substantially longer than last week's feature on Zack Ryder. That edition famously only contained 5 words following the title: "I'm right the fuck here!" (WWE.com)
_________________________________________
According to SEScoops, John Cena has continued his charitable ways, as he granted another wish for the Magic Moments Organization in Birmingham, Alabama. Despite being a polarizing figure in the ring, you can't deny that the man has done some truly amazing thing for those in need.
When asked for his thoughts on John Cena's charity efforts, Thursday News Update correspondent Marty Jannetty had this to say, "What, you think you're better than me now Cena?! I put a penny in the penny tray at a 7/11 the other day. You're welcome guy without exact change!"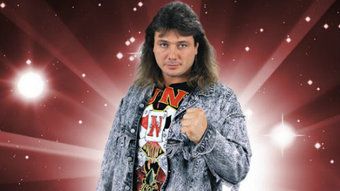 _________________________________________
Thanks for reading! Be sure to check out the latest episode of the SharpShooter Cast! We discuss Raw and... farts. Good episode!
This week's episode covers:
Tom and Aaron discuss farts.

Why Aaron does the podcast.

Thoughts on a WWE produced Sting DVD.

Josh

Reddick

dresses up like the Ultimate Warrior.

The WWE Network's special on the Ultimate Warrior.

Jim Ross rants on heels.

Review and Analysis of the 4/21/14 episode of Raw.

Daniel Bryan painfully makes it through opening segment.

Bray Wyatt delivers fantastic promo.

Sheamus

and Wade Barrett steal the show.

RVD

defeats

Cesaro

.

Raw was filled with... filler.

The Return of Evolution is explained.

Eric Young is the

TNA

champ?

Cheladas

are great on Sundays!

Final scores for Raw.
Here's the STREAM:
And here's the Direct Download! (Right click and "Save Link As")
If you're interested in listening to more episodes, visit our little corner in the iTunes Store. Be sure to leave us a rating! Or, you can always click "More" on the above player, and listen to our entire catalog. Pretty handy.
Finally, if you're like me and have a favorite app not made by Apple to play your podcasts (I love me some DOWNCAST for my iPhone, and iPP Podcast Player for my Android Tablet), here's the RSS Feed for your convenience: http://sharpshootercast.libsyn.com/rss
​_________________________________________
Written by Thomas and Aaron Briggs