Due to the absolute addiction that the WWE Network is, we're going to keep things a bit short this week and simply write about some quick headlines. Be sure to read the last listing this week, detailing our podcast, which delves deep into our impressions of the WWE Network.
Triple H is set to take part in a Twitter Q & A today, the first ever for one of the most powerful men in professional wrestling. The Q & A is taking place to help hype NXT Arrival, an original WWE Network program.
At first glance, NXT Arrival appears to be yet another attempt to televise the NXT brand. But it's actually something far more important. NXT Arrival is a major pet project of Triple H himself, and represents his direction for the WWE Network. To Triple H, live - in ring entertainment is very much key to successfully launching the Network.
If, like us, you've already purchased a subscription to the WWE Network, you'll have noticed the lack of new content on the channel thus far. Outside of the Raw pre and post shows, almost all other content has been seen elsewhere before, sometimes under different titles. While that's certainly ok, as there is plenty of value in WWE legacy content, new programming is what will really sell the WWE Network as more than a "Classics" catalog.
So you should be excited. NXT Arrival should be plenty of fun. Based on their preview thus far, it looks like WWE (and possibly Triple H himself) understands what makes NXT work. The featured match this week will be a rematch of Cesaro vs Sammy Zane. Their previous match was a tragically under-seen classic. You won't want to miss this bout as well. (Wrestling Inc)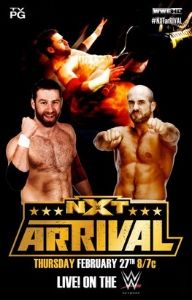 _________________________________________
Think you're a fan of Daniel Bryan? Get ready to like the guy even more. After the SmackDown taping in Milwaukee, Wisconsin, Bryan held an impromptu autograph signing in the lobby of his hotel. He queued up every fan interested in an autograph/picture, and ensured they left happy.
Meanwhile, after Tuesday's SmackDown tapings, Dave Batista drank some virgin goat blood, told wrestling fans to fuck-off while high fiving his hipster friends, and then farted in the face of a baby.
Honestly, we just don't get his appeal. (SEScoops)
_________________________________________
Not getting your fix of TNA news lately? Well then I have some good news for you! Wrestling's current second banana will have head honcho Dixie Carter answer fan questions on the next edition of "Impact." Finally we may be able to find out, "what is the meaning of life?" Our predicted answer? Marty Jannetty. (SEScoops)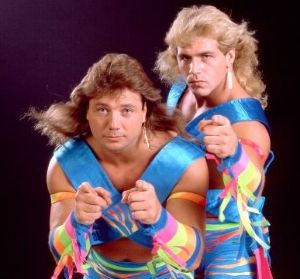 _________________________________________
Not quite content with their monopoly over wrestling worldwide, the WWE is threatening legal action against the original "Sin Cara" for continuing to portray the character in his native Mexico. Asked for his expert opinion on the subject, the Ultimate Warrior commented, "just legally change your real name to Sin Cara. It's the perfect crime, and you'll get awesome unnecessary attention for being batshit crazy. You can somehow stay relevant despite no real proof of talent, human decency, and a properly working brain!" (SEScoops)
_________________________________________
Hey! Did you hear that WWE Studios is remaking "Queens of the Ring"? And that it will be starring the Miz and Eve Torres?! What's that? You say that you already knew that? Well then you obviously have more important things to do, like catching up on not losing your virginity =) (Variety)
_________________________________________
Here's a list of what we cover this week:
Intro to our guest - Adam Brito.
Hands-on analysis of the WWE Network.
Network launch issues.
Jerry Lawler flubbs two times re WWE Network.
Exclusive scoop on Armageddon '99.
Is WWE Network original programming exciting?
What PPV's did we watch first?
WWE Network wrap-up.
Aaron addresses comments regarding his Martin/Incognito thoughts.
Elimination Chamber summary.
Highlight of the PPV - Shield vs Wyatts.
A review and analysis of the 2/24/14 episode of Raw.
Hulk Hogan returns, but should you care?
Our thoughts on the likeliness of Punk being at WrestleMania.
Is Bryan vs HHH at WrestleMania enough?
The Undertaker makes his grand return.
Boooo-tista vs Randy Orton.
Final Raw grades.
Are we more excited for WrestleMania now than before the Elimination Chamber?
Here's a STREAM of the episode:
And here's the Direct Download! (Right click and "Save Link As")
If you're interested in listening to more episodes, visit our little corner in the iTunes Store. Be sure to leave us a rating! Or, you can always click "More" on the above player, and listen to our entire catalog. Pretty handy.
Finally, if you're like me and have a favorite app not made by Apple to play your podcasts (I love me some DOWNCAST for my iPhone, and iPP Podcast Player for my Android Tablet), here's the RSS Feed for your convenience: http://sharpshootercast.libsyn.com/rss