Forbes Magazine recently held an in depth profile and interview with WWE CEO Vince McMahon. While the interview is set to appear in the April 14, 2014 issue of Forbes, you can head on over their website right now to get a sneak peak. It's a great read, and we highly recommend it.
While various topics are discussed, primary focus of the article is on the WWE Network and how it will set a course for the future of WWE. Some interesting nuggets about the Network include:
WWE spent around $75 million to get the network off the ground.

Going with a traditional network model (through providers like Time Warner, Comcast, DirecTV, etc…) would've only netted the WWE around $0.20 per subscriber, not nearly enough to risk their Pay Per View business.

Vince explored the possibility of launching a pay channel in the tradition of HBO, but passed when the offers he received weren't enticing enough.

At one million subscribers, the Network will break even. At two million, they will have increased their earnings by $50 million. At three million, WWE will be taking in an astronomical (relative to their declining

PPV

business) $150 million. But Forbes spoke with those who doubt WWE can ever come close to that number.
Vince also talks about his age, and the need to distance himself a bit from his work. With rumors swirling recently that McMahon may be interested in selling the WWE, McMahon expresses his desire to see a McMahon continue running WWE when he's ultimately gone. Presumably, this would be Stephanie McMahon and Triple H… which shouldn't thrill fans… but it's something we've all been assuming for quite a while. And WWE in anyone's hands BUT a McMahon would just feel wrong.
In spite of his vast wealth (which is only going to increase once a new TV deal is secured), Vince says he doesn't consider himself "rich". Saying that besides the balance in his bank account, he doesn't really have much in common with his neighbors in Greenwich. And while Vince has certainly done a thousand things over the years that we don't approve of (where's Marty Jannetty's Hall of Fame induction, dagnammit!!), we sure do respect him. We wrestling fans are fiercely loyal, and see Vince McMahon as a batshit crazy uncle. He doesn't always do things we like, but we'll defend his place in history until the sun sets.
Besides, he's totally right when he says he's not like other rich people. When was the last time you saw a Connecticut-living, wheelin'-dealing, Republican SOB do this:
_________________________________________
In an interview with Northwestern.com, Dylan Postl, WWE's Hornswoggle, spoke about his time filming Muppets Most Wanted. Postl plays a prisoner in the film, and got to work directly with SNL alumnus Tina Fey. When asked about Fey, Postl had this to say: "Tina Fey is just amazing," adding he's a fan of her work. "And she is just so funny and so good hearted."
That's all. I've got no follow up joke. Tina Fey is just super awesome and so are the Muppets. Why don't you get off your lazy butt and go see Muppets Most Wanted right now?! (The Northwestern)
_________________________________________
Speaking to FatDuckTech.com, former WCW/WWE superstar Booker T reflected on his WCW Spring Stampede promo, in which he infamously called Hulk Hogan the "N" word. The former member of Harlem Heat called the incident the "most embarrassing" moment of his career. Reached for comment, Hulk Hogan responded, "Please help me I can't see! These goddamned sunglasses won't come off! Why doesn't anyone realize this? Why in God's name would I be wearing them inside an arena on RAW if they could be easily removed?! What, you think I'm some sort of douche bag?! FOR THE LOVE OF GOD SOMEONE PLEASE HELP ME!" (SEScoops)
_________________________________________
As part of the final RAW prior to Wrestlemania XXX, the WWE has announced that the Undertaker will "deliver a final message" to Brock Lesnar. While we here at Thursday News Update make no claim of knowledge of any inside information, don't be surprised if the Undertaker hands a precisely folded note with the following information:
Do you like me?
Yes ;) [ ] No :( [ ]
Please mark "x" in the appropriate box <3 (SEScoops)
_________________________________________
In a recent interview with "News Magazine Network," which may or may not be the most obvious fake company name in history (and I work for "Information Periodical Corporation"), future WWE Hall of Famer Chris Jericho indicated that while his band Fozzy is currently his main focus, he would consider a return to the ring if an interesting enough opportunity presented itself. Jericho is said to have been impressed with the WWE's handling of Batista's return and the allure of making tons of cash without earning it. (PW Torch)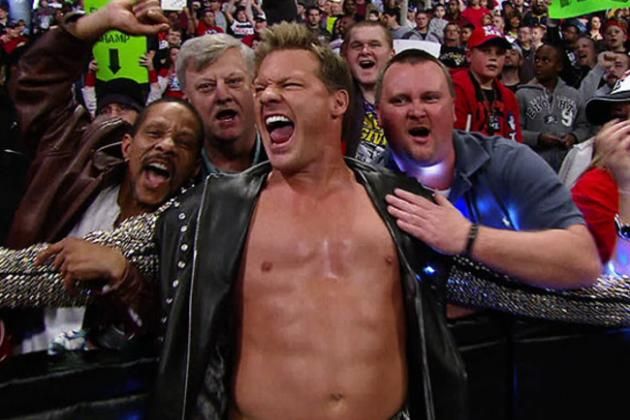 _________________________________________
PLUG TIME! Catch this week's episode of the SharpShooter Cast!
This week's show covers:
Aaron tries way too hard.
A couple of adrenaline junkies.
WWE Network Flashback: Bash at the Beach 2000 and SummerSlam 1997.
Busted brackets.
Review and analysis of the 3/24/14 episode of WWE Monday Night Raw.
Batista continues to flail on microphone.
Triple H excels in segment with Michael Cole.
IC Title #1 contender match delivers the goods.
The Shield steals the show once again.
Superhero movie talk - Ben Affleck sucks.
New Hall of Fame inductee: Scott Hall.
The Vicki Guerrero Invitational - Will AJ leave WrestleMania with the title?
Twatter and Reddit AMA - Jim Cornette.
Brock Lesnar and Undertaker confrontation under delivers.
Bray Wyatt vs John Cena has us hyped!
Arnold outperforms Scooby-Doo.
Final Raw scores.
Listener Questions: Does Triple H deserve credit for elevating Daniel Bryan? And what's the point of having Brock Lesnar in WWE if he loses half his matches?
Here's a STREAM of the show:
And here's the Direct Download! (Right click and "Save Link As")
If you're interested in listening to more episodes, visit our little corner in the iTunes Store. Be sure to leave us a rating! Or, you can always click "More" on the above player, and listen to our entire catalog. Pretty handy.
Finally, if you're like me and have a favorite app not made by Apple to play your podcasts (I love me some DOWNCAST for my iPhone, and iPP Podcast Player for my Android Tablet), here's the RSS Feed for your convenience: http://sharpshootercast.libsyn.com/rss
​_________________________________________
Written by Thomas and Aaron Briggs