A very special Thanksgiving edition of Thursday News Update.
Welcome everyone to the Thanksgiving edition of Thursday News Update! What, some of you aren't from The United States of America, and don't celebrate colonization and the disbursement of an entire race of people? Well what the hell is wrong with you??
Seriously though, Thanksgiving is a fun holiday for us. It means food, football, family, and more food. And after stuffing every last bit of stuffing into our mouths, we get to fight each other over discounted electronics at places like Walmart and Best Buy! Oh, America. We so love bargain deals.
This week, we thought it would be appropriate to discuss a couple of news items that we are either thankful for, or not so thankful for. Here's a start: We're thankful for Dolph Ziggler's fun interview with CBS Cleveland this week. (PW Torch)
Dolph, as you may have noticed, has been placed firmly in the midcard ever since he suffered his concussion during his World Heavyweight Title reign. In his interview with Chris Van Vliet (who I applaud for NOT changing his name), Ziggler talks about when we can expect him back on top of the WWE.
Ziggler hesitates to guarantee that he'll reclaim a top spot, due to the possible lack of confidence from the powers to be, but says he has ability to carry WWE on his back. His recent problems have simply stemmed from his speaking his mind.
Honestly, if the WWE is truly down on Ziggler for comments he's made to the media in the past, they're being ridiculous and deserve to lose the money they're throwing away by not pushing him. Ziggler has been ready for the last three to four years, and the fans were dying to see him have a championship run as a top babyface.
Other fun items discussed in the interview: Dolph's dream opponent for WrestleMania is Shawn Michaels (which is just about right according to us), he'd choose to go against Daniel Bryan or CM Punk in an iron man match, and he considers Tyson Kidd, Alex Riley, and Heath Slater to be the most "underutilized" superstars on WWE's roster.
Don't kid yourself Dolph, there's no one more underutilized in the WWE than Dolph Ziggler. Here's to hoping that in a year from now, we'll be thankful that Dolph has a spot at the top, where he rightly belongs. It'll just take Vince McMahon, his idiot daughter, and doofus son in law to get their heads out of their asses first.
_________________________________________
Here's something we're absolutely thankful for! Football legend Joe Theismann criticized the WWE this week when he tweeted: "Raw needs more wrestling and less gum flapping" during Raw. Now, we at Thursday News Update rarely give much credence to what we call "wrestling outsiders", but as the victim to one of the most gruesome injuries in sports history, I say…
GIVE THEISMANN WHAT HE WANTS! (SEScoops)
_________________________________________
We're thankful that WWE's co-produced (with ABC Family) tv movie Christmas Bounty seems to have fallen flat on its face. The movie netted a 0.3 rating with television's most important demographic - adults 18-49. To put that into perspective, TNA's Impact outperforms 0.3 WEEKLY. I guess you could say that Christmas Bounty wasn't very… bounty-ful.
YEEEEEAAHHHHH! (PW Torch)
_________________________________________
Finally, we're thankful for WWE's most recent hire. In an effort to promote health and fitness in children, the WWE has hired celebrity trainer/fitness author Larysa DiDio to educate families about the importance of living a healthy lifestyle. While the prospect of being told to LIVE HEALTHIER! when all you want to do is watch some good ol' wrasslin may sound unappealing, the message is a good one. (SEScoops)
Still, I would've hired this physical specimen to broadcast that message instead: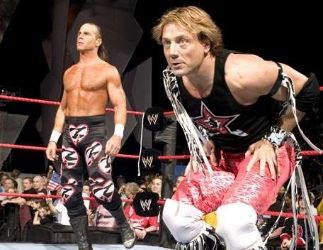 _________________________________________
Listen to the latest episode of The SharpShooter Cast. This week we have a Survivor Series Roundtable Review with Andrew Johnson and Marc "Fozzy" B.
This episode covers:
- An introduction to this week's format.
- Listener Question: Will WWE actually crown a unified Champion?
- Roundtable Review of Survivor Series 2013.
- Thumbs up/Thumbs down from the review crew?
- The Shield and Real Americans vs The Rhodes, Usos, and Rey Mysterio Jr.
- Big E Langston vs Curtis Axel.
- Team Total Divas vs Team True Divas.
- What's wrong with WWE's Divas division?
- Mark Henry vs Ryback.
- John Cena vs Alberto Del Rio.
- CM Punk and Daniel Bryan vs The Wyatt Family.
- Randy Orton vs The Big Show.
- Final thoughts on Survivor Series 2013.
- Listener Question: Was Mr. Kennedy underutilized by the WWE?
Here's the Direct Download (right-click and "save link as").
If you're interested in listening to more episodes, visit our little corner in the iTunes Store. Be sure to leave us a rating! Or, you can always click "More" on the above player, and listen to our entire catalog. Pretty handy.
_________________________________________
Written by Thomas and Aaron Briggs
Email Thomas HERE