A rant about CM Punk's walk-out, and what the WWE needs to do going forward.
Look, it had to happen. WWE has been playing with fire for quite some time. In the 90's, Vince and Co. just couldn't get over how relatively small torch holders Bret Hart and Shawn Michaels were, interrupting their title reigns with championship runs by such mind blowingly awesome talent as Yokuzuna, Hulk Hogan, Diesel, and Psycho Sid. At one point, Lex Luger was to be pushed ahead of Bret Hart. But due in large part to how fans received Hart and Luger, plans were tossed aside.
Recently, the WWE has refused to move on from John Cena. I'd argue that's not necessarily a bad thing. John Cena is a better version of Hulk Hogan - the general audience loves him, he keeps his nose clean, and he can deliver quality matches. But the WWE's fear of removing Cena from their spotlight has led to a lack of other star babyfaces. This, in turn, provides a grim outlook for WWE's future, when John Cena is no longer touring three hundred days out of the year, and WWE can't go back to the well for the hundredth time to bring back old talent just in time for WrestleMania.
CM Punk forced WWE's hand a bit in the summer of 2011. After delivering his pipe bomb promo, WWE had no other choice but to push him to the top. But did things really change? After signing Punk to a new contract, WWE promptly had Triple H go over Punk, ending the massive excitement surrounding him. Sure, Punk received the longest title reign in modern history the following year, but he rarely headlined pay per views. That spot on the card was reserved for John Cena.
And ever since going over John Cena clean at SummerSlam this year, Daniel Bryan has been in the WWE doghouse. Sure, he's still semi-sorta near the top of big cards, and he consistently receives the loudest crowd receptions. But as of today, Bryan isn't in a position to headline WrestleMania. No, that spot would be in the hands of Batista, an over-the-hill performer whose ring rust is so thick you'll be forgiven for mistaking it for his spray on tan.
Everything I've written up to this point is just a really drawn out way of saying: sometimes the WWE can be dicks. They tend to disregard the opinions of their audience based on their own stubborn ideals. Vince McMahon and Co. suck.
Now, perhaps WWE will suffer the consequences of their suckage.
CM Punk has apparently left the building, folks. (Wrestling Observer) Reportedly upset with the way he's being used, Punk decided to leave Raw on Monday and go home. Since then, he's been removed from all future tour dates (including San Diego, which yours truly already purchased tickets for!). As of right now, Punk is not with the WWE moving forward.
Of course being a professional wrestling fan/blogger, I'm one cynical son of a bitch. It's impossible to know what is or isn't a work, and honestly, I could see Punk's walk-out being a brilliant story created by the WWE. If that's the case, bravo Punk. Even the TMZ report on the walk-out leaves just enough details out for it to perfectly fit within the confines of a WWE storyline.
But let's assume Punk really is upset with the WWE and doesn't deem his spot on WrestleMania 30 worthy of his time. Or that WWE, based on the crowd reaction for Daniel Bryan at the Royal Rumble, reversed course and is now planning on a Bryan vs Triple H matchup at Mania rather than Punk vs Triple H. If legitimate, CM Punk is absolutely capable of simply walking away. He's headstrong, seems financially secure, and has already come to the conclusion that he's not going to sacrifice his body for professional wrestling for very many more years.
If Punk truly walked away, then HOLY SHIT does WWE have egg on their faces. With fans already prepared to riot over the misuse of Daniel Bryan, and the WWE Network just weeks away from launch, the company can't really afford to lose such a high profile star before its biggest event of the year. Just imagine a WrestleMania 30 with Daniel Bryan out of the title picture, Batista the headliner, and no CM Punk in sight… it's a horrifying thought.
Despite the snarkiness I displayed towards him earlier, you shouldn't really blame CM Punk's walk-out on Batista. It was the WWE's decision to sign him to a two year deal, and he's simply playing the role WWE has prepared for him. Instead, you should be angry with the double standard at which WWE has handled his return.
I have never been, nor will ever be, opposed to returning superstars being put in top spots. When the WWE brought back Rob Van Dam, I was thrilled even though I was never a big fan of his in the first place. And EVERY time Chris Jericho returns, I act like the 7 year old fan who fell in love with wrestling in the first place. But there's a large difference in how their returns were handled. When Rob Van Dam and Chris Jericho were brought back into the fold, they served a solitary purpose - put over young talent.
If Batista was brought in to put over new talent, then he would almost certainly be warmly received. But that's not the path WWE has laid out for him. Instead, Batista is in the WWE to supplant some of the very best at the top of the card. Who can blame CM Punk for being fed up? It makes sense that he's not in the title picture if someone blazingly hot like Daniel Bryan is. But to remove both he and Bryan from the title picture, and then bring in a former "star" who has been absent for the past four years to take their spot is absolutely ludicrous.
Last year (and the year before) I argued that wrestlers in the WWE should be fine with The Rock headlining WrestleMania because he's a one of a kind entertainer who can draw more eyes to the WWE. Yeah, Batista is no Rock. Batista is no Austin. Batista is no Foley. Batista is no Michaels. Batista is no Hart. He doesn't draw the kind of excitement that others, who carried the WWE on their shoulders, command.
Because professional wrestling is "fake", people tend to not understand why guys like CM Punk take their position within the company so seriously. But headlining WrestleMania represents more than most would believe. It means more money, more prestige, and more respect. Respect may be the biggest motivating factor for Punk, but who could really begrudge him if it was the money he was after? He's still right, and in my opinion, his actions are justified.
The truth is CM Punk may have been prepared to retire for a while now. But I think most fans would like to see his career in WWE end with a worthy send off rather than an abrupt walk-out.
Let's hope the WWE can make up for their recent failure before it's too late. There's certainly still time. According to PW Torch, WWE Creative is set to have emergency all-day meetings today and tomorrow to revamp WrestleMania plans. If Vince and Co. can swallow their pride and do what's right for their fans, this could be a huge moment in the history of professional wrestling.
And if the WWE is unsuccessful, they'll deserve all the fallout they receive.
_________________________________________
Staying on topic with the huge news of CM Punk leaving the WWE, yesterday fellow superstar Ryback Tweeted, "I call dibs on GTS, Pepsi Plunge, and running knee in corner. I am sure Sheamus will take the rest." So now when you tell your snobby smart mark friend that you like Ryback, you can can answer in the affirmative when he inevitably asks "Why? Is he funny or something?" (Wrestling Inc)
_________________________________________
According to SEScoops, SportsRants.com writer Anthony DiMoro has thrown his hat into the mix as another source claiming to have knowledge that wrestler Sting to the WWE is virtually a done deal. We asked weekly Thursday News Update correspondent Marty Jannetty for his thoughts on this hot story, and he responded, "Who gives a shit? CM Punk quit yesterday and my ankles throb. Get the hell off of my property!!!"
We promptly vacated the soup kitchen.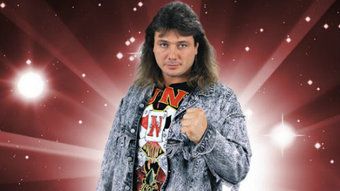 _________________________________________
Don't forget to listen to Episode 28 of the SharpShooter Cast! This week we talk about the disaster that was Royal Rumble 2014, and the ways in which WWE can still turn things around.
This week's episode covers:
Tom and Aaron's adventures in golfing.

Being sick.

A review and analysis of The Royal Rumble.

The Royal Rumble = The Daniel Bryan Show.

Fans are clearly over Cena vs Orton.

Batista's lackluster victory.

Listener Question: Will the opinions of internet fans really matter when applied to

WrestleMania

30's

buyrate

?

A review and analysis of the 1/27/14 episode of Raw.

Cleveland (doesn't) Rocks!

When all else fails, focus a show squarely on Daniel Bryan.

Aaron apologizes to listeners for his ignorance.

Who will be in the Elimination Chamber?

Final Raw Scores.

Listener Question: If we could choose any wrestler past or present, who would we like to see in a dream match?
You can stream the episode through this player:
And here's the Direct Download! (Right click and "Save Link As")
If you're interested in listening to more episodes, visit our little corner in the iTunes Store. Be sure to leave us a rating! Or, you can always click "More" on the above player, and listen to our entire catalog. Pretty handy.
Finally, if you're like me and have a favorite app not made by Apple to play your podcasts (I love me some DOWNCAST for my iPhone, and iPP Podcast Player for my Android Tablet), here's the RSS Feed for your convenience: http://sharpshootercast.libsyn.com/rss
​_________________________________________
Written by Thomas and Aaron Briggs
Email Thomas HERE