Hey there. Normally Thomas Briggs is on Thursday Headlines and he always finds a way to mention his idol Marty Jannetty, but he's out of town attending a graduation ceremony of a family member.
I think most of us expected Brock Lesnar to return to WWE soon to set up some kind of match for Summerslam, but we didn't know when that would be. Apparently a lot of people in the company didn't even know when that would be either. Here's the scoop from Wrestling Observer/F4W and posted on Rajah.com.
Brock Lesnar did not arrive to the arena in Grand Rapids, Michigan on Monday night for WWE RAW until approximately 9:30PM. Reports claim the main event storyline segment where Lesnar returned unannounced and took out CM Punk to close the show, was allegedly not in the final WWE RAW script, and apparently few people in the company actually knew he was returning on that night.
I find that interesting. They likely did that as a way to prevent others in the company from leaking the info to internet sites who are more than happy to spread that info around. In today's wrestling business it's hard to keep a secret like that. That's why WWE went out of their way to bring him to the show so late and then do the show ended angle 90 minutes later.
Remember when Lesnar returned to WWE the night after WrestleMania 28 last year in Miami? It wasn't a surprise to all of us because the rumors were rampant for about a week before that. Obviously this isn't as big of a return as that one because we've seen him in WWE for the last year, but the point remains. It's worth it to keep some of these things private so it doesn't get leaked out.
The Lesnar vs. Punk match is likely for Summerslam. They have two months to tell the story. If they did it at Money in the Bank it would be okay, but I think with Summerslam being the bigger event of the two (usually third most watched PPV after WrestleMania and Royal Rumble) it's better to put the match there.
I'm already very excited about the match. WWE has my money already just for putting two of my favorite guys together in a match that feels like a dream in a lot of ways. The promos between Punk and Heyman in building it up plus the physical brawls will be awesome to see. I can't wait for this one.
IN OTHER NEWS
- David Kreizman - a head writer for WWE - is leaving this week. Before joining World Wrestling Entertainment back in March, Kreizman was an award-winning soap opera TV writer. Kreizman is the third head writer to leave company this year. (Lordsofpain from Wrestling Observer/F4W)
If you have three people in the position of head writer and all of them quit before half of the year is over that's pretty damn scary. In the Observer, Dave Meltzer was saying that Kreizman deserved a lot of credit for WWE's improved product in the last couple months. As I've said many times, since Extreme Rules I've enjoyed WWE TV a lot more and I thought Payback was the best PPV of the year.
It's hard to know how much influence Kreizman or another writer has because if you're not in the meetings you can only assume things. People like Vince McMahon, Triple H and Stephanie McMahon are the ones with final say on everything, so they deserve credit (as well as blame) for anything on WWE TV too.
At least we can thank the creative team for one thing: JTG was part of the main event of Payback in the Lumberjack match. He was there. Trust me.
- TNA superstar Sting did an interview with Muscle and Fitness where he said he didn't know how much longer he'd wrestle. His contract is up in January like it is every year. He mentioned taking steroids, but then he stopped around 1990 while others kept taking them. Gee, ya think? They didn't ask him about WWE at all, which is shocking because most people do and then he has to give his bullshit answers about how he thinks TNA is growing.
Also they spelled Ric Flair's name as "Rick" in the article which means they deserve to be punched in the face. That's almost as bad as a company thinking Hulk Hogan is a draw in 2013. Wait a second.
- The legendary Iron Sheik is looking for $100,000 to produce a movie about his life and pay for some surgeries. It's an Indiegogo project where you get a reward for donating. For $10 the reward is "your intelligent" even though it should be "you're" so apparently the person that wrote that isn't that intelligent.
For $30 you can pay for an insult on Twitter. Yes that's real. Sheik's tweets (@the_ironsheik) are pretty legendary, but I'm not sure about paying $30 for it.
I think $100,000 is a hell of a lot of money that may be tough to reach, but we've seen wrestling fans support others in the past so they could get there. It would be cool if the movie got produced. I'd watch it.
I think Raw could use some more random Iron Sheik appearances like this one:
There are plenty of non PG Sheik rants on youtube that are worth checking out too.
- Finally, a news item that makes me happy.
The Wrestling Observer reports that Colt Cabana recently had two tryouts with WWE as a color commentator but at last word, no job has been offered yet. The tryouts were set up by CM Punk. (Lordsofpain)
I hope he gets the job. Honestly, Cabana should be in WWE as a wrestler. He's a talented guy that can work a number of different styles in the ring and has definitely earned a spot in the big time. If he's content with getting in the door as a commentator then that works too. Hopefully they don't remind us that he was Scotty Goldman.
If you haven't been listening to Cabana's entertaining Art of Wrestling podcast for the last three years then you are missing out. Here's the link to that.
----
That's all. Thomas should be back next Thursday for Headlines. After all, he wouldn't want to let this guy down.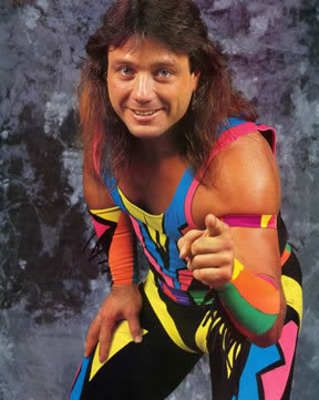 I'll do a TJR Q&A on the Facebook page on Friday and post it here on the site before Smackdown.
Email mrjohncanton@gmail.com
Twitter @johnreport